~ DESIGN PERIODS In Time (Victorian, Art Deco, Art Nouveau, Etc.) ~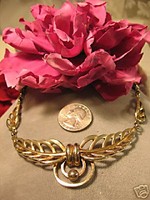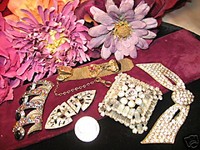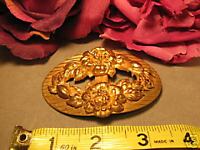 Please be aware before reading any of our Guides.....that we're NOT experts on any subject, nor do we claim to be. We're simply.....people who've collected all types of jewelry from all over the world....for over 40 years...we know a lot....we enjoy sharing our experience & knowledge.
! ~ ! ~ ! ~
THERE ARE SOME VERY DEFINITIVE ' DESIGN PERIODS IN TIME ' (CIRCAS / ERAS ) ....THAT ANYONE WHO COLLECTS OLD TREASURES ....SHOULD BE KNOWLEDGEABLE ABOUT...IF YOU COLLECT, OR SIMPLY LOVE & ADMIRE ANTIQUES & VINTAGE COLLECTIBLES RANGING FROM PAINTINGS, TO HOME FURNISHINGS, TO CLOTHING......OR COSTUMES.....OR JEWELRY....OR ANY OTHER OF THE ART FORM & INFLUENCES OF BYGONE ERAS.
THE GEORGIAN PERIOD ~ from about 1790 through approx. 1831 ~ it's the period before the Victorian era. Plant & animal figures were prominent in designs & artforms during this timeframe.
THE VICTORIAN PERIOD ~ From approx. 1837 through about 1901 (some say 1840's through 1900 and on into the early 1900's) ~ The reign of Queen Victoria, of course, is where we derive the term 'Victorian' ~ It was an era of great romance, passion, & emotion (and pastel color-tones). We saw strong influences of elaborate florals, lush fabrics, ornate embellishments & adornments. Influences of this period flowed over into the visual arts, writings, music, fashion, coiffures, etc. The Victorian period included varieties of revivals of styles rococo etc ~ Hourglass figures were the big thing (Note the wearing of tight body lacings & crinoline undergarments, corsets & petticoats during this era).
THE ART NOUVEAU PERIOD ~ (please note that the term Art Nouveau in the French language means New Art) ~ This time period is from about 1895 through 1905 ~ The Art Nouveau era is said to have been started by artist A. Mucha ~ Mucha was born in Moravia (Czech Republic) and later ended up in Paris as did most aspiring artists of that day (Mucha shared his studio for a brief time with Gauguin). Mucha did illustrations & covers for several US magazines & painted murals for the Lord Mayor's Hall in Prague.
Art Nouveau styling took over & transformed Paris & other cities in everything from jewelry to furniture to wall & floor coverings ~ Characteristics are curved lines, florals, classical themes ~ Of note is the fact that paintings of this era often depicted women with long hair & long dresses.
We see many various styles, curved vines, highly-styled natural forms, other beloved forms and figures such as dragonflies - Galle' glass, etc etc.
THE EDWARDIAN PERIOD ~ from about 1901 through 1915 ~ Queen Victoria's death basically ended the Victorian Era, yet designs of that era continued in popularity. Characteristics of the Edwardian Era are Lace & Filigree.
THE ART DECO PERIOD ~ 1920 through about 1935 ~ We feel that the best example of this art era is the Chrysler Building in New York City (it's said that Chrysler hubcaps were part of the idea of the design) ~ Some characteristics that we see in Art Deco era items are very angular lines, bright color, long sharp lines (& the works of Erte' & DeLempika to name a few) & also some similarities to the Arts & Crafts Era ~
THE ARTS & CRAFTS PERIOD ~ 1905 through approx 1935 ~ Notable designers, architects, etc. were / are Frank Lloyd Wright, G. Stickley to name a few ~ Characteristics of this era in time were /are simplistic, functional designs with straight lines & angular shapes. This period is known to have favored hand-made or hand-fashioned items rather than machinized products.
~~~~~~~
OF INTEREST, AND ALSO NOTABLE ARE:
The 'Aesthetic' period was from about 1875 - 1885 & we saw simplified motifs from nature during this era.
The 'Eastlake' period was from 1870 through about 1885 into 1900 - it was named for English architect Charles Eastlake (during this era we saw more simplified designs than were characteristic during the Victorian era).
Of importance also, when referring to the 'Art Deco' period, is the fact that of all the famed art deco artists & design-setters of the period, Tamara de Lempicka (some of you might spell it differently) must be noted. She was a Polish-born artist from a wealthy family & was schooled in Switzerland. A much sought after portrait artist, she married several times, moved to Paris, then on to the USA (Beverly Hills and NYC), then to Houston in 1962, then on to Mexico.
Erte' was a Russian-born designer ~ a painter who later made it big in fashion & stage realms, he designed for musicals (notably the Broadway musical Stardust). He also did fashion art for Harper's Bazaar for over 20 years. We believe that he died in 1990.
~ ~ ~ ~ ~
( NOTICE :: This Guide & OUR OWN WORDS STATED HEREWITH, IS / ARE Solely our property - we are the original writer purplejammy on eBay - this is our own original text ~ the intent of our sharing with readers our knowledge & experience is to provide reader with a few helpful facts about the many various notable eras in design over years past ~ you'll mostly see jewelry in our visuals here, because JEWELRY is our major area of interest, yet these Style & Design Eras / Circas we've told you about....carried over into most all aspects of life, art, furnishings, music, fashion, etc., during these time-frames).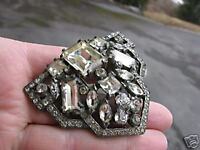 (Pardon any mis-spellings in our guide)
ADDITIONAL NOTES:
A QUICK STUDY ON CAMEOS :
NOTE THAT THE VERY FIRST GROUP OF 3 PICTURES WAY WAY ABOVE.....ARE VARIOUS STYLES & MATERIALS OF OLD CAMEOS.
KEEP IN MIND THAT ' CARVED SHELL CAMEOS '.....ARE NOT........THE ONLY TYPES OF CAMEOS IN THE WORLD - SOUNDS REASONABLE, RIGHT ? BUT SURPISINGLY, MANY PEOPLE DO NOT CONSIDER A CAMEO....A CAMEO...UNLESS IT'S RENDERED VIA SOME TYPE OF CARVED SHELL...OR FROM HARD STONE....
.... (SAVVY AFICIONADOS KNOW THAT ' CAMEOS ' CAN ACTUALLY BE RENDERED VIA MANY VARIED KINDS OF MATERIALS !).
AS COLLECTORS ALREADY KNOW....' CAMEOS ' CAN BE MADE FROM MANY DIFFERENT MATERIALS INCLUDING BAKELITE, LUCITE & OTHER EARLY PLASTICS....GLASS....HARD STONE....LAVA ROCK.....AND THE LIST GOES ON TO THE END OF THE WORLD....
ADDITIONALLY, CAMEOS CAN BE HAND-CARVED, MACHINE-CARVED.....MOLDED, MASS-PRODUCED....HAND-PAINTED.....ETC ETC ETC.....
AND, CAMEOS WHICH ARE SET INTO BROOCHES....(SOME OF OUR FAVORITE).....
CAN HAVE GENUINE DIAMONDS OR OTHER PRECIOUS GEMSTONES RHINESTONES IN THEIR SURROUNDS....
THEY CAN FEATURE MARCASITES IN THEIR SURROUNDS....
THEY CAN HAVE ABSOLUTELY NOTHING IN THEIR SURROUNDS...
CAMEOS CAN BE SET IN METAL MOUNTINGS & SETTINGS OF ROLLED GOLD, PLATED GOLD, GENUINE GOLD (OUR FAVORITE), NON-GOLD BASEMETALS, STERLING, COPPER, PLATINUM, PALADIUM, AND MANY OTHER MATERIALS AND METALS.
A ' CAMEO ' (IN JEWELRY TERMS) SIMPLY IS A PIECE THAT HAS AN IMAGE / FIGURE / SCENIC / ON IT....IT CAN BE AN ETCHED OR SCULPTED FIGURE.....IT CAN BE SOMETHING CUT IN RELIEF ON ONE LAYER WITH A BACKGROND LAYER UNDER IT......
CAMEOS CAN BE RAISED OR RELIEFED IN DESIGN - CAMEOS CAN BE FIGURES IN A SCENIC BACKGROUND....CAMEOS CAN BE A FACE.....OR A FULL BODY FIGURE...OR SEVERAL OF SAME.....CAMEOS DO NOT HAVE TO BE RASIED OR RELIEFED...THEY CAN BE PAINTED OR STAMPED ONTO FLAT SURFACES.....CAMEO-STYLE CAN BE A STONE OR OTHER EMBELLISHMENT WHIHC IS JUST SET INTO A SETTING.
WE SEE CAMEOS THAT COME FROM MANY ERAS & TIMEFRAMES....FROM VICTORIAN & PRIOR....ON UP TO ' MADE YESTERDAY '....WE FEEL THAT THE EARLY ITALIAN CAMEOS ARE SOME OF THE FINEST AVAILABLE BUT OPINIONS DIFFER GREATLY.......WE'LL WRITE ANOTHER ENTIRE GUIDE ON ' JUST CAMEOS ' LATER DOWN THE ROAD.
~ ~