Let me guess, you LOVE Vera Bradley -- the patterns, the bags, the accessories --just all of it, right? And if you're like me, you have friends, kids, parents, teachers, and just about all of the ladies on your shopping list would like to have a brand new Vera Bradley piece as a gift this year! I have some suggestions for ways to stock up on lovely Vera Bradley items here on Ebay, that would make perfect gifts for all the gals on your shopping list. Plus, what could be better than shopping from the confort of your own home and FREE SHIPPING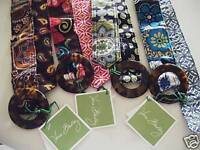 There are many busy Ebay sellers who have a wide variety of offerings this fall. I am one of them! But I'll let you in on a secret ... it takes me a ton of time and effort to SHIP every day. That's why I'd much rather ship MULTIPLE items at once. For that reason, I'm currently offering many small LOTS of the same item. You could get 5 belts, or 6 wallets, or 4 paperback covers, or even 3 backpacks, all for one low price and with free shipping too!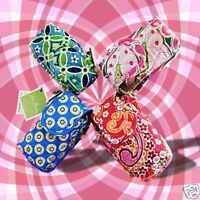 Here are some examples:
3 Assorted Backpacks or Backsacks
And don't forget about Vera Bradley SILK SCARVES! These are 100% Silk Twill, large square ( 27" ) scarves, that make fabulous gifts. The colors match the patterns of the bags, but they are SO pretty in silk. The luxurious quality of the fabric resists wrinkling too. I gave one of these as a gift to a friend who travels internationally on a regular basis. She told me that she can wear the scarf all day, lay the scarf over a chair at night, and the wrinkles are completely gone by morning.
These scarves were originally priced at $40 in retail stores, but you can find them in MY Ebay store for just $21.99 with free shipping ... but not only that, I have assortments of 2 available for only $35.99, and even 3 for $44.99 with free shipping!
Here are some examples: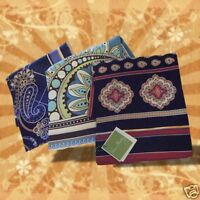 If you have a lot of ladies on your list that have that OVER 40 problem .... meaning they need READING glasses .... you might want to stock up on beautiful READERS eyeglass cases from Vera Bradley.
6 Pretty Readers Eyeglass Cases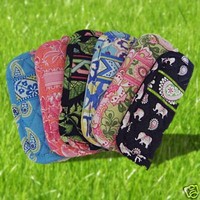 How would you like to give a vabulous TORTOISE Link Watch from Vera Bradley, original price $80, for just a FRACTION?
Beautiful WATCH w/ gift box, free shipping
I hope this GUIDE will help to fuel you with ideas for giving Vera Bradley gifts for the holidays! Be sure to stop by MY Ebay store for many new offerings each week!