The biggest advantage to Vent-free Gas Logs is all the heat stays in the room. You get up to 38,000 BTUs that will easily heat up to 1100 square feet. They are safe to use and not dangerous, they work on the same concept as a gas kitchen stove. If you turned on all 4 burners and the oven at the same time, the kitchen stove will use more gas than the gas logs use. And you do not vent the kitchen stove.
The Vent-free Gas Logs are a great way to add beauty and charm to any room. Plus they are efficient to run.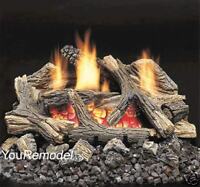 We carry Monessen Hearth, there are spec sheets & more information at thier site. There are several brands out there but from past experience we feel that Monessen is the best.
If you have any questions, please email me.