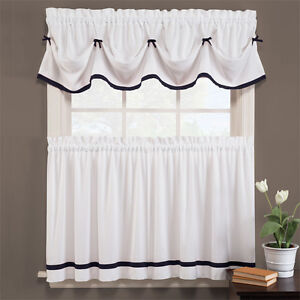 A valance is a type of window dressing that, unlike curtains and draperies, is not meant to cover the entire window. Valances are used primarily for wall decorative effect but also to conceal the curtain rods, blind or shade hardware, or other fixtures at the top of a window. A valance is to a window what a vest is to a layered fashion look: It adds visual interest and texture and can have a bit of function as well. This guide describes the different kinds of valances that are available as well how to choose the right valance for a particular window.

Types of Valances
In order to choose the right valance, one first must know what types are available. The following chart gives a brief description of some of the most common valances. There is no "best" type of valence; the most suitable valance really depends on the decorator's personal preference and style.

| Valance Type | Description |
| --- | --- |
| Crenellated | Features a cutout edge at the bottom hem that is similar in appearance to the edge of a castle; usually a stiffer, flat fabric |
| Swag, festoon, jabot | A valance with one or more sections of draped fabric that hang down between points in a rounded fashion |
| Tailored, flat | A flat, rectangular valance without gathers or ruffles |
| Balloon | A puffy valance made of lightweight fabric that is gathered or shirred to create a balloon effect |
| Ascot | A valance with one or more triangular edges, like the handkerchief hem on a skirt; on some versions, one point hangs down in the center and may be accented with a tassel; the fabric is stiff instead of draping |
| Scarf | A length of fabric is draped over the rod with a curved portion hanging down slightly in the center and the ends trailing free; the valance is not actually attached to the rod; sometimes anchored to rosettes attached to the wall; gives a similar effect to a swag but with less structure |
| Cornice or pelmet | A cornice looks less like a drapery and more like a box or frame around the upper part of the window; this may be achieved by a very stiff, flat fabric, fabric attached to a board, or an actual piece of decorative wood |
| Rod pocket or tab | A valance that is essentially a short curtain; it slides onto a separate rod just like a curtain does |

Choosing the right type of valence depends on personal preference and the style that goes best with the surrounding decor. Draped styles, such as the scarf and swag, give a more feminine and traditional vibe. Sleek and simple styles, such as the cornice or flat, are more masculine and modern looking.

Methods of Hanging Valances
Different types of valances are hung or attached to the window in different ways. It is important for homeowners to understand this information thoroughly before making a purchase, because they may be in for a bigger installation than they had planned if the desired valance requires a significant number of hardware pieces. This increases not only the cost of the valance itself but also the installation. For homeowners who are not handy with tools, this may mean hiring someone to do the installation.
Attached Valances
Some curtains actually have a valance sewn to the main panel to give the look of a separate curtain and valance in one convenient piece. This "cheat" method gives a nice, finished look without the need to worry about hanging the valance separately. The unit can be slipped on one curtain rod for a quick and easy window treatment.
Mounted Valances
Some valances come already attached to a mounting board, as with cornices or pelmets. These valances do require a great deal of careful measuring and installation, as the board is actually attached to the wall and ceiling or inside the window frame itself. The valance may be permanently attached to the board, or it may use Velcro or another type of temporary fastener so that it can be swapped out or taken down for cleaning.
Valances on Separate Rods
One of the most common ways to hang a valance is to use a double curtain rod or an entirely separate rod over the curtain rod. This method is also used with the scarf type of valance, which is wrapped and draped over a separate (usually decorative) rod.

How to Buy Valances
As with curtains or most any other purchase, taking a series of organized steps before setting out to buy will prepare homeowners for an easier shopping experience. Some tips for purchasing a great valance include measuring accurately, considering the existing qualities of the window, and shopping various sources for the best deal.
Measure for the Valance
When buying a valance, the first thing to do is measure the width of the window. This measurement is crucial to finding the correct valance. You can measure the current curtain rod if one is in place; if not, simply measure the window width and add a few inches to account for the valance rod extending outward from the window frame. Some valances may include the distance that the curtain projects from the wall, but this is usually a matter of only a few extra inches. Read the manufacturer's directions, and if they are not available, always go a size larger than the actual measurement as opposed to smaller.
The length of the valance is not crucial when fitting it onto the window; however, it will affect the final look of the window treatment, so it helps to have a general range in mind when considering this measurement. To get a better visual idea of what will look best, you can use a piece of any fabric, fold it to different lengths, and attach it to an existing curtain rod with clothespins or large binder clips. Vary the length several times and take a few photos if you wish so that you can sit down and compare the effects side by side. You can also sketch several windows on a piece of paper and then draw in a horizontal line at different levels to indicate the hem of the valance. Once you find a visually pleasing proportion, make note of it and use this ratio to calculate the actual valance length by using the actual length of the window in the formula.
Consider What You Have
When considering measurements and proportions, always remember to consider factors such as
how the window opens. Some windows open from the top; a valance might interfere with this.
any indoor shutters that may be installed. Will they work with the valance?
blinds or shades installed on the window. Be sure that they can still move freely with the valance in place.
Narrow down the type of valance you want by color, fabric, print, material, and style. Consider the overall décor, color scheme, and feel of the room. A master bedroom will call for a different window look than a family fun room. If you already have curtains or drapes in place, you might see if the manufacturer offers a matching valance. If not, you can change out your entire window treatment. If you like the existing curtains, simply choose a valance in a color that blends or contrasts to work with the fabric you already have. For example, if a little girl's room has a rose theme, you could choose a solid pink or green valance, a striped valance that contains the same colors as the roses, a white or cream lace valance, or a matching valance that was part of the designer's set.
Check Different Sources
Window valances are available at any number of home decorating, discount, closeout, and department stores. There are also specialty catalogs that sell curtains exclusively by mail. The Internet contains thousands of sources from which to buy valances. You are not limited and in fact may be overwhelmed. This is why having a plan will help you to narrow down what is available so that you do not have to waste time wading through too many selections. Focus only on searches that match your criteria.
How to Buy Valances on eBay
Finding valances for sale on eBay is as easy as cinching a curtain. Starting at the home page, type "window treatments" into the search toolbar, and item listings containing those two words will appear on a search results page. From here, you can narrow down the categories at the left to Window Treatments & Hardware, then again to Curtains, Drapes & Valances. Under the Type category, click the box next to Valances. You can then narrow down your choices by room, color, pattern, style, material, width, length, price range, and condition (new or used). It is almost as good as getting a custom-made valance!
eBay comes in handy when you are trying to match older bed, bath, or kitchen linens, or curtain sets that are no longer manufactured. A global online marketplace like eBay makes it possible to find discontinued items, sometimes in new condition. You might search by the manufacturer or designer name, or you could enter the name of a specific pattern or print.
Always look for sellers with consistently high ratings, but you do not necessarily have to go with large-volume sellers for a satisfying experience. Most newer or smaller sellers know how much their feedback matters in terms of being able to make future sales, so you will get service that is just as good, and sometimes with a more personal touch. Ask questions if you have any; eBay makes it easy to communicate directly with sellers, just like shopping in a brick-and-mortar store.

Conclusion
A valance is the perfect answer for a window that needs an attractive touch. Valances are also useful to cover rods, hooks, and other hardware at the top of a window with shades or blinds for a more sophisticated look. Of course, valances can also be used in coordination with curtains or draperies.
Buying a valance is often simpler than purchasing curtains or drapes, because the vertical length is not a major fit issue. The information in this guide on different types of valances and what to look for when shopping will help in developing a plan for finding the right valance for any window, room, and home.