VASELINE GLASS IS A TERM ACCEPTED AND USED BY LEADING EXPERTS AND COLLECTORS ALIKE. MEMBERS OF THE WORLD'S ONLY VASELINE GLASS COLLECTORS CLUB HAVE A SITE WHICH EXPLAINS THE TRUE DESCRIPTION, HISTORY AND ASSOCIATED FACTS IN REGARDS TO THIS WONDERFUL GLASS WE COLLECT CALLED VASELINE GLASS, URANIUM GLASS, PRIMROSE PEARLINE AND A FEW OTHER NAMES. TONS OF INFORMATION, HISTORY, THE MANY MAKERS ALL AND STUNNING VASELINE GLASS COLLECTIONS MAY BE ENJOYED BY VISITING THIS SITE. NO GLASS IS DIRECTLY FOR SALE ON THIS SITE, HOWEVER WHAT YOU WILL LEARN CAN ENRICH YOUR KNOWLEDGE, COLLECTION AND FUTURE FINDS PURCHASED.
<>< *This guide will help you learn the advantages of a more seasoned collector. By reading this guide you can begin learning what experienced collectors know and how to see, purchase wisely and save yourself money in mistakes. ><>
VASELINE GLASS IS YELLOW/ YELLOW-GREEN IN COLOUR URANIUM GLASS AND SO CALLED VASELINE IN REFERENCE TO THE COLOUR OF PETROLEUM JELLY OF LIKE NAME.
ALL VASELINE GLASS HAS URANIUM DIOXIDE IN THE FORMULA DERIVED ORIGINALLY FROM URANIUM SALTS, A BY PRODUCT ONCE CONSIDERED WASTE FROM THE MINES WHEN FIRST USED IN ABOUT 1835 TO 1840s IN THE UNITED STATES. OTHER COUNTRIES DID SO AS WELL EARLIER ON. SO MUCH TO APPRECIATE AND LEARN OF THIS RICH HISTORY IN VASELINE GLASS THAT US 'HIPPIES FROM THE 1960s' DISCOVERED AT GRANDMA'S HOME AT A BLACKLIGHT PARTY!
IN BRIEF...ALL VASELINE GLASS IS URANIUM GLASS BUT NOT ALL URANIUM GLASS IS VASELINE GLASS.
DEPRESSION GREEN URANIUM GLASS HAS URANIUM DIOXIDE IN THE GLASS FORMULA AND AS WELL HAS IRON OXIDE ADDED TO TAKE FROM THE MORE YELLOW COLOUR AND SO BY MAKES IT GREEN IN COLOUR. (FOLKS GREW TIRED OF THE SWEET BRIGHT CANARY YELLOW GLASS GOING INTO THE 1900s AND MAKERS CHOSE TO ADD IRON OXIDE (PLAIN OLD RUST) SO THIS SAME GLASS FORMULA WOULD OFFER THE GREEN TINT AS DESIRED BY THE MASSES). BY NO MEANS DID ALL GLASS MAKERS DO SO NOR DID THEY ALWAYS CONTINUE TO DO SO FROM THIS TIME PERIOD FORWARD.
MANY COLLECTORS, SELLERS AND BUYERS ALIKE COMMONLY CALL THIS GREEN DEPRESSION URANIUM GLASS 'VASELINE GLASS' WHEN ACTUALLY IT IS NOT. HOWEVER THIS HELPS IN SALES BY DOING SO KNOWINGLY OR UNKNOWINGLY, ALTHOUGH THE ANY INTENTIONS ARE MOST HONORABLE INDEED. IT IS AFTER ALL EASIER TO LUMP ALL URANIUM GLASS INTO THE ONE WORD, TERM, SUCH AS VASELINE GLASS.
MORE ABOUT THE HISTORY OF THIS WONDERFUL VASELINE GLASS AS WELL AS THE FACTS CAN BE FOUND AT THE VASELINE GLASS COLLECTORS, INC. SITE AT www vaselineglass.org/ ......(BACK SPACE AND ADD A 'DOT' AFTER THE 'WWW' WHEN YOU COPY AND PASTE). PLEASE TAKE A MOMENT OF YOUR TIME AND ENJOY THIS WELL DONE SITE, SINCERELY YOU WILL BE GLAD YOU DID. LEARN FROM THE EXPERTS!
WHAT VASELINE GLASS IS N-O-T IS MANGANESE OR 'VASELINE LIKE', OR ANY SUCH WORDS THAT DISTRACTS FROM THE URANIUM CONTENT FOUND IN THE GLASS FORMULA THAT MAKES THIS VASELINE GLASS GLOW A GREAT NEON GREEN WHEN UNDER A UVB/ BLACKLIGHT...AND YELLOWISH GREEN IN COLOUR WHILE IN AMBIENT LIGHT.
THERE IS N O S U C H T H I N G AS THE 'FEEL' OF VASELINE GLASS BEING ANY KIND OF 'GREASY' OR 'SILKY' THEREBY FAKE OR GENUINE !!!!!!!
THIS ALONE SHOULD MAKE ANY NEW COLLECTOR TURN AWAY AND FIND A MORE SAY, INFORMED COLLECTOR/SELLER TO BUY FROM.
THE ANY NOTION ANYONE CAN TELL 'REAL' VASELINE / DEPRESSION GREEN URANIUM GLASS FROM THE 'FAKES' BY FEELING THE GLASS, TO FEEL IF IT TO BE 'GREASY' OR 'SILKY' IS AT THE VERY LEAST MIS-INFORMED AND AN INTENDED FALSEHOOD AT BEST TO MISLEAD. THE WORD VASELINE IN NO WAY DESCRIBES THE FEEL OF THE GLASS BY COMPARISON OF THE OINTMENT.....ONLY THE COLOUR!
AT TIMES, FEW OF TODAY'S VASELINE GLASS MAKERS MAY USE A MOULD RELEASE AGENT IN THEIR GLASS MAKING TO ALLOW THE MOULD TO RELEASE THE NEAR MOLTEN GLASS EASIER SO BY NOT DAMAGING AS MANY PIECES IN THE VOLUME OF PRODUCTION. THIS IS THE SOMETIMES FELT 'GREASY FEELING' WHEN TOUCHING THIS NEWER VASELINE GLASS/URANIUM GREEN DEPRESSION GLASS. DOES THIS MAKE THE NEWLY PRODUCED GLASS 'FAKE' ? NO, NOT UNLESS THE MAKER AND/OR SELLER INTENTIONALLY ATTEMPTS TO MISLEAD THE BUYING PUBLIC BY REPRODUCING A KNOWN PATTERN FROM EITHER AN ALREADY FORMED PIECE OR BY USING THE MOULD AND THEN CLAIMING IT IS THE OLDER AND DATED GLASS FROM A PERIOD LONG SINCE PAST. THE ABUSED WORD 'VINTAGE' HERE COMES TO MIND ?
*THE ONLY WAY TO KNOW ANY GLASS IS TRUE VASELINE GLASS (URANIUM GLASS) IS BY SEEING IT GLOW A NEON G R E E N WHEN UNDER A UVB / BLACKLIGHT. EVEN SEASONED AND LEARNED COLLECTORs CAN BE FOOLED WITHOUT THE USE OF A BLACKLIGHT. YES, WE LONG TIME COLLECTORS CAN SEE A PIECE ON THIS SITE, OTHER INTERNET SITES AS WELL AS IN PERSON IN AN ANTIQUE STORE...YARD SALE EVEN AND KNOW IT IS REAL VASELINE GLASS. HOWEVER THIS TAKES A WELL TRAINED EYE WITH EXPERIENCE AND EVEN THEN WE MAKE MISTAKES AND PAY. MANY COLLECTOR GROUPS CALLS THIS 'PAYING FOR YOUR EDUCATION' AND WE ALL PAY AT TIMES AS WE LEARN AND COLLECT WHAT WE DO.
IN TODAY'S MARKET THERE ARE MANY INTENDED AS GENUINE FAKES BEING PRODUCED TO LEAD EVEN A WELL SEASONED COLLECTOR ASTRAY. THESE PURE AND SIMPLE INTENDED TO DECEIVE FAKES LOOK SO MUCH LIKE THE SWEET, OLD OPALESCENT AND VASELINE GLASS AND IN FACT ARE NOTHING MORE THAN A CLEVER PLAY OF GLASS FORMULAS AND TREATMENTS....CHEAP IMPORT JUNK GLASS FOUND AT MOST MAJOR RETAILERS.
VASELINE (URANIUM) GLASS WILL NOT GLOW AN ORANGE OR YELLOW OR ANY OTHER COLOUR UNDER A UVB/BLACKLIGHT. MANGANESE IN GLASS WILL MAKE THE GLASS APPEAR TO LOOK THAT WONDERFUL YELLOW IN AMBIENT LIGHTING AND IS ADDED TO THE GLASS FORMULA BY AND LARGE TO DO JUST THIS...BUT IT WILL GLOW AN ORANGE/YELLOW/PEACH AND NEVER NEON GREEN. THIS MANGANESE GLASS IS NOT AS COLLECTABLE, NOR AS VALUABLE FOR ONE'S COLLECTION AND/OR INVESTMENT AS TRUE VASELINE GLASS.
*WHEN A SELLER CLAIMS THEY ARE OFFERING VASELINE/URANIUM GLASS THEN THEY SHOULD KNOW FIRST HAND THEY ARE. RATHER THAN SAYING 'SOME DEALER AT SOME ANTIQUE SHOP, OR A COLLECTOR FRIEND TOLD ME THIS OR THAT, SO IT IS BEING SOLD AS IS', ETC. ADD ALL SLIPPERY WAYS TO DECEIVE... LEAVING YOU WITH THE OFTEN TIMES EXPENSIVE PIECE AS ANOTHER LESSON PAID FOR....WITHOUT MUCH IF ANY RECOURSE. THESE DOG & PONY SHOW HAWKERS WILL SLIP IN ALL THE SLIPPERY WORDS AND BLAME YOU THE BUYER WHEN AND IF YOU DARE COMPLAIN....AFTER THE SALE AND AFTER YOU PAID THE SHIPPING TO GET IT HOME.
WHEN IN ROME....SOME COLLECTORS IN SOME COUNTRIES CALL VASELINE GLASS BY ANOTHER NAME AS WELL AS OTHER GLASS VASELINE. PLEASE KEEP THIS IN MIND SHOULD YOU TRAVEL ABROAD ON THE NET AND EBAY.
CONDITION OF THE VASELINE GLASS......
TOO MANY SELLERS ARE VAGUE AT BEST AND MISLEADING WHEN IT COMES TIME TO TELL YOU THE BIDDER/BUYER THE ACTUAL CONDITION OF THE ANY PIECE. FOR THESE SELLERS, TO JUST SAY THE GLASS IS IN GREAT SHAPE, VERY GOOD CONDITION, NICE, VINTAGE USED AS EXPECTED, ETC. IS OFTEN TIMES MISLEADING.
IF THE SELLER DOES NOT DISCLOSE ANY PROBLEMS SUCH AS NICKS, FLEABITES, CHIPS, SCRATCHES, AND ESPECIALLY A CRACK...THEN ASK FOR THE DETAILS AND EXPECT AN ANSWER IN FULL, HOPEFULLY ADDED TO THE LISTING FOR ALL OTHERS TO SEE AS WELL.
ALTHOUGH WORDS SUCH AS 'MINT', 'LIKE NEW', 'PERFECT' AND THE LIKE ARE GREAT WAYS TO TELL THE CONDITION OF THE GLASS...THIS TOO CAN BE ABUSED ENDLESSLY.
A MOST SERIOUS CONDITION OF ANY PIECE IS A CRACK. MANY SELLERS TRY AND TELL YOU THE CRACK(S) IS FROM THE FACTORY (WHICH IT MIGHT HAVE BEEN AS A HEAT CHECK, OR PULL, CAUSED FROM THE COOLING OF THE GLASS APPLIED, ETC) OR THAT IT IS A 'HAIR LINE' CRACK AND DOESN'T GO ALL THE WAY THRU THE GLASS. IF THE CRACK IS MELDED/MELTED SMOOTH BACK INTO THE SURFACE AND HAS NO SPARKLE, THEN IT IS NOT (ALWAYS) THE ISSUE OF GREAT CONCERN.
LET THIS BE BUYER BEWARE WHEN THE PIECE HAS ANY CRACKS. 'CRACKED IS WHACKED' ! EVEN SMALL CRACKS CAN SPREAD AND BECOME TOO SERIOUS TO IGNORE. ONCE THE PIECE IS CRACKED, ITS ANY VALUE DROPS AWAY CONSIDERABLY. IF THE 'SMALL FLAW' HAS A SPARKLE SEEN THEN IT IS MOST LIKELY A CRACK 'HAIR LINE', 'NOT ALL THE WAY THRU THE OTHER SIDE', ETC. IS STILL A CRACK.
ANY CRACK NOTICED ONCE RECEIVED FROM THE SELLER WAS IN 99.71% LIKELIHOOD ALREADY ON THE GLASS BEFORE IT WAS SHIPPED. ONE IS TOO MANY SELLERS WHO INTENTIONALLY OMITS THIS FAULT AND CLAIMS IT WAS THE SHIPPER/CARRIER WHO IS RESPONSIBLE FOR THE 'DAMAGE'. NONSENSE...ANY VALUABLE PIECE OF GLASS SHOULD BE PACKED WITH SUCH CARE, EVEN A COFFEE BREAK GAME OF BOX SOCCER WON'T DAMAGE THE GLASS INSIDE.
BE REASONABLE AS A BUYER...NOT EVERY SELLER HAS THE BEST OF EYESIGHT AND NOT EVERY SELLER IS ANY KIND OF AN EXPERT WHEN IT COMES TO DESCRIBING THE VASELINE GLASS THEY HAVE TO OFFER YOU. MANY ARE ONLY OFFERING UP A 'YARD SALE', 'GRANDMA'S', OR 'ESTATE' FIND AND ONLY KNOW SO MUCH ABOUT THE VASELINE GLASS PIECE AND WHAT COLLECTORS EXPECT TO KNOW OF AND ABOUT THE ANY PIECE. ASK AND ASK AGAIN, RESEARCH, READ BOOKS.
*SHOULD A SELLER BE USING AND ABUSING SUCH WORDS AS 'VINTAGE', 'OLD', 'ANTIQUE', 'STYLE', '?' 'LIKE', ETC THEN LOOK CAREFULLY AND LOOK FOR THEIR ANY OTHER ITEMS FOR SALE. LOOK FOR SIMULAR ITEMS FROM OTHER SELLERS. ANY SO-CALLED 'RARE' PIECE IS NOT FOUND IN MANY A QUANITIES. THERE IS NO SUCH THING AS 'VASELINE LIKE'..EITHER IT IS OR IT IS NOT.
THERE IS MORE TO KNOW AND APPRECIATE ABOUT VASELINE GLASS AND THERE ARE SEVERAL BOOKS DEDICATED TO THIS WONDERFUL GLASS ALONE. ONE OF WHICH THAT IS A COLLECTOR'S MUST HAVE IS CANARY TO CONTEMPORARY BY DAVID PETERSON. OTHERS AS WELL AND INCLUSIVE OF THE VARIOUS PERIODS, CIRCA, PATTERNS, MAKERS ONE CHOOSES TO FOCUS ON FOR THEIR OWN COLLECTION AS THEY GROW INTO A MORE SEASONED (AND SAVVY) COLLECTOR. THE BEST MONEY SPENT ON ANY VASELINE GLASS COLLECTION IS THE BOOKS NEEDED TO LEARN THE GLASS BY.
*OUR SINCERE WISH HERE IS TO INFORM AND NOT ADD DIRECT INSULT TO THOSE WHO CHOOSE TO TAKE THE LESS THAN HONEST ROUTE WHEN SPEAKING OF THIS HIGHLY SOUGHT AFTER AND COLLECTED VASELINE GLASS. TO THOSE WHO DO SELL BY DECEIT, HOPEFULLY THIS GUIDE WILL FURTHER ENABLE MANY A NEW COLLECTORS AND BUYERS TO BE MORE AWARE OF THE PLAY IN WORDS AND MIS-INFORMATION THUS CREATING A MORE VIABLE AND TRUSTING VENUE TO SEARCH FOR AND SO FIND THAT MUCH DESIRED PIECE OF VASELINE GLASS.
AS A GROUP (AND CLUB) OF VASELINE GLASS COLLECTORS WE DO CARE FOR AND APPRECIATE THIS WONDERFUL VASELINE GLASS AS MUCH AS WE DO MEETING NEW MEMBERS. WE HAVE A FORUM GROUP ON YAHOO KNOWN AS VASELINEGLASSC2C . WON'T YOU COME AND JOIN US? MANY HAVE ALREADY AND WE ALL LEARN FROM OTHERS!
BUY A BOOK OR TWO, A FEW...REQUEST WHEN IN DOUBT THE VASELINE GLASS BE PROVEN AS STATED BY SEEING A BLACKLIGHT PHOTO WHENEVER POSSIBLE AND ASK BEFORE YOU BID/BUY. AN HONEST SELLER WHO HAS NOTHING TO HIDE SHOULD BE MORE THAN HAPPY TO GIVE AN HONEST ANSWER TO AN HONEST QUESTION. FEW SELLERS DO NOT OWN A BLACKLIGHT AND FOR THEM I MIGHT SUGGEST LOOKING IN THIS CATAGORY FOR A SELLER WHO HAS THEM FOR SELL. I BROUGHT SEVERAL OF THESE SELLERS INTO THIS CATAGORY AND KNOW THEIR PRODUCTS WORK WELL FOR THEIR INTENDED USES.
A SMALL INVESTMENT IN BOOKS AND A UVB/BLACKLIGHT WILL PAY TEN FOLD FOR THE VASELINE GLASS YOU FIND AND THE GLASS YOU DIDN'T BUY FOR IT NOT BEING AS SAID.
E N J O Y ! ! ! ! VASELINE GLASS IS WONDERFUL, RICH IN HISTORY AND A PLEASURE TO SEE IN THE MANY FORMS AND COLOURS IT TAKES ON !
*Photos of a few pieces in our collection to show the diversity in age, makers and rarity found in Vaseline Glass collecting.
1) Curio display when glowing under blacklights...always changing, updating. See a part of this display when seen in ambient room light of the late afternoon daylight. The Vaseline Glass IS really a yellow-green, golden colour until it is seen in a warmer lighting, especially a camera flash and/or blacklight! These photos might help YOU find great finds that are not photographed with a flash or under a blacklight. Once you learn to SEE this Vaseline Glass you too will be able to spot many a 'hidden' treasures!
2) Stunning and rather large example of Cranberry Vaseline Opalescent Ormolu of English maker in origin dating to the late 1800s. This beautiful example of decorative art was listed on auction from across the Big Pond in the UK. The seller had a small photograph in little light. Still, it had many viewers however few bid and those that did, bid far too little for what this actually became to be. Why? Simply because many were unsure if this was made of vaseline and not 'just' ruby/cranberry into opalescent glass. You too can learn to see an important and quite valuable piece as this. Read, read and read some more...books! Also look closely for that tell tale sign of how vaseline glass plays out the colours in the light.
3) Vaseline Opalescent frit applied, hand made art glass World's Largest Iris and Rose commissioned by the very talented Jack Loranger at HotGlass in Washougal, Washington. These stunning Jack simply out did himself works of art are easy to see they are vaseline glass. Notice how the (really, honestly) canary yellow vaseline glass looks green and yellow and even so loudly bright it turns white for all the more direct sunlight playing on the glass? They simply will not, do not and cannot be quite in the light, however dim the light or the cool/warm spectrum the light may be. Quite likely the easiest photo shoot ever...even for a challenged photographer as myself.
4) A Vaseline Opalescent / Primrose Pearline platter made by George Davidson of England discovered by Mr. John Bell, a world known leading expert and dealer of rare English glass. Pattern name Ashleigh (B. Davidson) made in the late 1800s. Very rare, rarely seen..first ever seen on eBay! This rare Davidson piece was listed rather well. It certainly had all the 'key search words' and was correctly identified (all for the name atleast which is so rare a name was more recently given to it past the Registration #). It was photographed pretty much in the same warmth of light as seen here. ALL the serious vaseline glass collectors saw this one! the last minutes bidding was fast, furious and fierce for this hard to find, first ever seen platter! Notice the rich golden canary yellow...unmistakably vaseline AND by Geo. Davidson!
5) An original matched pair of Vaseline/ Primrose Marmalade/Jam/Sweetmeat servers with hand made epns silver rake fork, ladle spoon and frames made by George Davidson & Co. in the late 1800s. Pattern known as Victoria & Albert. Only set known or ever seen in this pattern. This matched pair were listed very well by the warm hearted seller. All the great 'key search words' and a great description. The problem was, none of us seasoned collectors or not, recognized the pattern until it was too late and months later known after researching. Look closely and take notice how the nearby afternoon sunlight plays across the shadows and onto the glass? See the play of colours of greens and almost whites and that wonderful yellow? The spectrum of cool to warm light causes the uranium atoms to get 'tickled' so by changing colours from yellow to green in a sometimes playful way. Look for the source of light to see if it is cool like a kitchen ceiling fluorescent or...a warmer light!
6) A rare sight to behold...three Vaseline Opalescent Duncan & Miller Sanibel fish ashtrays in one setting, one photo shoot. One of the more difficult pieces in the Sanibel Line to find however small they may be. Their price often times passes that of the largest of the line, the salad bowl! This school of Sanibel fish are really a wonderful and rich canary yellow. You can just see that sweet yellow colour along with the more green hues as the warm light plays the glass, can't you?
7) Rare, rare Geo. Davidson & Co of England 1912 Soda Fountain Suite Clam dish (1 of 2 known) with pair of large Banana Splits (2 of 7 known of..) in Primrose Pearline/ Vaseline Opalescent. NOTE how they appear green in colour due to the camera flash? These are actually a rich golden colour in ambient lighting. The camera's flash, just as the UVB/ blacklight 'tickles' the uranium atoms so by making the glass go a wonderful green! Look again at the 2nd photo of the curio display. See the same Clam dish and Banana Split and how they look far more yellow, golden in colour? Always, look for the light! Follow the light! This photo shoot was done in direct sunlight with a camera flash.
*Please, would you consider pressing the 'helpful' vote? Thank you...we need 100 'helpful' votes soon.
Already you have learned more... in less than an hour...that could be learned 'the hard way' in a year, or more.
Congratulations!
Now go on and get some books with all the money you will now save, read and read some more and go searching for that wonderful and special glass we have come to love and know as Vaseline Glass! By any other uranium name IF it glows that wonderful neon green !
<>< <>< <>< <>< <>< <>< <>< <>< <>< <>< <>< <>< <>< <>< <>< <>< <>< <>< <>< <><
1)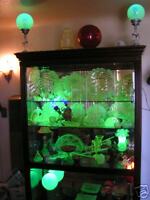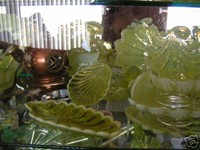 2)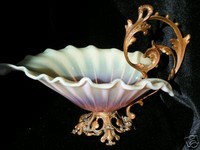 3)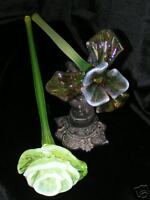 4)

5)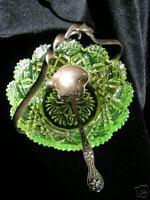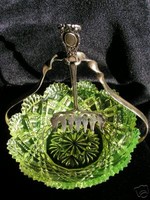 6)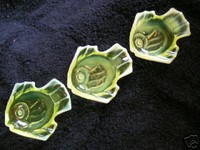 7)