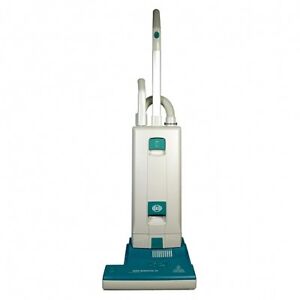 A good vacuum cleaner is a must-buy appliance for any home with carpeted flooring, but a vacuum will also clean non-carpeted flooring quite well. Featuring an extensive listing of both new and used vacuum cleaners, eBay is the top place online to find a quality affordable vacuum cleaner of any kind, including upright vacuum cleaners.
About Upright Vacuum Cleaners
Although the technology used in most vacuum cleaners today was first developed in the nineteenth century, upright electric vacuum cleaners were first introduced in the early 1900s. The year 1908 marked the beginning of the era of mass-produced upright vacuum cleaners after the Hoover Company purchased the patent rights for an upright vacuum invented by a Midwest janitor.
Since then, the basic design of upright electric vacuum cleaners has remained the same. A base with an intake port, turning brush, wheels, and a motor is attached to a vertical frame that supports a collection unit that holds the dirt and other debris suctioned from the carpet. At the top of the frame is a handle that allows the operator to push the machine across a floor. An electrical cord runs through the frame to the motor, and users plug the cord into a wall outlet to access electricity for vacuuming. Today, most upright vacuum cleaners also come equipped with a hose and several attachments that are used for accessing areas that the larger vacuum intake port cannot reach. In comparison to other vacuum cleaners, upright vacuums continue to offer the best overall cleaning results for the price.
For more than 80 years, upright vacuum cleaners all used bags to collect the dirt and other debris that the vacuum pulls from the carpet fibers or bare floors. From the mid-1980s on, however, bagless vacuum cleaners have grown in popularity. Instead of featuring a bag to collect the materials suctioned from the carpet or bare floor, bagless upright vacuum cleaners have a removable container that is emptied into the trash and then re-inserted into the vacuum. These vacuum cleaners also typically come with filters that need to be washed or replaced regularly.
Considerations When Shopping for an Upright Vacuum Cleaner
Individuals who are in the market for an upright vacuum cleaner will want to keep several things in mind as they are shopping. The following are the most important considerations to help people make the right decision when they are buying an upright vacuum cleaner:
Cost
Like other home appliances, there are costs associated with the purchase and maintenance of an upright vacuum cleaner. This chart outlines some of the major cost differences between bagless vacuum cleaners and traditional vacuum cleaners with bags:
| Type of Vacuum Cleaner | Initial Cost | Maintenance Costs |
| --- | --- | --- |
| Traditional Upright Vacuum Cleaner with Bag | Less Than a Bagless Upright Vacuum | Higher Than a Bagless Upright Vacuum (Vacuum Bags Must Be Replaced Regularly, Belts on Occasion) |
| Bagless Upright Vacuum Cleaner | Higher Than a Traditional Upright Vacuum | Lower Than a Traditional Upright Vacuum (Belts Must Be Replaced on Occasion, Filters More Rarely) |
Other significant cost considerations include the upright vacuum cleaner's number of amps and attachments. In most cases, the price of the vacuum cleaner increases as the number of amps increases because more amps produce more suction power. Prices also go up as users add attachments to their upright vacuum.
Allergies
Upright vacuum cleaners are great for homes that house people who suffer from allergies because these machines remove dust and other allergy triggers from the flooring. To get the best results and remove the most allergens, many experts recommend vacuum cleaners that are equipped with a genuine HEPA filter because the HEPA filter removes most of the finest particles from the carpet that other filters may miss. Both bagless upright vacuum cleaners and upright vacuum cleaners with bags work well for eliminating allergens, but there are some minor pros and cons related to allergies for each model that consumers should be aware of:
| Upright Vacuum Cleaner Type | Allergy Pros | Allergy Cons |
| --- | --- | --- |
| Traditional Vacuum with Bag | Bag Keeps Allergens Contained (Throwing Away the Bag Full of Debris Does Not Typically Release Much of Its Dirt into the Air) | Bags with a HEPA Filter Are Not Always Available and May Cost More Than Traditional Bags |
| Bagless Upright Vacuum Cleaners | HEPA Filters Are Often Standard on Bagless Models | Emptying the Dirt Container Can Release Dust and Other Allergens into the Air When Its Contents Are Poured into a Trash Can |
Attachments
Upright vacuum cleaners are used primarily to clean large areas of flooring, but that is not all they are good for. With a hose and the right attachments, they can also be used to clean furniture, baseboards, and other hard-to-reach areas of a room. These are the main attachments available with most upright vacuum cleaners:
| Attachment | Purpose |
| --- | --- |
| Hose | Connects Attachment to Vacuum for Suctioning Power |
| Wand | Adds Extra Length to the End of the Hose for Harder-to-Reach Areas |
| Crevice Tool | Attachment With a Narrow Intake that Is Used to Clean Baseboards and Other Creviced Areas |
| Dusting Brush | Bristled Attachment for Dusting Fans, Tabletops, and Other Surfaces |
| Upholstery Tool | Brush and Tool Specifically Designed for Cleaning Furniture and Other Upholstered Items |
In addition to the aforementioned vacuum attachments that are commonly found on most upright vacuum cleaners, there are other attachments that come with some upright vacuums or that can be purchased on their own for use with an existing vacuum. Some less commonly used upright vacuum cleaner attachments include:
| Attachment | Purpose |
| --- | --- |
| Floor Brush | Cleans Bare Floors (Good for Uprights That Do Not Have a Good Bare Floor Setting) |
| Ceiling Fan Brush | Attachment for Easy Cleaning of Ceiling Fan Blades |
| Blind/Shutter Attachment | Special Tool for Dusting the Crevices, Slats, and Other Hard-to-Clean Parts of Blinds and Shutters |
| Pet Grooming Attachment | Makes Combing and Trimming Pet Hair Easier |
| Motorized Upholstery Tool | Upholstery Tool with Motorized Brush that Cleans Upholstery More Thoroughly than a Normal Upholstery Tool |
Weight
The weight of an upright vacuum cleaner is a concern primarily for individuals who live in a two-story residence. If owners of such residences plan to own only one upright vacuum but will use it on both stories of the home, they will have to carry it up and down the stairs to clean all of their floors. A heavier vacuum will be a greater chore to move, so owners may want to pay special attention to the weight when they are comparing their upright vacuum options if they live in a home with multiple stories. Weight is less of a factor when users actually run their upright vacuums to clean their floors, especially when they own a self-propelled machine. A self-propelled machine can be pushed and pulled with just the slightest amount of effort, making for a cleaning experience that will not overly stress one's back or arms.
Cord Length
Upright vacuum cleaner experts agree that having a cord of the proper length is an important consideration when purchasing a machine. If the cord is too short, the vacuum cleaner plug may have to be moved from one outlet to another in order to cover the full floor area of the room. For most homes, a cord length of 25-30 feet is sufficient for users to vacuum an entire room without having to repeatedly unplug and plug in the vacuum.
Brand
There are many vacuum cleaner brands that have been around for several decades, including Hoover,, Oreck,, Electrolux,, Bissell,, and others. While it is possible to find excellent upright vacuum cleaners from smaller brands that are not as famous as the aforementioned manufacturers, many shoppers may want to focus their upright vacuum cleaner search on the major vacuum cleaner brands.
Vacuum Size
If storage space is limited, buyers should pay close attention to the size of the upright vacuum cleaner. Smaller models will fit in smaller spaces.
Evaluating a Potential Vacuum Cleaner Purchase on eBay
Any search for an upright vacuum cleaner on eBay will return many different vacuums that are available for purchase. Shoppers are likely to find several vacuums that will meet their needs, but how can they make the final decision about the best model for them? Here are some tips:
Brand-New Upright Vacuum Cleaners
Look for boxes that show the least amount of damage. An intact box generally indicates that the vacuum inside is in good shape. Find out if the manufacturer has discontinued the vacuum that is for sale. If so, make sure that bags, belts, and other supplies for the discontinued model are easy to find and purchase. Also, try to make sure that the vacuum has a manufacturer's warranty that will cover the replacement of the machine if it has any major defects. Do a little research and read some reviews of the model to make sure that its owners have been generally happy with its performance.
Used Upright Vacuum Cleaners
Unless they are searching for parts, buyers of used vacuum cleaners should look for models that show little noticeable wear and tear. Focus on models that feature readily available replacement bags, hoses, and parts. Be sure to ask the seller about the history of the machine-How often has it been used? Did it clean high-traffic or low-traffic flooring? Has the vacuum had any major problems?Is the instructional manual available? If there is a warranty on the model, make sure that the seller has any paperwork needed to take advantage of the warranty. Make sure all attachments are present or that they are available for purchase if replacements are necessary. A quick search for vacuum cleaner attachments on eBay can help shoppers find available attachments. It is also important to read reviews of the vacuum cleaner to determine customer satisfaction.
Finding an Upright Vacuum Cleaner on eBay
There are new and used upright vacuum cleaners from every major vacuum cleaner manufacturer on eBay. Shoppers will find most of them under the Home & Garden category. Once they have clicked on the Home & Garden link, they will want to find the Housekeeping & Organization subcategory and select it. From there, they should click on the Vacuum Cleaners link on the left side of the page. Once shoppers are on the Vacuum Cleaners page, they can narrow the currently available selection of Vacuums to include only upright vacuum cleaners by checking the box marked "upright" on the page's left side. Buyers can also limit results to new vacuums, used vacuums, specific brands, and other types of cleaners by checking the appropriate boxes found in the same location on the page.
If buyers do not want to go through all of the aforementioned category and subcategory pages, they can always do a simple search by typing "upright vacuum cleaners" into the search field on any eBay page. The list of results can be narrowed further when shoppers click the appropriate boxes on the left side of the page.
Conclusion
Getting the right upright vacuum cleaner can make housecleaning easier. eBay's extensive offerings of quality upright vacuum cleaners make finding this vacuum simple and affordable.