HOW TO GET A BEACH HOME LOOK EVEN WHEN YOU DON'T HAVE A LOT OF MONEY !
Everyone loves unique and interesting spaces, but many people don't have a lot of money to spend on interior decorating. Having a small budget doesn't mean your home can't be decorated tastefully. Beach décor is becoming popular whether homes are near the ocean or miles away. The beach evokes feelings of restful calmness and in our hectic lives we need an escape to capture such moments. Beach décor need not be just surf boards, flip flops, fishing nets, lobsters, crabs and the like. A tasteful calming interior can be achieved with a few inexpensive items making it possible for your home to reflect seaside beauty.
I have a second home at the beach, which is why I don't have a lot of money left over at the end of the month to allow for expensive decorating. I had to get creative to make it the beautiful escape I had dreamt of and desired. I like to say, "It's the house decorated with eBay!" It truly is. There is an endless pool of inexpensive items on eBay to use for decorating and here are some of the items I've found and used to achieve a tasteful beach décor. (Sorry for the blurry photos, but they change once uploaded to eBay.)
SEA FANS & WHIPS
Sea fans and whips are a great tool for decorating. There are many different varieties of sea fans and whips for sale on eBay and you don't have to spend very much to get them. Put in a search for "Sea Fan" or "Sea Coral" or "Sea Whips" and you'll find a good selection. Choose ones that will fit into document frames found in office supply and discount stores, and of course on eBay. The whips are flat enough to frame and once you clip off the base roots of the fans they will also fit nicely into a frame. You don't need a matt and if the frame is thin it will allow the whips or fans to be the center of attraction! Three or more of different colors on a wall provide an interesting grouping. It's natural art and mother nature created it perfectly!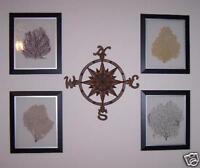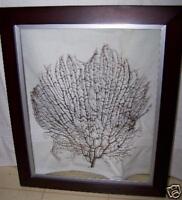 Sea fans are framed between two pieces of glass in cherry document frames (that I painted black- in pic1) with a silver trim on the inside of the frame. These cost about $30 each including frame and fan.
Glass garden cloches can be used to house softer more flexible varieties of fans or whips. Place shells, starfish and coral at the base and let the fan take center stage in the cloche. Use an inexpensive clear glass plate as a base. Cloches can be found in all sizes and price ranges on eBay, but I have found deals. The cloche doesn't have to be the thickest glass or very tall to make a beautiful display. These look great on a console table or book shelf.
SEA CORAL & SPONGES
Although some coral can be costly, you don't have to buy huge pieces to create an effective and beautiful treatment. Smaller pieces can be collected and arranged together forming a breathtaking tablescape. Use a shallow bowl or tray as a container and with enough of them they can look as nice as one large stem of coral. Bowlfuls of coral look good on a dining table or on a lower shelf of a hall table. Place larger pieces alone on a console, coffee or end table atop books as a stand alone decoration. Using acrylic stands will raise these up increasing their height and prevent sharp edges from scratching furniture. Search for sea coral or aquarium décor to find these on eBay.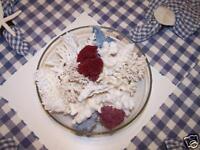 Pieces of coral are gathered in a glass bowl for a beautiful tablescape. They add color and give the table a very beachy look. I put approximately $25 in the collection of coral pieces and the bowl.
Sea sponges can be found under a search for "Sea Sponge" or "Sea Coral" on eBay. Sea sponges are a wonderful addition to glass cloche displays. Sponges whether tall finger sponges, cup sponges or the short round variety are wonderful to add to jars and place in a bath. If properly cleaned and sterilized sea sponges can be used to bathe with in place of a washcloth. Pick out any weeds, shells fragments and twigs and give them a good soak in a diluted bleach solution followed by several vigorous rinses until no more sand remains and they're ready to use. Ready to use sea sponges can also be found on eBay under a search for "Sea Sponge" or "Bath Sponge."
SAND DOLLARS, STARFISH AND SEAHORSES
eBay Sellers offer sand dollars and starfish in reasonably affordable large lots and you only need a few to go a long way in decorating. These little gems can be used in every room! Frame them singularly in shadow box frames and hang them horizontally or vertically for a truly beautiful wall grouping. Frame them together making a collage in a shadow box for big impact. Put several starfish, sand dollars and seahorses in separate glass jars and set them on a table or shelf for a quick decorating trick.
Attach starfish or sand dollars to strips of raffia with hot glue and tie around bath towels hanging on a rod or tie a towel set together for guests and place on their beds. Hot glue different varieties to wooden napkin rings to add beach style to dining tables. Use apothecary jars filled with bath soaps placing several starfish or sand dollars at different levels among the soap facing outward along the sides of the jar to add a seaside touch to any bathroom. Simply place large pencil starfish of varying sizes in a rectangle basket for a lovely display.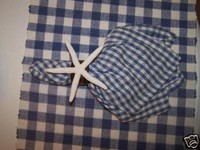 A white pencil starfish, a sand dollar, a mushroom coral, and a thorny starfish were glued to wooden napkin rings. This is an inexpensive and easy decorating project that adds a seaside touch to any table or breakfast tray. These cost about $8 for the set.
Sugar starfish in sizes as large as 12" can be found on eBay and they are reasonably priced, especially when you only need one for a stunning display. These look great just lying by themselves on a dresser or propped up on a chair rail or shelf. Added to a bowl of sea shells they extend your decorating possibilities even farther. Big sand biscuits can offer the same effect.
White Pencil Starfish make wonderful Christmas tree ornaments. Whether you put up a Christmas tree at the beach or miles away, pencil starfish hanging from a tree or a wreath give just the right beach touch. Attach fishing filament as hangers with a medium heat glue gun and hang them until you have the look you want.
Seahorses can be framed singularly or in groups. Place several of different sizes together in a shadow box. They also serve as a good filler in a group of mixed shells for a surprising addition.
SEASHELLS
There are so many ways to use seashells to enhance a décor. From large to small seashells are possibly the most cost effective decorating tool. All kinds of seashells can be found on eBay or along your nearest shorelines. Use shells alone or in groups to add seaside flavor to any space.
Shells 8" or larger can be displayed alone atop books or on a table creating a great look by themselves. Huge shells such as the popular Conch, Murex Ramosus, Nautilus, Triton and Tridacna Giant Clam are great ones for singular display. Using acrylic stands will raise these large beauties up to a commanding height and prevent sharp edges from scratching furniture. Large clam shells can be used as change holders on dresser tops or as containers for smaller shells.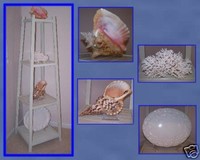 (Again, sorry for the blurry photos. I'll try to find out if I can get these more clearly focused.)
In the corner of my dining room is a graduated shelf display stand holding large specimen of shells and coral. At the bottom is a large sea shell embossed platter. A huge Triton shell sits above. In the middle is a beautiful lace coral and the crowning shell is a Queen Conch with lovely pinks on the inside. These huge pieces were found on eBay, the Bahamas and at local shops. This display was one of the most expensive decorating piece due to the cost of the large shells and coral, but any shells or plates could be used instead of the huge shells I chose.
All of these larger shells can be found on eBay with some being more available than others at times. They take up a fair amount of space, so for the money they are a beautiful alternative to other more costly pieces.
Small seashells don't have to be perfect or pretty to use. When grouped together they can still look good. Create a mix of all shapes and sizes of small shells and place them in bowls, baskets, trays or jars to sit on tables, ottomans and shelves. Terra cotta pot saucers are fabulous shallow containers for small seashells. Paint the saucers white with an outdoor paint or leave them natural.
Drop a mix of shells in a glass cylinder around a pillar candle for a simple effect. Frame shells in a double glass frame using a small dot of clear adhesive to secure to the glass and place on a counter or half wall divider so both sides can be seen. A vintage printer's drawer can be used as a shadow box for displaying a whole collection of smaller shells. Search eBay for printer's drawers - Hint: Search for Hamilton printer's drawers. Small shells can be hot glued to the frame of a cheap discount store mirror making it a keepsake and an affordable alternative to the overpriced ones found in seashore décor stores.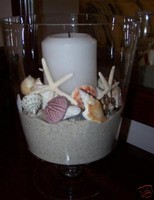 Seashells and starfish surround a pillar candle. Sand is used for the base of this beautiful arrangement. The candle was a gift, the glass vase was a found piece and I added shells from a collection. Cost = $0
When entertaining attach small shells to raffia with glue and tie around napkins as a great option for napkin rings. Use small scallop shells as place cards. Write the names of your guests on the smoother inside of the shell with a metallic paint pen and let them take them home as a gift to use as Christmas ornaments. Well cleaned scallop shells can be used as serving bowls for dips and sauces or side dishes.
Use your imagination and the possibilities are limitless when using seashells as a decorating tool. Bags of small seashells are sold on eBay.
PRINTS & PAINTINGS
When framed or applied to canvas beautiful prints, book plates and posters of the ocean, sea shells, sea life and shore birds make wonderful wall art evoking a seaside setting. Using decoupage to apply prints or posters to canvas can offer a budget saving way to convincingly faux a painting. See my Guide on "Salvaging Damaged Prints and Posters" for the technique on applying prints to canvas.
Prints can be found on eBay, but at times the demand for them are high and bids can skyrocket. Try buying a book on Conchology and cut out the sea shell prints yourself for framing. Audubon books are an invaluable resource for prints of shore birds such as sandpipers and sea gulls. Some nice books can be found, but the older the book the more expensive, obviously. eBay Sellers offer books on CD that you can use to print out pictures of shells. These are very reasonable and all you need is a good printer.
Posters are a great choice for inexpensive large artwork. Theses make nice size art that can be framed with moldings attached to thin plywood that have been painted instead of purchasing poster frames which can be pricey. Many can be trimmed down making several pieces. Decoupage trimmed sections to painted pieces of wood and add a hanger for effortless wall art.
Paintings are a time-honored decorating piece, but can be costly. eBay has some wonderful new and pre-owned paintings listed and waiting for the right buyer. The search can be daunting, but well worth the effort to find that perfect beach art. Starving artist sales offer another great source.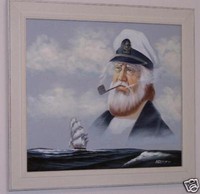 This huge old canvas painting hung in my late father-in-law's coin business for years. I had it stretched and framed in a simple white distressed frame for $157 and it was worth every cent. It adds a nautical touch to my beach house.
BOOKS
Coastal books and sea shell encyclopedias stacked on a table or lining bookshelves make for functional ornamentation. They can also serve as bases for many shells. Books can be utilized in any part of a home. They not only look fabulous, they act as reference material making it possible to learn something new. Buying used books are a low-cost way to decorate. eBay has thousands of new and used coastal books on shells, boating, lighthouses, seafood and more.
SIGNS
Hand-lettered signs not only relay information they look terrific when placed alone or with other items. Signs that say "BEACH" and point to the direction it can be found are whimsically ornamental and helpful. "Welcome" signs serve as a pleasant greeting. Hang signs on a wall or prop them on a shelf. Easels can be used to hold larger or awkwardly shaped signs. Many coastal signs saying a variety of things can be found on eBay using the search word "Beach Sign."
SCALE MODELS
An impressive way to add coastal flair to an interior is by using scale models of ships, sailboats, rowboats, lighthouses, and sea birds. Decoy statues of shore birds are also wonderful items to display. Relatively inexpensive pieces can be found on eBay and at tag sales or flea markets. Keep a keen eye out for these items.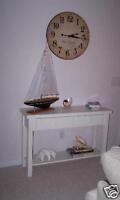 A model sailboat sits upon a white painted console table while another was used in a bedroom on an armoire to give it much needed height. A giant clam shell sits on the lower shelf. Clock was purchased from an eBay Seller who kindly personalized it for me.
FABRICS
The most useful decorating supply in achieving a beach look is fabric. eBay has more beautiful and affordable fabrics than you could ever imagine right at your fingertips. Just remember you can coordinate all patterns of fabric if the colors blend well. Sea shell prints go great with stripes and solids. Toile fabrics make lovely accents. Softer colors and subdued patterns make for more tasteful and calming beach scheme. Outdoor fabrics are best for use at the beach, especially for the occasional wet bathing suits.
Simply adding a throw pillow made of a complimentary coastal print fabric to a sofa, chair or bed can add a splash of the beach to any décor. If you can't sew, learn. You won't believe the creative freedom it will give you.
USED FURNITURE
Furnishing a year-round or vacation home doesn't have to be overwhelmingly expensive. Used furniture, donation stores and eBay are valuable treasure-troves of perfect 'beachy' furniture. Any piece can be transformed into perfect cottage style with a coat of white paint. Antique white paint, which is a shade or two darker than snow white, is a perfect color for beach furniture. After painting it furniture can be given a shabby chic look by lightly sanding edges to give it a well-worn appearance.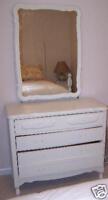 A vintage dresser sits waiting for the fresh coat of antique white paint to dry. A vintage bed got a painted, too.
WICKER FURNITURE
Wicker furniture is another outstanding furniture choice for a beach design. Wicker can be painted white, whitewashed, stained or left in its original state. It fits into any room very well and bathrooms are an ideal spot for wicker shelving and standing racks. eBay has some wonderful buys on vintage wicker and because of it's light weight it is usually less expensive to ship.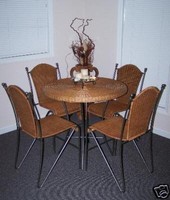 A darker wicker and iron dining table gives the sunroom an Bahamian aire. The table set was a steal found at a discount chain store on clearance and cost under $40! More pieces were purchased through a catalog that match perfectly. Keep an eye out for such bargains.
PHOTOS
I'll be changing photos soon to help spark your creativity helping you save money while keeping your beach décor tasteful. My house is still a work in progress so, some photos will be updated as the work goes on! Plus eBay only allows 10 photos per guide. Thanks for checking back.
LAST, BUT NOT LEAST
I'll also be adding more of my ideas soon. If you have any ideas to share, send me a note! Thank you for your time and interest and remember to answer "YES" if this Guide helps. I hope it does.