Please read the updated article on Wikipeda at http://en.wikipedia.org/wiki/West_Point_Cadets'_Sword it will reinforce what is written here.

This guide was written because so many sellers claimed that they were selling A genuine West Point Sword, when it really turns out to come from a high school and not worth as much.
I've seen seller making outrageous claims to connect it with the Academy
Buyer beware.

The easiest way to spot the fake is to look at the blade if it's not engraved with U.S.M.A.

Then you have a fake.
Every West Point Cadet Sword made from 1872 up to today have been engraved with the letters U.S.M.A.

This is true 98% of the time.
The other 2% is when the M.S. Meyers N.Y.C. N.Y made the sword they engraved the words "United States Military Academy" on the blade.
(Which is very rare)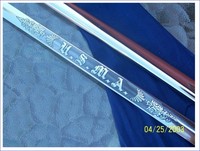 If it is not there is a fake.
The History of the West Point Sword guide grew into a Wikipedia article that has been reviewed and updated by experts at both the West Point Armory, Springfield Armory and experts on the Academy as well as experts on historical edge weapons. If you are interested in reading more on the Cadet sword please read the Wikipedia article with referenced photograph. At this web address: http://en.wikipedia.org/wiki/West_Point_Cadets'_Sword