For UK Buyers: A Warning on Royal Mail Customs Duties, VAT & Handling Charges
I LOVE shipping to international buyers. This year alone I have shipped to 58 countries - mostly to Canada, UK and Australia. But of all these countries, I have noted that I receive disproportionately the most complaints (~ negative feedback) on Customs duties and charges from UK buyers. I am writing this guide to give UK buyers an idea of what to expect when an item from the US goes through UK Customs.
DISCLAIMER: I am not an authority nor do I have any knowledge on UK Customs laws. I will only be sharing my experience with a US$9.95 item that was returned to me from the UK unclaimed... and it had a sticker with itemized Customs/Postal charges of £12.68! No wonder my buyer never claimed it.
Following is a picture of the back of that returned package with the charges.

Here is the front of the package with the green US Customs Declaration Form (PS Form 2976) that I filled out for it.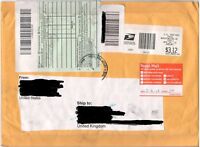 Note that I declared the item as a Fashion Accessory with a weight of 3 oz and a value of $9.95 (approx. £5) . How could this possibly incur Customs/Postal dues of £12.68? There must definitely be a mistake here!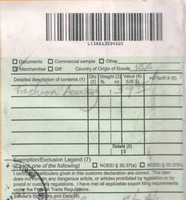 Following is a closer look at the note that came with the Charge: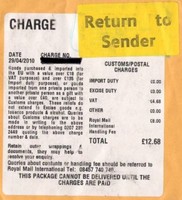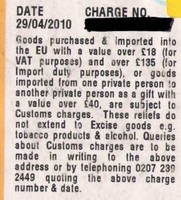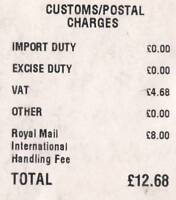 "Goods purchased & imported into the EU with a value over £18 (for VAT purposes) and over £135 (for Import duty purposes), or goods imported from one private person to another private person as a gift with a value over £40, are subject to Customs charges. These reliefs do not extend to Excise goods e.g. tobacco products & alcohol. Queries about Customs charges are to be made in writing to the above address or by telephoning 0207 239 2449 quoting the above charge number & date."
At this point, I would like to make one thing clear, and I'm sure I can speak in behalf of other professional sellers on eBay. Please understand that I will not declare any buyer's purchase as a GIFT. Apart from being an untruth, it is also a felony. Customs fraud is a crime and makes me criminally liable as the seller who made the Customs Declaration. It does not benefit any country's economy either. Import duties are paid for by any licensed retailer for an imported product to make locally made products more competitive in the market. Please do not expect goods bought outside the country to be much cheaper than buying it locally.
Royal Mail International Handling Fee: £8
From the few packages that have been returned to me, it appears that this "handling fee" of £8 is a flat fee. I have had some UK buyers who have accused me of not paying the full postage for their item because of these charges. Please note that USPS does not ship any package collect. All postage is fully paid for when a package is accepted by USPS for mailing. I can only presume that Royal Mail collects this fee when they "process" any item for valuation.
The Charge note continues: "Retain outer wrappings & documents, they may help to resolve your enquiry. Queries about contents or handling fee should be referred to Royal Mail International Tel: 08457 740 740. THIS PACKAGE CANNOT BE DELIVERED UNTIL THE CHARGES ARE PAID."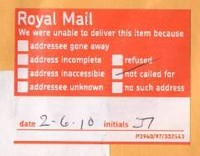 This is very important: Please keep a copy of your eBay invoice and bring it with you when you claim your item. It is now obvious to me that there has been a mistake. UK Customs must have misread the item value to be US$39.95, mistaking the "3" under the "oz" column for the weight to be part of the cost of the item. Had my buyer presented a copy of her eBay invoice to Royal Mail, she would have proven that she did not owe any VAT for the item as it is valued less than £18!
10/31/10 Update: I am now using Stamps.com Pro to print all international postage (including First Class Mail) and customs forms. The above problem (mis-reading of the weight and value) should not happen again with my shipments.
I am still uncertain as to the £8 handling fee. I can only surmise that this fee is only imposed on select product categories as MOST of my UK buyers actually receive their items without any Customs charges. *shrugs*
For more questions on this subject, please refer to the Royal Mail website or call the number mentioned above. I hope this guide this gives buyers from the UK some information on Royal Mail Customs valuation of their purchases from the US. I definitely do not want to scare off international buyers off from buying from my eBay store... but please be aware of the Customs laws in your country before making your purchase.
Happy international e-Buying! :-)
~Beng Cerdenia (eBay seller IDs: bengc , giftko)