United States Half Dimes or Five-Cent Silver
(1794 - 1893)
Half dimes have the same general designs as larger United States silver coins. Authorized by the Act of April 2, 1792, they were not struck until February 1795, although some were dated 1794. At first the weight was 20.8 grains, and fineness 892.4. By the Avt of January 18, 1837, the weight was reduced to 20 5/8 grains and the fineness changed to .900. The weight was later reduced to 19.2 grains by the Act of February 21, 1853. Half Dimes offer many varieties in the early dates.

Flowing Hair Type (1794 - 1795)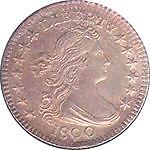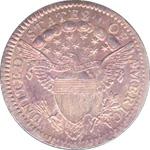 Draped Bust Type (1796 - 1805)
There are 2 varieties of the Draped Bust type.
Variety 1 - Small Eagle Reverse (1796 - 1797). This variety had the new Obverse but used the same or closely similar reverse as the Flowing Hair type.

Variety 2 - Heraldic Eagle Reverse (1800 - 1805). The reverse was modified to the one you see in the photo above.


Capped Bust Type (1829 - 1837)
All half dimes dated 1794 to1837 were coined at the Philadelphia Mint. Half dimes were commonly referred to as the "Half Disme." The appearance of the denomination on the coin for the first time, being expressed in abbreviated form as Five Cents, thus the end of the now acquainted term "Half Disme."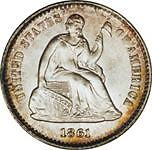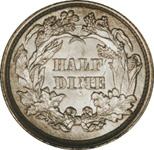 Seated Liberty Type (1837 - 1873)
From 1838 through 1859, the mintmark is located above the bow on the reverse. Later the mintmark was moved below the bow. Coined at Philadelphia, New Orleans, and San Francisco. There are 4 varieties of the Seated Liberty type. The photo above is that of the fourth variety.
Variety 1 - No Stars on Obverse (1837 - 1838). The first variety had only the portrait and the date below it with the field around it blank.

Variety 2 - Stars on Obverse (1838 - 1853). Stars were placed around the edge where you see the moto in the photo above. Two varieties of the 1953 date were made.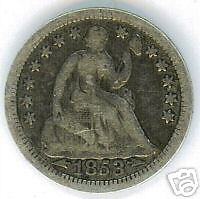 Variety 3 - Arrows At Date (1853 - 1855). Arrows were placed beside the date to denote the reduction of weight under the terms of the Act of February 21, 1853.

Variety 4 - Legend On Obverse (1860 - 1873). Prior to 1860 our nations identity was on the reverse of the coin. On this variety the stars were removed and UNITED STATES OF AMERICA was transferred to the obverse.
Congress moved to revamp the entire coinage system, doing away with several denominations while paving the way for the nickel composition 5-cent coin to replace the half dime once and for all.
Look or watch for my Identification Guide on the Nickel. Search for my Guides on other denominations. Have fun and enjoy the hobby of coin collecting.