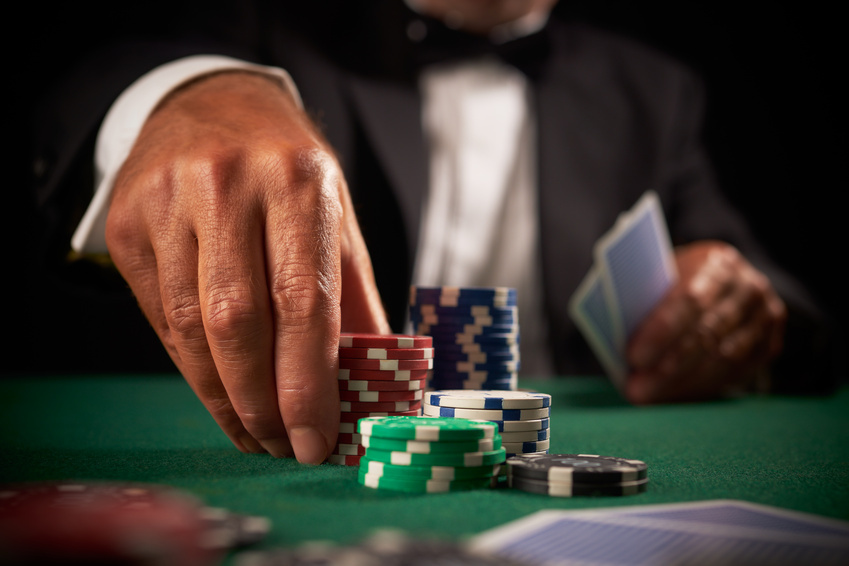 Anyone who has ever played card or table games at a casino, whether in Las Vegas, Atlantic City, or elsewhere, has likely noticed that the quality of the chips that the casino uses is vastly different from those that many people use for their home games. Depending on the amount of money that a person wants to spend on poker chips, they can choose from materials that range from cheap plastic all the way up to clay chips. There are even different grades of chips within material types, and chips are either casino grade or non-casino grade.
Multiple Materials Used for Poker Chips
Anyone who has ever played poker, roulette, craps, or similar table or card games at home likely has a set of plastic poker chips that they bought in a set. These chips are usually in three colors: red, white, and blue. These chips typically come in a cardboard sleeve that eventually falls apart with frequent use. Serious poker and table game players, however, often spend a little more to get higher quality chips, which are either plastic, faux clay, ceramic, composite material, or true clay.
Material

Injection/Compression

Quality

Low-end injection

Mid-range injection

High-end injection

Amateur

Mid-range injection

Amateur

High-end injection

Amateur

Professional/Casino-grade

Low-end compression

Amateur

High-end compression

Professional/Casino-grade
Many poker chips come in a cardboard box, but nicer sets of chips come in special cases; some even come in a briefcase-like case that latches closed.
Plastic Poker Chips
Most plastic poker chips have a reputation of being "cheap plastic" chips, because they are the lowest-priced poker chips available. At the low end are the "supermarket chips," because some forms of these chips are available for purchase in grocery stores. Slightly higher in quality and cost are the "Super Diamond" and "ABS Plastic" poker chips. These poker chips cost very little when new, and they weigh between 2 grams and 8.5 grams.
Faux Clay/Clay Composite Poker Chips
Faux clay or clay composite poker chips are a cross between "Super Diamond" chips and a high-end composite chip. Faux clay chips weigh 9.5 grams, have a gritty surface texture that resembles a crosshatch pattern, and use a resin material that makes them feel, look, and sound like real clay poker chips. Most faux clay poker chips are injection-molded like plastic chips. Many clay composite poker chips, which weigh approximately 11.5 grams each, have logos compressed onto the chip, such as casino logos.
Ceramic Poker Chips
Ceramic poker chips are more durable than their clay counterparts and are popular for use in many casinos, so much so that they are almost always casino-grade poker chips. These chips are slowly gaining favor among home game players, too. These chips tend to be smooth to the touch with flat surfaces on both sides. These are compression-molded chips and feature images on both sides of each chip. The typical weight for a ceramic poker chip is about 10 grams, and they are more expensive than their cheap plastic counterparts.
True Clay Poker Chips
Another casino-grade type of poker chip is the true clay poker chip. These compression-molded chips are most common in casinos, especially those on the Las Vegas Strip or the Boardwalk in Atlantic City, but they are available for home use as well. Even though they are known as true clay, these chips are typically not 100 percent clay; other materials, such as chalk or sand, are added to the mix to give the chips better structure. Each typically weighs between 4 grams and 15 grams, with 14 grams being the most common. They also feature designs and logos on both sides of the chip and are, comparatively, very expensive.
How to Buy Poker Chips on eBay
Poker chips are available from a number of different outlets, ranging from department stores all the way up to casinos and online game shops, but eBay offers a multitude of chips to meet every poker player's gaming needs. Using the convenient search bar located on each eBay page, enter a search term like "clay poker chips." Scroll through the listings that come up and choose the ideal set of poker chips. Shoppers can also narrow the search further by adding more criteria, such as condition, manufacturer, and cost.
Poker players who host home games can impress their friends and fellow card players by bringing out a set of really nice poker chips with which to play. Even some of the plastic chips have a nice look to them, but to really impress the players, it is better to opt for high-end chips like ceramic or clay.