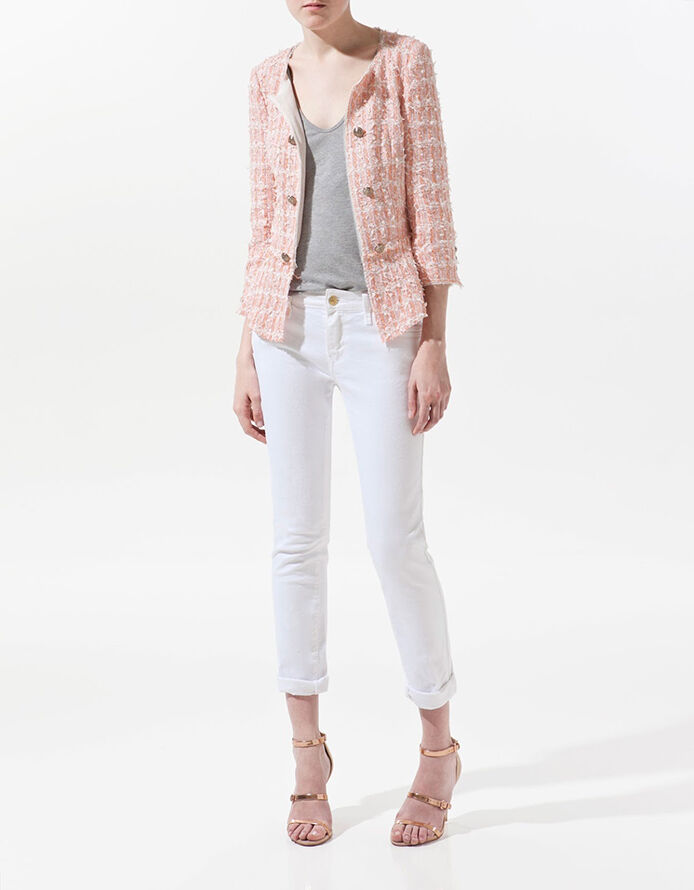 A tweed jacket is one of those essential elements in any wardrobe. While traditionally tweed is more common for men than women, a
well-tailored jacket
is a great addition to a fall, winter, or early spring wardrobe for anyone. With a variety of different types of tweed, styles of jackets, and features, you can find
the right tweed jacket
to match your taste and your personal fashion sense.

Tweed Basics
Tweed is a type of fabric that is made from wool that is closely woven, yet also rough and unfinished in texture. Most tweed has a twill weave that is created by crossing horizontal and vertical fibers to make a solid, tight surface.
It is very common for tweed to be designed traditionally, using patterns that originated in England, Ireland, and Scotland. Some of these patterns use traditional colors, while others are more recognized by the specific shape of the checks or patterns within the fabric, not the specific color combination. By combining various colors of wool in each strand of the weave, very unique and multi-colored colors appear in the design in a muted or subdued effect.
Since it is made of wool, tightly woven, and has a natural rough finish, tweed is an excellent option for an outdoor, all weather type of jacket, even though it is not completely waterproof. Lightweight tweeds also make a very natural suit jacket fabric that is crisp, practical, and easy to coordinate with a range of different clothing styles, colors, and designs.
Originally, like tartans, tweeds were unique to different families and used to identify families and groups. Now, tweeds are more commonly used as a versatile fabric option that is perfect for coordinating with multiple types of fabrics, patterns, and colors.

Tweed Patterns
There are a range of different tweed patterns that is easily identified. These tweeds are often named after the area in which they originated or in some cases, the person that was most identified with the pattern.

Tweed Pattern

Description

Herringbone

Two series of lines that come together in a V-shaped pattern
Sharp break between the two lines gives the appearance of a zigzag pattern when viewed up close and at a distance

A larger pattern of contrasting colors on the warp and weft to create squares then a smaller pattern of contracting, intersecting lines running parallel to each other
Creates an overall look of large abstract square designs that repeat over the fabric in a tessellation type of pattern

Gamekeeper's

A very fine check pattern that repeats throughout the fabric
Colors are traditionally a deep mustard yellow to orange, brown, green, and often larger black squares within the overall pattern

Estate

A herringbone tweed pattern with a larger square pattern in a contrasting color In some patterns, there may be more than one color used on the larger square repeating pattern

Barleycorn

This is a pebbled or flecked type of pattern that repeats uniformly across the fabric
Usually very earthy colors used, such as brown, black, grey, or green with a white or light color
Often appears as a solid color when viewed from a distance

Striped

The tweed pattern, which can be herringbone, plain, or barleycorn is combined with stripes of various widths and colors

Plain

Subtle use of colors or very fine patterns result in the appearance of a solid color, unless viewed at very close range
Plain can be combined with striped or checked larger patterns to create a distinctive color combination
Tweed Jacket Styles
Tweed jackets for men or women come in a variety of different styles from classic outdoor jackets to elegant suit jackets. The different styles use different tweed patterns, as well as different wool fibers to create a smoother or a rougher texture.
It is important to decide if you want a tweed jacket for indoor or outdoor use, as this impacts the style and design of jacket that best suits your needs. You can also choose to go more formal or more country casual in overall appearance. Colors also impact the appearance of the jacket with earthy tones more causal and outdoorsy, while dark and vibrant colors are more formal and business-like in appearance.

Tips for Fitting Men's Tweed Jackets
Both indoor and outdoor styles of tweed jackets are often designed with leather as trim and decoration. Leather lapels, shoulder, and elbow patches, as well as leather buttons and buckles are traditional, yet also very stylish. Men's jackets tend to feature the single breasted design and be more country casual in style than a double breasted suit design.
Popular brands and styles of men's tweed jackets have a narrower lapel with the traditional two button front closure. Most have two flap style pockets and one breast pocket that are slightly larger than you may expect in a more formal type of suit style.
A man's tweed jacket should look comfortable and lived in and should never appear extremely fitted or restricting. Remember that the original tweed jacket was a warm, outdoor garment and one that was meant to be practical and useful in repelling rain, walking through wooded areas, and blending into the surroundings.
The jacket should sit flat across your shoulders without appearing to pull or bunch when you raise your arms or move them forward. The same is true across the chest; the jacket should lay flat along your chest and torso when you move, even when the jacket is buttoned. Since most tweed jackets are single breasted, this is a big issue as they will pull and gap, leaving your shirt exposed over and under the buttons if not properly sized.
The arms of your tweed jacket should sit at the wrists when your arms are extended to the sides. The length of the arms should not be shorter than your wrist area when you are relaxed or the jacket appears too small. The reverse is also true and sleeves that are too long makes the jacket look too big and also prevents a nice edge of the shirt sleeve to be visible below the sleeve of the jacket.

Tips for Fitting Women's Tweed Jackets
Women's tweed jackets are typically designed to appear different than indoor blazers, but there are some that are very similar in design. These jackets are very warm, water resistant, and also make a dramatic fashion statement based on the pattern and color of the tweed pattern.
Many of the new designs of women's tweed jackets and blazers incorporate a basic tweed color and pattern with a new twist. This may be a traditional black and white houndstooth or herringbone pattern with a neon pink stripe or check. Since there are so many colors used in tweed, you can really tone it down or up to match your wardrobe and favorite color combinations.
Women's jackets come in a much wider range of styles from a short waisted jacket to a larger overcoat style. Generally, a good option is to go for a shorter style and design if you are petite and choose a longer style if you are a regular or tall size. High collars and bigger lapels tend to favor women that have larger, wider shoulders, while stand up collars and collarless styles are perfect for those that wear a smaller size or that are narrower through the shoulder and chest area.
Women's outdoor styles of tweed jackets tend to be belted and therefore, are easy to wear slightly looser to provide the option for wearing sweaters or blazers under the jacket. Women's tweed blazers are similar in fitting requirements as discussed for men. In general, they need to be well fitted, but not tight and worn comfortably with a look of casual elegance.

Buying Tweed Jackets on eBay
eBay offers a great selection of tweed jackets, blazers, and overcoats for both men and women, as well as for children. Since you can literally shop around the world on eBay, you have the option to compare different sellers, different styles, and even different tweed patterns and designs.
As with any type of purchase on eBay, it is important to check the rating of the seller, which is found on the top right hand corner of the listing page. Look for a seller with a high rating with a proven record of fast shipping and accurate product description. This information is found by clicking on the feedback score and scrolling through comments left by other buyers.
It is also a good idea to check the seller's return policy. This is stated on the listing page or if it is not clear, you can use the eBay message feature to post a question directly to the seller requesting specifics of the policy.

Conclusion
Tweed jackets for men and women are both very traditional, as well as a trendy option for indoor and outdoor wear. Learning the different pattern names for tweed allows you to narrow your search or to expand you selection by entering specific pattern names into the search box on the eBay website.
Tweed jackets, either for indoor or outdoor wear, are beautiful paired with virtually any other solid color or fabric type based on the pattern that you choose. They are naturally water repellent and make an excellent fall, winter, and spring indoor or outdoor jacket choice.