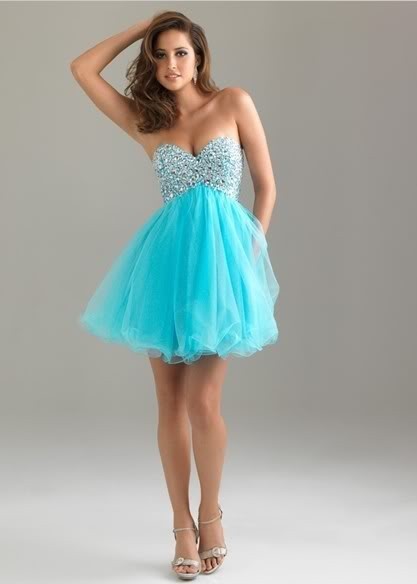 When shoppers want to show up to their event in the most cutting-edge fashion possible, it is no wonder that they head to eBay. With party dresses of every style and variety imaginable, the savvy shoppers can find chic options that fit both their body and their budget. For those who are concerned with staying on top of trends, 2013 is a fruitful year for quirky, feminine, and spectacularly beautiful party dresses.. With a list of top contemporary dress styles, shoppers can go into their hunt confident in the knowledge that they will be choosing an up-to-date look that is ahead of the crowd.
Peekaboo Frocks
From keyhole inserts to heart-shaped back cutouts, the peekaboo dress is an indisputable 2013 trend. Even the vintage midriff look has come back into play, so shoppers with a six-pack may want to take heed. While this style may seem overly casual or revealing for a formal event, it is about the particular cut of a dress. A flirtatious mesh cutout, for example, provides a tantalizing glimpse of skin without becoming too skimpy. Just make sure to keep measurements on-hand and request the dimensions of the cutout to make sure that nothing scandalous is going on display.
Sporty Styles
With fun A-line skirts and preppy shoulder-baring silhouettes, sport dresses are a major trend of 2013. One particularly popular example of this style is the racer front dress,, which features the same design as a racer back T-shirt on the front. The high neckline is framed by two dramatic scooped-out holes to show off toned arms and shoulders. Diagonal spaghetti straps complete the look.
Whatever the particulars of the garment, these sport frocks are a great choice for both practical and fashion-forward purposes. They pair well with a cropped cardigan and wedge heels for a casual date outfit, or with a battered pair of sneakers for an afternoon in the park with friends. Best of all, they tend to be made of casual materials such as mesh or jersey, which means no dry cleaning or special care.
Bold Trim
Another eye-catching 2013 trend is the use of dark, bold piping to dress up the classic pencil dress.. The pencil style has always been a good choice for plus-sized women, and the addition of a firm trim to hold up a substantial bust is a comfortable bonus. Additionally, it simply looks excellent on a curvy figure, adding perkiness and lift to the upper portion of the body while providing the appearance of a smaller waist and masking any roundness around the belly.
High Lace Necklines
Keep things sweet, demure, and ladylike with a high-necked lace sundress. The intricate detailing will help draw attention to the wearer's face, and choosing sleeveless styles helps make sure that just enough skin is shown to keep things interesting. An innocent and proper look can be achieved by choosing a dress in all one color, such as a delicate peach or pink. Spice things up for a more dramatic occasion by choosing a piece with contrasting lace and base fabric, such as a feisty magenta or deep red lace over black linen. Tulle or another swishy material makes for an excellent mini skirt on the bottom, keeping things grounded but still flirtatious.
Peplum Dresses
The peplum is everywhere in 2013, bringing a spark of vintage style to an otherwise modern and sleek set of styles. This flared fabric around the waist creates a pretty hourglass shape, softening slim hips and emphasizing natural curves for more slender figures. As a bonus, peplums also tend to be flattering for the legs, making them a great choice for shorter shoppers. They are often paired with other trends on this list and beyond; so do not hesitate to snap one up when the price is right.
Peplum dresses come in a wide variety of lengths, and it is important to know the correct terminology in order to avoid buying a garment that is too short or too long for the occasion. Here are some of the most common terms for dress length.
| Dress Length | Measurement |
| --- | --- |
| | Hem of dress hits at mid-thigh |
| Knee Length | Hem of dress hits squarely on knee |
| Mid-Calf | Hem of dress hits at least 2 inches below knee |
| | Hem of dress hits approximately three inches above ankle |
| Full Length | Hem of dress descends nearly to floor, stopping only an inch or so above sole of foot |
As is evident, terminology is important when searching for an appropriate garment. However, many sellers will make a point to list the length of the dress in inches alongside more typical measurements such as bust, waist, and hip. Having the wearer's exact inseam measurement handy during the evaluation process will make decisions much easier.
How to Buy Party Dresses on eBay
As with any other product, the first step to buying special occasion dresses on eBay is narrowing down what the party calls for. A formal event will almost certainly not be the place for a metallic mini dress, but a fun birthday party with friends is the perfect venue to make its debut. Start by typing something like " mid length jersey dress&" and see what comes up.
Carefully examine the garment's quality and unique measurements, check the seller's references, and consider adding a brand-new piece to the collection. Modern and contemporary dresses can often be found with keyword terms that include the year and season they were produced in. For example, after prom season is over, many beautiful and contemporary formal dresses make their way online.
Conclusion
Since the fashion world is ever changing, it is important to keep a close eye on fashion publications to figure out what is hot and what is not. The wonderful thing about eBay is that it gives fashionistas from around the world a chance to swap their favorite clothing and enjoy new looks with versatility and speed. Simple sporty dresses can be a basic wardrobe item for many months, while more seasonal varieties such as the peplum skirt and peekaboo midriffs are typically reserved for specific occasions. Whatever the context, showing up in a well-fitted and stylish garment is a sure-fire ego booster.