The USB flash drive that one chooses should have enough storage capacity to hold everything that they need to transfer or transport on a regular basis, it should have a decent amount of transfer speed, and it should be able to protect their files from any potential damage. However, many people want more out of their flash drives. When a person carries an item with them every day, it is not unreasonable to want it to show off their personality and style.
Many flash drive manufacturers know this, and have begun creating unique, fun USB flash drives that showcase people's favorite characters from cartoons, comic books, and film. Whether these are cartoon designs of these characters or realistic statuettes of the characters that will look as great on one's desk as any other piece of movie memorabilia, they are sure to highlight a person's interests while still providing them with a useful flash drive to store all of their data.
| | |
| --- | --- |
| 1 | Looney Tunes Bugs Bunny 8 GB Flash Drive |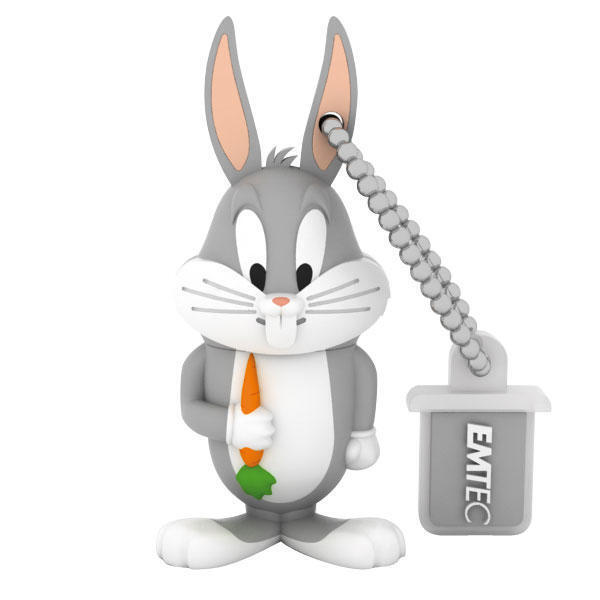 Fans of Looney Tunes can have a piece of the zany, fun action in their pocket with the purchase of a Bugs Bunny flash drive.. However, do not be fooled into thinking that this flash drive is just for fun. It features an impressive 8 GB worth of storage space that will be enough for anybody to store their important files for day-to-day transport and transfers. There is even a pinhole in Bugs' left ear that will make it easy to hook him onto one's keychain.
---
| | |
| --- | --- |
| 2 | Super Mario Bros. 8 GB 3D Cartoon Figure |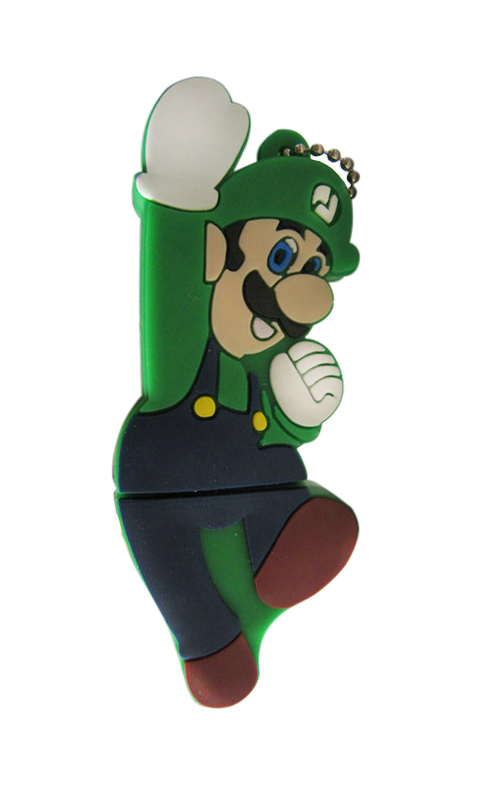 These Super Mario Bros. USB flash drives will transport Mario, Luigi, and Princess Peach straight from the Mushroom Kingdom and into one's tech lineup. They are made of a soft, molded vinyl that will help protect the USB flash drive from everyday wear-and-tear as well as from water. They are completely "Plug and Play," so no driver downloads will be needed to hook them up to one's computer and transfer their files.
---
| | |
| --- | --- |
| 3 | Hello Kitty Crystal Necklace With 8 GB USB Flash Drive |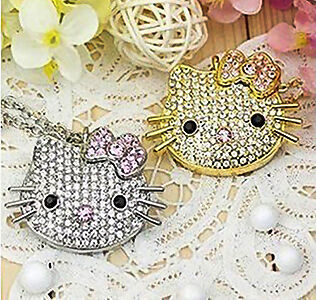 It's not often that technology and fashion mix, but for the girl that loves Hello Kittyaand who is need of a solid USB flash drive to store and transport her important documents, this Hello Kitty necklace with an included 8 GB USB flash drive will be the perfect item. She can wear Hello Kitty all day long; when she needs access to her USB drive, simply pull off Kitty's sparkling pink bow. Not only is it fashionable, this combo necklace and flash drive is convenient, and she will never have to worry about losing their files.
---
| | |
| --- | --- |
| 4 | Marvel Avengers Iron Man 8 GB USB Flash Drive |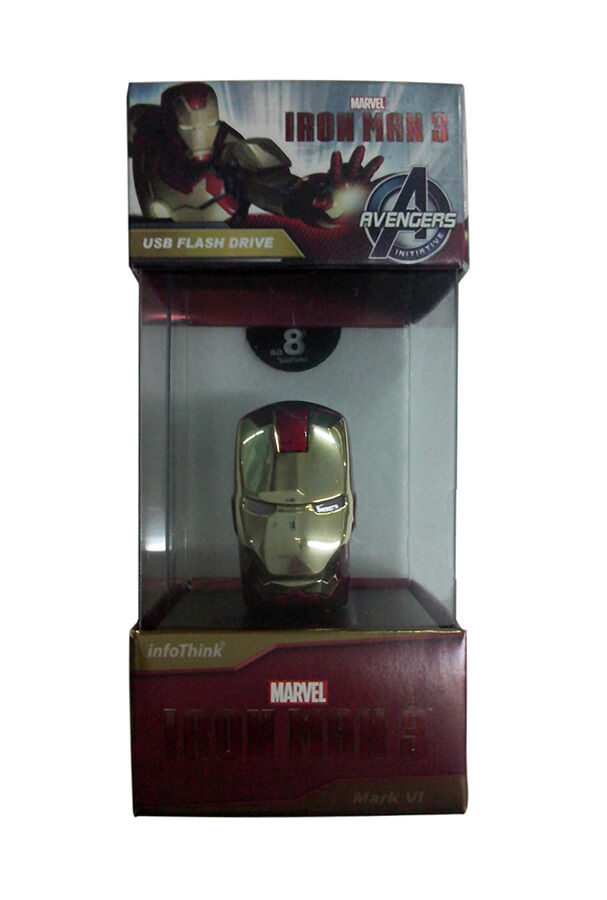 Fans of Marvel's Avengers, and in particular fans of Iron Man, do not need to look any further for the perfect flash drive. This Iron Man 8 GB USB Flash Drive features the iconic helmet of this epic superhero as the body of this flash drive. Simply plug him in and users will have immediate access to all their filesbut as soon as they do plug Iron Man in, they will be treated to an incredible surprise. His eyes light up a bright blue, just as they do in the hit film series that inspired this flash drive. For the user that needs superhero protection for their files, there may be no need to look any further.
---
| | |
| --- | --- |
| 5 | Darth Vader Star Wars 8 GB USB Flash Drive |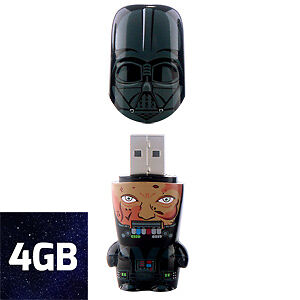 Those looking to embrace the dark side of the force will need Sith-strength protection for their movies, videos, music, and documents. What better protection than this menacing presence from a galaxy far, far away? The Darth Vader Star Wars USB Flash Drive has 8 GB of storage capabilities, which is more than enough for the average user, and this fully-formed vinyl Darth Vader figure protects it all. If one ever wondered what was lurking beneath Darth Vader's iconic helmet, they will discover that it is a USB port that will give them quick access to your files, no matter where or when they need them. A chain is included with this figure so users can easily hook him onto their laptop bag or a keychain.
---
| | |
| --- | --- |
| 6 | SpongeBob SquarePants 8 GB USB Flash Drive |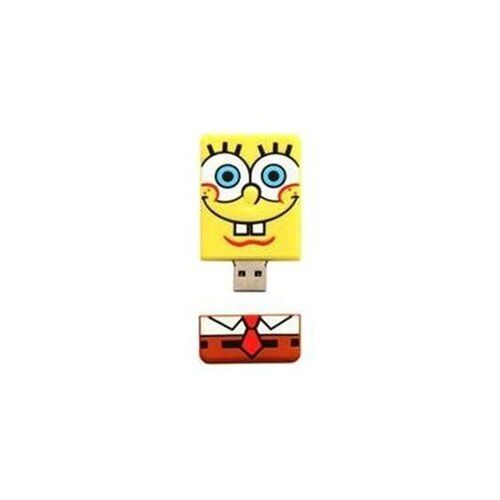 Who lives in a pineapple under the sea? It's SpongeBob SquarePants, and he's here to protect all of one's valuable data. The SpongeBob SquarePants 8 GB USB Flash Drive has more than enough space to hold most of the files that one will need to transport on a daily basis. This fun design is perfect for adult fans of the cartoon series as well as younger fans using a USB Flash Drive for the first time. The keychain attachment is strong and durable, and will allow users to easily attach it to their other items so it does not get lost.
---
| | |
| --- | --- |
| 7 | Doctor Who TARDIS 4 GB USB Flash Drive |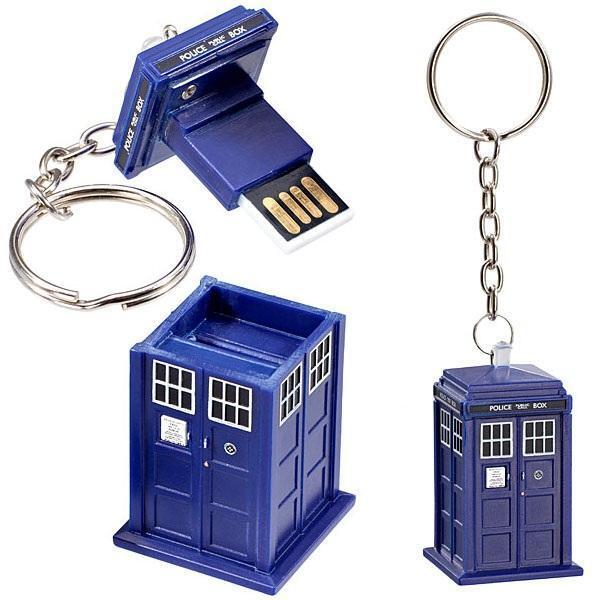 Any fan of the long-running cult sci-fi series "Doctor Who" can tell you that the TARDIS is a character in and of itself. As the Doctor's primary companion through time and space, the TARDIS has been almost everywhere, from the beginning of time to the end of time, and almost everywhere in-between. Now it can be one's companion as they go about their tech business.
At first glance this TARDIS USB flash drive might seem small, but a buyer should not let its looks fool them. It is much bigger on the inside than on the outside, with 4 GB of storage space in fact, which is perfect for transporting a good number of files. As an added treat, the beacon light on top of the TARDIS lights up when it is plugged in.
---
| | |
| --- | --- |
| 8 | Transformer USB Flash Thumb Drive 8 GB |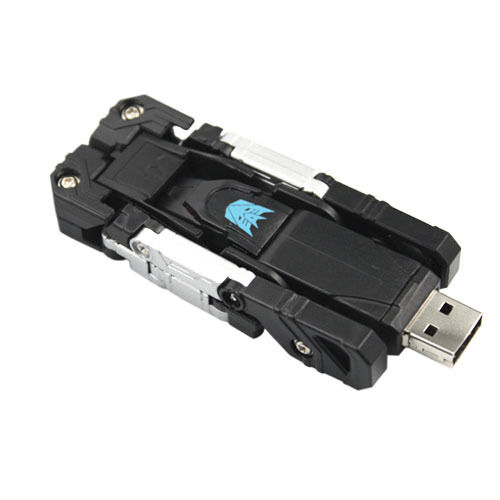 Fans of the hit "Transformers" series know some machines are more than meets the eye, and that is certainly the case with this Transformer USB Flash Thumb Drive.. At first glance, it is simply a stylish flash drive. However, with a few easy adjustments it becomes a fighting robot that will protect one's files from the dreaded Autobots, or anybody else that might come along to access their data—if only because this cool toy disguises the fact that it is a flash drive when it is in its robotic form.
---
| | |
| --- | --- |
| 9 | MIMOBOT Batman Series 4 GB USB Flash Drives |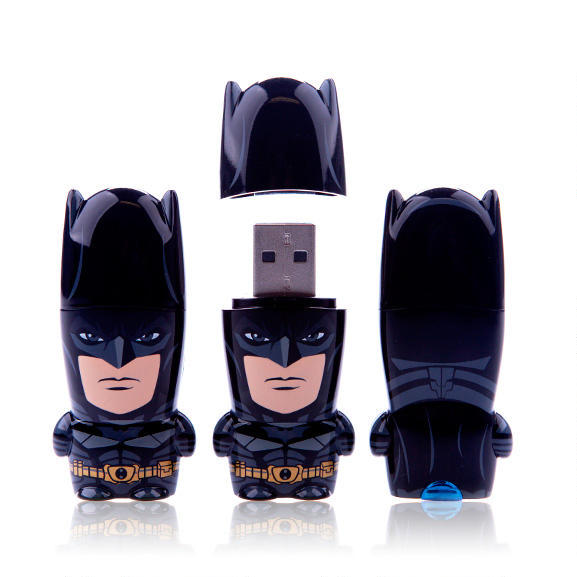 Is one on the side of the heroes or the villains? They will likely be asking themselves that question when it comes time to decide which of these great flash drives from Mimobotthey will purchase. Mimobot produces high-quality flash drives featuring some of one's favorite characters, but the stand-out items in their impressive lineup are the cast of characters that make up Gotham's finest—as well as Gotham's most villainous—characters. The Joker, Robin, and Catwoman join Batman himself, and any one of them will disguise one's documents with their impressive styling. Users should be sure to check out Mimobot's other flash drives for more characters from their favorite franchises, including My Little Pony, G. I. Joe, and Adventure Time.
---
Other Character Tech Items
Users do not have to keep their love of their favorite TV show, movie, or game confined to the USB flash drive that they use. There are a number of items available that feature special designs that users can use to show the world what they are a fan of.
| Item | Description |
| --- | --- |
| | Why choose a boring laptop bag when one can buy one that features their favorite characters, logos, or emblems? From The Legend of Zelda to Harry Potter, they are sure to find a laptop bag that showcases their style. |
| | Skins serve the dual purpose of keeping a computer safe from damage while also jazzing it up with designs featuring the characters a person loves. They are available for laptops as well as desktop computers, so shop around. There might even be customizable options available. |
| | From keyboards to headphones, if one can imagine it, there is likely someone out there who has made it. With just a little searching, anyone can find Hello Kitty headphones or a Superman mouse. |
Conclusion
Character USB flash drives are the perfect way to showcase one's personal flair. Not only are they buying a collectible item celebrating their favorite character, they are receiving something that will keep all of their information safe. Buyers need to remember to check first and
determine what their storage needs are
. Some
character flash drives
are less expensive than others and may be better for transporting files rather than for permanent storage.