One alternative to the
traditional mouse
is what is called the
trackball mouse
. Its design is basically the old mouse you are used to, flipped upside-down. The roller ball is actually on top and it is the actual control device used for movement on the screen, resulting in a mouse that does not move at all, just the trackball. There are quite a few of these designs available on the market today, including a
gaming mice
. There are better performing trackballs that are available to help you select the ones that best suits your needs.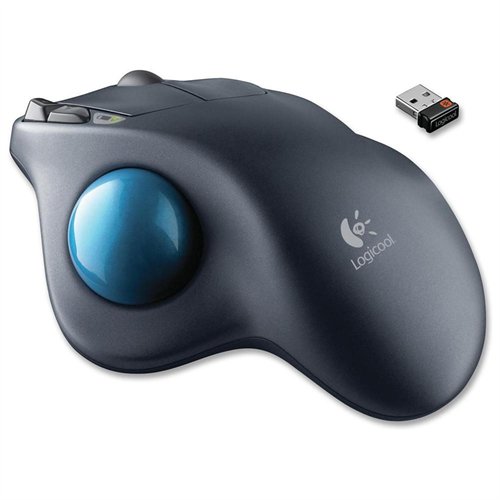 The M570 is a wireless version from Logitech, designed to provide maximum comfort for all day usage. The trackball itself is located on the left side of the mouse so that it is thumb controlled. It has a scroll wheel, back and forward buttons, and additional programmable buttons that can be set up as shortcuts and hot keys. It has a very tiny footprint that makes it a great fit on any computer desk.
Specifications
Advanced 2.4 GHz wireless control up to 30 feet
18 month battery life
Adjustable track speed
Programmable buttons
Mac and Windows compatible
---
| | |
| --- | --- |
| 2 | Ergoguys Ergonomic PC-Trac Trackball |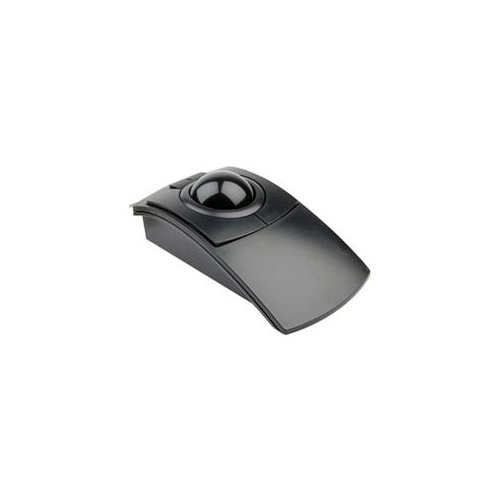 This ergonomic PC-Trac trackball mouse from Ergoguys features the actual trackball right in the center of the mouse rather than on the side with the buttons placed on either side of the trackball. The shape of the mouse case is very ergonomic in design with its gentle slope, helping to reduce the total amount of stress on the hands and wrist. The other benefit is that it has an ambidextrous design, fitting either righties or lefties. It is made of quality components so that it is built to last under heavy usage.
Specifications
Features a drag lock so the user does not have to hold the button down to drag the mouse
Dynamic gain that accelerates the point as the ball rolls faster
USB and PS/2 connector
Mac and Windows compatible
---
| | |
| --- | --- |
| 3 | CE Compass Wireless Finger Mouse |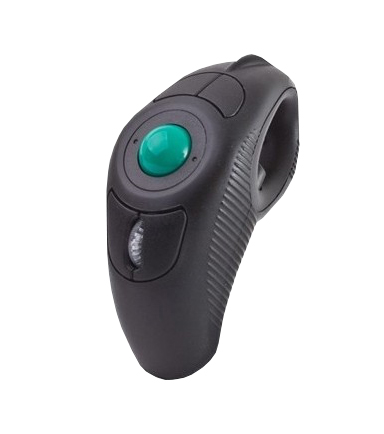 The Finger Mouse is a very interesting design with the look of a gun and trigger system. The index finger or middle finger is placed on the trigger, which acts as the clicker. The thumb is then used to control the mouse pointer via the trackball with scrolling capabilities. It is very compact in design so that it can be used practically anywhere. What stands out about the Finger Mouse is that it can be picked up and used in the air if a situation calls for it, such as a presentation.
Specifications
Built in rechargeable battery
Can be used by right hand or left hand
USB 2.0 connector
Mac and Windows compatible
---
| | |
| --- | --- |
| 4 | Microsoft Optical Trackball |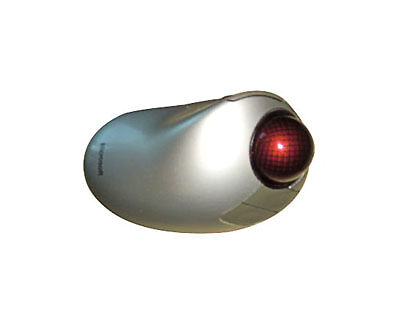 This may be one of the more expensive options for a trackball mouse, but it is certainly packed with features. The Microsoft Optical Trackball features a thumb controlled precision trackball, as well as a wheel for scrolling and zooming. It features what is called an IntelliEye optical technology, allowing for much more precise control of the mouse. The other part about this design is that it uses a five button control, including two programmable buttons. It is designed for use by both right handed and left handed users.
Specifications
5 buttons with 2 programmable buttons
Can be used by right hand or left hand
USB 2.0 and PS/2 connector
Mac and Windows compatible
---
| | |
| --- | --- |
| 5 | Kensington K72337US Orbit Trackball |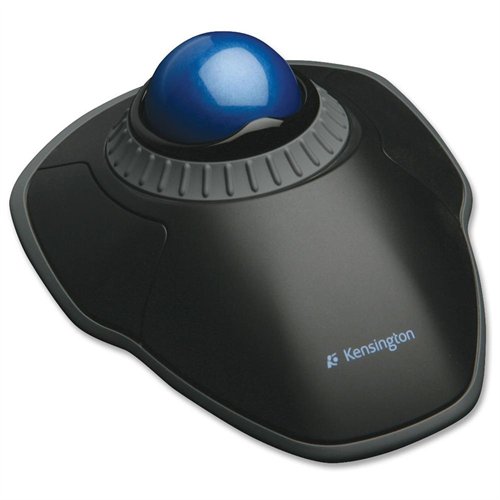 This Kensington trackball features something unique in what is called the scroll ring. The scroll ring is a disc that goes around the trackball and it can be rotated in a way to make it easy to navigate through documents. It is very compact in design, yet sacrifices nothing in performance. Beyond functionality, there are many ergonomic features available with the most notable, the removable wrist rest that helps to reduce pressure on the wrist joint.
Specifications
2 buttons with scroll wheel
Can be used by right hand or left hand
USB 2.0
Mac and Windows compatible
---
| | |
| --- | --- |
| 6 | Microtrac 650 Miniature Trackball |
The Microtrac Miniature Trackball is a trackball option for those with laptops and notebooks. It is a super small design that is ultra portable, yet sacrifices nothing in functionality. The trackball itself is smaller than average, but uses what is called MicroSpeed to make it feel just like a normal sized trackball. Surrounding the trackball is three different buttons that fully programmable. The center trackball design makes it just perfect for any person, whether they are right handed or left handed.
Specifications
3 programmable buttons
Can be used by right hand or left hand
USB 2.0 or PS/2
Mac and Windows compatible
---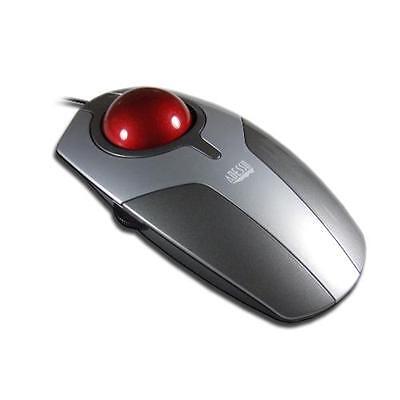 The first thing that most people notice when they look at the iMouse T1 from Adesso is that it is ultra thin with a low profile. It is designed to fit perfectly in the palm of the hand. There is more that is built into this mouse with the scroll wheel neatly tucked into the side and the right and left click buttons are located on the top. Its design is simple, yet effective and the mouse can be used with the right hand or the left hand.
Specifications
2 buttons and a scroll wheel
Can be used by right hand or left hand
USB 2.0
Mac and Windows compatible
---
| | |
| --- | --- |
| 8 | QTronix Lynx R-15 Trackball |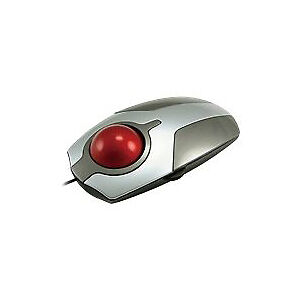 The QTronix Lynx follows a similar design pattern to many other mice that use a low profile, thin trackball design. One place where they are different is with the actual trackball since QTronix uses an oversized trackball, making it easier to make precise movements with one's fingertips. It features three easy access buttons and a scroll wheel that is mounted on the side of the trackball mouse.
Specifications
Features 3 buttons and a scroll wheel
Plug and play
USB 2.0
Mac and Windows compatible
---
Finding Trackballs on eBay
To find
trackballs on eBay
, just start by searching on the homepage. You can make a decision on whether to go with a wired or wireless trackball mouse option. This is the simplest way to reduce the number of search results into something that is a little bit more manageable.
Narrow down the remaining choices based on specific features. A lot of trackball mice have some very unique features and these include
programmable buttons
, an ambidextrous design, or even
ergonomic features
. Add any of these desired features to the search query to yield a list of desired trackball mice.
Finally, look at the ease of installation. Newer trackball mice come with plug and play capabilities, meaning that once the trackball mouse is plugged in, it is ready to go so no software drivers are needed at all.
The only other consideration to check when searching for trackball mice on eBay is the compatibility. Most of the mice are labeled by the operating systems that they are compatible with, including Windows, Mac OS X, or Linux operating systems.
Conclusion
More and more people are turning towards the trackball mouse for their computer set-up. One of the main reasons for this is because it is less stressful on the hands and wrist. With carpal tunnel and other ailments to worry about, the trackball mouse is an ideal alternative to the typical mouse people are use to using day in and day out. With a trackball mouse, there is virtually zero movement of the hand, just movements of the fingers. The other big advantage of the trackball mouse is that it does not require as much space to operate. A traditional mouse has to have room to move, while a trackball does not. There are trackball mice designed for both right and left handed people, as well as
gaming trackball mice
on
eBay
.