When it comes to cooking, one of the most important kitchen tools is the knife. Cooks will want to make sure that they have the right type of knife for the task. Since cooks will likely spend a lot of time with the knife in hand, they will also want to make sure they are getting a good quality knife. It is possible to buy kitchen knives separately, however, it is usually a much better deal to buy kitchen knives in sets. Some kitchen knife sets contain a massive array of different types and sizes of knives. At the very least though, a complete kitchen knife set should contain these types of knives:
Chef's knife
Paring knife
Cleaver
Fillet knife
Serrated Utility knife
There are hundreds of different kitchen knife sets available. To help shoppers find the right kitchen knife set for their needs, here are the top 8 kitchen knife sets.
| | |
| --- | --- |
| 1 | Chicago Cutlery Fusion Knife Set |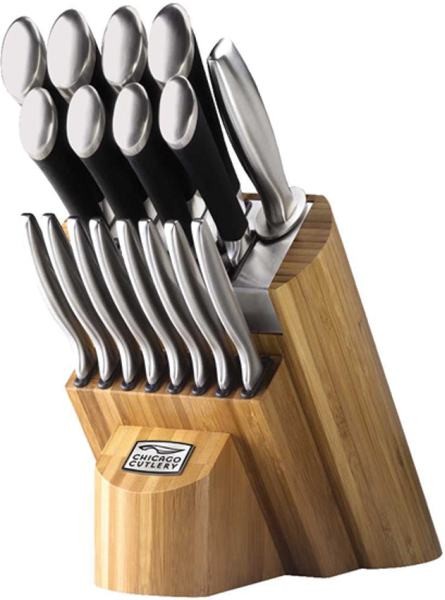 High-quality knives can be very expensive. Chicago Cutlery Fusion is the exception to the rule because they are known for making very good knives at very affordable prices. Their knives are also suited to the everyday cook. The taper-grind technology used to make the knives means that they stay sharp for longer so cooks don't have to continuously sharpen them. Just note that people with bigger hands may find the knife handles to be too small.
Features
Carbon stainless steel
Forged
Dishwasher safe
· Best for people looking for a high-quality yet cheap knife set
---
| | |
| --- | --- |
| 2 | Henckels Twin Pro S Knife Set |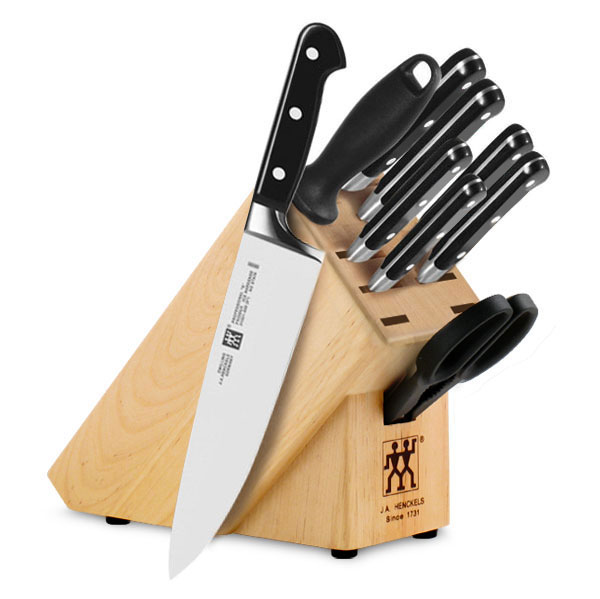 Zwilling J A Henckels has a history of making knives that go back over 270 years. They are known as one of the top knife producers in the world and have various series available for serious amateurs and professionals. Their Twin Pro S series is one of the most popular because it is affordable but still offers top-of-the-line quality. The Twin Pro S series knives are forged, however, their handles are welded and not forged. This makes them less expensive though it does weaken the handle. Henckels knives have a limited lifetime guarantee.
Features
Forged with welded handle
Dishwasher safe (though hand washing is recommended)
Best for people who want a heftier knife set
---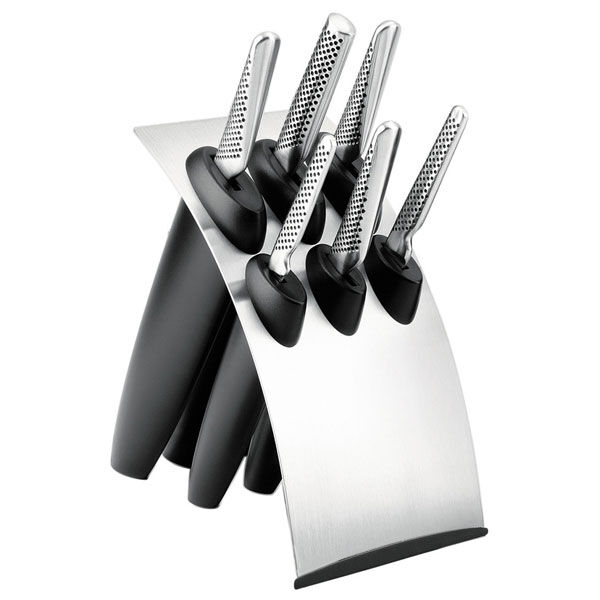 Global is a cutlery manufacturer based out of Japan that got its start in 1985. It took a couple of decades before Global got noticed but once they did, the company became known as one of the best knife manufacturers in the world. All Global knives are forged from stainless steel that has been ice hardened to help it hold its edge better and resist corrosion. They make knives for just about every possible need. Their 5-piece starter knife set is a good choice for chefs who want professional quality but don't want to bother with a huge set of various knives. Global knives have a lifetime guarantee.
Features
Ice-hardened stainless steel
Forged
Wash by hand
Best for people want lightweight, stylish-looking knives
---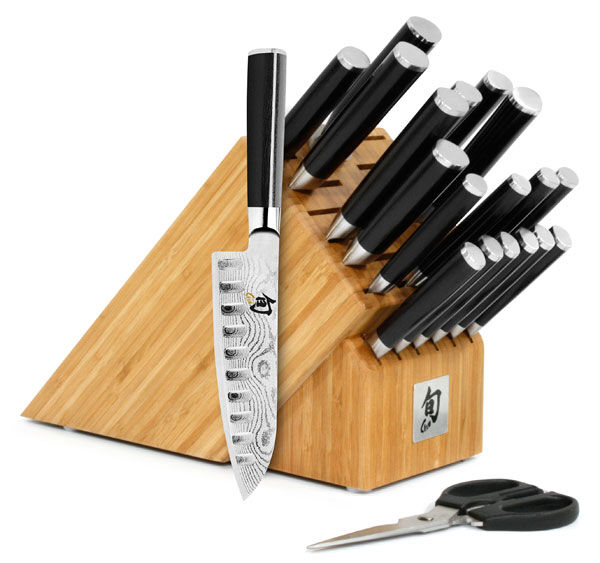 Shun is one of the best known names in Japanese knives. They are superior quality, even by professional standards. Shun Classic knives have some unique features, like being made out of an extra-hard stainless steel and having a D-shaped handle for providing a better grip while simultaneously reducing stress on the hand. The knives come in a sleek design and many sets are available in elegant bamboo blocks.
Features
Stainless steel
Laser-stamped blade
Wash by hand
Best for people who want a lightweight knife set; people with smaller hands
---
| | |
| --- | --- |
| 5 | F. Dick Premier Knife Set |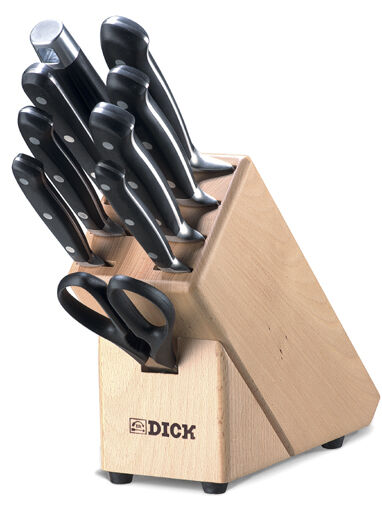 The company Friedr. DICK (which goes by the logo name of F. Dick) is one of the esteemed German cutlery makers. They have roots going back to 1778 and have won many awards for their designs. As is common with German knives, F. Dick Premier knives are forged. They are made from a single piece of stainless steel so they are very strong and weighty. Compared to other knives of the same caliber of quality, F. Dick knives are very affordable.
Features
High-carbon stainless steel
Forged
Wash by hand
Best for people who want a quality German knife set at a good price
---
| | |
| --- | --- |
| 6 | Wusthof Classic Knife Set |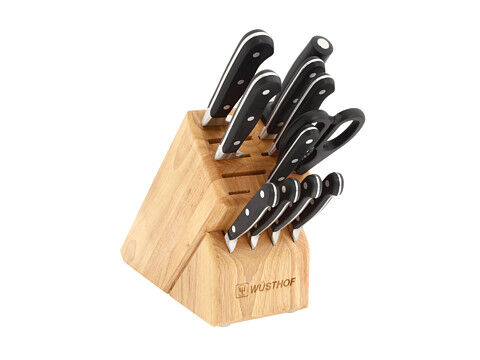 Wusthof is one of the biggest names in the world when it comes to making cutlery. They have been in business for well over 200 years and have been run by the same family for the entire time. The esteemed reputation of Wusthof knives is well deserved because of their dedication to quality. In line with German tradition, their knives are hand-forged by craftsmen in a process which takes 38 steps. The knives have a rather bold curve that helps spread the shock of cutting throughout the entire knife so it is easier to use the knives for long periods of time without getting hand fatigue.
Features
High-carbon stainless steel
Forged
Wash by hand
Best for people who want a heftier knife and people with small hands
---
| | |
| --- | --- |
| 7 | Messermeister Meridian Elite Knife Block Set |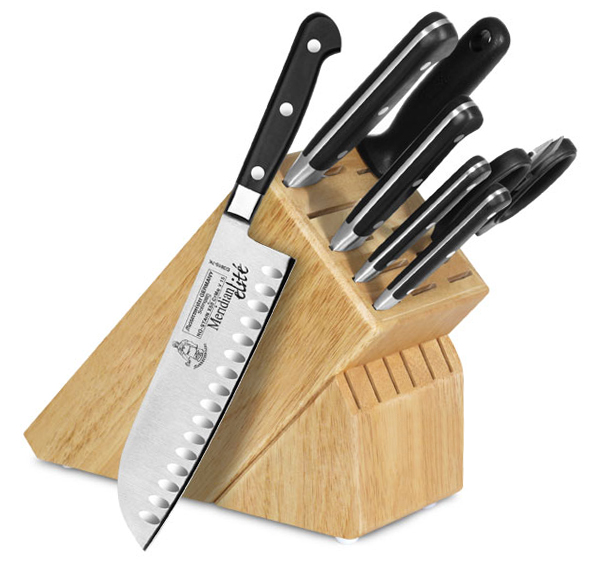 Messermeister does not get as much attention as German knife makers like Wusthof or Henckels, but it is mostly because their production isn't as large. Messermeister makes many different series of knives, including some Japanese-style knives, but their Meridian Elite knife sets are one of the most popular. These knives are hand-forged from a single piece of stainless steel and are then equipped with one of the strongest triple-rivet handles in the world. They also feature a bolsterless, hand-polished edge. People with large hands will appreciate the slightly longer handles of Messermeister knives.
Features
Stainless steel
Forged
Dishwasher safe (though hand-washing is recommended)
Bolsterless edge
Best for people who want a heftier knife set and people who have larger hands
---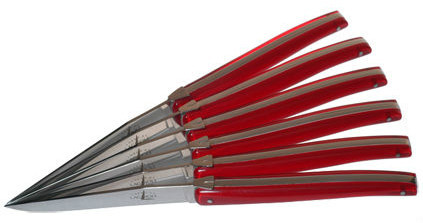 Michel Bras knives
are the result of collaboration between French chef Michel Bras and the Japanese knife manufacturer Shun. These knives are truly the epitome of cutlery. They are handmade by combining three layers of stainless steel to create an incredibly hard blade. Blades are coated with titanium to make them last even longer. On par with Japanese style, the knives are lightweight. The ergonomic shape makes them suitable for all-day use by professionals.
Features
Titanium-coated stainless steel
Laser stamped
Wash by hand
Best for professional chefs who want lightweight knives they can use all day
---
Accessories for Kitchen Knife Sets
Along with their kitchen knife sets, buyers may want to purchase a few accessories to make using the knives easier and to help the knives last longer.
Wood Knife Storage Block: Some knife sets include a storage block with them. However, some people may want to buy a storage block separately so they can get one in a different style or one with more slots for other knives.
Magnetic Knife Rack: The best way to store knives is on a magnetic knife rack. This keeps the knives away from potential exposure to mold or bacteria, prevents wear on the blade, and helps keep the knives easily accessible.
Knife Sharpener: It is important to
Many knife sets come with sharpening steels but there are also other types of knife sharpeners available too, like knife stones and knife hones.
How to Buy Knife Sets on eBay
eBay is a very popular place to buy both new and used knife sets. Shoppers can find them by going to the
Home and Garden
Category then selecting the subcategory
Kitchen and Dining
and then
Knives and Cutlery
. To the left-hand side of the screen, shoppers will find numerous refinement options. Under "Type," they can select "
Knife Set
." There are also options for narrowing down results by Brand, Blade Material, Condition, and Price. Shoppers can also use the search feature to look for specific items within the Knife category.
Kitchen knife sets can be very pricey. One way to save money is to
buy used knife sets
. However, eBay also has many brand new kitchen knife sets available at low costs. Shoppers can look for new knife sets by selecting "Brand New" under the "Condition" refinement.
Conclusion
Serious chefs know that knives are one of the most important tools in the kitchen. When selecting kitchen knife sets, shoppers will have a wide range of options available. They should take note of the knives' brand, material, whether it is forged or laser-cut, and the size of the knife. There are many superior-quality knives available on eBay. So long as shoppers know what to look for and purchase from a reputable seller, they are sure to have a good experience buying knife sets on eBay.