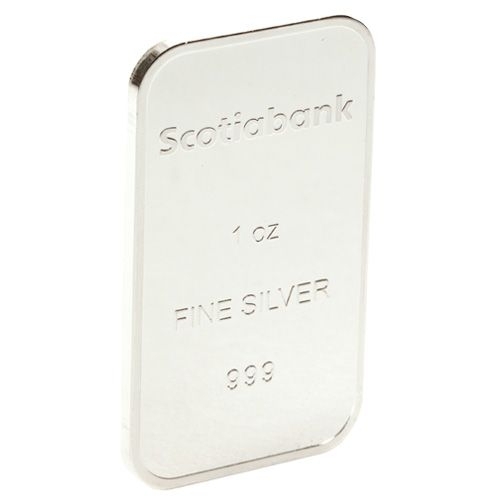 For thousands of years, there are countless ways silver has been used, including as currency, as an industrial commodity, for jewelry, as decoration for the home, and even in food. Investing in silver, either through coins or silver bars,, is a wise choice. Silver is a valuable commodity that fluctuates in price as the stock market changes. Silver bars are flat, easy to stack, and uniform. The unit of measure for a silver bar is the troy ounce, which contains .999 of pure silver. Researching and obtaining an overview on silver bars can help consumers make an intelligent purchasing decision. Silver bars are available from coin collectors and dealers, as well as online. eBay also offers an extensive range of silver bars and accessories.
1. Choose a Bar Size
The best size silver bar to buy depends on the reason the consumer is investing in silver. Large silver buyers invest in silver to preserve their wealth while getting the most ounces for their fiat currency. Small silver bar buyers invest also to preserve their wealth, though they may find the ease of liquidity and flexibility provided by smaller silver bars to be worthy of their typically higher per-ounce price.
Silver bars come in different weights and sizes. The troy ounce includes weights of 1-oz , 5-oz, 10-oz, 100-oz, and 1,000-oz bars. Small fractional or gram sizes are also available from some mints. There is no right or wrong way to purchase silver bars. The rule of thumb with silver is the smaller the silver bar, the larger premium per ounce a buyer pays. This is due to the fact that it is more cost-effective to produce a 100-oz silver bar than it is to produce a smaller 1-oz silver bar.
2. Verify the Authenticity
The purchase of a silver bar should include a certificate of authenticity from the mint. This certificate verifies the amount of silver in the bar, the weight, and the mint it came from. The bar itself is stamped with the mint's seal, weight, and the words "fine silver .999." Be wary of bars that do not include some sort of stamping to identify the bar.
3. Buy Protective Casing
Protecting the investment in a silver bar means buying a case to store the bar in. Silver exposed to air tarnishes quickly. Cases,, made from acrylic plastic, provide a seal away from oxygen and its corrosive tendencies. If a silver bar is tarnished, buffing it with a non-oil based polish cloth is okay. Never dip the bar in liquid polish or use an eraser to remove tarnish, as this devalues the bar.
4. Track the Spot Price of Bars
Silver is generally priced at a premium over the current spot price. Comparing dealer prices at the time of purchase helps the consumer understand how much they are paying. Look at the current silver price per ounce, and then compare it to the total cost for an ounce of physical silver under consideration. The difference is the premium over spot that a dealer is charging.
Depending on the product in question, consumers pay anywhere from less than $1.00 over spot, to many times that for more rare or in-demand products. Of course, like most things, higher volume purchases can occur with a much lower markup or premium. In some cases, a lower premium over spot may come at a different kind of cost.
5. Look for Brand Names
There are dozens, if not hundreds, of active silver bar manufacturers, but the majority of bars on the market come from a handful of mints.
Johnson Matthey
Johnson Matthey has been a top name in silver bullion and the precious metals market since the 1890s. They are a producer of larger silver bars, but they also have small 1-oz bars available. Like any other silver bar producer, Johnson Matthey has certain varieties that collectors consider to be special edition bars, which are more valuable or sought after.
Engelhard
Engelhard is a producer of silver bars ranging from as small as 1 oz to as large as 100 oz. Though the company stopped production of silver in the early 1980s, the Engelhard brand is available on the collectors and investors market due to the large quantities produced during the last minting.
SilverTowne
The SilverTowne brand began in 1949 in Indiana. The company is one of the biggest producers of silver bars in the United States. Almost any size silver bar is available and these bars are widely sought after.
Sunshine Minting
Sunshine Minting began in 1983 with offices and production in Coeur d'Alene, Idaho. The mint is the supplier of coin blanks to the U.S. Mint. Sunshine Minting produces silver bars of all sizes ranging from 1 to 100 oz. In addition to silver bars, Sunshine Minting produces gold bars with a unique security mintmark.
Generic Bars
There are some generic bars on the silver bar market that individual producers manufacture. These bars are not normally identified by a seal, although they may contain a stamp of ".999 silver" on the front of the bar. As a consumer, be wary of generic bars. Many of these bars do not always contain pure silver.
6. Consider Where to Store the Bars
Silver bars are large, flat rectangles, which makes them easy to stack. A home safe or a bank safe deposit box is an ideal place for silver bars. If desired, a consumer may purchase more than one bar without worrying about how to store them since they are so storage-friendly.
7. Invest in Silver Bars for the Long-Term
Investing in silver is a long-term investment. Silver does retain some of its value, but silver bar values do lose or gain value depending on short sellers, large investment orders, and stock market pricing. Many consumers choose to invest and purchase silver bars that they hold onto, pass down to future generations, or sell when the price of silver is at a premium.
How to Buy Silver Bars on eBay
You can find silver bars for sale on eBay very easily. To begin your search, start by entering in the words "silver bar&" into the search bar on any page. You can narrow your results by the weight of the bar, the specific mint, or by countries. If you are on a budget, search for results that are within a certain price range, and narrow your results to show only the listings where the sellers offer free shipping. Sellers' listings have a product description from which you can generally determine the type of silver bar they are selling. Once you find a silver bar seller that interests you, make sure you ask questions about the actual bar. Ask about its condition, how it is stored, and whether it is authentic.
Conclusion
Buying silver bars as an investment is not complicated as long as the consumer understands his or her basic choices. Consumers must choose a size and brand, and determine their storage options. Silver bars are good physical assets to add to any investment or retirement portfolio. The fluctuating price of silver makes silver bars a good long-term investment. Consumers may choose to purchase bars for themselves or a gifts for children, grandchildren, or as a wedding present. Silver bars are portable, easy to store, and generally maintenance-free. As a consumer looking online for a silver bar investment, one can avoid spot pricing that large local dealers charge. Consumers do not need to become experts on silver bars in order to invest in silver if they have the tools to make a wise purchase decision.