Sunglasses
are worn to protect a person's eyes from the sun's glare and harmful rays while driving, boating, playing sports, or simply enjoying the outdoors. In addition to a sturdy frame, sunglasses have darkened lenses, many of which are coated with an anti-reflective, scratch-resistant, or mirrored finish. There are also varying degrees of UV protection to protect eyes from the sun's harmful rays.
There are accessories available that allow sunglasses to perform better and aid in their care and upkeep. From neck straps to cleaning and repair kids, these accessories are easy to find and are priced to fit into every budget. With a bit of research and comparison about their features and purposes,
sunglass accessories
shoppers are be able to pick the items that they need, omit the ones they do not, and can learn how to buy them on eBay.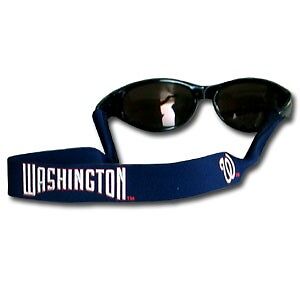 Sunglass neck straps, also called sunglass retainers, are thin pieces of material that attach to the end of each earpiece. The earpiece ends are inserted into the opening of each end of the neck strap and makes a loop, allowing the sunglasses to hang around the neck when they are not in use. This product is made in multiple sizes, and buyers have a choice between a thicker strap, from 1/4 to 1/2 inch in thickness, and a thin one, which is similar in size to a shoestring.
Many people who play sports or who ride boats or jet skis make use of these straps so that sudden movements or the wind cannot blow the sunglasses off of his or her head. Available in a rainbow colors, as well as patterns, such as polka dots or camouflage, these retainers are suitable for men, women, and children.
---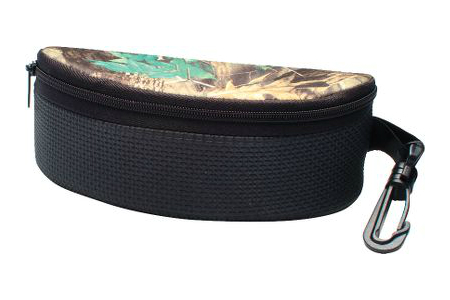 A sunglass belt case allows for the wearer to have a safe and secure place to keep his or her sunglasses any time they are not being worn. While many people choose to push the sunglasses up on their forehead, this leaves the risk of them being knocked or blown off, thereby causing breakage, scratching, or other irreplaceable damage.
The case can either have a hard clip that can attach to a pocket or waistband or straps on the back that are designed to be threaded onto the wearer's belt. While most belt cases are black, dark blue, or other muted colors, some are brightly colored or made with patterned fabric.
---
| | |
| --- | --- |
| 3 | Sunglass Car Visor Clip |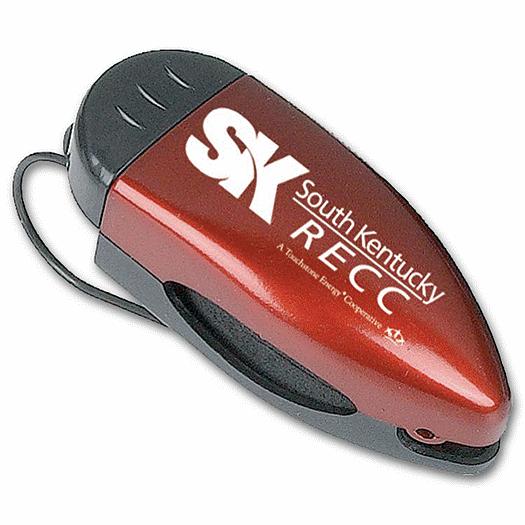 Sunglass car visor clips are designed to hold one's sunglasses safely and securely when they are not being worn outside of the vehicle. It is always convenient to have a pair of sunglasses when driving because of unexpected bright sun or the famed "sunshine slowdown," which is the level where the sun is during the standard morning and evening rush hour commutes. These clips attach to the sun visor of a vehicle and have a release mechanism in order to open the clip and slip the bridge of the sunglasses inside. The inside of the clip is padded in order to prevent damage or scratches. Sunglass visor clips come in many colors, and many companies personalize these clips with a business name and logo and give them away as promotional items.
---
| | |
| --- | --- |
| 4 | Sunglass Microfiber Bag |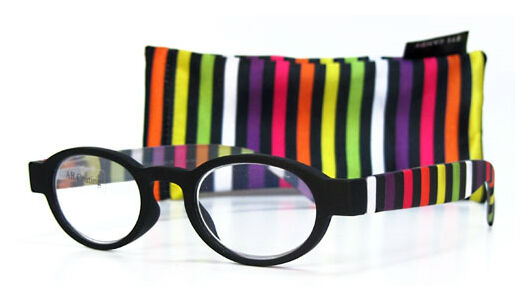 A sunglass microfiber bag is designed to protect sunglasses from dust, dirt, and scratches while they are not being worn. The opposite of a hard storage case, a microfiber bag offers no protection from crushing, but it does keep smudges from appearing on the lenses. Microfiber bags are frequently used to store spare sunglasses in a drawer and can also be used to buff the lenses before wearing. These bags are frequently given away with the purchase of sunglasses and can also be distributed by businesses after being emblazoned with a logo.
---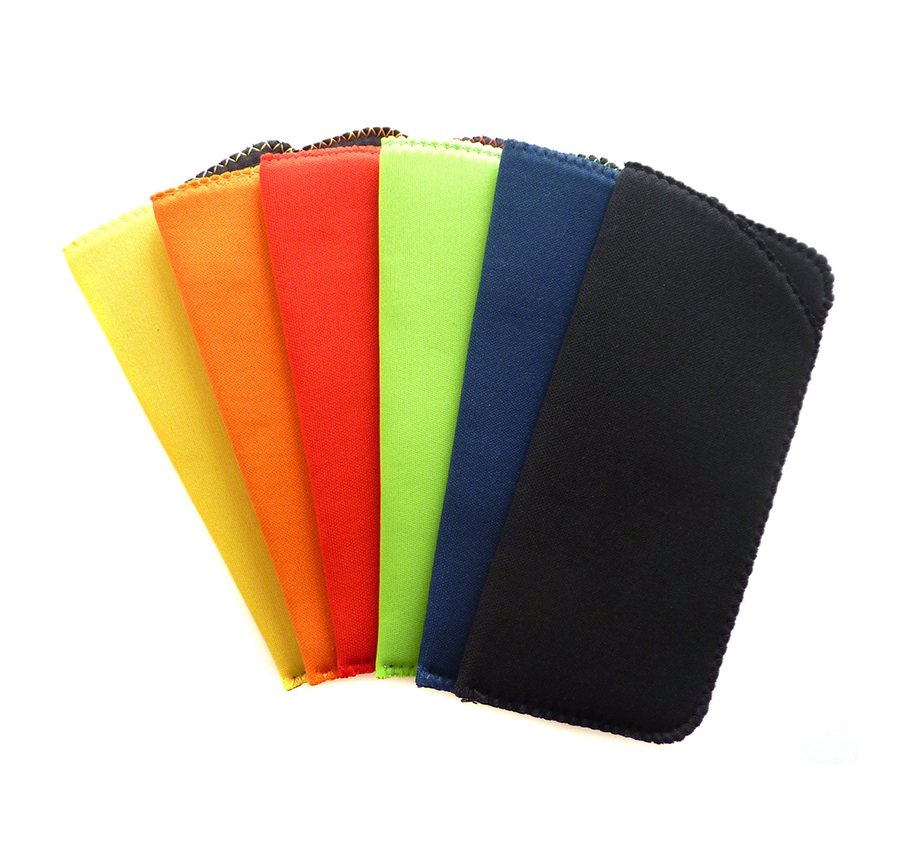 Those who participate in watersports and water activities are not able to wear their sunglasses in the water, as they may sink or become damaged. If one wishes to swim while out on a boat or jet ski, a handy accessory to have is a floating sunglass case. When the sunglasses are zipped inside, they are protected from water damage and can also float if the watercraft happens to accidentally tip over. This way, the sunglasses do not end up at the bottom of the lake or ocean, and the owner can easily paddle over to retrieve them. Camouflage is a popular pattern for this type of case, but they can also come in a rainbow of bright colors and patterns.
---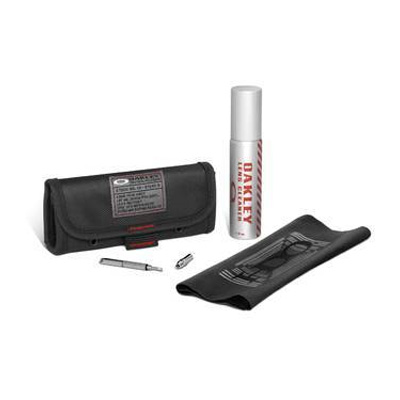 Sunglass cleaning kits contain items such as cleaning wipes, a microfiber cleaning cloth, anti-fog spray, and other items one would need to properly clean a pair of sunglasses. These kits are ideal for home or travel use, and the products are usually travel sized for the sake of portability. It is common to see these kits enclosed in drawstring bags or a box.
---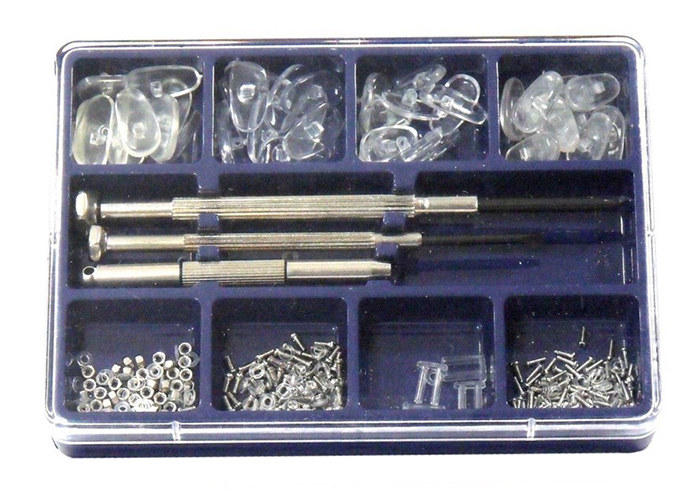 Sunglass repair kits can really save the day when a pair of sunglasses loses a screw or eye pad. Included in these kits are two miniature screwdrivers, one flat and one Phillips head, an assortment of screws, replacement eye pads, a magnifying wand, and a tube of glue for temporary repairs. These kits can be used with either plastic or metal-framed sunglasses, and there are enough supplies to make five or more fixes.
---
Where to Buy Sunglass Accessories
There are many places where a shopper is able to find sunglass accessories for sale, including retail stores, optician offices, and online. However, when purchasing items face-to-face, there are limitations. The purchaser is limited to buying what that retailer has in stock at that particular time and there may not be the proper color of
neck strap
or style of
waterproof case
one is interested in purchasing in stock.
How to Buy Sunglass Accessories on eBay
With just a bit of browsing, you can find virtually any type of sunglasses accessory that you are looking for on
eBay
. For example, you may be looking for a
black sunglass belt case
. You can use the keywords, "black sunglass belt case", and type them into the search bar located at the top of every page on the eBay site. The results show you what eBay has to offer, and you can then click on the listing for more details on the item. Before moving ahead with the purchase, be sure to check out the seller's feedback to ensure that you are buying from someone reputable.
Sellers from around the world sell sunglass accessories with free shipping. In addition, many
eBay stores
specialize in nothing other than eyewear, so there is a likely chance that multiple purchases can be made from one seller, thereby saving money on shipping even if the store does not offer a free option.
Conclusion
From neck straps to visor clips, repair kits to floating cases, sunglass accessories and add-ons make the sunglass wearing experience more stylish and more functional for the owner. The expense associated with buying a quality pair of sunglasses can be seen as an investment, so it is wise to also spend on quality accessories to preserve the beauty and value of the pair of sunglasses.
After a sunglass accessories shopper does a bit of research to find the ideal products that enhance the way they use, store, and maintain their sunglasses, online marketplaces, such as eBay, allow for easy and convenient purchasing and shipment to one's door in a matter of days.