Mens sleepwear was first marketed to the public for purchase in the late 1800s after British explorers were introduced to light drawstring pant that men wore to sleep in India. The word "pajama" is actually a Persian word meaning "leg pant". Different types of pajamas and sleepwear are worn by men all over. According to a 2004 ABC News survey of 1,500 random adults, 70 percent of men wear some sort of sleepwear to bed. Depending on the wearer's preference, sleepwear can be casual and light or elegant and soft. Sleepwear can also be used to keep the wearer warm during winter months or particularly cool during summer months depending on the fabric and style; however, it is important to keep in mind the overall object of sleepwear is comfort while resting. Ranging from underwear, shorts, pajama sets, novelty items, robes, and more, eBay offers many
mens sleepwear
options for convenient and easy shopping.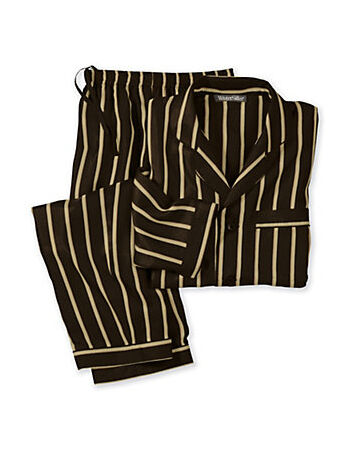 A set of pajamas are a light fitting, loose button up shirt with matching light loose fitting pants or shorts. A set of pajamas is convenient to buy since you are getting a full outfit to wear to sleep. Pajamas are also comfortable for lounging around before going to sleep. Sets of pajamas come in different colors, patterns materials like cotton, satin, and for a more elegant appeal, silk. Monogrammed pajama sets make a common gift for men. Thermal pajama sets are also popular to use in cold-weather months.
---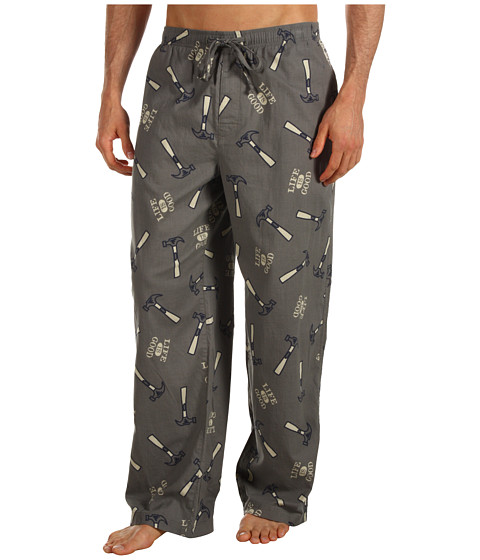 Seemingly only a part of a set of pajamas, pajama pants themselves are often purchased alone and worn by themselves to sleep. Pajama pants are very comfortable and perfect for the man who prefers a t-shirt or no shirt at all at night but likes the feel of the lightweight pants instead of a full pajama set or short. Similar to sweatpants, pajama pants typically have a drawstring waist but are a lighter fabric. Coming in different styles like plaid, solid and stripe, pants offer more warmth for the colder nights and loose freedom movement as you sleep. Hanes and Fruit of the Loom both carry a wide range of pajama pants.
---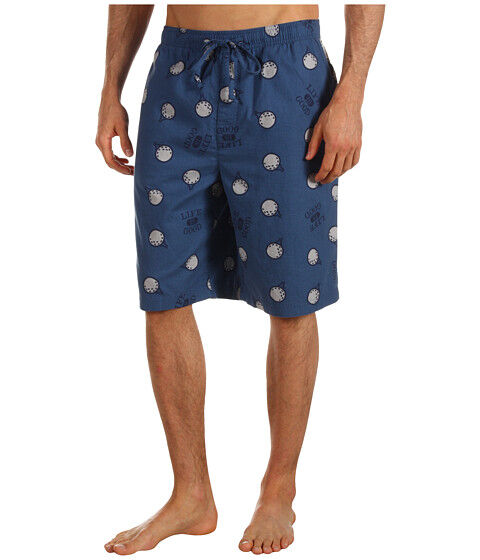 The classic combo of shorts and a T-shirt is the second most popular choice for men to wear to sleep. A man can wear a pair of athletic loose fitting shorts and any t-shirt of his choice there are shorts and t-shirts specifically for sleepwear. Sleepwear shorts are larger than typical boxers while still offering an easy open fly. Shorts come in different styles and different materials like cotton, flannel, nylon, satin and silk. Sleeping shorts vary in length but commonly fall above the knee, and are equipped with a drawstring to ensure proper fit. The consumer would be wise to wash sleeping shorts in cold water so as not to dry out the elastic.
---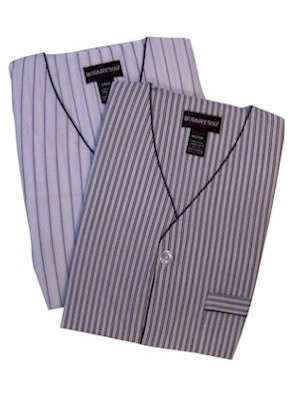 Mens sleeping t-shirts come in both short sleeve and long sleeve which helps for the different temperatures during the summer and winter. Sleeping shirts are typically looser and lighter than a normal mens T-shirt that is worn during the day. Mens sleeping shirts are longer than a normal t-shirt as well, finishing beyond the waistline. Mens sleeping shirts come in different materials like cotton, flannel, nylon, satin, and silk.
---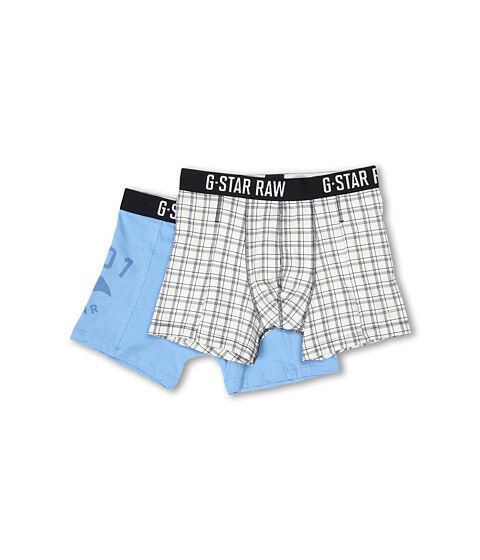 Underwear is the most popular choice of sleepwear for men. Underwear allows comfort at night with what the man may already be used to. Men can choose from briefs, boxers, boxer briefs or thong style underwear. This can also provide relief from the heat in the summer. &nbspBriefs, boxer briefs, and thong style underwear offer a tighter, snug fit while the boxers are looser and airer similar to shorts. Another benefit to wearing underwear to bed is you avoid the bunching up of the extra clothing that could happen with pajamas or a t-shirt as you move around in your sleep. When a person decides to use underwear as sleepwear, it is beneficial to have a robe to toss on if unexpected company appears or he or she has to get out of bed for any reason.
---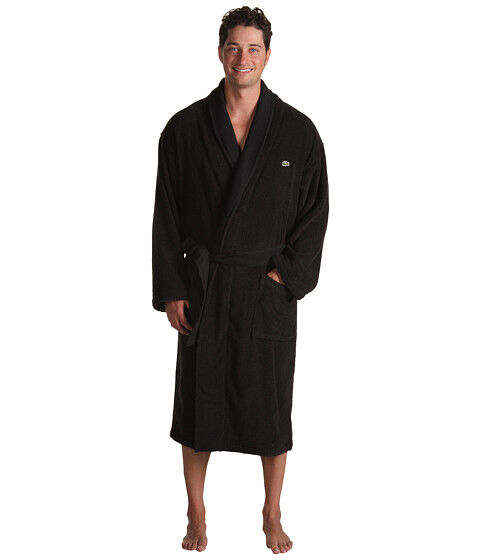 Robes are a popular sleepwear item for lounging around before sleep and after waking up. Robes provide warmth for the cooler weather at night and in the morning. Robes are open in the front, closed with a close belt that is attached to the robe. Robes come in a variety of lengths including full length, which go to the ankle, mid-length, which end at the calf, and knee length. There are also a variety of robe fabrics to choose from including fleece, cotton, silk, and terry cloth. The length and fabric depends on the buyer's preference. Commonly, robes are a solid color; however, robes can be monogrammed or patterned. For privacy, warmth, and added comfort, a robe is ideal. Further, consumers can purchase his-and-her bathrobes for the next anniversary, holiday, or just because.
---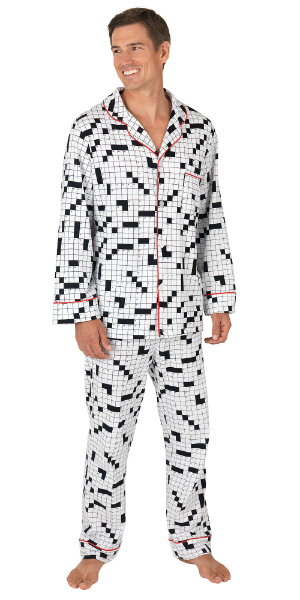 Whether a man is looking for a full pajama set, t-shirt, shorts or just pajama pants there are many novelty options for sleepwear including sports, cartoons, characters, and brands. Sports options are great for a guy to support his favorite NFL team while sleeping or lounging around the house. Maybe Batman or Superman are the buyer's novelty choice, or perhaps the sleepwear displays the buyer's favorite brand of beer or vehicle, either way, there are many options to add some flair to daily sleepwear. With blockbuster hits products year over year, novelty sleepwear is always as relevant as the movies it depicts.
---
How to Buy Men's Sleepwear on eBay
If you are considering new mens sleepwear styles or just need some more sleepwear of your favorite variety, Ebay is a great source for buying mens sleepwear as it has a large selection of mens sleepwear in all varieties and styles. Visit any
eBay
web page and search for men's sleepwear and other items. Search for the specific sleepwear item you are looking for in the search bar at anytime and click "Search." You can also choose to narrow your search by size, color, and brand of sleepwear. For example, you can search for "
Hanes pajama pants large
" and the returned results include all listings that match this criteria.
Conclusion
Everyone has their own definition of comfortable especially while sleeping. Whether you prefer shorts, shirts, underwear, pajama pants or a combination of any of these, it is important to feel comfortable while you sleep. Maybe you prefer a full set of pajamas in the colder weather and only shorts in the hotter weather. A robe is a great way to add warmth and comfort around the house and before bed, which you can then slip off and enjoy the comfort of your desired sleepwear. Keep in mind, silk is a great way to add elegance to your pajama wardrobe, while cotton is breathable and cool.
With so many options for mens sleepwear,
ebay
is a great source for finding your favorite forms of sleepwear. Be sure to search for your favorite style, color, and material so you can enjoy comfort and a restful night of sleep.