Once considered a mandatory foundation garment for the preservation of modesty, slips eventually fell out of favor as an unnecessary and restrictive piece of clothing. However, long slips have revived and now feature in many wardrobes as a favorite accessory rather than a necessity. Very different from the gaffe of "snowing in the south" in previous times, full-length slips are frequently seen flaunted as integral parts of outfits and not as mere undergarments.
With the advent of slips worn as dresses, netted maxi slips worn over leggings, and skirts worn purposely shorter than lacy edging on slips, a new generation of women are experiencing the sublime enjoyment that stems from wearing such an exquisite, fundamentally feminine article of clothing.
---
| | |
| --- | --- |
| 1 | David's Bridal Full-length Strapless Bra Slip |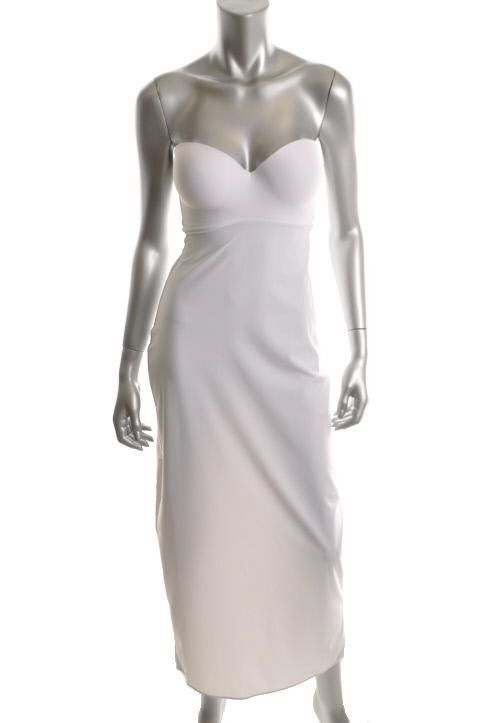 Ideal for weddings, proms, and other formal events, the David's Bridal full-length strapless bra slip also suits full-length dresses made from sheer fabrics worn during casual occasions. When worn beneath formal dresses, the full-length slip acts as a barrier between a woman's skin and her dress, so the flow and fall of the dress fabric wears as intended. Made from nylon and spandex, the slip fits close but incorporates a slit in the back for ease in walking.
A full-length strapless bra slip worn beneath casual long dresses designed with gauzy, flimsy, or see-through material adds a slinky layer. Wearing the full-length slip as a layer preserves modesty in women uncomfortable with wearing skimpier bras and panties with sheer dresses.
| | |
| --- | --- |
| 2 | Bali Lace-Trimmed Full Slip |
Bali fashions various slips, but the company's lace-trimmed full slip reigns supreme. Delicate, floral peek-a-boo lace enhances the soft V-neckline and matches the three inches of lace on the hemline. The slip's wide straps in front taper to adjustable ribbon straps in the back of the slip, which is cut straight across. The full skirt has a slight flare and falls below the knee. The hem's lace trim offers a delicate, layered appearance when wearing dresses cut slightly shorter than the slip.
Made of soft, satiny nylon, the full-length slip prevents dresses from clinging to bodies due to static or perspiration; moreover, women luxuriate in wearing the ultra-feminine silkiness of the fabric next to their skin. When donning a Bali lace-trimmed full slip, the words "pretty," "womanly," and "subtly sexy" spring to mind.
---
| | |
| --- | --- |
| 3 | Free People Point D'esprit Maxi Slip |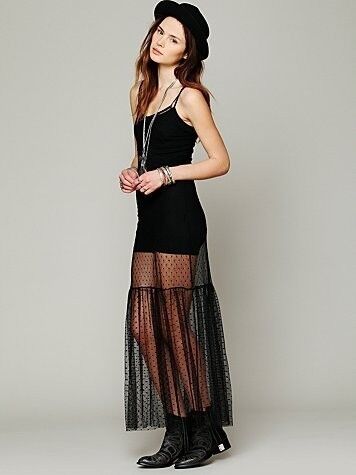 Free People's Point D'esprit Maxi Slip tops contemporary slip styles. The full-length slip falls to the ankles and features Swiss dot lace for sheerness from top to bottom. The slip's bodice incorporates ribbon detailing in the shape of chevrons, and the slip's skirt is tiered and slightly wider at the bottom. Entirely created from lace, the full slip exhibits a netted appearance.
Unlike slips from previous eras, this maxi slip provides neither modesty nor warmth; however, it pairs beautifully with other garments to form part of an outfit. Worn beneath a shorter dress, the maxi slip's skirt forms a longer, lacy layer; however, it also becomes a lovely, filigree highlight when worn over a form-fitting mini-dress. This slip's ability to match any combination of skirts, leggings, tops, and dresses removes it from the label "intimate apparel" and places it in the realm of wardrobe staple.
---
| | |
| --- | --- |
| 4 | Vintage Vanity Fair Full Slip |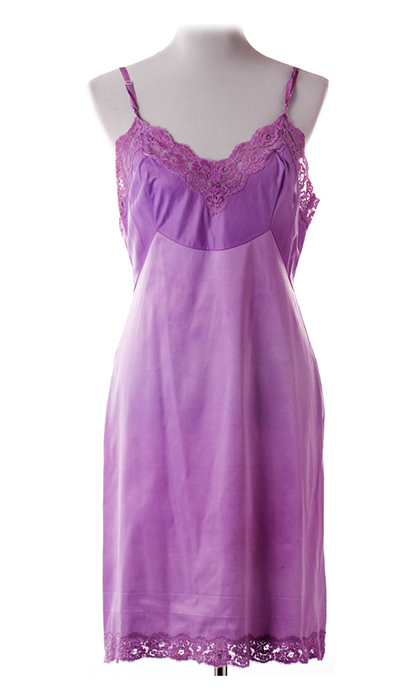 With a seemingly endless variety of styles, any vintage Vanity Fair full slip conjures up the image of old school, high-glam appeal captured on the silver screen; therefore, all vintage slips manufactured by this brand place on the list.
Vanity Fair's long slips feature delicate detailing in the form of lace, satin, and chiffon trim around the bust and along the hem, and soft, shimmering fabrics form the bodies of the slips. From a simple sheath trimmed with a chiffon flounce to a slip intricately embellished with lace cups and trim, vintage Vanity Fair apparel exudes allure.
Any other slip performs as well at keeping garments from awkward clinging, but these vintage slips provide a foundation of decadent prettiness, even if only the woman wearing it knows it exists. Any one of these vintage slips projects glamour when a woman wears it during preparation for an evening out, lying in bed reading, or as sleeping attire.
---
| | |
| --- | --- |
| 5 | Wondermaid Culotte Snip-It Slip |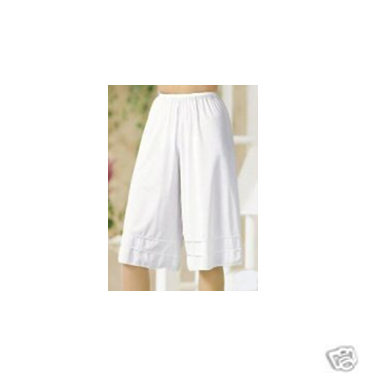 Garments other than skirts and dresses suffer from bunching, clinging, and sticking inappropriately; split-skirts, or culottes, suffer the same fate. Wondermaid's Culotte Snip-it Slip, also called a pettipant, prevents culottes, often created with loose, flowing fabric, from plastering against the legs, which ruins the lines of the garment; additionally, pettipants provide an extra layer for warmth on chilly days. This type of garment also functions as a half slip for knee-length skirts or dresses.
Using a pair of scissors, the Snip-It Slip adjusts to three lengths: 22 inches, 24 inches, or 27 inches when left at full length. The ability to snip the slip accommodates differences in women's leg lengths and differences in lengths of garments.
---
| | |
| --- | --- |
| 6 | Jones New York Microfiber Anti-Cling Half Slip |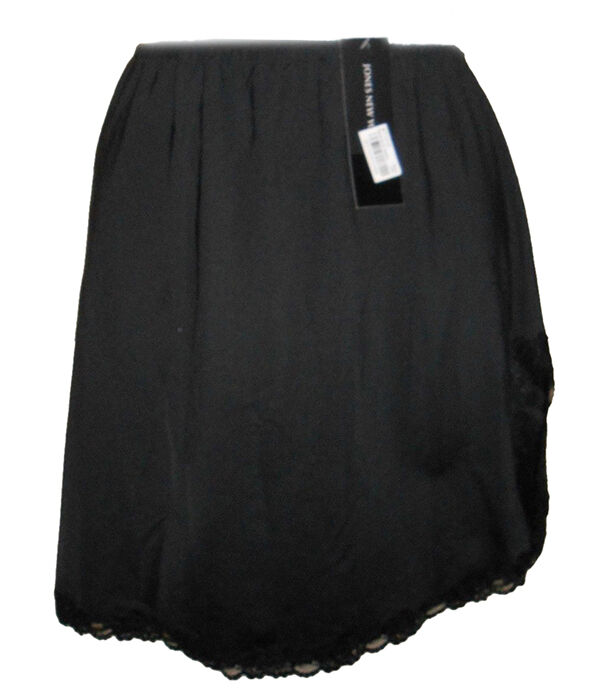 The Jones New York microfiber, anti-cling half slip tops the list for occasions when a full slip would interfere with the top half of an outfit or is simply not required. Made of 92-percent polyester and 8-percent spandex, the slip is stretchy and smooth to fit close and not bunch beneath garments, and its anti-cling properties prevent skirts from sticking haphazardly against the body.
A six-inch border of lace trims the bottom of the slip. If the lace peeks out from beneath a shorter skirt, it adds a textured, lacy layer that accessorizes the outfit instead of being the fashion faux pas an exposed slip was once considered. The lace trim features a six-inch vent, or slit, along the left side of the slip.
---
Adonna long slip-pants pull triple duty: cling prevention, extra warmth, and pant liner. Made of 100 percent-Antron III nylon, the slip-pants keep the fabric of pants from clinging to the legs, which occurs often when wearing pantyhose beneath the pants; frequently, trousers appear two inches too short when a woman stands from a seated position.
As a pant liner, many women consider long slip-pants a wardrobe necessity. Wool and certain synthetic fabrics can cause itching and discomfort; if the pants are unlined, women sensitive to the fabric may find the discomfort unendurable. Adonna long slip-pants provide the necessary barrier between skin and fabrics that cause itchiness. Although the slip-pants are made of thin material, they also act as a barrier against the cold. This type of slip does provide an extra layer of warmth when the temperature dips.
---
Finding Long Slips on eBay
To find long slips on eBay, type the name of a particular slip into eBay's search engine. Alternatively, browse a large selection of available full slips in the Intimates & Sleep department of the
Women's Clothing
store. On eBay's homepage, hover over the Fashion selection on the left-hand navigation bar and choose Women's. Click Intimates & Sleep on the new navigation bar. Select the
Slips
option and refine the search according to brand, style, color, or material.
Conclusion
Whether it is a netted maxi slip worn as a fashion statement or a silky, lacy full slip concealed from all eyes, this piece of intimate apparel captures and enhances the female essence of any woman who wears it. Knowing what type of slip to look for will help fashionable women narrow down their options when shopping.