LEGO
is an iconic household name that holds a special place in many hearts. This simple toy got its start in Denmark just over 80 years ago. The foundation of this toy is the simple
LEGO brick
. These interlocking plastic bricks allow users to build, tear down, and rebuild unlimited designs. Throughout the years, LEGO has incorporated other aspects into the toy, including gears, tires, mini figures, lights, and much more. LEGO has additionally added several licensed themes throughout its lifetime to support other media phenomena, such as Star Wars, Indiana Jones, Harry Potter, Lord of the Rings, and Cars.
LEGO has earned the title "Toy of the Century" on two different occasions. This timeless toy embraces the imagination and fosters creativity. If you did not spend hours playing with LEGOs as a child, you know someone who did and you may even enjoy LEGOs as an adult. Some of the best LEGO kits were those that you could rebuild in hundreds of different ways. You could let your imagination take you from a galaxy far, far away to a medieval castle complete with draw bridges and knights in shining armor. There may have even been a few storm troopers waging battle alongside those knights. All in all, LEGOs have withstood the test of time as one of the most popular toys. Whether you collect LEGO Ships, have a LEGO city in your basement, or just have that box of random LEGO bricks, you know the value of this amazing toy.
| | |
| --- | --- |
| 1 | Hogwarts Castle 4842 LEGO Set |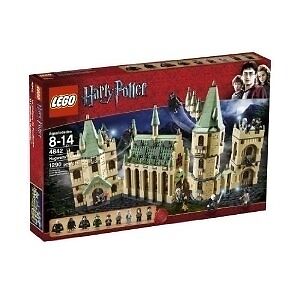 This is the fourth version of the Hogwarts Castle from one of the most successful movie franchises of all time. This version of the castle incorporates elements from all of the movies in the series as opposed to focusing on the movie most recently released. It is also the most intricate, detailed, and developed version available. The castle is comprised of four areas, the Common Rooms, the Astronomy Tower, the Great Hall, and Dumbledore's Office.
Features
1290 Pieces
Includes Professors Dumbledore, Snape, Flitwick, and McGonagall
Includes Lord Voldemort and two Dementors
Comes with Argus Filch and his car, Mrs. Norris
---
| | |
| --- | --- |
| 2 | Black Monarch's Castle 6085 |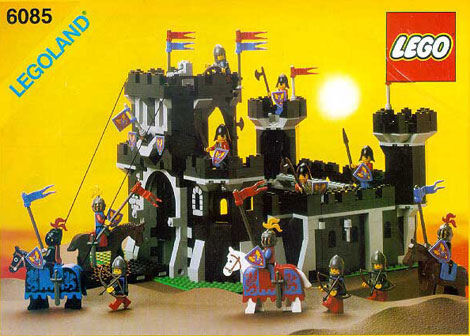 Released in 1988, this Black Knights set is comprised of a castle, a working drawbridge, and a functioning portcullis. This was one of the first sets that involved the Black Knights. The outer walls that enclose the courtyard can be folded open to allow easier access to the intricacies of this set. Under one of the two towers is a prison cell locked shut with a latticed door that first appeared in this set.
Features
695 Pieces
Includes four knights on horseback, four guards, and four archers
---
| | |
| --- | --- |
| 3 | Green Grocer 10185 LEGO Set |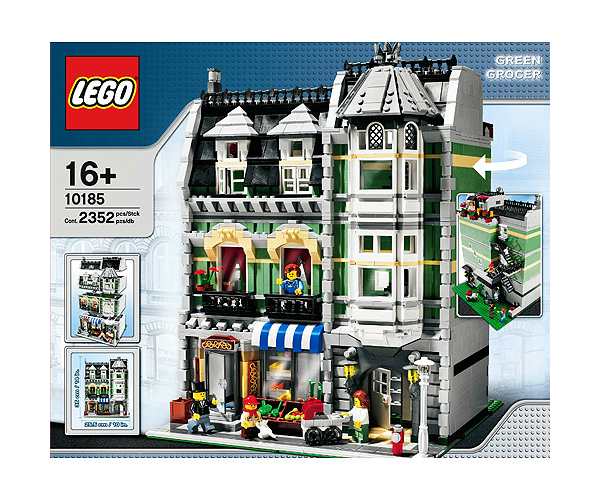 Part of the Modular Buildings set, this features three floors, roof terrace, apartments, grocery store, and a fire escape. Intricately designed, it was intended to be very detailed and exceptionally lifelike. This set is a must have for any Street Layout with a combination of nine total LEGO sets that fit together to make a complete scene. The Green Grocer is one of the largest sets of the Street Layout.
Specifications
2352 Pieces
Includes four mini-figures
---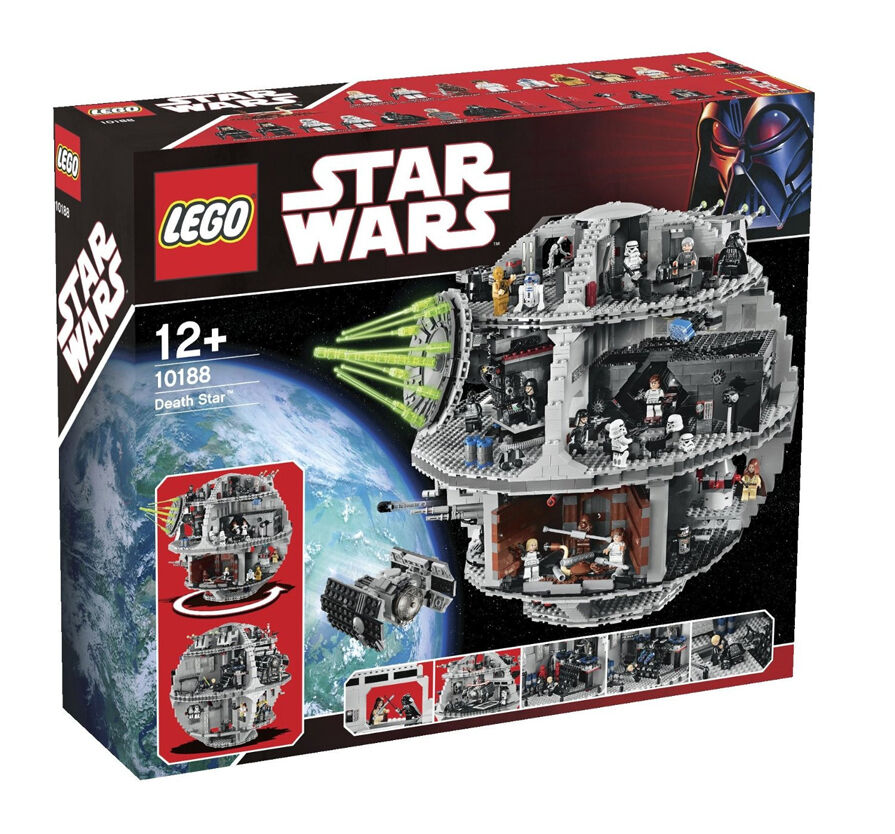 The Death Star is a set from the Star Wars licensed LEGO series.. It combines elements from both the Death Star and the Death Star II from the Original Trilogy. This set produces 13 rooms featured in the Star Wars films to include the trash compactor, the throne room, and the hangar bay complete with Darth Vader's TIE Advanced. This is one of the most intricate LEGO sets ever produced.
Specifications
3803 Pieces
Includes 24 mini-figures containing characters, such as Luke Skywalker, Han Solo, Obi-Wan Kenobi, C-3PO, R2-D2, Princess Leia, Chewbacca, and Darth Vader.
---
| | |
| --- | --- |
| 5 | Grand Emporium 10211 LEGO Set |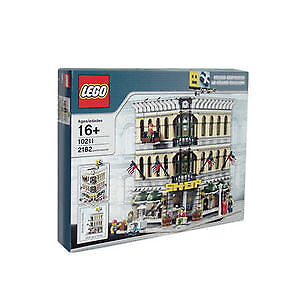 This three floor shop was released in 2010. The first floor features a clothing department complete with fitting room. The second floor contains a house wares department, while the third floor exhibits a toy store. Special features of the Grand Emporium include an atrium, chandelier, escalators, revolving door, lighted billboard, mailbox, and window washer platform. This set is carefully crafted to include realistic details, such as perfumes and hats in the clothing store, glasses and plates in the house wares, doll house and scooter in the toy store, and mannequins in display windows to be seen from the street.
Specifications
2182 Pieces
Includes seven mini-figures with five people and two mannequins
---
| | |
| --- | --- |
| 6 | Emerald Night 10194 LEGO Set |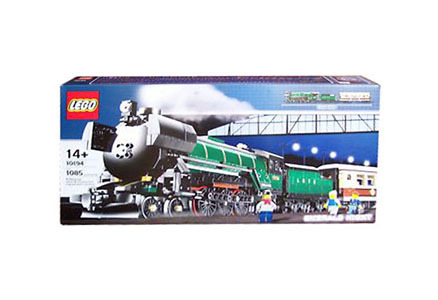 The Emerald Night LEGO set is a part of the Trains theme. It was originally released in 2009 and experienced a short life as it was discontinued in 2012. Additionally, this set was not offered in stores. Emerald Night contains an A3 Pacific steam locomotive engine, a tender car, and a dining car. The set does not contain tracks or a motor, but it is set up for both. Combining this set with the Power Functions XL motor and a set of tracks creates a dynamic addition to any LEGO collection.
Specifications
1084 Pieces
Includes three mini-figures
Can be motorized and used with tracks
---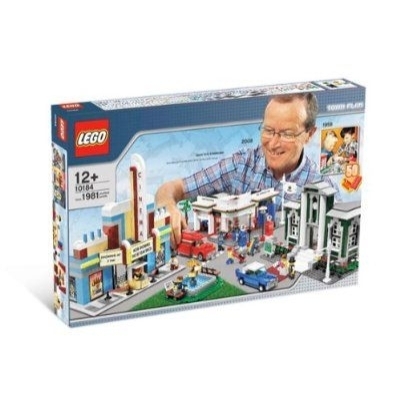 Released in 2008, Town Plan is made to resemble a 1950's era LEGO town. It contains a special letter from Kjeld Kirk Kristiansen, the LEGO Company owner. He is also featured on the box of this set. The Town Plan set features a town hall, a service station, a movie theater, a fountain, and two vehicles. The set includes five main structures, a movie theater, a town hall, a service station, and two vehicles. This set was made to celebrate 50 years of LEGOs and this is the perfect foundation for any LEGO collection.
Specifications
1981 Pieces
Includes eight mini-figures
Includes three special edition gold bricks that are exclusive to this set
---
Accessories for LEGO Sets
While the top LEGO sets of all time are great to have, there are many accessories to go with them that make the experience even more enjoyable.
| Accessory | Description |
| --- | --- |
| Mini-figure Display Case | This allows you to organize and show off all your mini-figures< in one secure place. |
| LEGO Storage Brick | Storage for all your LEGO in one convenient place. |
| Baseplate | An extra large base< to build your LEGO sets with ease. |
| Workstation | A combination storage bin and work base to build LEGO sets and then put them away. |
| LEGO Sorting Tray | Trays to organize your LEGOs by type, size, or color. |
Purchasing LEGO Sets on eBay
Finding a
LEGO set on eBay
is simple and fast. There are several ways to find the desired set. The two easiest ways to search are to type in the name of the set you are looking for on the eBay home page or to type in the model number of the set you are looking for on the eBay home page.
You may start shopping without having a specific set in mind. This is easy and fast as well. Simply narrow down the selections using the categories feature. Several filters can be used to narrow down results to the set desired. You will find a wide range of LEGO products, ranging from
bundles of spare parts
to sealed-in-box
collector quality items
.
Conclusion
No matter your goal for LEGOs, a gift for a child, a collectible, or a present to yourself, they remain a staple in the world of toys. Listed are some of the most popular LEGO sets of all time, but this list is definitely not all-inclusive. You may find joy in giving a LEGO set as a gift or by tracking down the one set you are missing from your LEGO Ship collection. Either way,
LEGO toys
have been one of the more favorite items for people of all ages and
eBay
offers a wide selection of LEGO toys from many trusted sellers.