The first upright vacuum cleaner was invented by a janitor in 1907 in an attempt to alleviate asthma attacks as a result of dust moving about in the air from a carpet sweeper. The Hoover Company purchased the patent for this design and turned the product into a must-have household appliance.
Hoover upright vacuum cleaners
utilize a combination of motor driven rotating brushes and suction created by a fan motor to remove dirt and dust from both carpeted and hard surfaces. There are several different varieties of Hoover upright vacuum cleaners and buyers can select from units that use
bags
, canisters, or bagless plastic collection bins to remove and hold dirt and dust.
The Hoover UH70800 is a high-capacity bagless upright vacuum cleaner that makes use of Hoover WindTunnel 2 technology to form two channels of suction to dislodge embedded dirt from carpet and quickly remove dust and dirt from hard surfaces. The Hoover UH70800 uses an internal filter assembly to gather fine dust particles along with a high-capacity dirt cup to hold larger debris and dirt. The internal filter is reusable and easily rinsed clean with running water.
---
The Hoover UH70832 is a bagless upright vacuum cleaner designed specifically for use in households that have pets. Making use of WindTunnel technology, the Hoover UH70832 features a rubberized pet tool pack that includes a crevice tool, an extension wand, and an upholstery tool specifically designed to remove pet hair and debris from furniture, stairs, and small nooks and crannies throughout the home. The Hoover UH70832 features an automatic 25 foot retractable power cord and removable eight-foot hose for use in hard-to-reach areas.
---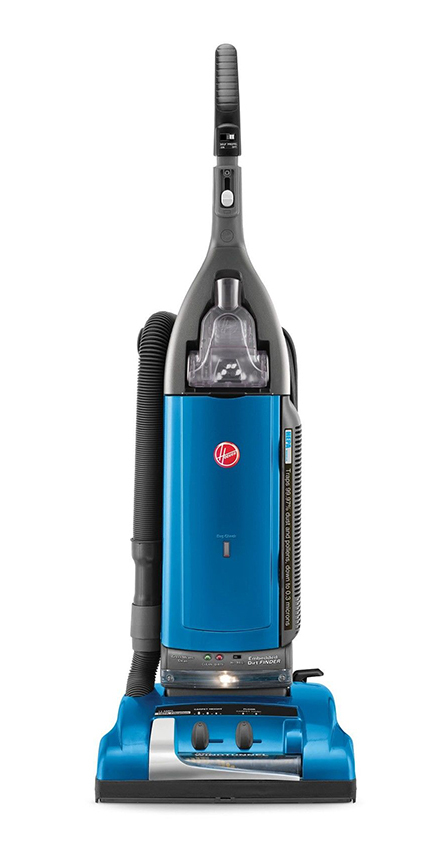 The Hoover U64805900 is a self-propelled upright vacuum cleaner that features WindTunnel technology and an internal collection bag to collect dust and debris from carpets and hard floors. The Hoover U64805900 features both forward and reverse self-propulsion, which provides complete ease of operation. The Hoover U64805900 features the Fabulous Filtration system, which passes air through several filter systems after dirt and dust deposits into the collection bag system, virtually eliminating dust from the air.
---
The Hoover C1660900 features a Twin Chamber bagless system that creates powerful suction to collect dirt and debris and store it in a sealed chamber that is easily removed for disposal. The Hoover C1660900 offers a Hush Mode option that enables quiet operation of the vacuum when needed. The Hoover upright vacuum cleaner also offers a multi-speed power surge switch enabling the user to increase the amount of suction for use in heavily soiled areas. The Hoover also features a manual three-position height adjustment and a standard HEPA filtration system that ensures collection of even the finest dust particles.
---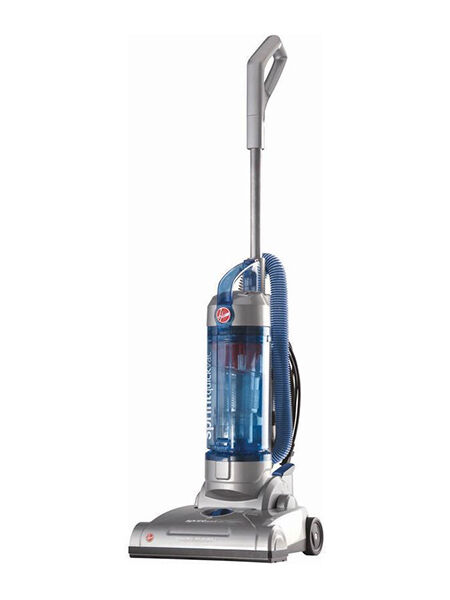 The Hoover UH20040 is a lightweight and compact unit that is also referred to as the Hoover Sprint QuickVac. The Hoover UH20040 features Multi-Cyclonic technology that utilizes cyclones to separate debris particles prior to reaching the filter, which makes maintaining the filter a much easier process. The Hoover Sprint features a removable handle along with a stretch hose that allows users to reach up to 7 feet above the unit for thorough top to bottom cleaning. The Hoover upright vacuum cleaner also features a performance check indicator which turns red when the systems performance degrades, indicating a need for cleaning.
---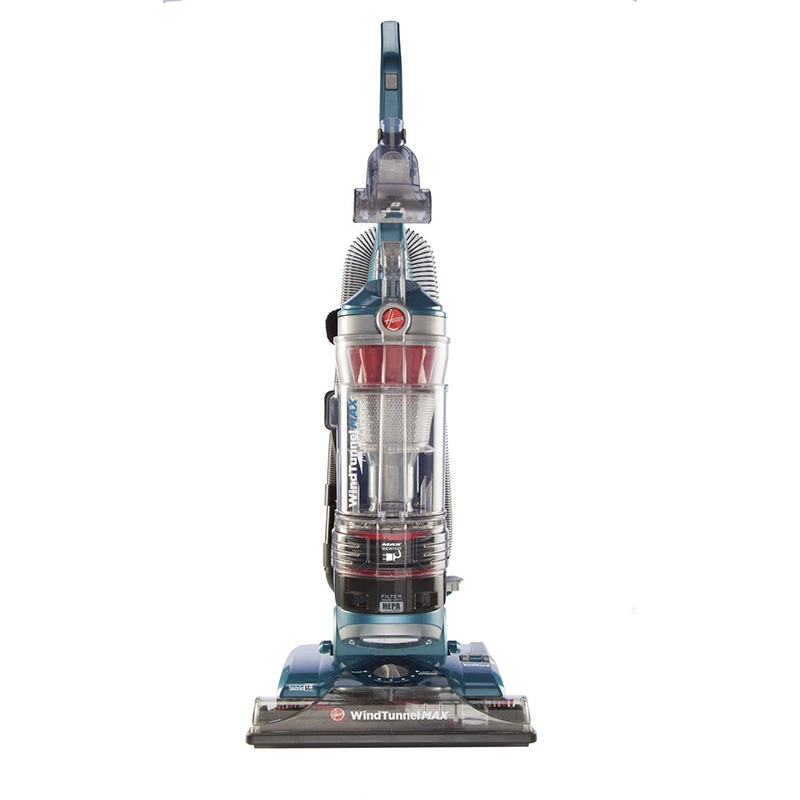 The Hoover UH70600 Wind Tunnel Max because it offers three channels of suction to remove even the most stubborn embedded dirt from carpets and furniture. The Hoover UH70600 creates 12 internal cyclones that act to separate fine particles of debris and dirt prior to reaching the easily cleaned filter system, which means more time vacuuming and less time cleaning filters. The Hoover WindTunnel Max features a removable powered roller brush, cleaning wand, and extension hose that allow the user to clean up to 18 feet above the floor.
---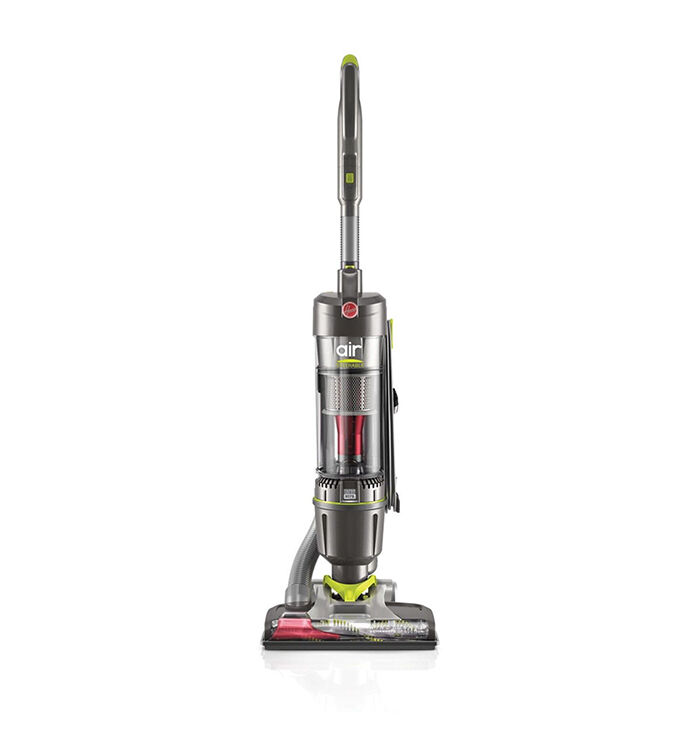 The Hoover UH72400 is also known as the Hoover Air and features steerable head technology that enables users to easily navigate around furniture and corners by twisting the handle in the direction they want the vacuum to move in. The Hoover UH72400 features the exclusive WindTunnel 3 technology, which creates three channels of suction to easily remove even the most stubborn dirt and debris. An extension wand and flexible hose allows the Hoover Air to reach up to 14 feet above the floor for hard-to-reach cleaning.
---
How to Buy
If you are in the market for a great deal on a Hoover vacuum, you should definitely take advantage of the advanced search tools available on eBay help find and purchase the exact vacuum to suit your needs. Simply navigate to any eBay page and enter a specific keyword such as "
Hoover upright vacuum cleaner
" into the search box that appears on that page. This displays a list of available vacuums that you can search through until you find the one you need.
Hoover upright vacuum cleaners provide the necessary power and technology to remove even the most stubborn dirt and debris from carpets and hard floors. The many attachments available on Hoover vacuums add to their versatility and make it easier for individuals to keep their home clean.