Digital photo frames are a fun and easy way to display a multitude of pictures without having to print them out and buy a frame for each one. Frames come in a variety of sizes, shapes, colors, and styles. Some
digital photo frames
include speakers for playing music and videos as well. Many digital frames have other uses, such as a clock, an alarm, or a calendar. The number of pictures and videos a frame holds and how quickly those images load and change depends on the memory size. The type of files the frame supports varies among brands, as well. Knowing the intended use of the digital photo frame and the most common file types the user has helps when deciding on the most appropriate frame.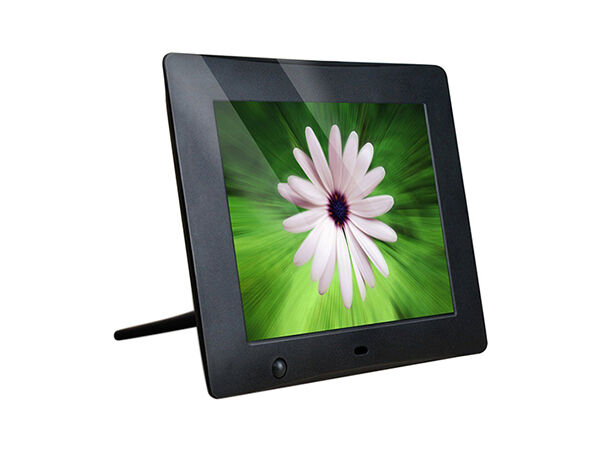 For a frame that turns itself on and off, consider the NIX X08C Hu-Motion digital photo frame. This frame has a motion detector, so the show begins when someone walks by. A pretty, simple black frame surrounds an 8-inch high resolution SVGA screen that also plays videos and music. The motion sensor is easy to set up and works in increments of 30 seconds to one hour. This frame displays JPEG photos, and plays MPEG-4 and MP3 music. An auto-rotate sensor flips the images if the user rotates the frame.
---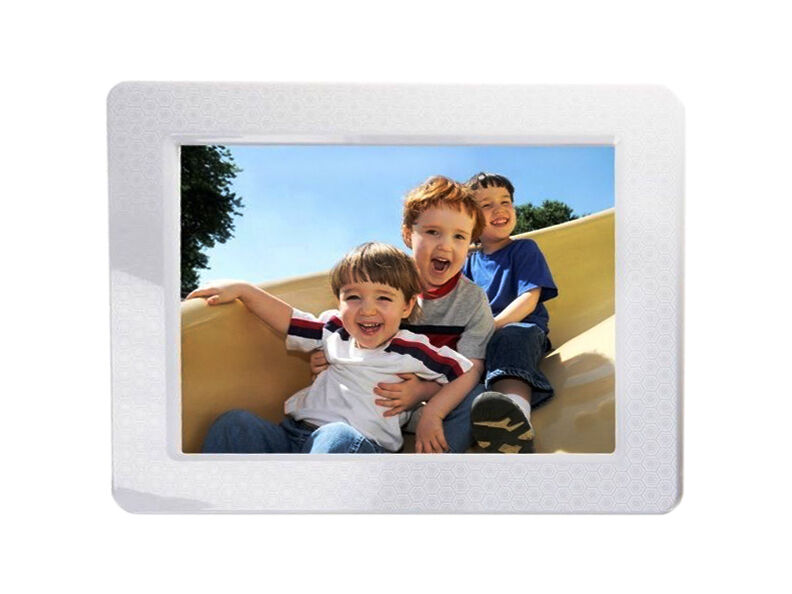 The Transcend PF830 features either 4 GB or 2 GB of memory, allowing the user to display 1,000 pictures or play an hour and a half of video with the 4 GB model. The frame comes in white or black, and the screen is 8 inches with a 4:3 high-resolution display, giving crisp, colorful picture. With full-motion video and a music player, this frame also works as a calendar and an alarm clock. Uploading data to the frame is easy with card slots for SD, SDHC, MMC, and MS devices.
---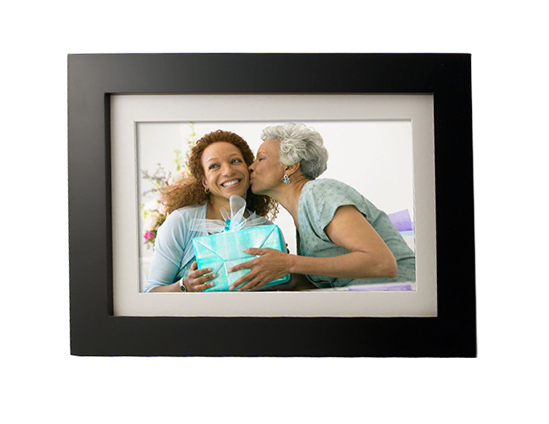 The 10.1-inch LCD screen of the PanImage PI1003DW provides clear, crisp images with 800x480 resolution and a contrast ratio of 250:1. This frame holds up to 250 photos with 256 MB of internal memory. The frame is black wood and has interchangeable mats in gray and white to fit into any decor, and features clock and calendar functions. The ability to rotate, resize, and adjust color and brightness make the most of the displayed photos, and the frame turns itself off and on with user programming.
---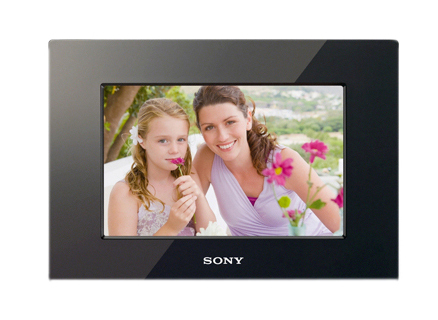 In this product, a pretty black frame complements a 7-inch LCD screen with 16:10 contrast ratio and 800x480 resolution. The Sony DPF-D710 has a remote control for easy, hands-free operation. Photos display as a slideshow or as individual images, and an index allows the user to scroll through all uploaded images. 128 MB of internal memory holds hundreds of photos that upload easily from a USB drive or the memory card from a camera. The frame also connects directly to a computer with a USB connector cord.
---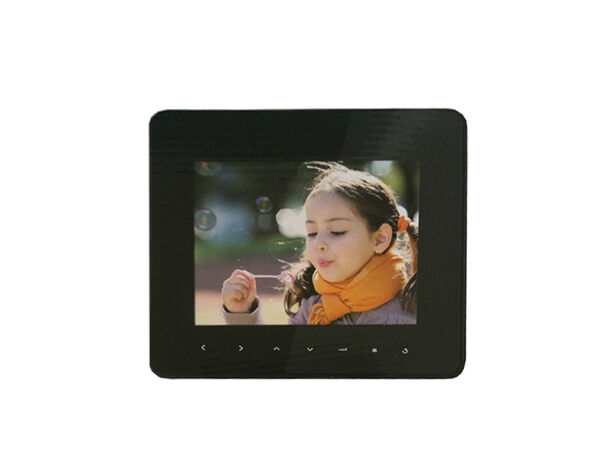 For the ability to share photos and video files, the Coby DP870 digital photo frame works with JPEG files, AVI movie files, and MP3/WMA audio files. A remote control and navigation buttons on the front of the screen offer choices for operation. This frame looks like a computer screen as opposed to a traditional photo frame, and has an 8-inch display screen. Transfer photos to the frame using either a USB drive, or SD, MMC, CF, MS, or xD memory cards.
---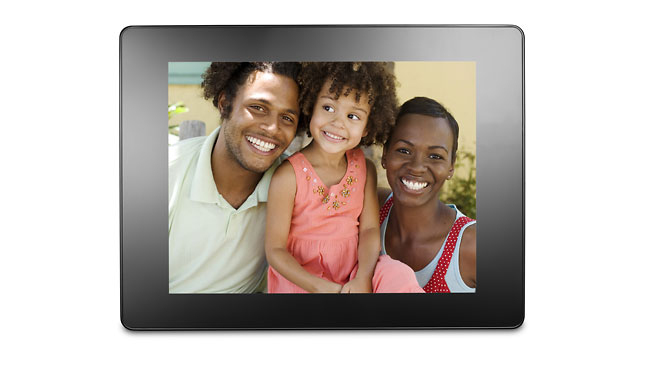 The Kodak Easyshare P85 is an 8-inch digital frame that displays pictures in a landscape view. EXIF and JPEG files upload using a memory card or a USB flash drive. With an aspect ratio of 4:3, a contrast ratio of 500:1, and 800x600 resolution, pictures display beautifully at variable speeds, which the user can control. This environmentally responsible frame is mercury free and is ENERGY STAR-qualified, so it is a good choice for those who are energy and environmentally conscious.
---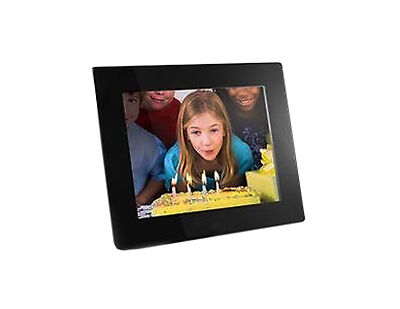 Pictures display clearly and brightly on the Aluratek ADMPF108F digital photo frame with a true digital LCD screen with 800x600 resolution. This frame also plays video and music, and functions as a clock and calendar as well. Built-in memory from 256 MB to 2 GB allows the frame to store hundreds of pictures and hours of video or music. A shiny black frame has built-in speakers that play background music to complement the photo slideshow. Transfer images and data directly from a computer or through a flash drive or memory card.
---
How To Buy
Finding digital photo frames on
eBay
is easy and convenient. You can compare prices, styles, and
brands
without ever leaving your couch. Type in the keywords "digital photo frame" to begin, and then narrow the results by size or condition. You can even find frames that are not working if you need replacement parts for one you already own. If you want a certain brand, such as
Sony
, include it in your keyword search to see only Sony frames. Consider buying multiple digital photo frames at once if you know you need more than one. Read the description of any listing carefully so you are fully aware of the contents and the condition of the product. Once you have decided on a digital photo frame, simply check out and you are done.