Athletic socks
are a multibillion dollar product category and are worn and coveted by middle school youths to professional athletes. There is just as much technology, research, and design put into them as running shoes and features like support, sweat-wicking fabrics, and independent anatomical design for each foot are carefully considered. Other factors include cushioning, durability, seams, which are the leading cause of blisters, and appearance. Manufacturers are fiercely competing to climb to the top of the industry by offering more features, innovative designs, catchy colors, and stylized fits for all types of athletes, both professional and recreational.
Researching and getting an overview of the different types of athletic socks can help consumers make the right buying decision. Determining the correct size and style is just the beginning of choosing an athletic sock. The next step in the purchasing process is an understanding of what the wearer wants to achieve, and the diverse technological differences available among the choices. Athletic socks are available from clothing and sports shops, as well as online. eBay also offers an extensive range of athletic socks with items suited to every budget.
| | |
| --- | --- |
| 1 | SmartWool PhD Outdoor Light Crew Socks |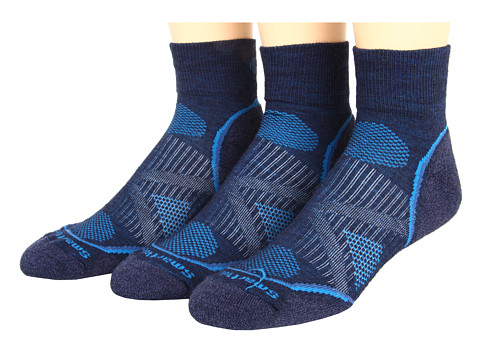 SmartWool socks states that their socks will not itch, and can be repeatedly washed and dried without shrinking. The PhD Outdoor Light Crew Socks uses innovative design of multiple elastics to offer greater stretch and recovery and to keep the socks in place. Bands at the ankle, upper and lower instep, and arch connect to the feet for a great fit, flat-knit toe seams resist wear, and more wool in high impact areas increases comfort and durability. Merino wool provides excellent temperature control and moisture management, and mesh zones placed strategically provide ventilation, keeping feet dry and odor-causing bacteria at bay, reviewers say. The wool construction makes this sock more suitable for cooler weather.
---
| | |
| --- | --- |
| 2 | Injini Run 2.0 Original Weight Mini-Crew Toesocks |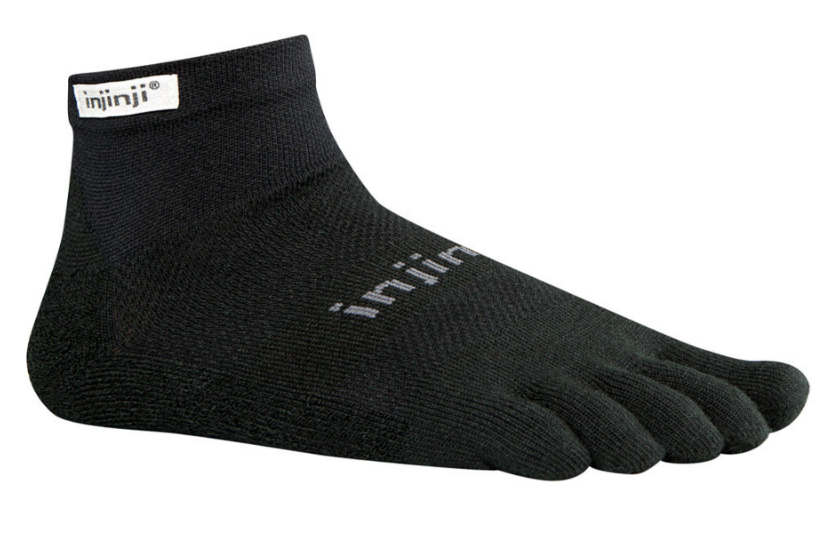 Designed for running but ready for much more, the Injini Run 2.0 Original Weight Mini-Crew Toesocks sock offers a snug fit with maximum protection and minimal weight in a five-toe design that properly aligns toes, prevents blisters and promotes proper posture and balance. Features like reinforced toes and padded heels, metatarsal arch support, moisture-wicking fabric, mesh tops to provide ventilation, and stretchy top bands to hold socks in place make this an ideal sock for technical terrain, preventing blisters, and lasting runners hundreds of miles.
---
| | |
| --- | --- |
| 3 | Sof Sole Coolmax Runner Low-Cut Socks |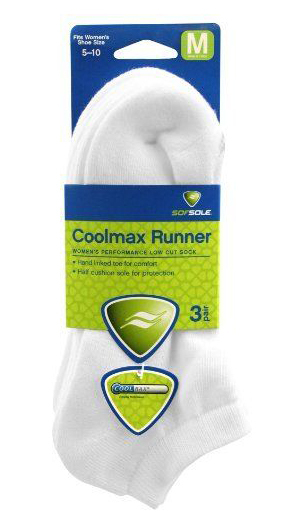 This lightweight and highly breathable sock wicks moisture away from the skin through an acrylic, nylon, and spandex blend that resists shrinkage but stays soft. The seamless toe and deep heel pocket design prevent blistering while the banded instep system provides support ideal for all sports. Runners swear by the Sof Sole Coolmax Runner Low-Cut Socks for their breathability, comfort, and ability to hold up to a variety of activities from trails to cross-training during short or long periods of use.
---
| | |
| --- | --- |
| 4 | Nike LeBron Elite Basketball Crew Socks |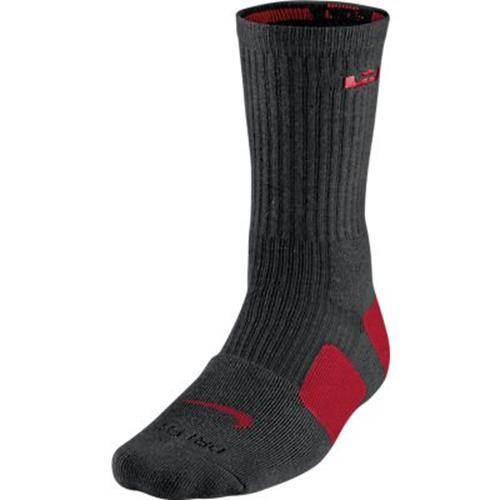 Nike leads the court and the athletic sock industry with their LeBron Elite Basketball Crew.. This high-performance sock named after the basketball legend features multiple foot zone cushioning and arch compression for comfort and support while the reinforced heel and toe sections lend to durability and added cushioning in high wear areas. Furthermore, they are left-and-right foot specific for an enhanced fit experience. Microfiber polyester fabric wicks sweat away from feet to the fabric surface where it evaporates. Users claim their comfort, breathability, durability, and style are nearly unbeatable compared to higher priced socks.
---
| | |
| --- | --- |
| 5 | Thorlo XT Fitness Socks |
Thorlo specifically designed the XT Fitness Socks to deliver comfort and protection for men who are prone to blisters, foot pain, or discomfort. Fabricated with special fibers for ultimate softness, they remain resilient and wick moisture for drier, better feeling feet. Boasting a cushioned instep and arch for shock and impact protection, clinical studies show the design to reduce blisters, pain, pressures and moisture. The sock also has a low-profile toe seam that will not rub or irritate feet. Touted by many as extremely soft and comfortable, the sock feels brand new for every wearing.
---
| | |
| --- | --- |
| 6 | Under Armour Charged Cotton Crew Socks |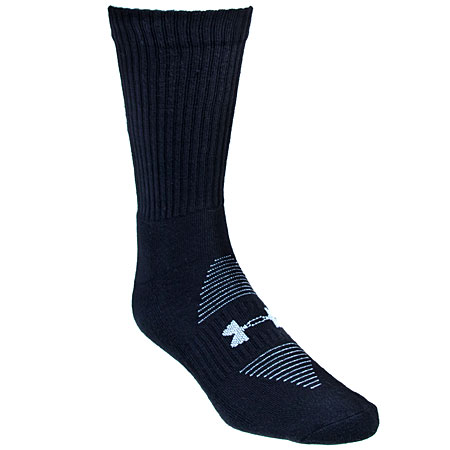 The Under Armour Charged Cotton Crew Socks has embedded arch support to aid in blood circulation and conform to the foot's natural shape, additional cushioning for maximum shock absorption, and a contoured heel to prevent rubbing and keep a snug fit. A moisture-transport system keeps moisture away from skin, allowing feet to feel cooler and anti-odor technology prevents the growth of odorous microbes. Users claim the socks are comfortable, lightweight, stay up as expected to, and will work equally well in at the gym or under a suit at the office, though the fabric may pill sooner than expected.
---
| | |
| --- | --- |
| 7 | CEP Men's Progressive Run Socks |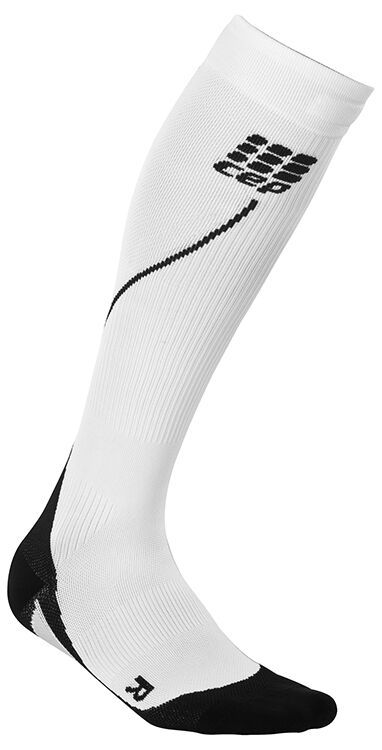 CEP compression socks offer medical compression to help athletes, and those with lower leg or foot pain maximize performance and recovery. The Progressive Run Socks ' design protects the shins, calves, Achilles heel, and feet. In addition, a flat toe seam reduces blistering, silver ions reduce odor, and microfibers reduce over-heating and moisture. Compression thread precisely placed in the material gives gradual compression from the foot to the calf allowing for longer endurance during activity. CEP makes sport-specific socks, so whether biking, running, or hiking there is a sock or a sleeve available in a rainbow of colors. The product sizes by the circumference of the calf and durable construction makes feet feel comfortable all day.
| Sock | Arch Support | Moisture Wicking | Flat-Toe Seam | Additional Padding |
| --- | --- | --- | --- | --- |
| | Yes | Yes | Yes | Yes |
| Injini Run 2.0 Original Weight Mini-Crew Toesocks | Yes | Yes | No | Yes |
| Sof Sole Coolmax Runner Low-Cut Socks | Yes | Yes | Yes | No |
| Nike LeBron Elite Basketball Crew Socks | Yes | Yes | No | Yes |
| | Yes | Yes | Yes | Yes |
| Under Armour Charged Cotton Crew Socks | Yes | Yes | No | Yes |
| CEP Men's Progressive Run Socks | Yes | Yes | Yes | No |

While all seem to provide moisture management by means of getting sweat away from the skin, the nuances of additional cushioning and support play the biggest differing factors among the leading athletic socks. Some manufacturers take that one step further by adding reinforcing bands at strategic locations.
---
How to Buy Athletic Socks for Men on eBay
eBay offers thousands of listings for
athletic socks
of all types. To find the right socks, enter relevant keywords in the search box, found on every page throughout the site. For example, type in "athletic socks" or "
Injini Run socks
." This can return hundreds of results, refined by selecting such categories as condition, brand, price range, and location. Filter searches additionally by adding keywords that highlight specific needs.
Once having identified the right sock at an acceptable price, read the product's full description and take note of the seller's feedback. If there are any missing details in the listing, contact the seller with questions or concerns. Be sure to check the shipping costs and shipping policy as some items do not ship immediately after payment while others do.
Conclusion
Athletic socks can be the key to a more productive workout. Playing a large role in that productivity are moisture management, additional support, enhanced padding, breathability, and overall fit and feel. With the correct combination of these factors for the activity at hand, one can experience a new level of satisfaction, and a new feeling of enjoyment in familiar circumstances, not only in the athletic activity but also in everyday use, as some socks work well in more than a sporting or hobby environment. With so many brands and styles to choose from, trying different socks for different tasks can pay off in the long run, especially if a long run is the desired result.