Regardless of what type of music is being played, a good subwoofer can make the difference between mediocre and spectacular sound. Subwoofers are speakers designed to play the lower frequencies in music. Individuals may purchase enclosed or "off-the-shelf" subwoofers, but for a greater degree of control,
non-enclosed car subwoofers
are the speakers of choice. Also called "component subs," non-enclosed subwoofers consist of just the subwoofer. The user has to fit the speaker into a suitable
enclosure
and provide an
amplifier
. Since each of these elements has an effect on the final sound achieved, users have complete control of their car audio setup.
Buyers can choose from dozens of high-quality non-enclosed car subwoofers. Before making a choice, buyers should know the benefits of some of the top subwoofers available. They should also study what combination of subwoofer, enclosure, and amplifier works best for their desired setup.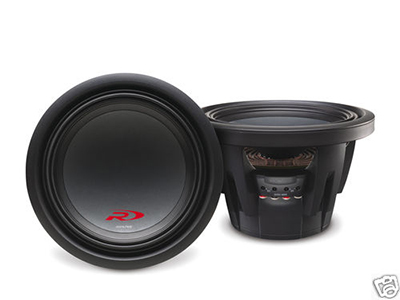 The Alpine SWR-1023D is a 10-inch subwoofer that has been designed to provide clean, deep bass. Sold as a single unit, this Alpine subwoofer was redesigned with 20 percent less depth, allowing buyers more installation flexibility because the reduced depth allows for smaller enclosures. Despite their narrower design, Alpine states that the SWR-1023D is more powerful than its predecessor. The speaker is rated at a maximum RMS power capacity of 600 watts and comes with dual 2-ohm voice coils that can be wired in series to work with 4-ohm amplifiers.
Audiophiles online found that this subwoofer worked well with either sealed or ported enclosures for different types of bass output. TopTenReviews praised the sound quality and power handling of the subwoofer.
---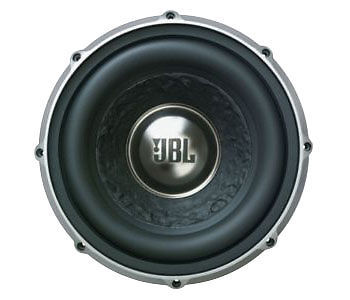 The JBL P1022 subwoofer is a 10-inch speaker with a high sensitivity of 96 decibels. As a premier sound company, JBL has built a reputation for quality speakers over many years. The JBL P1022 is part of the company's " Power" line of car subwoofers. Though the speaker has been superseded by newer models, it is still very popular because of its high output. The manufacturer states that the subwoofer is capable of sound pressure levels up to 100 decibels. According to TopTenReviews, though the power of the subwoofer is impressive, there is some distortion at higher volume levels. JBL provides tutorials, e-mail support, and phone support for this line of subwoofers.
---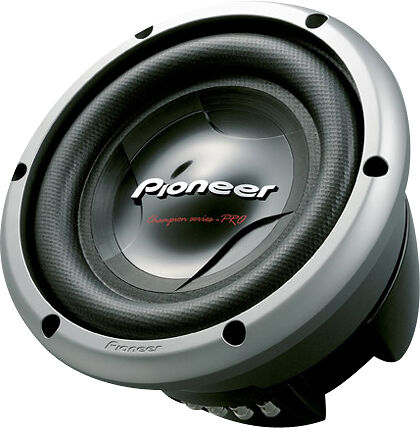 Designed to handle low frequencies from 20 Hz to 150 Hz, the Pioneer TS-W2502D4 is a 10-inch component subwoofer from one of the most popular speaker manufacturers in the world. The low end of the subwoofer's range is just at the lower end of what the human ear is capable of hearing. Unlike other subwoofers, the Pioneer TS-W2502D4 does not handle frequencies between 150 Hz and 300 Hz. This means that buyers must consider another mid-range speaker to handle this range. However, the TS-W2502D4 also ensures more accurate bass output. The speaker is designed with two voice coils, with each at dual 2 ohms or 4 ohms. Though the Pioneer subwoofers are rated at 3000 watts (maximum), and ruggedly built, reviewers at TopTenReviews noted that they produced distorted sound at around the same volume levels as other subwoofers.
---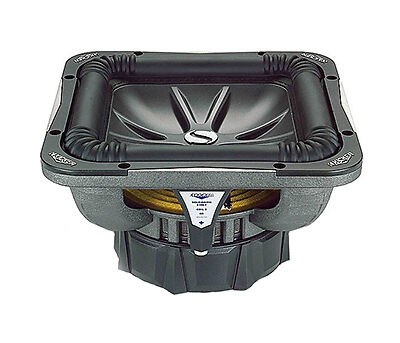 Kicker Solo-Baric L7 subwoofers differ from many subwoofers because of their square shape. Available in sizes of 8 inches, 10 inches, 12 inches, and 15 inches, the Kicker Solo-Baric can suit the needs of many buyers. Square subwoofers were patented by Kicker. The design results in more cone area, more air displacement, and ultimately, louder bass. This series of subwoofers is available in 2-ohm or 4-ohm variants with dual voice coils, and can be used with either sealed or vented enclosures. The speaker is not cheap, but reviewers agree that this series from Kicker produces high-quality, loud bass.
---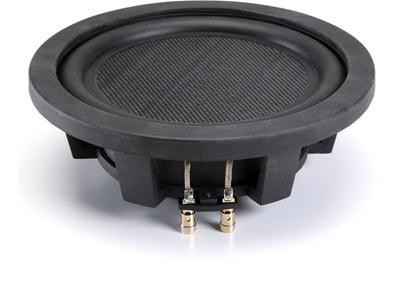 Helix is a German audio engineering company that focuses on quality. Since 1990, the company has built a range of audio equipment, including non-enclosed car subwoofers. The Helix Esprit E12W is the company's 12-inch dual voice coil subwoofer, and it stands out among similar products because of its very flat shape. This small mounting depth (only 3.5 inches) allows buyers to install the speaker in smaller spaces in cars. Online reviews by audiophiles found that the subwoofer produced accurate bass reproduction and the thin shape allowed installation in locations that were not possible with other subwoofers. The Helix Esprit is also available in a 10-inch model (E10W).
---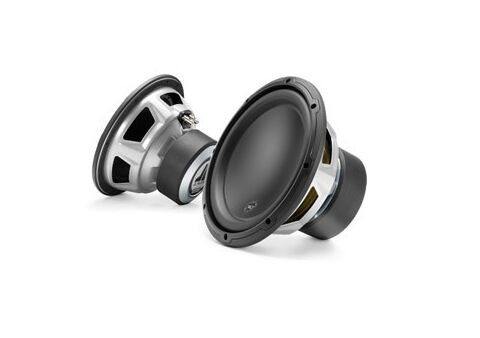 The JL Audio 10W3v3 is a 10-inch non-enclosed subwoofer designed to deliver realistic bass notes when used with a medium-power amplifier. Reviewers praise the fidelity of this subwoofer. In fact, TopTenReviews named it the best car subwoofer available. The 10W3v3's power range is rated between 100-500 watts RMS, and the 4-ohm speaker can be used with either a sealed or ported enclosure.
---
Factors to Consider When Choosing a Subwoofer
Though the specifics of one type of subwoofer may appear superior to another on paper, there are many different factors that come into play when installing a subwoofer in a car. A few key factors that buyers should consider are listed below.
Speaker Specification

Considerations

Rated in RMS (root mean square)

Amplifier must be able to handle this power rating

Sensitivity

Rated in dB (decibels)

Speakers with higher sensitivity require less power

Type of Enclosure

Can be either sealed or vented

Affects the type of bass output achieved

Number of Voice Coils

May be single or dual

Dual voice coils allow more installation options

Size of the Subwoofer

In general, larger speakers produce louder bass

Smaller speakers can excel if installed correctly
Buyers should also consider the amount of space they have in the car, the type of music they listen to, and how loudly they usually listen to their music before choosing a car subwoofer.
How to Buy Non-Enclosed Car Subwoofers on eBay
Buyers looking for non-enclosed car subwoofers on
eBay
can find all available items by using the search bar available on every eBay page. If the list of results is too long, buyers can narrow it down by entering more specific keywords into the search bar. For example, a search for "
Pioneer TS-W2502D4
" lists fewer but more relevant results than a more generic search for "
Pioneer subwoofers
."
Searching on eBay
Buyers can hone in on products that interest them by selecting different filtering criteria, including price range, condition of the subwoofer (new or used), and even the location of the seller. Before committing to a purchase, buyers should review the seller's return and exchange policy in case the subwoofer is damaged, of the wrong size, or otherwise not as expected when it arrives. Buyers can also contact sellers if they have any questions regarding the item prior to purchase.
Conclusion
Subwoofers are speakers that are specially engineered to handle low frequency ranges. Designed to displace large amounts of air, subwoofers can handle these frequencies without distortion. Non-enclosed car subwoofers, or component subs, give users a great deal of control over their car's audio setup. By choosing and matching the different components of a car sound system (subwoofers, amplifiers, and enclosures), buyers can build a system from the ground up that suits their taste in music.
There are dozens of non-enclosed car subwoofers available, but buyers should consider more than just the speakers' power when making a choice. At a minimum, they should also consider the amount of space available in their car for the enclosure, the type of music they listen to, and their preferred volume. If they already have an amplifier in place, they should also make sure that the amplifier can drive the subwoofer. Buyers looking for subwoofers online can shop conveniently on
eBay
.