Electronic gadgets, such as notebooks, Ultrabooks, desktops, and game consoles come with pre-installed
internal hard drives
for storage of your multimedia files, such as movies, music, and videos, as well as business and academic documents.
While these internal hard drives give you the ability to store lots of these files, their storage capacities may not be enough if you live an active digital life built around hundreds of movies, thousands of music files, and hundreds of hours of video. Under such circumstances, one of the options available to you is to increase the storage capacity of your gadget by increasing its internal hard drive size. A couple of internal hard drives on the market have gained consistently high ratings from users.
| | |
| --- | --- |
| 1 | WD Scorpio Black 500 GB |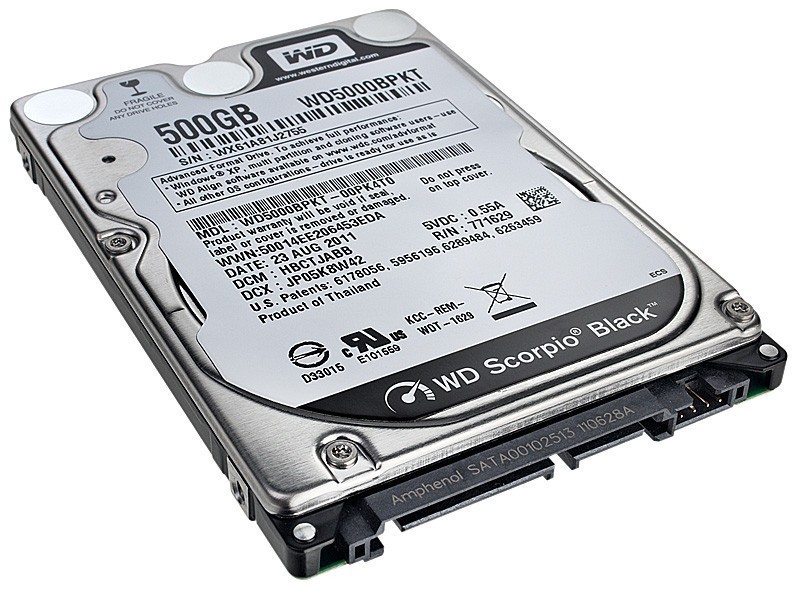 WD Scorpio Black internal hard drives are suitable for anyone looking for enhanced desktop performance and better battery life through optimized efficiency. This internal hard disk drive is perfect for any laptop and comes with 7200 RPM and 16MB cache to boost desktop performance.
It provides robust hard drive performance and stability, thanks to the WD ShockGuard technology integrated into it. It is built to be compatible with any laptop from any manufacturer in the world, relieving you of any concerns that your laptop may not support it.
It is easy to upgrade after installation in your computer through the WD Acronis TrueImage software.
Features
* 500 GB hard disk
* WD ShockGuard for stability and protection against falls and other kinds of shocks
* Compatible with any laptop from any manufacturer
* Windows/ Mac/ Linux
* 5-year warranty
---
| | |
| --- | --- |
| 2 | WD Blue 1 TB Desktop Hard Drive |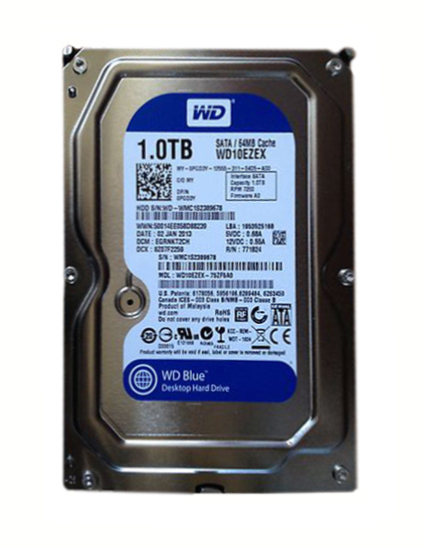 WD Blue 1 TB supercharges the storage capacity of your desktop computer, giving you enough space to store more than enough multimedia files. This internal hard drive is built with the latest technologies that ensure solid performance and ultimate reliability for demanding everyday computing needs.
It comes with a wide range of features, including an awesome SATA interface that increases file transfer speeds up to 6 gigabytes per second. It is built with WhisperDrive technology to ensure minimal noise levels that are impossible to detect through human means. It can be easily integrated into your external hard drive to offer you more space for backing up your files and enhance your ability to store more pictures, videos, and movies.
Features
* 1TB storage capacity
* 6 GB/s transfer rate
* WhisperDrive technology for minimal noise levels
* 2-year limited warranty
---
| | |
| --- | --- |
| 3 | WD Caviar Green 2 TB Desktop Hard Drive |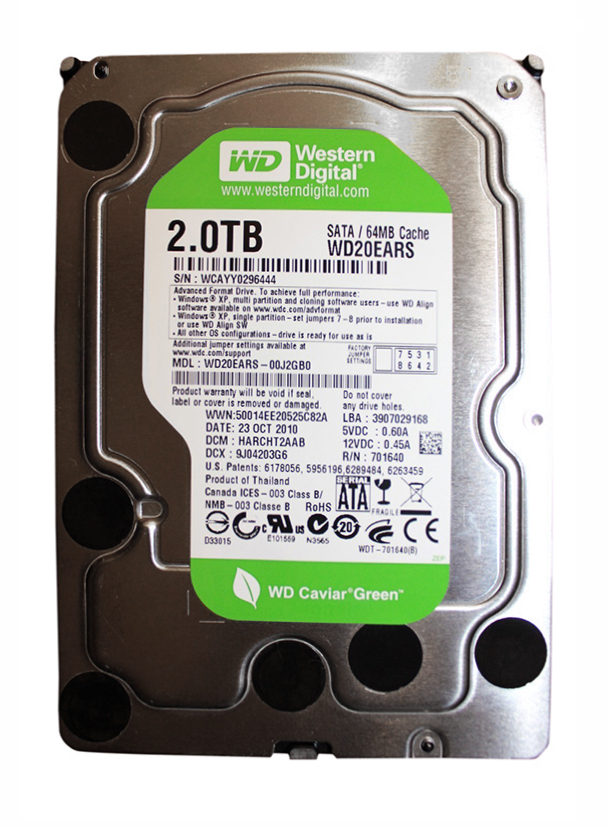 WD Green Caviar Green 2TB SATA hard drives provide top-level acoustics and perfect operating temperature to keep your computer performing optimally all day long. Integrated with Western Digital's powerful GreenPower technology, these internal hard disk drives come with top notch features at a great price. It lowers power consumption by an impressive 40 percent, leading to significant savings in your utility bills.
Unlike most internal hard disk drives, the WD Caviar Green operates quietly, while providing great performance. The hard drive installation is a simple process with any computer, external hard drives, or game consoles. It is suitable for ambitious computer owners looking to build powerful systems with the right mix of system performance, reliability, and energy conservation.
Features
* 2TB hard disk drive
* Conserves energy
* IntelliPower technology for solid performance
* IntelliSeek technology for lower noise and vibration
---
| | |
| --- | --- |
| 4 | WD Red 3 TB NAS Hard Drive |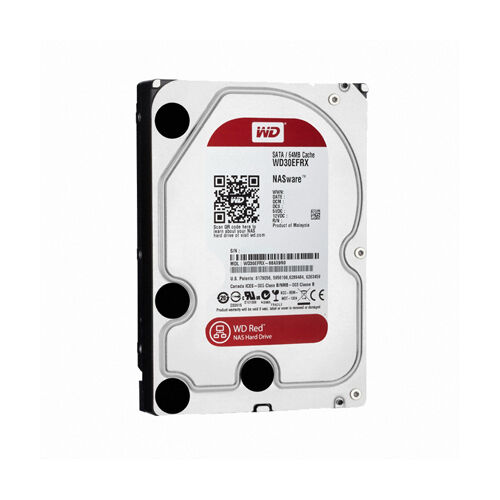 WD Red NAS hard drive is built with NAS systems in the home or office in mind. This is enhanced by the powerful NASware technology that enables seamless synchronization, enhanced data protection, and advanced performance for systems built in the NAS and RAID platforms. The NASware technology also eliminates common NAS hard drive issues and gives you a reliable all-round system built exactly for your needs.
Due to the WD Red's specific design for RAID platforms, it comes with several controls that make it easy for errors to be recovered as soon as it is detected, thereby eliminating system downtimes and boosting productivity. It comes with optimization for multiple drive applications, translating to lower noise and vibration levels.
Features
* 3TB hard disk drive
* Low power consumption
* Transfer rates of 6GB/s
* NASware technology perfect for RAID and NAS systems
---
| | |
| --- | --- |
| 5 | Seagate Barracuda 3 TB HDD |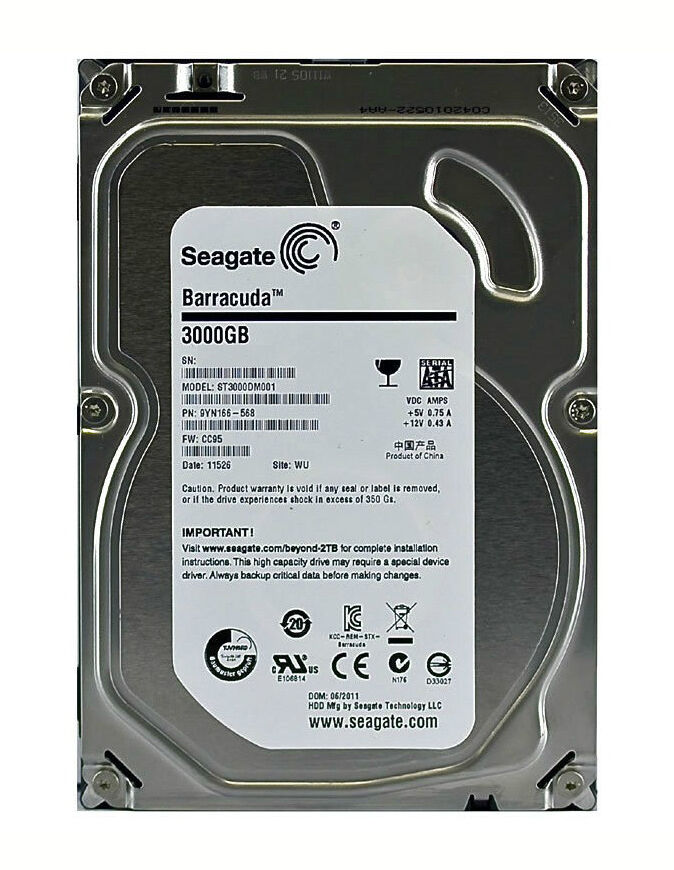 Seagate Barracuda 3 TB HDD is developed with impressive technologies that give you everything you need from a high-performance internal hard disk drive. It comes with 7200 RPM performance and capacity points, which effectively boosts the storage capacity of your computer, as well as its reliability and performance.
It features the manufacturer's 1TB-per-disc technology, resulting in improved performance and more bang for your buck. It is integrated with the Seagate OptiCache technology, resulting in approximately 45 percent higher speed levels for your drive and severely improved performance for your computer. It is perfect for home servers, all-in-one computers, game desktop computers, and more. It saves power by automatically switching to idle mode when not in use, while maintaining the same level of computing performance.
Features
* 3TB hard disk space
* 6GB/s SATA interface
* Enhanced performance with Seagate OptiCache technology
* Suitable for desktop or all-in-one PCs, Home servers, game desktops, etc.
---
| | |
| --- | --- |
| 6 | Seagate Desktop HDD 4 TB |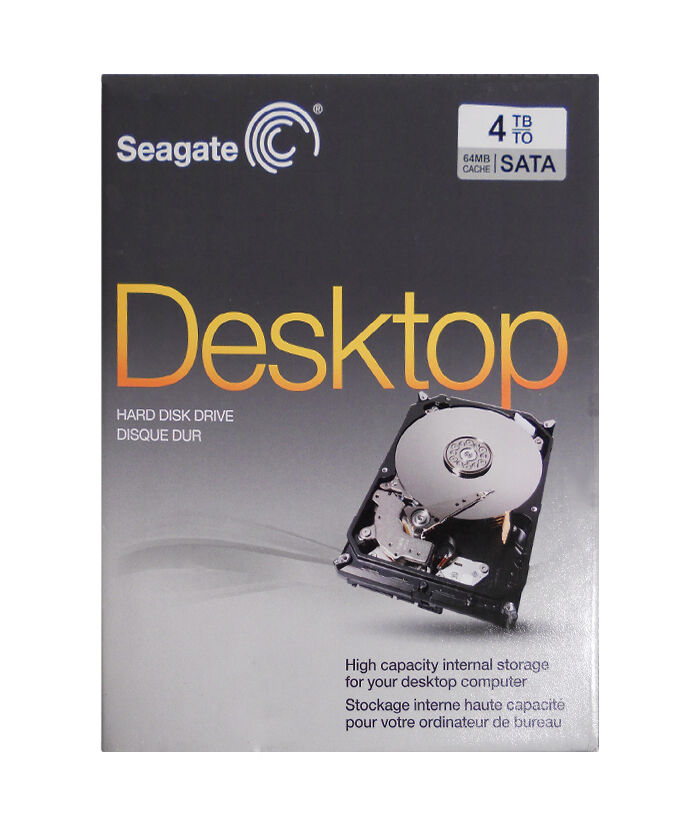 Seagate Desktop HDD 4 TB is the world's first and only internal hard disk drive that increases your storage space by a mind-boggling 4 TB. This hard drive is enhanced with lots of features to meet all your desktop computer application needs and more. It integrates Seagate's 1 terabyte-per-disk technology, comprising of 340,000 unique tracks in the width of a single inch, resulting in affordability and enhanced capabilities.
It provides you with more-than-enough storage and processing power to create your own desktop gaming systems, as well as desktops to complement the power of home servers. It supports the implementation of desktop RAIDS and outfit direct attached external storage devices or DAS.
Features
* Trailblazing 4TB hard disk space
* 1 TB per disk technology to increase capacity and lower costs
* Free Seagate DiskWizard which allows easy installation in Windows
* Suitable for RAID and DAS environments
---
Internal Hard Drive Accessories
Various accessories are vital to the optimal functioning of your internal hard drives, but only a few of them are critical.
| Accessory | Description |
| --- | --- |
| | * For dismantling your computer before installation |
| | * Required for installing internal hard drive software |
| | * Provides physical protection |
| | * Connects your internal hard drive to your computer's motherboard |
Finding Internal Hard Drives on eBay
There are two main types of internal hard drives, laptop hard drives and desktop hard. Whether you want an internal hard drive to increase the storage capacity of your laptop or desktop, finding it on
eBay
should be easy for you.
It is important to know how much you want to
increase the size of your computer
or external desktop storage. Internal hard drives are available from 128GB to 4TB and lots of them are listed on eBay by thousands of reputable sellers with excellent feedback ratings. You can find items from hard drive giants, ranging from Western Digital to Transcend to Toshiba and Seagate. Make sure you only purchase items whose condition and sale terms you are absolutely comfortable with. Do not hesitate to contact the listed seller of any item you may be interested in if you have any questions about the internal hard drive for sale.
Conclusion
After purchasing an internal hard drive of your choice, make sure you contact an experienced computer technician to install it on your computer, external hard drive, or game console. Remember, each one comes with an installation manual with instructions that need to be adhered to for maximum results.
eBay
can meet all of your internal hard drive needs.