A
stereo receiver
is an electronic device that receives sound input and other signals from different sources. The term "stereo receiver" usually refers to vintage electronics. During the 1960s, 1970s, and 1980s, European companies developed some of the best
vintage stereo receivers
. Audiophiles still prize these classic European-made stereo receivers, many of which are available through online retailers such as
eBay
.
A few of the European companies who created stereo receivers during the 20th century continue to make these devices but with updated features and new materials. Modern receivers are much more high-tech, with greater potential for connectivity. However, the majority of modern receivers come from Asian nations or North America. Buyers who want a European-made stereo receiver should investigate the top six vintage models.
| | |
| --- | --- |
| 1 | Tandberg 2080 Stereo Receiver |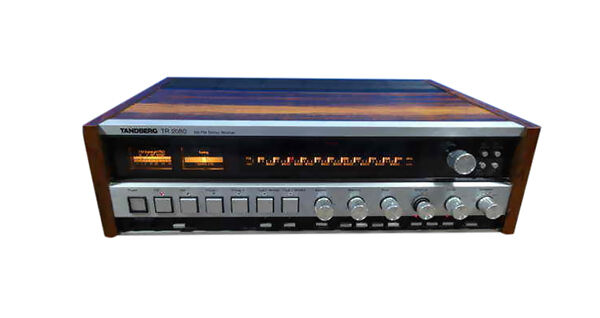 According to consumer reviews and market demand, the Tandberg 2080 receivers are among the most prized vintage stereo receivers from any European manufacturer. Tandberg began operations in Oslo, Norway, with a secondary home office in New York City. While many of Tandberg's receivers and other audio equipment received accolades, audiophiles especially loved the Tandberg 2080 for its durable construction and amazing sound. Modern collectors and audio enthusiasts continue to pay high dollar for these receivers.
Design
The Tandberg 2080 has a rosewood enclosure or cabinet with a front panel and controls of combined glass and burnished metal. The unit is 20 inches wide, 6 inches high, and 14 inches deep. It weighs around 27.5 lbs. It includes jacks for six separate speakers, two pairs of phonograph input and outputs, external jacks for FM and AM antennas, and two headphone jacks.
Specifications
At 4 Ohms of resistance per channel, the music power of the Tandberg 2080 is at 190 watts. At 8 Ohms, the music power rating drops to 135 watts per channel. The frequency response measures at -1.5 dB from 6 Hz to 80 kHz. Radio reception is excellent, and distortion is minimal at just 0.02 percent for each channel.
---
| | |
| --- | --- |
| 2 | Revox B780 Stereo Receiver |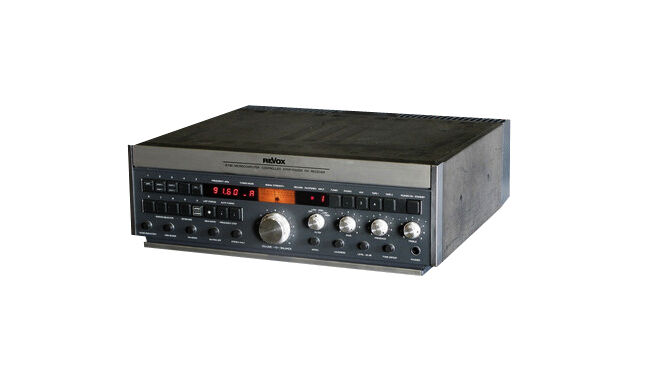 Will Studer founded Revox in Herisau, Switzerland. The company began as a manufacturer of oscilloscopes and reel-to-reel devices but later entered the audio market with its Revox T26 tape recorder. As the company grew, its products included many different high-quality stereo receivers such as the Revox B780 and the Revox B285. Among music lovers, Revox is synonymous with stellar quality and a correspondingly high price tag. Its modern products build on its legacy of excellent sound and tough, durable construction.
The Revox B780 stereo receiver in particular is a favorite with collectors. The brilliance of its sound and the attention to detail in its construction are well worth the price that audio enthusiasts pay to own such a prized unit.
Design
The Revox B780 is a boxlike receiver with a metallic silver and black surface. It measures approximately 17.8 inches wide by 5.9 inches high by 16.5 inches deep. Ports for phonographs and other auxiliary devices allow users to hook up a record player or a more modern device such as a CD player.
Specifications
The Revox B780 stereo receiver yields 110 watts per channel at 4 Ohms and 80 watts per channel at 8 Ohms with two available channels. The frequency response is from 20 Hz to 20 kHz. Harmonic distortion comes in at an incredibly low 0.03 percent.
---
| | |
| --- | --- |
| 3 | Revox B285 Stereo Receiver |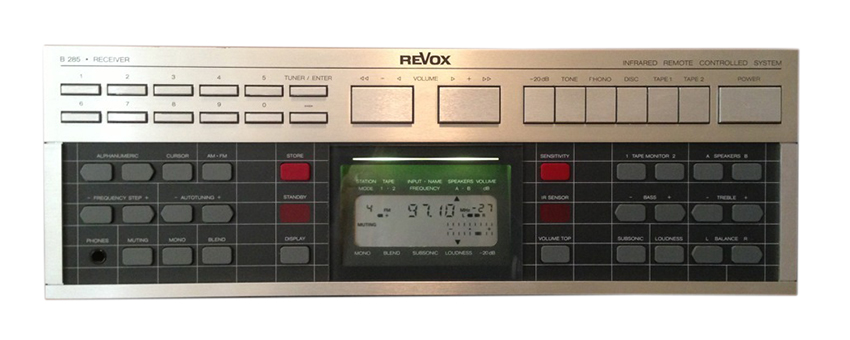 Like the Revox B780 stereo receiver, the classic Revox B285 is legendary among audio enthusiasts, earning many rave reviews on trusted technology websites. Some experts claim that it is one of the best receivers ever developed. Although some may balk at the high price, the receiver's solid construction, high-end materials and components, and rich sound make it a favorite among modern music lovers who recognize the value of European vintage audio.
Design
The hefty Revox B285 weighs in at 33 lbs. Its enclosure is packed full of essential components, ensuring the highest possible value for every inch of space. The exterior is brushed metal with a black front panel. Loaded with controls and options, the Revox B285 also boasts double inputs for cassette players, disc input, inputs for two pairs of speakers, and a headphone jack.
Specifications
The Revox B285 delivers 90 watts per channel at 4 Ohms, or 70 watts per channel at 8 Ohms. In spite of the apparently low power rating, owners of this receiver claim that it drives nearly any speaker set with ease. Audio enthusiasts should also recognize the value of the 2.5 to 3 dB of dynamic headroom.
---
| | |
| --- | --- |
| 4 | Bang & Olufsen Beomaster 1900 Stereo Receiver |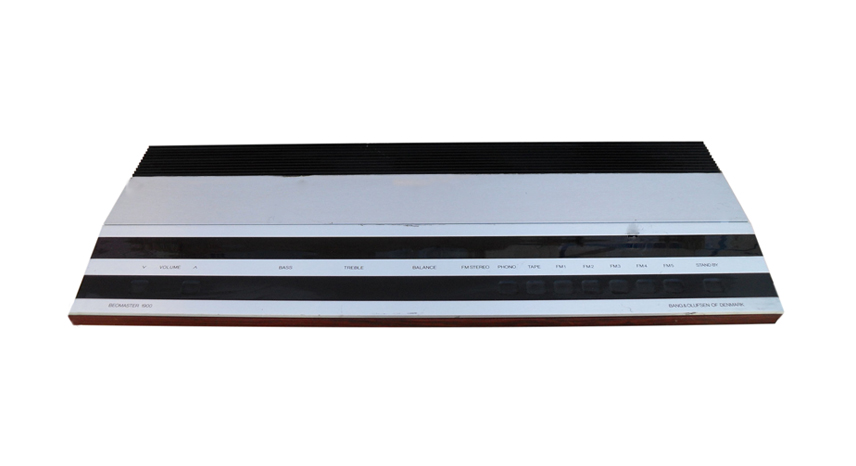 In 1925, two Danish men named Peter Band and Svend Olufsen partnered in the creation of Bang & Olufsen, which started out with audio electronics, telephones, and televisions. According to the company's sales numbers and the testimony of its customers, the Beomaster 1900 was B&O's best stereo receiver. It came on the market in 1976 and blew away its competition with the addition of touch controls, which at the time were practically non-existent for consumer electronics.
Design
The touch controls on the Beomaster 1900 work effortlessly, responding with ease to the user. Bang & Olufsen split the controls for the Beomaster 1900 into two separate sections with the more commonly accessed functions on the front panel and the secondary ones hidden beneath a panel or lid. The Beomaster 1900 is available in a few different colors or finishes, including white, teak, oak, and rosewood. It also comes with one headphone jack, connections for a record player or cassette player, and hookups for two sets of double speakers.
Specifications
The Beomaster 1900 offered owners 30 watts of power for each of two channels. Music power for two channels at 4 Ohms of resistance is 50 watts, and at 8 Ohms becomes 30 watts. The harmonic distortion is very low at 0.07 percent. The unit is approximately 24.4 inches wide by 2.3 inches high by 12.5 inches deep.
---
| | |
| --- | --- |
| 5 | Bang & Olufsen Beomaster 8000 Stereo Receiver |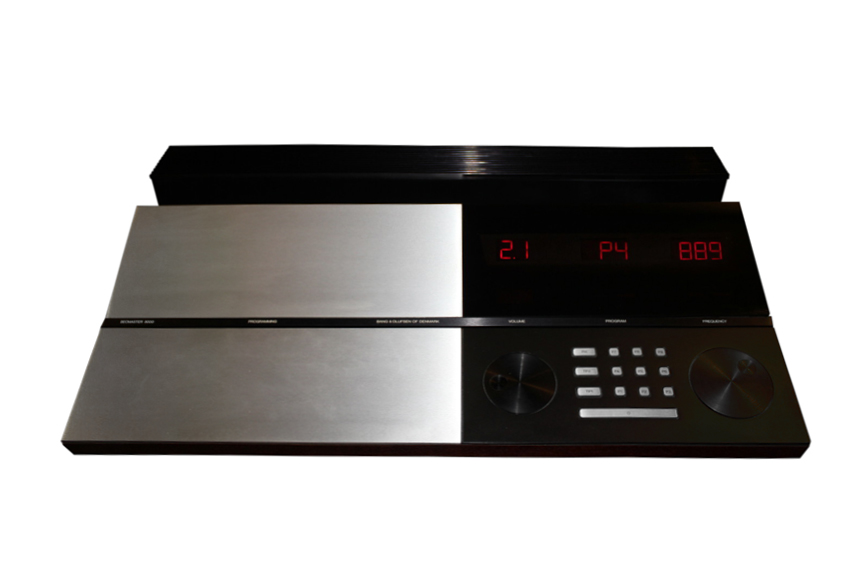 As the most powerful receiver model created by Bang & Olufsen, the Beomaster 8000 still enjoys a passionate following among audiophiles. Its sleek enclosure hides powerful components that brought receiver technology to a new level in 1981. B&O increased their microprocessor technology in this unit, making it one of the most high-tech receivers of its generation.
Design
The Beomaster 8000 is a wide, heavy receiver. However, its crisp, minimalist design aesthetic makes it a great fit for a modern home or apartment. It features multiple colors, including black, white, and a rosewood finish. It is about 26.4 inches wide by 5.9 inches high at its highest point by 14.5 inches deep.
Specifications
The Bang & Olufsen Beomaster 8000 puts out 100 watts per channel at a resistance of 8 Ohms. The frequency response is 20 Hz to 20 kHz. The unit allows owners to apply various filters and controls to customize their listening experience. In addition, the receiver has an ample power reserve so that if the unit is suddenly unplugged, it can taper the power off slowly to prevent wiring damage.
---
| | |
| --- | --- |
| 6 | Leak 2000 Stereo Receiver |
From 1934 to 1969,
H. J. Leak & Co. Ltd
. created and produced top-quality audio equipment, including stereo receivers. Based in London, England, the company took pride in developing audio systems that produced pristine, high-fidelity sound and music. The Leak 2000 stereo receiver is widely considered to be one of the company's finest products. Online consumers cite its punchy, powerful sound as one of the key reasons they enjoy it.
Design
The Leak 2000 is an unassuming rectangular box that has two outputs for speakers. It also supplies a headphone jack, double AC outlets, and a variety of other inputs and outputs, including those for auxiliary, cassette, and mains recorder. The manufacturer set the front panel controls in an easy-to-use layout that is generally intuitive for owners. The entire unit weighs about 20 lbs and is 18.7 inches wide by 5.1 inches high by 12.4 inches deep.
Specifications
This receiver pumps out 30 watts per channel, although users can bridge it to produce over 90 watts per channel at 8 Ohms. The distortion level is 0.5 percent, and the frequency response is 40 Hz to 14 kHz.
---
Comparing European-Made Stereo Receivers
The prices for vintage European stereo receivers vary widely depending on each product's condition. Buyers should watch the listings and prices for various vintage receivers until they find one that appears to offer the best possible value and longevity for the price. In addition, buyers need to keep track of many other specifications and factors.
European Stereo Receivers

Dimensions

Power

Tandberg 2080

20 inches wide by 6 inches high by 14 inches deep

135 watts at 8 Ohms

Revox B780

17.8 inches wide by 5.9 inches high by 16.5 inches deep

80 watts per channel at 8 Ohms

Revox B285

17.7 inches wide by 6 inches high by 13 inches deep

70 watts per channel at 8 Ohms

Beomaster 1900

24.4 inches wide by 2.3 inches high by 12.5 inches deep

30 watts per channel at

8 Ohms

Beomaster 8000

26.4 inches wide by 5.9 inches high by 14.5 inches deep

100 watts per channel at 8 Ohms

Leak 2000

18.7 inches wide by 5.1 inches high by 12.4 inches deep

90 watts per channel at 8 Ohms
The dimensions of a stereo receiver have little bearing on its function, but they may be important to users who have limited space in their home. Buyers should ensure that the shelves or furniture on which they plan to place the receiver can support its size and weight
How to Buy European-Made Stereo Receivers on eBay
eBay
facilitates swift, hassle-free shopping. Easy-to-use search filters allow you to eliminate results that do not fit your needs or your lifestyle. Free shipping, package deals, or bundles can also save you money.
Saving your searches
allows eBay to email you when new products are posted so that you can access the best deals quickly.
To ensure high quality and excellent service, choose to buy your European-made stereo receiver from a
Top-Rated Plus
seller. Top-Rated Plus sellers feature special seals on all their listings, indicating that they have positive
feedback
from nearly all their previous customers and are committed to swift delivery of products. If you need to inquire about product details, you can contact any seller by clicking the "Ask a Question" link on their listing page.
How to Buy European-Made Stereo Receivers on eBay
Home theater receivers include a
tuner
.
Stereo receivers
also allow users to access the FM radio stations in their area. While top receivers are generally made in North America or Asia, European companies manufactured many high-quality receivers during the mid to late 20th century. In fact, many of these receivers are now valuable collector's pieces. If buyers are interested in obtaining one of the top six European-made stereo receivers, they should consider investing a significant amount of money in the receiver of their choice. As buyers look at the top six European stereo receivers, they should think about how each
vintage receiver
enriches the sound of their stereo system. Ultimately, they should select a receiver that combines high performance, versatility, and a price that fits their budget.
Conclusion
conclusion