If you have ever experienced the loss of a
USB flash drive
due to water damage, general wear and tear, or an unfortunate accident, then you already know how distressing it can be. Your USB flash drive is your most important tool for transporting important files, such as documents, presentations, music, and movies, wherever you go. If you trust your files to a cheaply made USB without the necessary protection, you risk losing all the information, time, and effort you put into creating them. It's not a risk you want to take.
With the purchase of an armored USB flash drive, you can upgrade your device from a flimsy file folder to a sturdy metal safe with every protection available to ensure that your valuable files are protected, no matter what they are exposed to. If you take your USB flash drive with you wherever you go, an armored flash drive is a necessity, but how do you know which flash drives really offer the most protection? There are many of these items that claim superior protection, but only a few that stand out above the others.
| | |
| --- | --- |
| 1 | HP v245L 8GB Rubber USB Flash Drive |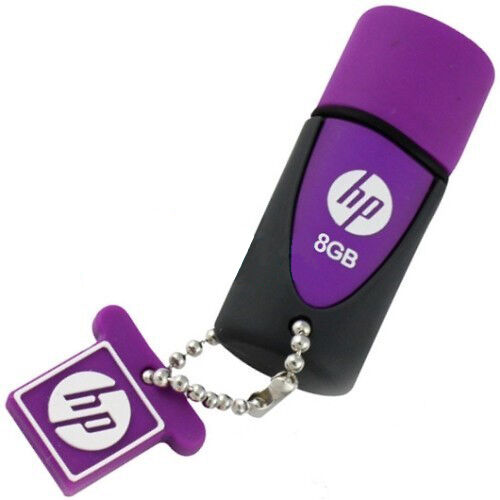 Those who need less storage space in their USB flash drive but still want to be certain that their information is protected are much safer with this rubber-cased HP v245L Flash Drive.. In addition to the rubber coating, which is soft and comfortable to the touch, this USB flash drive also hasa round shape that can withstand impact a little bit better than the standard flat shape of most USB flash drives. For additional protection, this HP drive features a ball chain that can be used to attach the flash drive to your keys. The chain also holds the drive's cap when it is not in use, so you will never lose it and can be certain the most vulnerable part of your flash drive—the USB port—remains safe.
---
| | |
| --- | --- |
| 2 | Transcend 32 GB Rubber USB Flash Drive |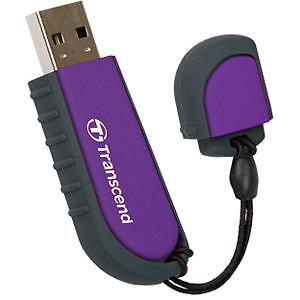 The impressive storage space of the Transcend 32 GB rubber USB flash drive is housed in rubber casing that will withstand all kinds of bumps, as well as the general wear-and-tear of being carted with you wherever you go. In fact, it has been subjected to military-grade testing and has been proven to withstand even the steepest drops. The rubber will also protect the flash drive from any potential water damage or shock. This flash drive has every protection imaginable to keep your information safe. As a bonus, it can read at 70Mb/s and write at 18Mb/s, so transferring your data will take no time at all.
---
| | |
| --- | --- |
| 3 | Kingston DataTraveler 16 GB USB 3.0 Rubber Flash Drive |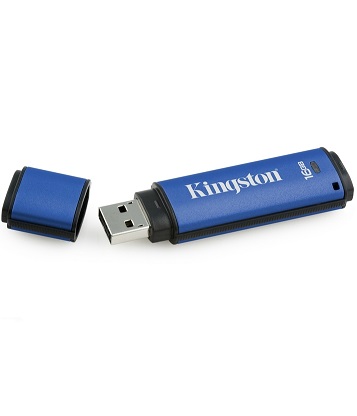 The Kingston DataTraveler is specifically made for you to be able to take your data wherever you go, wherever that happens to be. The 16 GB of storage space is more than enough for most users, but its key technological feature is the fact that it utilizes USB 3.0 technology, meaning that it can read and write your files when you transfer them faster than ever before. In fact, it is estimated that this USB flash drive can save a user over twenty minutes when transferring a full 1080HP movie. This technology all comes housed in a strong and durable rubber case with an attractive, sporty design that will protect it from drops, damage, water, and static shock. Never again worry about the safety of your files with this device.
---
| | |
| --- | --- |
| 4 | Verbatim Tuff 'N' Tiny 32 GB USB Flash Drive |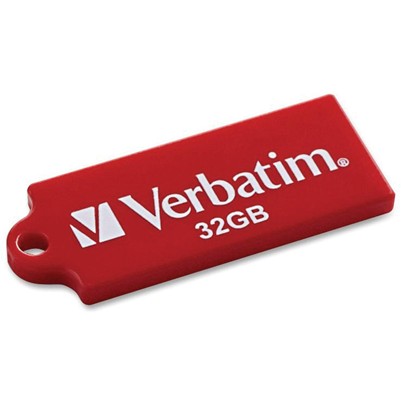 Can something that is only a little bit bigger than a penny offer you superior protection? The answer is yes, so long as you are using the Verbatim Tuff 'n' Tiny.. This item proves that bigger is not necessarily better, as the compact size of this item is not a detriment but a key feature. The strong casing will allow you to attach the Tuff 'n' Tiny to your keychain, where it can hang for years along with all of your keys. It can withstand everything from basic wear and tear to water and shocks, even if it spends a lot of time rattling around in your pocket.
---
| | |
| --- | --- |
| 5 | Corsair Voyager GT 32 GB USB 3.0 Flash Drive |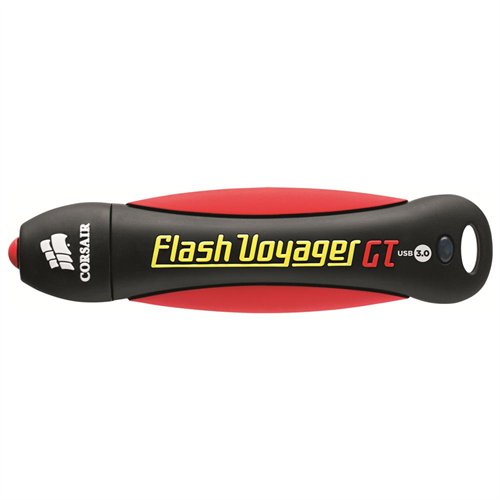 The Corsair Voyager is one of the most durable and rugged flash drives on the market, and the use of USB 3.0 technology in its design means that it is also one of the fastest among 32 GB capacity models. It can read at speeds of 220Mb/s and write at 55Mb/s, which will make for quick transfers no matter what type of file you have inside. It has a hole at one end so it can easily be attached to a lanyard or a keychain for easy access and transport.
---
| | |
| --- | --- |
| 6 | LaCie RuggedKey 64 GB All-Terrain USB 3.0 Flash Drive |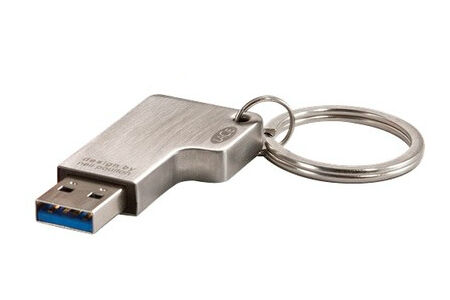 For the most rugged flash drive on the market, look no further than the LaCie RuggedKey.. This device comes housed in an impressive hard rubber cylinder that has been tested, and proven to be effective, for protecting your data at drops of up to 100 meters. Not only that, the LaCie RuggedKey can withstand other extremes, such as hot and cold, without any harm done to your data. A keyring attachment, an impressive 64 GB of storage space, and a transfer speed of 150Mb/s add up to make this one of the best overall flash drives on the market.
---
Other Media Storage Devices
An armored USB flash drive is a great way to protect and store your information,, but it should not be the only method that you choose. There are many items on the market that can be an important part of your tech arsenal, from ensuring that you always have a complete backup to simplifying the process of giving movies, music, and more to your friends, coworkers, and teachers.
| Item | Description |
| --- | --- |
| | For the ultimate in protection for your sensitive data, it is important to have an external hard drive with a large enough capacity to handle a complete backup of everything you keep on your computer. A flash drive is simply not enough to handle most of this information. |
| | While you can hold images and photographs on your USB flash drive, you will not be able to transport them between devices such as digital picture frames and digital cameras. A good SD card is important, even if you are an infrequent camera user. |
| | Blank media compact discsare still an important tech item, even if its only use these days is for transferring files to your friends and family. Keep a good supply of these around for the next time you need to burn a disc. |
Buying Armored USB Flash Drives on eBay
When buying a flash drive,, any of the six top armored USB flash drives would be a great purchase. However, there are many more strong USB drives available from many manufacturers, and with enough searching it is possible to find exactly the right item to suit your needs. One of the most important things to consider is the type of material the armored flash drive is made of. Different materials offer different types of protection, as well as different levels of protection.
Rubber – One of the most common materials available in armored flash drives, rubber not only absorbs impact, but it is a natural insulator can help to prevent damage to the sensitive components of the USB flash drive due to electric shock or static.
Hard Plastic – While a flimsy plastic can be easy to crush, a hard plastic can he almost as strong as metal. Just remember that most plastics strong enough to offer armored protection will be advertised as such.
Metal – Metal provides the optimal amount of protection against impact, but is not necessarily the best material for preventing other forms of damage such as shock or water. Choose a metal flash drive if the item will be hooked onto your keychain or stored in a similar manner.
Another thing to consider, especially if you already own a flash drive that contains all of your information, is the purchase of a sleeve or protective case for the item. An increasing number of these are being made available, and many offer other features as well, such as password protection. They can be found in the USB flash drive section on eBay as well.
Conclusion
There are just a couple of other things to keep in mind before you make your USB flash drive purchase. First, it is important to know the
size of USB flash drive you need
, as this will vary from user to user. Second, consider whether or not you will need a USB 3.0 flash drive, as these are becoming increasingly popular. Whatever you decide is best for you, it is certain you will find an armored flash drive to meet those needs in no time at all.