Summer jackets are an excellent way for women to accessorize or to complete a desired look and are a versatile addition to any summer wardrobe. Not just a fashion accessory, summer
women's coats
can be useful to have on hand, especially in areas with unpredictable weather conditions. These items can complete casual or business attire, and many styles are designed with versatility in mind and can be dressed up or down.
Knowing which styles are popular during any given season is important to shoppers who want to keep in line with the latest fashion trends. While some shoppers make buying decisions based on the latest style, others seek to select more timeless styles. Whatever the motivating factor behind the purchase, keeping up on recent additions to the selection of
women's jackets
available from various brands can help shoppers make the best selection to fill out an ensemble intended for a specific outfit or occasion.
| | |
| --- | --- |
| 1 | Zara Leather Biker Jacket |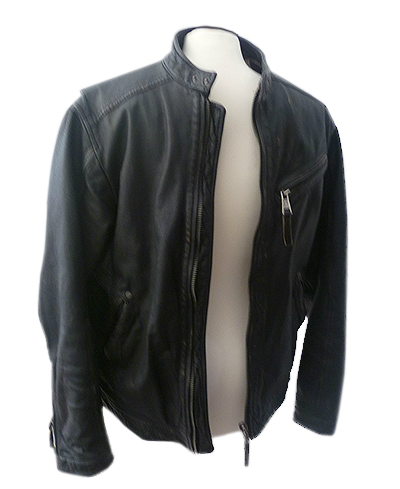 Soft and neutral tones, accented by silver buckles and zippers, make the Zara leather biker jacket a versatile and stylish summer jacket. The 100 percent lambskin shell of this jacket is a neutral color that can accentuate a variety of outfits and individual styles. Elle magazine listed the Zara leather biker jacket as one of the top 25 jackets for summer due to features such as the stylish yet classic design that gives it fashionable versatility. Leather biker jackets aare also available from other brands which integrate similar design touches, but shoppers should note that specific details, such as colors and placement of buckles and zippers, vary with each brand and style.
---
| | |
| --- | --- |
| 2 | Calvin Klein Denim Jacket |

Denim jackets are a classic wardrobe staple and continue to be popular in many styles and designs. One concern many shoppers have is finding affordable yet well-made clothing that withstands frequent washing and wearing, and Calvin Klein denim jacketss generally fit the bill. Glamour magazine listed a Calvin Klein denim jacket as one of the top figure-enhancing jackets for summer. Depending on the style, denim can be worn casually or dressed up to go out on the town. Shoppers should choose lightweight denim for summer and may even consider a style with three-quarter length or roll-up sleeves.
---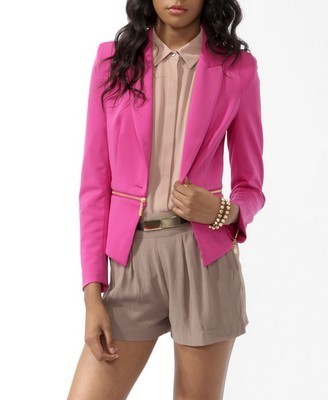 Dress up or dress down with a lightweight and versatile Forever 21 blazer. Available in various styles, Glamour magazine voted the slim cut Forever 21 blazer as one of the best jackets for summer and noted that the relaxed fit and cuff sleeves give a slimming look. Glamour chose a single button blazer with notched lapels and ruched sleeves to review positively. As with other styles of jackets, buyers should choose lightweight fabrics for summer blazers, such as cotton or linen with three-quarter length sleeves. Forever 21 women's blazers are available in a variety of colors and styles to suit almost any occasion.
---
| | |
| --- | --- |
| 4 | Burberry Brit Bomber Jacket |

Luxurious silk and cotton construction is just one of the highlights of the
Burberry Brit bomber jacket
. Rated as one of the top 25 most stylish jackets for summer by Elle magazine, the Burberry Brit is a versatile and fashionable item. Navy blue with a ribbed granddad collar, this jacket makes a huge fashion statement with a classic and timeless design. Additional features of the jacket include a ribbed elastic waistband with Burberry's signature check fabric lining.
Bomber jackets have been available as outerwear for well over half a century and exciting new variations on the style are designed every year. Styles, colors, and fabric choices vary across different brands of bomber jackets and even within the same brand. Burberry, for example, also makes bomber-style jackets that are heavier in weight for cool weather, or with fabric options such as leather. For summer, the silk and cotton blend of the Elle-reviewed Burberry Brit bomber is a smart and chic choice.
---
| | |
| --- | --- |
| 5 | Talbots Seasonless Wool Jacket |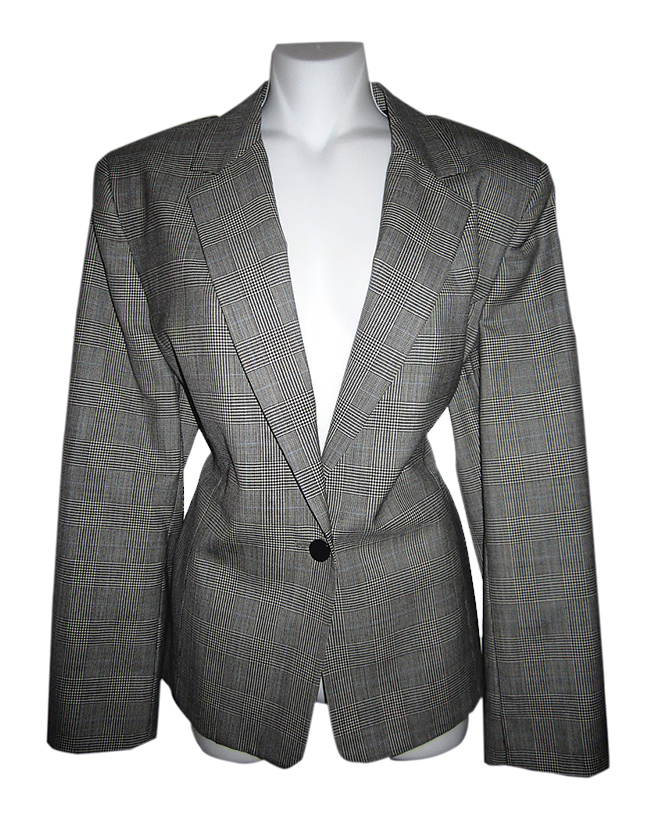 Since opening its first shop in 1947 in Hingham, Massachusetts, Talbots has been famed for creating timeless, classic, and well-made apparel for professional women who seek a sophisticated and tailored look. The Talbots Seasonless wool jacket can be dressed up or down, and may be worn with pants as a suit or over coordinating pieces such as the Seasonless wool sheath dress from Talbots. With long sleeves and a back vent, and welt and flap pockets, this could easily be the most versatile addition to any business professional's wardrobe.
Shoppers should be aware of personal measurements, such as shoulder width and arm length, when choosing the appropriate size for a tailored-type blazer such as those from Talbots. Fashion reviews from users across the Internet agree with Glamour magazine, which voted Talbots jackets as a top fashion pick for their flattering designs and professional, office-appropriate style.
---
Comparing Women's Summer Jackets
The following table highlights the distinguishing features of the top five women's jackets for summer. It also offers suggestions for styling options when creating complete outfits.
Jacket

Overview

Style Options

Soft and neutral colors

Silver zipper pocket closures

Silver buckles at sleeves

100 percent lambskin outer shell

Wear over dresses or trousers to dress up

Pair with jeans for a casual look

Calvin Klein Denim

Versatile and easy to care for

Well-made to withstand frequent wearing

Classic and blazer styles ideal for summer

Numerous style options, from casual to nightclub-ready

Wear with coordinating jeans or over a casual summer dress

Forever 21 Blazer

Lightweight summer fabric

Single button closure

Ruched three-quarter length sleeves

Available in various colors

Minimalistic front lapel adds length and slimming look

Wear over shorts, jeans, or dresses

Burberry Brit Bomber

Luxe cotton and silk blend

Granddad collar

Ribbed elastic waistband

Unmistakable lining pattern

Wear with denim or business trousers

Simple and versatile style is widely adaptable

Talbots Seasonless Wool

Tailored and classic look

All-season wool fabric

Welt and flap pockets

Back vent

Pair with other Seasonless wool pieces from Talbots

Wear over jeans for "classy casual"
Although jackets from designers such as Burberry and Zara come with a significant cost, many women feel that investing in a designer piece is worth the cost in the long run. Although clothes from Forever 21 are a good deal less expensive, they are not likely to last as long as items from Talbots or Calvin Klein. However, for shoppers who change up their fashion interests with each passing season, a summer jacket by a less expensive brand might be just the right idea.
Shopping for Women's Summer Jackets on eBay
Shopping for summer jackets on
eBay
allows you to choose from a wide selection of styles and designers. Whether you are searching for a specific brand name or simply browsing for fashion ideas, eBay has thousands of items for you to choose from.
Searching
If you know the brand and style name of the jacket you are searching for, you can simply type a search term such as
Forever 21 summer blazer
into the search bar located on every eBay page. Additionally, you can browse available items by clicking on the appropriate category heading.
Sellers and Feedback
Before making a final buying decision, it is important to compare items from various sellers to ensure that you find the item that most closely matches your needs. Seller feedback is a reflection of experiences that past buyers have had with a specific seller. Buyers can use this information when choosing a seller from which to make a purchase.
Conclusion
Leather biker
jackets, deconstructed blazers, and timeless, tailored jackets are just a few examples of the styles of summer jackets available for women. Whether a buyer is looking for one specific jacket to add the finishing touch to an outfit for a special occasion or wants to find several new styles to try out this season, there is a style to suit every personality and fashion preference.
Burberry
,
Talbots
, Zara, and Calvin Klein are just a few of the designer names that offer fresh and chic looks for summer. Fabrics such as wool, linen, and denim are lightweight and ideal for getting through the summer with style, no matter the occasion. Keeping in mind factors such as individual preference, local climate, and body shape, any shopper can find the ideal summer jacket. To save money and browse through a wide selection of summer jackets, visit eBay.