Blouses are necessities for an office wardrobe. Blouses suitable for the office come in a variety of styles and designs to suit every woman's needs. In addition, these essential items are easy to accessorize to express one's individuality and taste preferences while still maintaining a professional appearance. Many of the top blouses for the office work well for layering to create a variety of looks and to carry one blouse through the various seasons. They are also timeless, so while they complement other clothing items that are trendier, these blouses never go out of style. When compiling a work wardrobe or looking for new essential items to add, women who have knowledge of the top women's blouses for the office are better able to make informed purchasing decisions.
Quick Guide to the Top 5 Blouses for the Office
The top five women's blouses for the office share the quality of versatility. They pair well with numerous other clothing items, and they are simple to accessorize to create different looks.
| Blouse | Material | Care |
| --- | --- | --- |
| | Cotton, polyester, spandex blend | Machine washable |
| | 100 percent cotton | Machine washable |
| | 100 percent silk | Dry clean only |
| | Polyester crepe | Machine washable |
| | 100 percent cotton | Machine washable |
With these essential wardrobe items, women can look both professional and stylish in any office setting.
| | |
| --- | --- |
| 1 | The Limited Long-sleeve Button-down Shirt |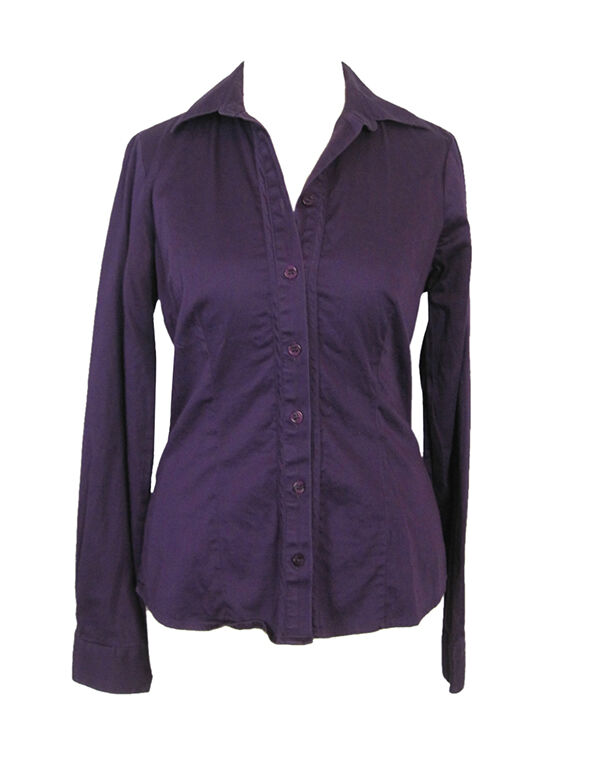 The top women's blouse for the office is a simple, fitted, long-sleeve button-down shirt by The Limited. This fitted shirt tucks into pants and skirts, and it looks equally well left out over slim-fitting pants. "Marie Claire" magazine suggests pairing this essential item with a straight skirt for a smart look that is suitable for any office climate. Untucked, the curved hem of this shirt looks great over a skirt with the addition of a wide, fashionable belt. This classically styled shirt pairs with both solids and prints, and it is fashionable in any season. Although stylish worn alone, a solid shirt also works well under a jacket or cardigan.
The shirt is made of a cotton, polyester, and spandex blend, which provides both comfort and flexibility and produces a sateen finish. In addition, darts on the front and back of the shirt flatter the figure. This easy-care shirt is machine washable. Both "Vogue" and "InStyle" magazines recently featured this well-made and versatile shirt, which is perfect for any office wardrobe.
---
| | |
| --- | --- |
| 2 | Foxcroft Women's 3/4-sleeve Fitted Blouse |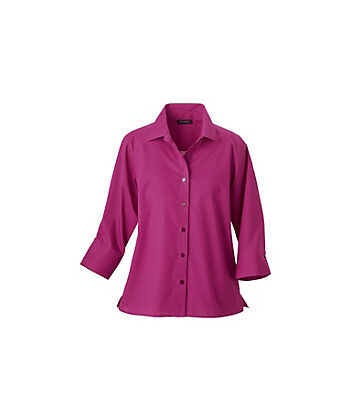 The Foxcroft women's 3/4-sleeve fitted blouse offers style and comfort in an easy-to-care-for design. Customers of a top online retailer recommend this blouse because it stays crisp and wrinkle-free for the entire day, and because they don't have to iron it before wearing it. It is available in a range of solid colors, as well as stripes and prints. This versatile blouse works well untucked over pants or a skirt or tucked in as part of a suit ensemble.
Foxcroft manufactures this blouse using 100 percent cotton, making it cool, lightweight, and comfortable in any climate. The hidden button placket creates a smooth look and helps eliminate gapping between buttonholes. Because of the variety of colors this blouse comes in and its classic wrinkle-free design, this is the second top women's blouse for the office. Foxcroft designs this blouse in a long-sleeve version as well.
---
| | |
| --- | --- |
| 3 | BCBG "Emma" Chiffon Blouse |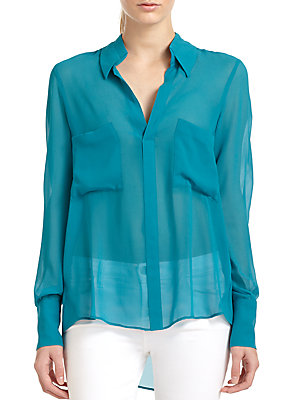 The third top choice for women's blouses for the office is the Emma blouse by BCBG. Flowy and lightweight, this sheer blouse works well over a camisole in a complementary or contrasting shade. It pairs well tucked into a pencil skirt or slim pants, or over a skirt and cinched with a fashionable belt. This blouse in a vibrant shade brightens up a neutral-colored pant or skirt suit as well. A popular fashion blogger recommends this blouse because of its versatility in that women can dress it up or down to fit any office climate.
This blouse features a covered button placket as well as buttons at the cuffs and at the back of the neck. Two pockets adorn the front of the blouse. Lightweight, dry-clean-only silk is the fabric for this chiffon blouse, which is available in a range of solid colors. Classically elegant, this blouse is an essential item for the office.
---
| | |
| --- | --- |
| 4 | Express Portofino Shirt |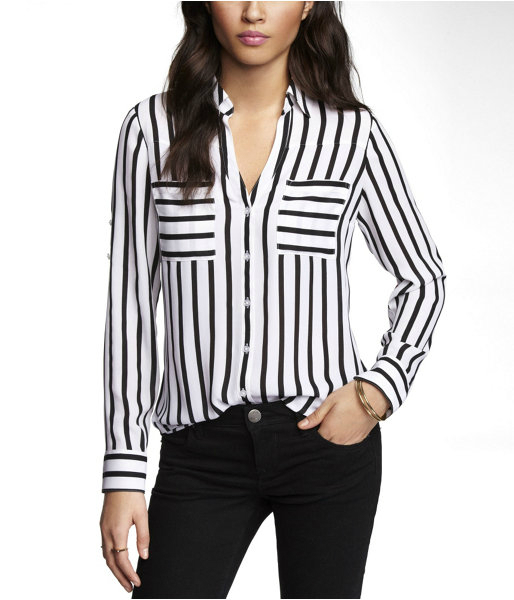 The Portofino shirt by Express is another top choice for women's blouses for the office. Lightweight and semi-sheer, this blouse dresses up or down to suit any office climate. Tucked in, the blouse looks nice with a pant or skirt suit. It looks equally dressy over slim-fitting pants or cinched with a belt. The Portofino shirt is relaxed for comfort, yet stylish and professional looking.
Express designs this blouse in a polyester crepe material. It is easy to care for because it is machine washable. One fashion blogger calls this blouse perfect because of the versatility in creating different looks with the blouse and the wide range of colors to choose from. The blouse features a dropped V-neck, convertible sleeves that fasten to 3/4 or shorter lengths with buttons, and two pockets on the front. Furthermore, the shirttail hem allows for wearing outside of skirts or pants. Classically styled with a modern touch, this blouse is essential for a working woman.
---
| | |
| --- | --- |
| 5 | Jones New York No-iron, Easy-care Blouse |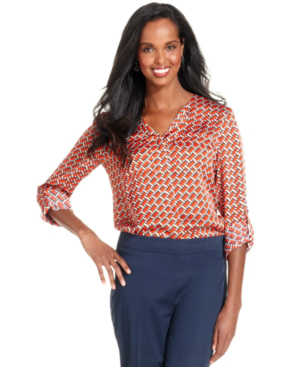 The fifth top women's blouse for the office is the Jones New York no-iron easy-care blouse. This stylish blouse is available in sleeveless, short, and long-sleeve styles. Consumers note that this blouse is both comfortable and figure flattering and that it makes any office outfit look sharp. Jones New York manufactures this blouse in 100 percent cotton. Furthermore, it pulls out of the dryer, drawer, or a suitcase ready to wear thanks to the no-wrinkle construction.
This women's blouse for the office comes in a variety of colors. It dresses up or down according to the wearer's tastes and needs with the addition of simple accessories. The no-iron easy-care blouse looks great tucked into pants or a skirt, under a suit jacket, or worn out over pants or a skirt. This blouse is machine washable, and its low maintenance and stylish looks make it an office essential.
---
How to Buy Women's Blouses for the Office on eBay
Buying
women's blouses
for the office on
eBay
is a simple process that yields many results. To begin a search, enter "blouse" into the search bar located on every eBay page. Assorted menu options allow you to refine your results according to numerous factors. You can also search for a specific style, such as a
chiffon blouse
, or look for a specific color and style, such as a
white long-sleeve button-down blouse
by entering these keywords into the search bar.
The various menu options help you to search only for the items you are interested in. In addition, you can search by location or find sellers offering women's blouses with free shipping. Compare the various results to find the best deals. Before you make a purchase, review the
feedback
left for the seller by other customers to help ensure that your shopping experience is pleasant and hassle-free.
Conclusion
Whether building an office wardrobe from scratch or looking for essential and timeless pieces to add to an existing wardrobe, women choose these popular blouses for the office because they are stylish and versatile. Paired with a variety of other items, they create a professional look. Accessorizing to add a unique look is also easy with these classically simple blouses.
eBay sellers offer a wide variety of women's blouses for the office. Looking for specific items or browsing through all of the blouses in the wearer's size is an easy task due to the assorted search and menu options available for refining a search. Buyers can also look for items offered with free shipping to find great styles for a good price. Viewing a seller's feedback allows shoppers to buy with confidence with the added convenience of online shopping.