About Webcams
A webcam with a built-in microphone that has a high resolution is the most sought after type of webcam on the market today. A decent starting point is a 640 x 480, which is not the best resolution, but it will suffice for a limited budget.A high frame rate is also important. Webcams that lack high frame rates produce video that may freeze on the viewing screen. Frame rates are measured by frames per second (fps). It would be wise to stay above 30 fps for video streaming.
In today's market, high definition video is one of the most sought after features in a webcam. If users plan to frequently stream video to social sites, it would be wise to choose a HD webcam. To help shoppers with their quest to find just the right webcam, here are the top five webcams with built-in microphones.
| | |
| --- | --- |
| 1 | Microsoft LifeCam Studio |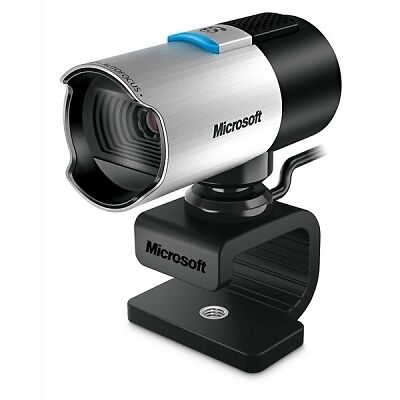 The Microsoft LifeCam Studio offers a convenient, flexible rubber mount, which makes it simple to put it on any size monitor or screen. It shoots video at 1080p resolution, and it has a H.264 processor to make a smooth video.
The auto focus feature is standard, and it maintains a clear focus on a subject that is close to the camera, but if the subject backs away, this camera may take a couple of seconds to adjust. It comes with a tripod thread, but the tripod is not included with the webcam. This camera has one built-in microphone that is on top of the unit, which is located toward the back.
The design of the webcam is small and portable. The USB connector cable is long, and this makes it easy to place the camera wherever the user wishes it to be. It can be used with chat applications such as Skype, but it is not fully compatible with Apple computers.
Features
Full 1080p HD sensor
Auto focus
High-precision glass element lens
TrueColor technology
ClearFrame technology
High-fidelity microphone
Tripod thread
Windows Live movie maker
Windows Live photo gallery
Windows Live call button
---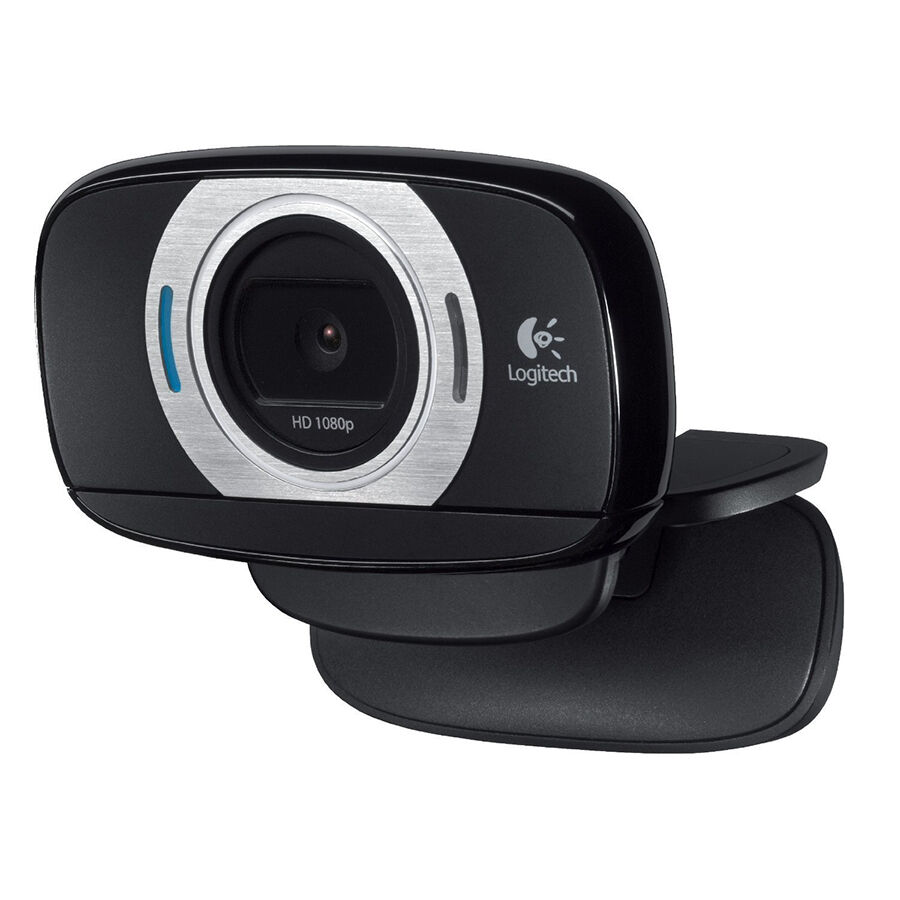 Although the Logitech HD C615 can be set at a maximum resolution of 1080p, the smoothest images are gotten when the camera is set to 720p at 30fps. It also takes up to eight-megapixel photos, which falls slightly short of many of the more expensive webcams on the market.
This webcam has an autofocus feature that maintains focus in relatively close shots. The face tracking feature is quite helpful because, if someone moves around a lot in a video, their face is always centered. This is especially helpful when creating things such as video blogs.
The camera rotates a full 360 degrees. The USB cable connects directly behind the webcam so that it doesn't get wrapped around the camera when it is rotated. This is the only webcam in the Logitech line that has a glass lens. When the automatic noise canceling feature is turned on, it rids the audio of hissing, but it lowers the overall voice quality.
Another nice inclusion with this webcam is a 6 foot USB connection cable, which ensures that the camera can be placed exactly where the user wants it. The Logitech HD C615 is a powerful webcam that has a flexible design and portability.
Features
Full HD 1080p video capture -- up to 1920 x 1080 pixels with recommended system
HD video calling -- 1280 x 720 pixels with recommended system
Logitech Fluid Crystal technology
Autofocus
Photos: up to 8 megapixels -- software enhanced
Built-in microphones with automatic noise reduction
Hi-Speed USB 2.0 certified
Universal clip fits laptops, LCD, or CRT monitors
---
| | |
| --- | --- |
| 3 | Creative Live Cam Socialize HD |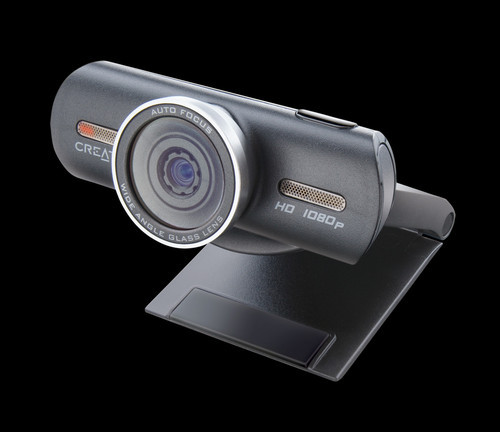 The Creative Live Cam Socialize HD shoots 1080p video at the speed of 30fps. The video taken from this speed is clean and without glitches. It also takes 12-megapixel photos with a wide, glass lens. It shoots about 25 percent more viewing area than many traditional lenses; this ensures that everything and everyone a user wants in the video can be captured.
This webcam has an auto focus and a light correction feature that resonates well in low lighting conditions. The built-in noise cancellation in the microphones produce clear audio. It's important to note that this camera does not swivel.
Features
Full HD 1080p -- 1920 x 1080 image sensor, and pixels
12-megapixel resolution
Up to 30fps -- full HD 1080p quality
Auto focus and a wide-angle glass lens
Dual Stereo microphones with beam forming, and noise cancellation
Plug and chat with Windows, Mac OSX10.5, and Linux 2.6
Snapshot/Live contacts button
Multi-attach base
Cable length: 1.5 meters
USB 2.0 Hi-Speed -- software enhanced
---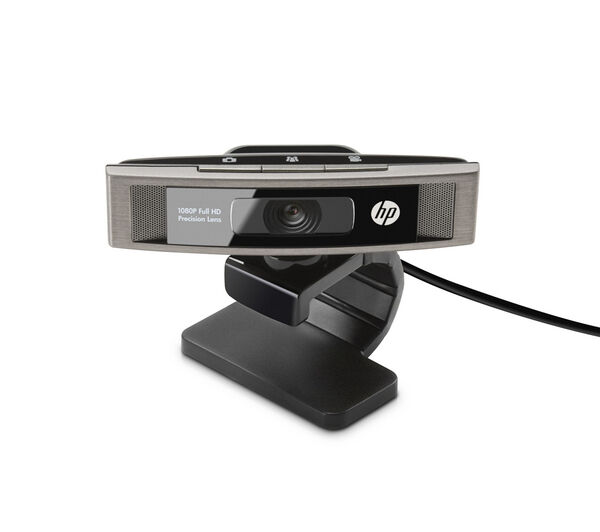 The HP HD 5210 allows users to shoot a resolution of 1920x1080 pixels, and it can film video at 30fps. This camera is able to accomplish this because HP built an H 264 video processor in the unit. These types of processors are only present in high-end webcams. The camera's image quality does not stop at video. It also takes 13-megapixel photos.
This webcam operates auto focus, and that makes shooting video a lot easier. The HP HD 5210 has no problem focusing on subjects as close as 6cm from the lens. Another impressive feature of this camera is that the built-in microphone withstands loud sounds without an unpleasant clipping effect.
Webcams are sometimes designed bulky, but HP designed this one thin and sleek. It comes with a 6 foot cord that allows users to place the camera anywhere around the computer.
Features
Life-like 720p HD video calling -- H.264 HD video streams
High-quality sound -- two premium noise cancelling stereo microphones
Auto-focus and HP's TrueVision auto-light exposure
Face tracking and 5x digital zoom capabilities
Versatile swivel clip -- 270 degree pan/30 degree tilt, and it mounts anywhere
Advanced image processing streams Skype video chats in high definition
---
This webcam is packed with features. It has been built for portability, and it's designed to work with Macs and PCs. Logitech HD Pro C920 a maximum video resolution of 1080p; it also captures images in 108p at 30fps.
This camera streams video, and it captures photos at 15-megapixel quality. Auto focus makes the Logitech HD Pro C920 easy to operate. It's compatible with FastAccess, which will help to secure access to the computer. The manufacturer spared no expense by using a Carl Zeiss glass optical lens that ensures crystal clear images and video. The built-in microphone minimizes background noise by using a signal to cancel it out. The signal is inaudible.
Features
720p HD video calling -- up to 1280 x 720 pixels
Full HD video recording -- up to 1920 x 1080 pixels
Full HD 1080p video calling -- up to 1920 x 1080 pixels with the latest version of Skype for Windows
H.264 video compression
Carl Zeiss lens with 20-step autofocus
Logitech's Fluid Crystal technology
Automatic low-light correction
Built-in dual stereo microphones with automatic noise reduction
Tripod ready universal clip fits laptops, LCD, or CRT monitors
High speed USB 2.0 certified; USB 3.0 ready
---
Finding Webcams With Built-in Microphones on eBay
To search for webcams with a built-in microphone, go to the top of any eBay page and type in keywords or phrases that describe the item. For instance, a good way to find the right webcam would be to type HD webcam with microphone in the search bar. Visit eBay's
Search Tips
page to find more information on how to search for items on eBay.
Conclusion
The choices for webcams with built-in microphones are abundant; shoppers should assess their needs before beginning to search for these products. There are other aspects about the camera that should also be considered. HD cameras are a very popular choice because they allow clear, fluid images that won't freeze on the viewing screen like many of the older webcam models did in the past. This is an important aspect for video blogging or for using the webcam with social networks.