The use of
personal electronics
is at an all-time high, allowing users to stay connected anytime and anywhere. Universal chargers allow consumers to charge different types of electronic devices by different manufacturers. With a standardized portable wall charger, shoppers can charge their devices in the office, at a friend's house, or in a hotel. Universal
wall chargers
typically have one or multiple USB ports and plug into an AC outlet. Not every charger is capable of powering every type of electronic gadget, but USB wall chargers are typically compatible with multiple devices, as long as the devices can be charged via a USB cable. A universal charger allows users to charge their smartphone, tablet, MP3 player, or other USB-powered personal electronic device from a standard wall outlet. By having a charger like this handy, a power source for personal electronics is widely available, even when away from home.
Top 5 Universal Wall Chargers
Shoppers who want to keep devices powered and ready to go choose to buy universal chargers. This may be to replace a lost or broken mobile charger without the hassle and cost of going through the manufacturer. Others simply prefer the convenience of having a second charger on hand. Each type of charger has different features and specs, giving consumers a wide variety of choices to suit their needs. Be sure to shop wisely and check specs thoroughly when browsing. The top five universal wall chargers are below.
| | |
| --- | --- |
| 1 | Energizer Dual Universal USB Wall Charger |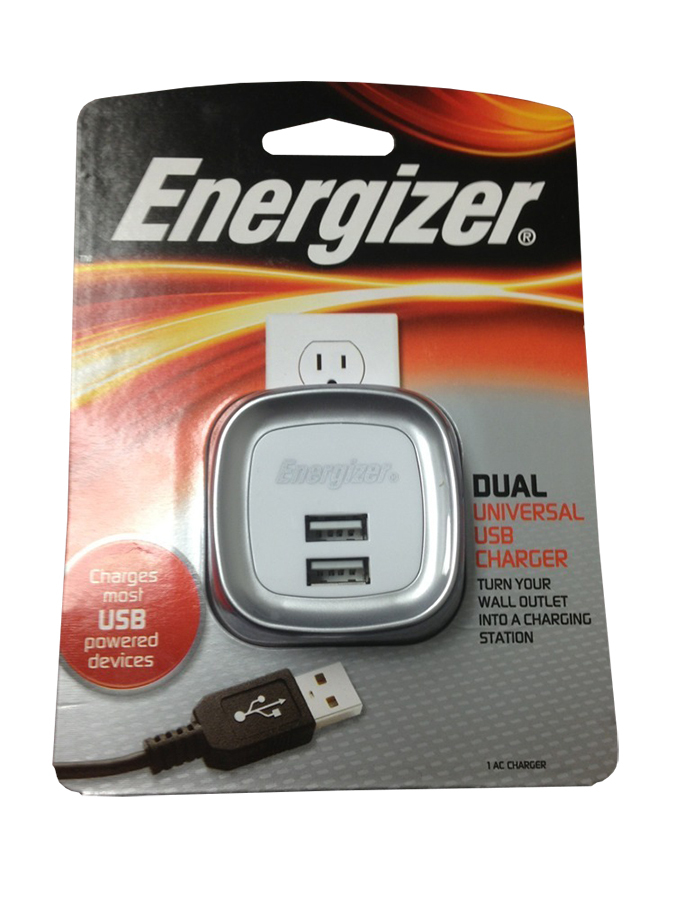 The Energizer Dual Universal USB Wall Charger charges USB powered devices with two USB ports so that users can power two devices at once. Though the charger has dual ports, it's compact design only covers one AC outlet, freeing up space and cutting down on clutter. The fold-out plug blades neatly fold down when the charger is not in use, making the charger convenient for storage and travel. The Energizer charger charges most USB powered devices at an output rate of DC5V x 2, with a 1.5 Amp total.
---
| | |
| --- | --- |
| 2 | Dynex Dual USB Universal Wall Charger |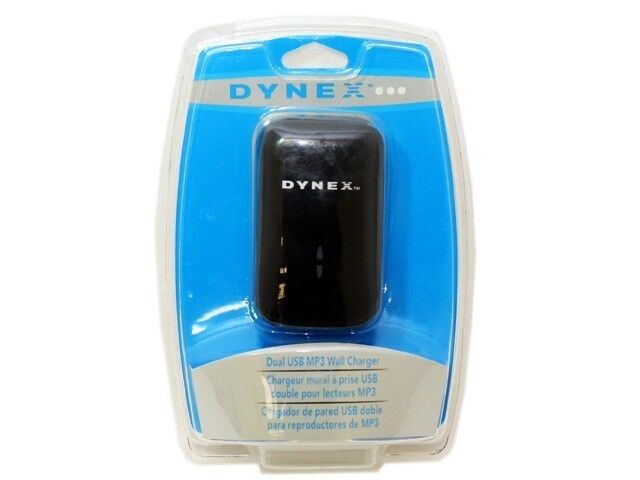 This dynamic charger by Dynex has two USB ports, so consumers are able to charge two devices at once when plugged in to a standard wall outlet. Convenient and practical, the device shuts itself off after eight hours of use. An LED indicator light indicates whether the efficient 2 Amp charger is active or turned off. For convenience and portability, the Dynex Dual USB Charger has fold-down plug blades. As per the manufacturer, it's compatible with most devices that can be charged via a USB cable, making it a great choice as a universal charger.
---
| | |
| --- | --- |
| 3 | Griffin PowerBlock Dual Universal AC Charger |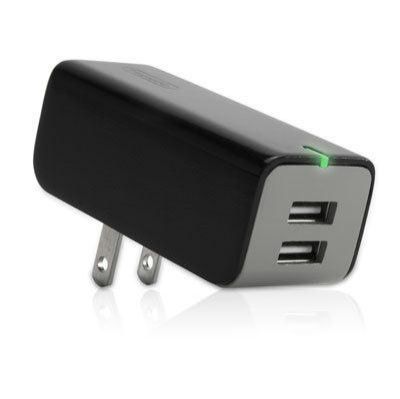 The space-saving design of the Griffin PowerBlock Dual Universal can be plugged into any 100 volt to 240 volt power outlet. The two type-A industry-standard USB ports allow for charging two devices at once. Griffin's PowerBlock Dual Universal charger features built in SmartFuse technology, which offers safe charging with circuit-breaker protection.
Indicator lights easily notify users of the device's charging status, and the fold-flat blades are convenient for travel. The universal charger is compatible with most MP3 players and other devices that charge with a USB cable. Simply plug the USB charging cable into the device to be charged, connect the other end of the USB cable with the charger plugged into a wall outlet, and the charger will begin restoring the device to full power.
---
| | |
| --- | --- |
| 4 | Rocketfish Travel Wall Charger |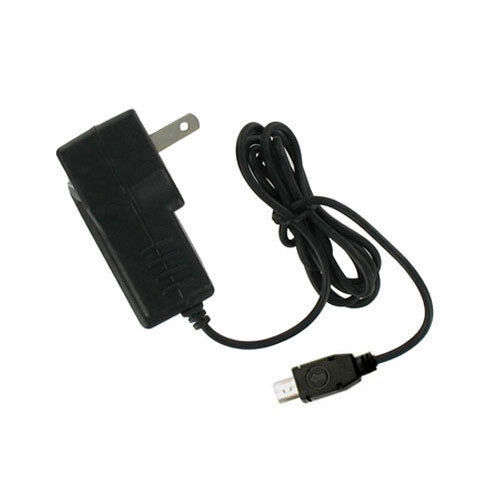 This AC travel charger by Rocketfish is compatible with select Motorola, BlackBerry, and HTC mobile phones. Users also report success with powering other devices like digital cameras, but be sure to check the manufacturer specifications before buying. The compact, sleek and portable design of the Rocketfish Travel Wall Charger provides convenient charging with a wide range of compatible devices. Throw it into a bag, purse, or briefcase before doing errands, taking a vacation, or attending a business meeting just to make sure a charger is always handy.
---
| | |
| --- | --- |
| 5 | Anker Multi-Purpose Universal USB Travel Wall Charger |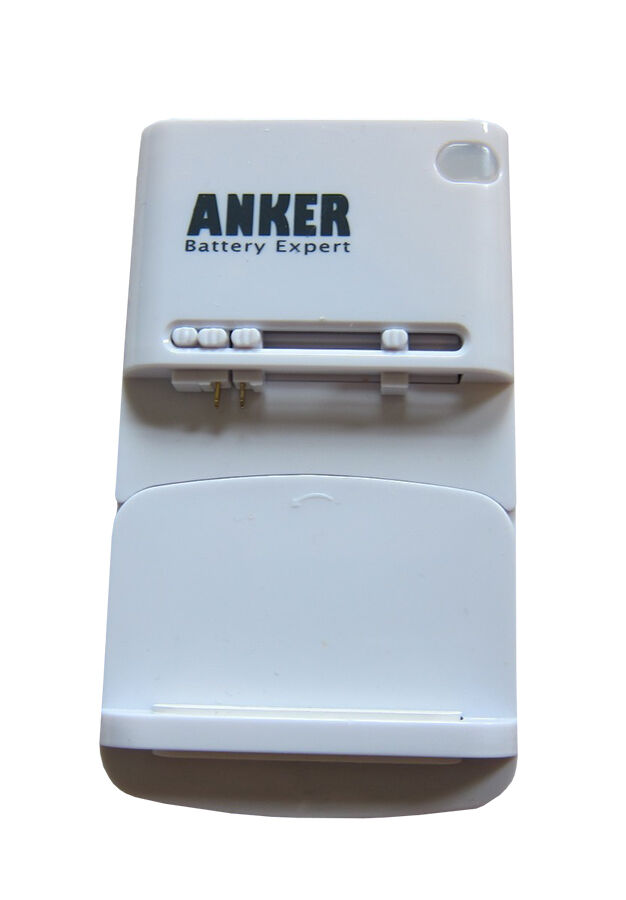 Anker's Multi-Purpose charger will power up a USB device and a spare battery at the same time, so it will work on some devices with a damaged or missing USB port. There's also a micro USB port, convenient for many smartphone users. The multi-purpose charger features a dock that adjusts to fit the size of the battery being charged and is compatible with 90 percent of single-cell lithium batteries. Charge time takes an average of three hours total, and the unit will automatically turn off when the battery or device has been fully charged. For added flexibility, shoppers can opt to use the charger with a car adapter or charge a battery via a computer's USB port.
---
Universal Wall Charger Accessories
The items below are some of the most commonly used accessories with wall chargers. Shoppers may want to research purchasing an additional accessory to add to the functionality of a universal wall charger.
Accessory

Description

A common USB cable type is a micro USB data cable, used by many smartphones
eBay offers a wide selection of USB cables for shoppers to choose from

Offers the added convenience of charging devices from a car's outlet
Both micro and mini USB car chargers are available

Protects electronic devices, including wall chargers, from damage due to voltage spikes
Read descriptions carefully as not all power strips offer surge protection

Bluetooth compatible headsets can fit over the ear or come in the form of headphones or earbuds
Offers the convenience of hands-free smartphone use while on the go
Find Universal Wall Chargers On eBay
To find a universal wall charger, go to eBay and type a few words in the "search" bar that describe the desired charger. For example, a shopper looking for a charger with two USB ports might type "dual usb wall charger," while a shopper looking for a basic model by a specific manufacturer could use "
Rocketfish wall charger
." A guide with tips on using keywords to search for products on eBay can be found on the
search tips page
.
Conclusion
The majority of
wall chargers
require a USB adapter cord to connect the device to the charger. The USB cable attaches to the device and plugs in to the universal charger on the power outlet. Before purchasing a charger, shoppers should carefully research compatible devices with preferred features. Many shoppers prefer
multi-device charger
s versus units with a single USB port, which adds the ability to charge more than one device at a time. To find the best charger for specific needs, shoppers can utilize eBay's search function to find products that meet their requirements. Using keywords like the manufacturer's name, number of USB ports, and other identifying traits will help narrow the focus to relevant listings. For more information, eBay's guide to buying a multi-device charger offers additional information for shoppers.