A men's trifold wallet is recognizable by the unique configuration allowing the folded wallet to be little more than the size of a credit card. This style greatly appeals to men who typically carry their wallets in the hip pocket of a pair of pants. While they are naturally a bit bulkier than more traditional bifold wallets, they tend to offer more sleeves for credit card storage. The cards are usually vertical when opening the wallet, but some designs orient those sleeves horizontally. Currency is typically stored in a slot occupying all three of the folds.
The trick is finding a source where buyers can compare all the top brands for features and pricing. No single company website or brick and mortar store can offer the selection and pricing available on eBay.
Trifold Wallet Considerations
Unlike most other men's accessories, buying a wallet is really more of an investment. A new wallet can last up to 10 years for those who are willing to spend a bit more for better quality. Considering all the use and constant motion a wallet absorbs, spending a little more on the purchase can eliminate a replacement a year later. Leather offers a great combination of durability, attractiveness, and comfort.
It is a good idea to consider the preferred type of leather finish when shopping. Smooth finishes make it easy to slide the wallet in and out of a pocket. That can also be a negative since it is more likely to slip out by mistake. Besides the finish, the only other consideration is color. Virtually all trifolds are available in black and brown. Some companies also offer tan, which is more likely to discolor over time.
Determine the Primary Use
Unlike women who typically carry a purse, unless men choose to use a briefcase or backpack, they are limited to carrying items that fit into their pockets. This means all essential cards and documents must fit into a wallet if they are going to be organized and contained. Options range from a thin credit card only design that works well with a money clip for currency, to a full size secretary that men typically keep in a business jacket pocket. A trifold wallet provides a compromise.
Since most men store photographs on a smartphone, the days of wallets with a stack of plastic sleeves are numbered. Businessmen have an additional need for carrying around business cards, but they are less likely to bend if they keep them stored in a rigid case of their own.
Top 5 Trifold Wallet Producers
A trifold hip pocket wallet is the preferred choice for most men due to its versatility. There are thousands of choices for trifold wallets and companies produce them from a variety of materials. These five are established American brands that put a great deal of effort into combining functionality and quality. Any of these would be a fabulous gift and should last for years to come.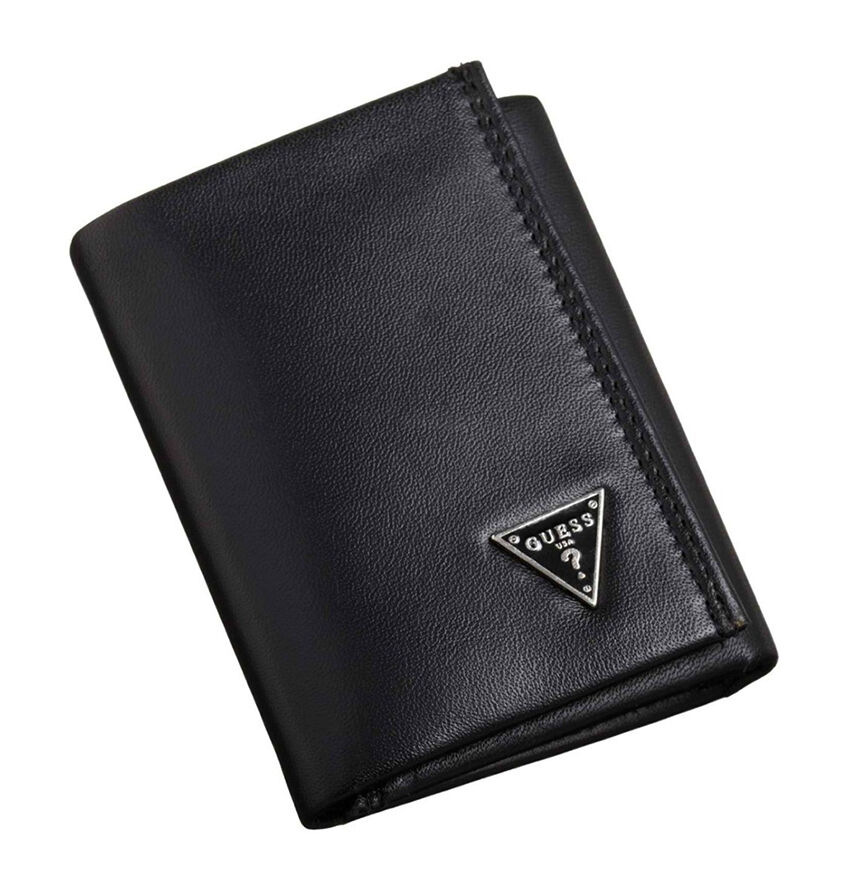 One of the preeminent American clothing manufacturers, GUESS produces an impressive line oftrifold wallets. This iconic brand has found new footing since 2003 and is back at the top of its game. The GUESS Cruz uses lamb and sheepskin and holds up to eight cards in a vertical configuration to maintain a slim design. The inverted triangle logo is prominent on the front withthe name stamped on an inner fold. It also has photo windows for those who prefer to carry paperphotographs. The GUESS Trifold Passcase is a more general GUESS line that gives buyers the choice of the familiar triangle logo on the front or the simpler stamped name only. It is available in brown or black and has several additional storage compartments.
---
| | |
| --- | --- |
| 2 | Tommy Hilfiger Trifold Wallet |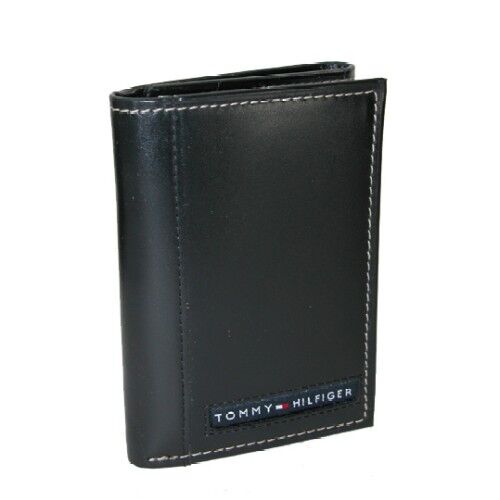 Currently under the ownership of Phillips-Van Heusen, Tommy Hilfiger is another well-respected and stable U.S. brand. Similar to GUESS in many respects, its wallets are all made from cowhide and available in black or brown. The entire Hilfiger line is heavily oriented towards the trifold design. The Cambridge trifold features a windowed slot for quick access to a driver's license or any othercommonly used card. There are nine credit card slots and four additional hidden pockets for photos or seldom-used cards. The Tommy logo is prominent on the exterior and interior alike. The Cambridge also provides two currency pockets to separate large and small denominations. The stitching is a contrasting light color that sets it apart from most others.
---
| | |
| --- | --- |
| 3 | Michael Kors Trifold Wallet |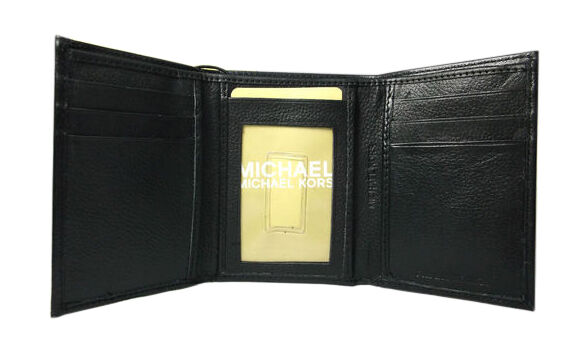 While Michael Kors made his mark initially with women's fashion designs, in 2002 the companylaunched a successful menswear line. The Kors trifold collection includes multiple finishes from smooth to rustic and from matte to shiny. They are all leather with polyester interior linings. Michael Kors bases his reputation on great quality at reasonable prices. Branding is subtle, but distinctive. Beyond the choice of brown or black, the wallet line does not offer much in the way of variety. Michael Kors provides seven credit card display slots and four other slots for bills, receipts, and pass key cards. This wallet is on the thinner side and is ideal for those who do not need to carry many cards.
| | |
| --- | --- |
| 4 | Calvin Klein Trifold Wallet |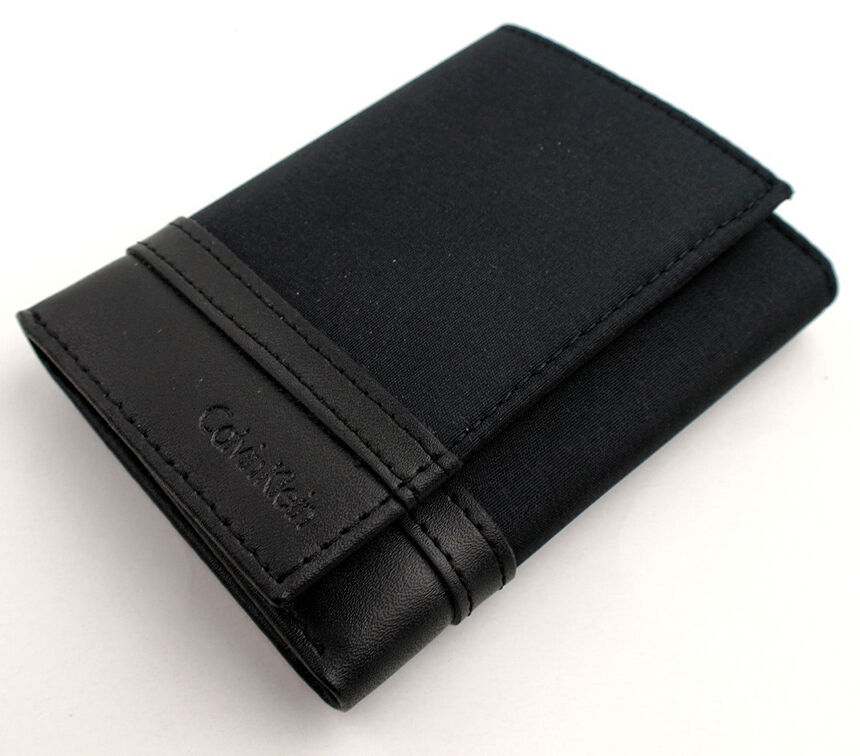 Like Tommy Hilfiger, Calvin Klein is an American brand founded by a renowned fashion designer. Also like Tommy Hilfiger, Phillips-Van Heusen is the outright owner, a deal that completed in December of 2002. For those looking for a slimmer design, Calvin Klein trifold wallets answer the need. Most of theCK trifold wallets provide six credit card slots, which is plenty for most men. Carrying fewer cards results in a thinner wallet. It also means the eventual imprint on the rear pocket is minimal or nonexistent. Calvin Klein trifolds are primarily available in black, but there are several offeredin brown.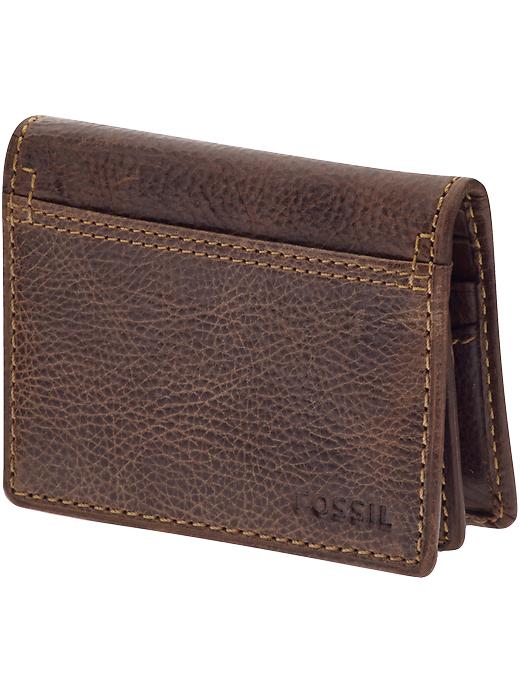 Fossil is another iconic American brand established in 1984 by two brothers who maintain a sizeable stock ownership in the corporation. Fossil products appeal to younger buyers and its trifold wallets offer a greater range of design and color choices than many others. One of the most popular Fossil wallets is the Zip Trifold.. There are two zippered compartments: one for coins and the other for paper currency. These combine to make the wallet thicker than most, making it ideal for cargo pockets. The wallet easily holds up to ten cards and has a silver plaque logo on the front.
---
Find the Best Trifold Wallets for Men on eBay
eBay
is the ideal destination for men's trifold wallets or any other
men's fashion accessories
. On every eBay page, you find a search feature. Just enter the description of the wallet you want. For instance, if you have decided on a "
Tommy Hilfiger trifold
," input that term to land on a page with hundreds of choices. On that page, you can specify a price range and select a color to get the search down to a more manageable number. eBay suggests you look over its
Search Tips
for some other searching pointers. One of the best features of eBay is the Wish List. Any time you run across something that looks interesting, you can put it aside so you do not have to remember where it was. After you sign in, go to the My eBay menu and click your Wish List. You then see everything you have selected and can decide which ones to purchase. Even if you are not quite ready to buy, everything remains there as long as you like. This saves starting all over again the next time you are on eBay.
Conclusion
A wallet is one of those items that can reward or haunt the buyer for years. While it makes great sense to purchase the best quality possible, buying a wallet that comes up short in any area can be a cause for a lot of regret. It is an article that men should be able to use several times each daywith little thought, not one that is a constant source of aggravation. It pays to do a little reading and decide which style is best suited for the individual user. These five companies have a solid track record of producing top quality wallets in addition to a number of other products. Take some time to read the reviews by others who have purchased previously, an opportunity notavailable when driving around to local stores. Most people who take a few minutes to shop on eBay return again and again.