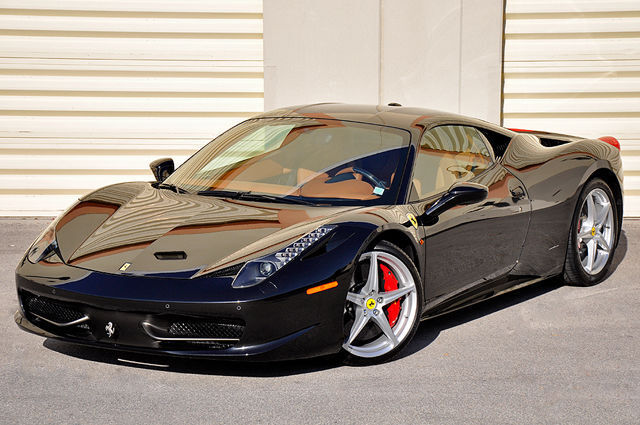 If you ask many enthusiasts, the reason to purchase a Ferrari comes down to wanting one. But that does not answer the question of what makes someone want a Ferrari more than another supercar.
The Ferrari marque cultivates a near-mythic status all over the world. The company is a source of national pride in Italy, the country that designs and constructs these vehicles.
There is more to Ferrari's popularity than Italian design and clever marketing. Many drivers and designers alike revere Ferraris for their rich history, style, performance, sound, and the option to go racing on the track with other car enthusiasts.
History and Collectability
Enzo Ferrari started his very first racing company in 1929. Ferrari made a name for himself by sponsoring racers and fielding winning racecars. In 1947 Ferrari branched out into manufacturing road cars for the public. Ferrari used the proceeds from selling road cars to finance his racing operation throughout the 50s, 60s, and 70s.
Depending on the year and model, a used Ferrari costs as little as a new 3-series or as much as a mansion. Included in this guide is a handy chart to help determine the affordability and collectability of Ferraris throughout the years, everything from a 308 to an F40.
| | | |
| --- | --- | --- |
| Year and Model | Affordability ($-$$$$$) | Collectibility (Driver, Collectible, Very Collectible) |
| 1982 308 GTS | $ | Driver |
| 1985 Mondial QV | $ | Driver |
| 1987 F40 | $$$$$ | Very collectible |
| 1988 328 GTS | $$ | Driver |
| 1990 348 | $$$ | Driver |
| 1994 512M | $$$$ | Collectible |
| 1997 Ferrari F355 Spider Competizone | $$$ | Collectible |
| 2003 360 Modena Challenge Stradale | $$$$ | Collectible |
| 2004 Enzo | $$$$$ | Collectible |
Ferrari is a competitor on the F1 circuit, and many enthusiasts remember Michael Schumacher and Rubens Barrichello's dominance of the sport during the early 00s. Ferrari tends to win more constructor's championships than any other marque in the history of F1 racing. When someone purchases a road-going Ferrari, he becomes a part of this rich racing history, so Ferrari enthusiasts and collectors are always searching for vintage Ferrari racecars.
For Show and Style
Ferraris are low to the ground and very wide, with huge tires and wheels wrapped around gigantic carbon-ceramic brake rotors. Ferrari interiors, covered in fine Italian leather and stitched together by hand at the factory, smell like a fine leather couch. The gated shifter on older 6-speed models is an automotive design icon. Contemporary Ferraris come equipped with paddle-shifted automatic or robot-actuated manual transmissions. The tachometer sits in the middle of the gauge cluster, so nothing other than the car's performance distracts drivers.
In the 1980s, the Ferrari Testarossa's wide, plunging side vents funneled cold air through the car's cooling system. In addition to the Ferrari's gated shifter, the Testarossa's side vents made the car a supercar icon.
Speed and Performance
Many enthusiasts consider a zero to 60 time of less than four seconds the mark of a fast car, and Ferrari delivers. A 1987 Ferrari F40 goes from zero to 60 in 3.7 seconds. Fast forward almost 20 years, and a 2005 Ferrari Enzo hits the same mark in 3.1 seconds. For well-heeled enthusiasts who measure progress in horsepower and rev-limits, driving a Ferrari is a popular choice.
Ferrari makes a few concessions to driver comfort. The F40's pedal box is slightly off center, forcing drivers into an awkward driving position. Road-going racecars are not often very comfortable, but their performance makes up for it in the minds of enthusiasts. There are faster, less expensive cars available. But many enthusiasts say that none of them look or sound quite like a Ferrari.
The Sound
Ferrari did not invent smallbore V8 or V12 engines, but they made them sing over the decades. Ferrari is famous for creating small engines with big cylinder counts that produce power at the upper end of the rev range. Redlines upwards of 8500 RPM on the gauge cluster are not uncommon.
A Ferrari screaming down the back straight of a racetrack makes a sound that is high-pitched, shrill, and completely unlike the sound a big American V8 engine makes at full chat. Some enthusiasts say that a big American V8 sounds like rolling thunder, while a small Italian V8 sounds like lightning cracking through the air.
Go Racing: Competition
Ferrari does not let just anyone drive their F1 cars, but they produce special, racing versions of many of their road going cars for enthusiasts who have racing in their blood. Race Ferraris often have the words "Challenge Stradale"following their model name and numerical designation. Ferrari 360 and 458 Challenge Stradales are both suitable choices for the gentleman racer wanting to step out of a Porsche, Corvette, or Lotus and into a Ferrari.
The Ferrari Challenge is a popular one marque series with events in North America, Europe, and Pacific Asia. Ferraris are the only cars allowed to race during Ferrari Challenge events. The racing is competitive but not as competitive as mixed marque racing sanctioned by the FIA.
How to Buy a Ferrari on eBay
It is not uncommon for enthusiasts to purchase exotic cars sight unseen from reputable sellers on eBay. A reputable seller of exotic cars should be able to describe the car in question in a way that leads to few, if any, surprises when the car rolls off the transporter upon delivery. Check seller feedback and ask for references to ensure the seller is reputable.
There are two main pick up options for Ferraris you purchase remotely. The first is to fly in, inspect the car, complete the transaction, and then drive it home. The second is to have a friend or trusted advisor check the car out, or simply purchase the car sight unseen, and then have a reputable auto shipping service ship it to the buyer's residence or garage.