Owning the perfect luxurious plush robe is the best way to bring the pampering feeling of an upscale spa back home.
Spa robes
make great gifts for wife, girlfriend, mother, or friend. They are luxurious, practical, fashionable, and comfortable. With the advances in material science and manufacturing process, there are literally hundreds of robes to choose one. Most women love the feel of a soft plush robe to wrap up in first thing in the morning, or in the chilly evening hours. With so many different robes to choose from, deciding on the right robe can be difficult. To become a more informed consumer, learn about the best types of robes and how to purchase them. Buyers find plush robes at high-end department stores, intimate item retailers, as well as through online outlets, such as eBay.
| | |
| --- | --- |
| 1 | Alexander Del Rossa Super Plush Microfiber Bath Robe |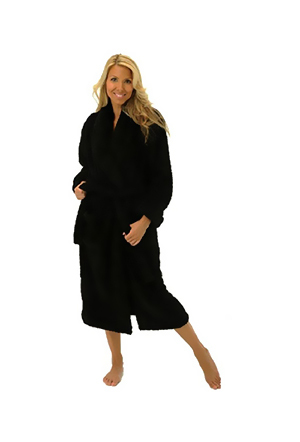 The women's robes from Alexander Del Rossa are among the most popular in the industry. The reason this robe consistently receives high reviews is because it is extremely soft and plush while remaining lightweight. Most women do not want a heavy robe; the light and fluffy texture of the super plush microfleece fabric is warm, but does not weigh down a petite person. Additionally, the pockets and water absorbency make this robe both stylish and practical. Alexander Del Rossa is known for quality spa and bath products made especially for women.
---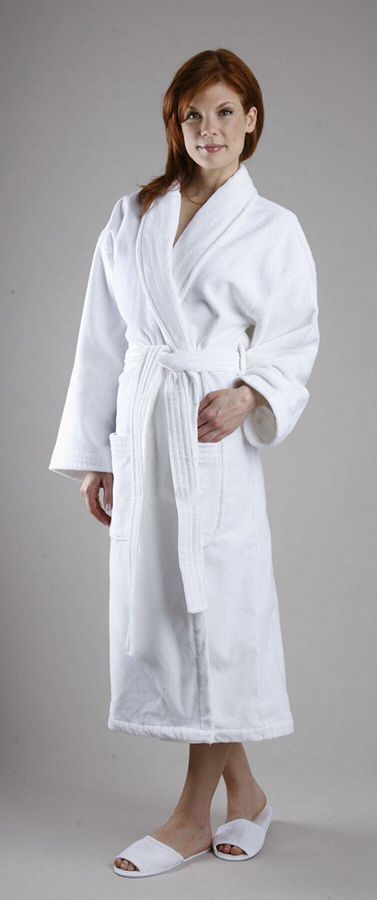 The Terry Bath Spa line is a staple name in luxurious spa products. The Bamboo terry cloth robe is made of a mixture of bamboo viscose and cotton, creating an eco-friendly gift of luxury. The bamboo creates a velvety soft texture and stays fresher longer than typical cotton robes. In addition, this product uses no dyes or chemical paints, which means it only comes in a natural white color. For some customers, this might be a downfall, but for many, the natural color is appealing and soothing. Terry Bath Spa manufacturers its products with stronger fabrics and superior stitching to create a high quality product while maintaining that soft, plush feel. The Bamboo robe has a shawl collar, front pocket, and three-quarter sleeves.
---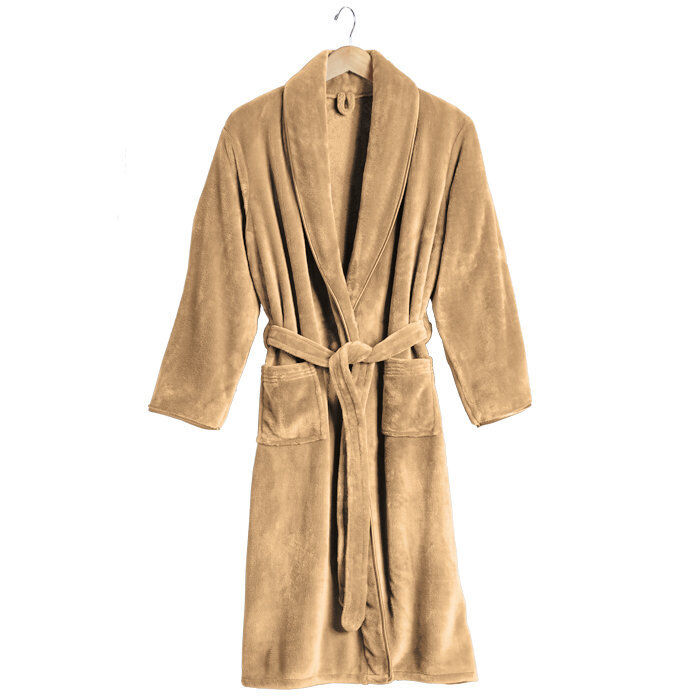 Brookstone creates hard-to-find, quality products for the sophisticated consumer, as well as those who just want to feel sophisticated. "Quality of product, quality of service, and quality of people" is the motto of Brookstone. Its robes are no exception, as they live up to those lofty standards, and then some. A lightweight, twill microfiber outer provides softness while plush inner lining wraps a woman in complete, cozy comfort. Design features of the Minx robe include double stitching throughout, satin piping, and large front pockets. This robe is perfect for lounging and relaxing any time of the day and is truly the robe no woman wants to ever take off.
---
| | |
| --- | --- |
| 4 | Victoria's Secret Robes |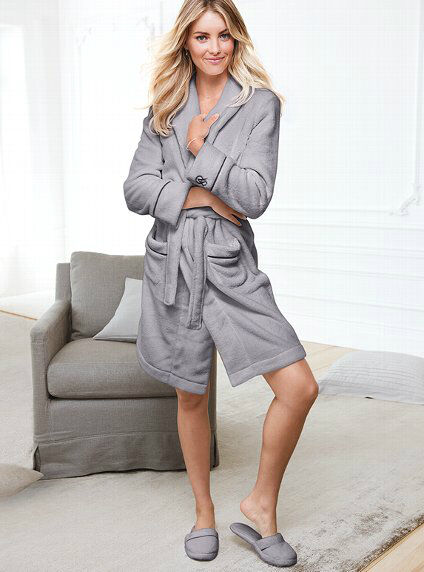 Victoria's Secret offers a wide range of robes to fit the style, preference, and lifestyle of any woman. These robes are elegant, fun, plush, and come in several lengths from knee-high to floor length. The company is known for its catalogs and fashion shows and is the largest American retailer of lingerie and has perfected the art of intimate products, including robes for women. From kimonos to hooded robes, a plush robe from Victoria's Secret is perfect for all body types. Victoria's Secret gives its robes an extra touch of glamour with different styles and designs, such as metallic stripes, soft animal print, floral print, or sparkle graphics.
---
| | |
| --- | --- |
| 5 | L.L. Bean Robes for Women |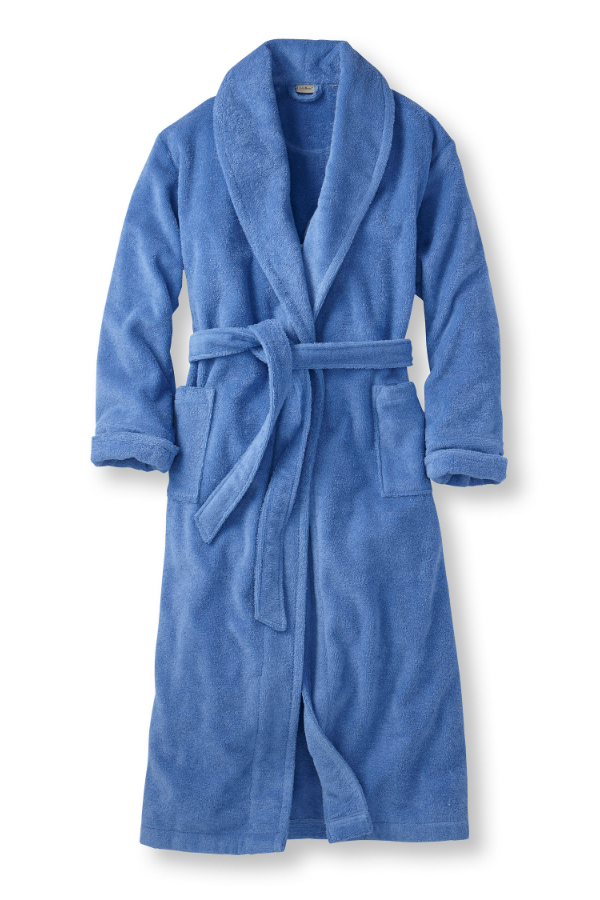 Formed on a foundation of quality outdoor gear and apparel, L.L. Bean's plush and soft indoor clothing is a popular choice for women. The robes from L.L. Bean are a customer favorite year after year because they feature a warm and cozy fabric only found from L.L. Bean. There are two popular women's robes from L.L. Bean: the plush fleece and the Turkish terry cloth. The plush fleece fabric is warm and cozy while remarkably breathable. Customers rave about this robe because it features quality stitching and durable materials that last for years through several washings. The Turkish terry cloth receives rave reviews because it balances softness and absorbency. The thick, fluffy terry actually gets softer with every wash. The woven fibers of this robe are large, even loops, making the towel-like fabric very soft and extra absorbent. Because the loops are larger, they trap more air and allow the robe to dry quickly, keeping the wearer warm.
---
Selecting a Robe
Choosing the best robe starts with selecting the best fabric. There are several fabric choices, and the best option depends on the personal preference of the individual. The fabric defines the touch and feel, absorbency, and overall weight of the robe.
| Fabric | Touch and Feel | Absorbency | Weight | Best Uses |
| --- | --- | --- | --- | --- |
| | Similar to a thick satin finish | Good water absorbency | Ultra lightweight | Best for a lounge robe |
| Cotton terry | Soft cotton feel | Naturally absorbent | Heavy when wet | Good for use out of the shower |
| | Feels similar to velvet | Good water absorbency | Can be heavy | Best for lounging in cold weather |
| Silk or satin | Very silky soft feel | Not absorbent | Ultra lightweight | Best for lounging |
| | Extremely soft | Not absorbent | Ultra lightweight | Best for lounging |
| Chenille | Very soft feel | Not absorbent | Very lightweight | Best for lounging |
All robe fabrics are generally plush and soft, but they may feel lighter, heavier, or absorb water differently, which can make a large difference in how it feels. For those looking for a plush robe but cannot handle or do not want the extra weight of cotton terry, go for a microfiber, cotton, or bamboo-cotton mix. These fabrics are lighter, but still warm and plush.
Buying a Women's Plush Robe on eBay
eBay is a great place to find a plush
women's robe
for a gift or for yourself. This marketplace is large, but it is user-friendly and provides several tools for buyers to find robes. The first method is to simply search for "women's robe" by using the search bar on any page. Users with a particular type of robe in mind should include additional search terms to narrow the results. Additionally, most search pages offer filters or check boxes that let buyers filter results by brand, price, condition, or even location.
Evaluating Sellers
After selecting an item from the listing page, click on the seller's name in this section to see his or her full profile. Information about a user's eBay history includes all
feedback
ratings from buyers within the past 12 months.
Conclusion
A quality plush robe can quickly become a favorite wardrobe item of any woman. The right robe wraps her in luxury and warmth to both start and end the day. Robes made from top-quality materials can last for years, so it is important to find the right one before investing in the purchase. Always follow the manufacturer's care instructions and use care when washing and maintaining any robe to keep its plush softness feeling like new. Purchasing a robe from one of the most popular manufacturers of robes is a guaranteed way to ensure you are purchasing a quality product. Selecting a product from a maker with a strong industry history, such as L.L. Bean, or an unbeatable reputation, such as Victoria's Secret, is a great way to guarantee you have selected a gift she will love.