Pioneer is one of the most popular brands of audio and video equipment in the world. They have products for home and car use, and they remain one of the more popular brands of car audiovisual accessories. While many people have moved on to MP3 and Blu-Ray players for their cars, some still treasure regular compact disc players as car accessories. Pioneer maintains production of
CD players
, but many new types also support other functionalities as well. If the buyer is interested in purchasing a Pioneer car CD player, then these five players are great options to consider. By reviewing the main features of the CD players, the buyer can make an educated decision about which player is the best for their needs.
| | |
| --- | --- |
| 1 | Pioneer FH-X700BT In-Dash Double DIN CD/MP3/USB Car Stereo Receiver |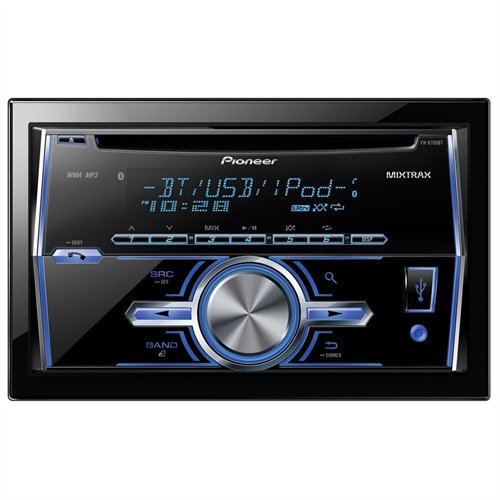 Buyers looking for an all-in-one music solution for their car should consider the Pioneer FH-X700BT. This player comes with several great functionalities. This particular model not only provides CD play but can also be used as a MP3 player. The FH-X700BT also supports Bluetooth, Pandora radio, MIXTRAX, and the iPod if the owner wants to listen to their private music files.
The MIXTRAX technology is one of the best parts of the Pioneer experience. This feature adds DJ-like effects to the tracks that play, regardless of whether the tracks come from an iPod, iPhone, MP3 player, or even some Android devices. This provides an even more interesting listening experience for music lovers to enjoy. The Bluetooth functionality makes hands-free phone calls easier and allows the buyer to stay safe while driving. The commands are voice activated when the phone or device is connected to the player's Bluetooth.
According to a popular review site, users gave the Pioneer FH-X700BT a 9.2 out of 10 rating, and this was based on over 100 reviews. Thus, most owners are very satisfied if they purchase this car CD player. That being said, buyers looking for a barebones car CD player may find that this model is more than they want. This is especially true for those who are not very tech-savvy and do not know how to use the extra functionalities of the Pioneer FH-X700BT.
---
| | |
| --- | --- |
| 2 | Pioneer DEH-1300MP CD Receiver |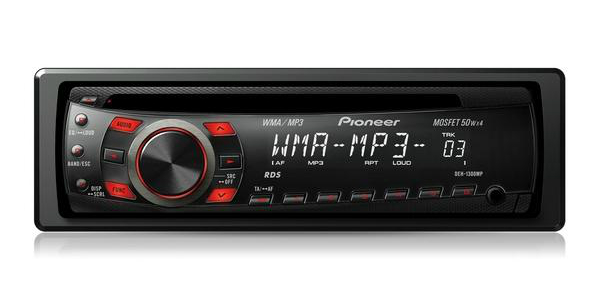 Buyers looking for a simple car CD player that is fuss-free should consider the Pioneer DEH-1300MP. The player works just like a traditional car CD player, but it also includes WMA and MP3 support so that the buyer can burn these file formats to a CD and play them. The player also includes a 3.5-mm auxiliary input jack that allows the buyer to plug in a MP3 player or iPod as a music source.
The Pioneer DEH-1300MP is one of the more affordable Pioneer models in the market; that being said, this does not mean that it is low-quality. It has a number of impressive features that make it a good buy. One of this is the Supertuner IIID, an excellent AM/FM tuner that makes listening to the radio a whole lot more enjoyable by reducing distortions in the signal. This model also incorporates Pioneer's Advanced Sound Receiver technology, which enhances the sound quality of compressed music files. The CD player also comes with a remote control.
Users of this model gave it an average rating of 8.8 out of 10 on one popular electronics review site, which is from over 500 reviews, and an expert's rating on the same site is 8 out of 10. Buyers looking for a simple Pioneer car CD player should consider this model for its ease of use and affordability.
---
| | |
| --- | --- |
| 3 | Pioneer DEH-X6500BT Mobile Single Din in Dash CD/MP3 Receiver |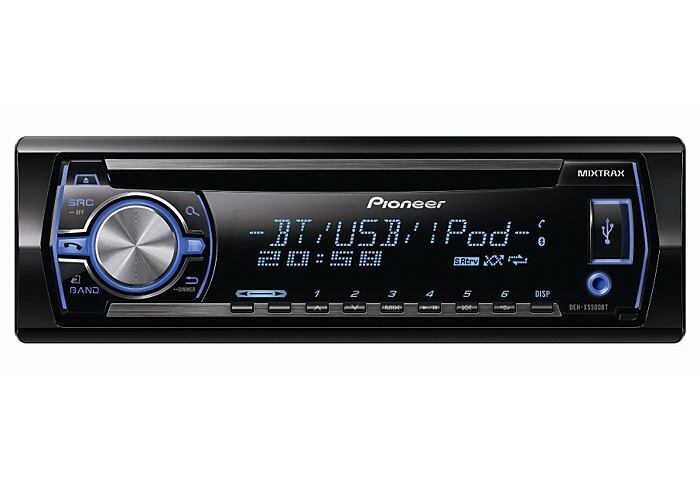 This particular model is similar to the FH-X700BT if you compare the features. It has Bluetooth, MIXTRAX, Pandora, and iPhone and iPod support. The difference is that this car CD player is single DIN while the FH-X700BT is double DIN. The DIN refers to the size of the stereo unit once it is inside the dashboard. Most are 7 inches wide but single DIN types are 2 inches in height while double DIN ones are 4 inches. Since single DIN players are smaller, they may be suitable for buyers with older cars.
Additionally, the Pioneer DEH-X6500BT also has the Advanced Sound Retriever feature and front auxiliary and USB input for connection to other media players. The player also comes with a radio tuner with 24 presets. It supports the CD, CD-R, CD-RW, MP3, and WMA file formats.
This model received a 9.4 rating out of 10, based on over 145 reviews from satisfied customers on one consumer site. Three expert reviewers also gave this excellent quality CD player a perfect 10 rating. Thus, this player is great for those individuals with limited space for installation and who only want a great Pioneer CD player that does not necessarily have a lot of extra features.
---
| | |
| --- | --- |
| 4 | Pioneer AVIC-X940BT In-Dash Navigation AV Receiver |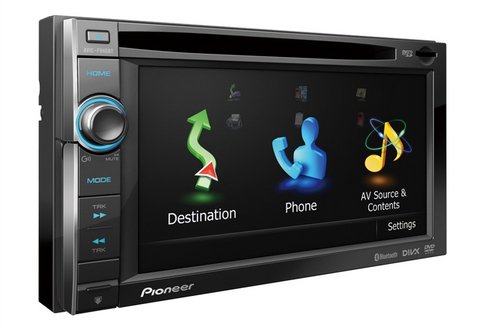 Buyers that have a large budget for purchasing their car CD player can consider investing in this GPS and entertainment system rolled into one. The Pioneer AVIC-X940BT comes with a navigation system that is pre-installed with maps of several countries. The device uses a 6.1-inch LCD screen that comes with a 16:9 aspect ratio. The GPS can be used in several display modes, including two-dimensional, three-dimensional, street view, and so on, and it even provides a fuel cost report.
On the entertainment side of things, the AVIC-X940BT has a single disc CD player that can play music is several different formats. It also plays videos in DVD format on the anti-glare LCD screen. Additionally, this model accesses AM/FM radio and also works with Pandora when the unit is linked to an iPhone or Android device. It also supports Bluetooth input by an external portable media player. This unit pretty much includes all the features that are available on the other Pioneer car CD player models, which explains the pretty hefty price tag.
Some consumer websites have rated the AVIC-940BT at four out of five stars. For those who enjoy a lot of options and features in their car stereo system, this car CD player may be just what they need.
---
| | |
| --- | --- |
| 5 | Pioneer AVH-X2500BT 2-DIN Multimedia DVD Receiver |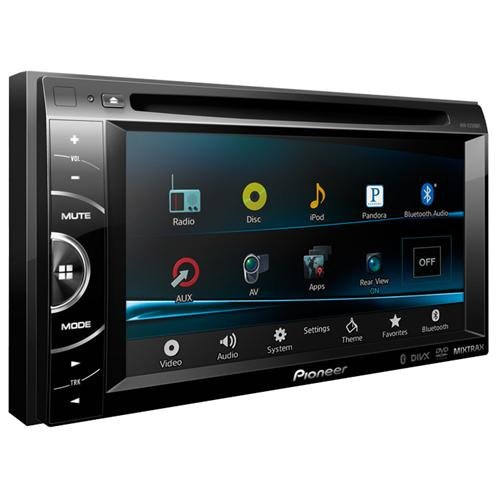 The Pioneer AVH-X2500BT is a CD and DVD player. It has a 6.1-inch touchscreen display that can also turn into a navigation system if the buyer purchases an additional component. The owner can also install a rearview camera and connect the input to the player. This device supports Bluetooth, USB direct control, and Pandora, and features an AppRadio mode where the buyer can control applications on an iPhone directly on the player's display.
The Pioneer AVH-X2500BT is suitable for those with a moderate budget who want a CD player with a screen for playing videos. Navigation is optional with this player, so the buyer does not need to spend extra if he or she wants the screen but not the GPS system. iPhone users find this CD player especially alluring due to its many iPhone-friendly features. This Pioneer model received a rating of 9.6 out of 10 from over 40 user reviews, and a full 10 from two expert reviews on a electronics review website.
---
Comparison Between the Top 5 Pioneer Car CD Players
Each buyer may have different preferences, but these five Pioneer car CD players should definitely be considered if the individual wants to purchase a good-quality product for their car. Buyers should consider the following information when deciding on their purchase: price, DIN type, and main features.
Pioneer Model

Main Features

DIN

Price

Bluetooth

Pandora

MIXTRAX

iPod Support

Double

$$

DEH-1300MP

MP3 Support

Supertuner IIID

Advanced Sound Receiver

Single

$

DEH-X6500BT

Bluetooth

Pandora

MIXTRAX,

iPod,

Advanced Sound Receiver

Single

$$

AVIC-X940BT

Navigation

Touchscreen display

Bluetooth

Pandora

Double

$$$$

AVH-X2500BT

DVD player

Touchscreen display

Pandora

Bluetooth

AppRadio mode

Double

$$$
There are a number of places where the buyer can purchase Pioneer car CD players. These include car parts, electronics, and some department stores. They are also listed at online stores such as eBay. If the buyer cannot afford a new car CD player,, buying the unit second-hand is also an option.
How to Buy a Pioneer Car CD Player on eBay
eBay
is a great location to shop for various kinds of car accessories, including car CD players. If you plan to shop for a Pioneer CD player on eBay, simply go to any eBay page and key in your search term, for example "
Pioneer car CD player
," into the search bar. For better search results, you may want to key in the model number if you already decided on one. After that, just press "enter" and you can see the various listings by different sellers. You can use the options panel to filter your search results so that the list contains more relevant results.
If you see a listing that catches your eye, click on its title to be redirected to the product page. Here you can obtain more information regarding the CD player. Once you have found a product that fits your needs, you can go ahead and purchase.
Conclusion
Pioneer is still one of the top audiovisual manufacturers in the world, and their ability to offer what people want is one of the reasons why they are so successful. Their
car CD players
come with a variety of different features, suitable for both big and small budgets. They have many different models, but these top five players are among the best that Pioneer has released. Buyers are sure to find one that suits them best. One of the best places to shop for a Pioneer car CD player is
eBay
, which offers consumers the ability to find what they want quickly and without driving all over town.