The 1960s saw the introduction of bold and expressive fashion designs. Prominent figures in the fashion world during this time include Mary Quant, who introduced the
mini skirt
, and French fashion designer André Courrèges, who is known for creating boxy, above-the-knee dress styles that became wildly popular.
Many people enjoy shopping for original vintage clothing as a way to express a unique sense of style for daily wear or to commemorate the fashion revolution of the 1960s. Lace dresses in several different styles are of particular interest to some buyers. When shopping for vintage lace clothing, it is important for buyers to be familiar with popular and authentic designers and styles of the era. This information is also helpful to determine whether or not a specific item is authentic and priced appropriately.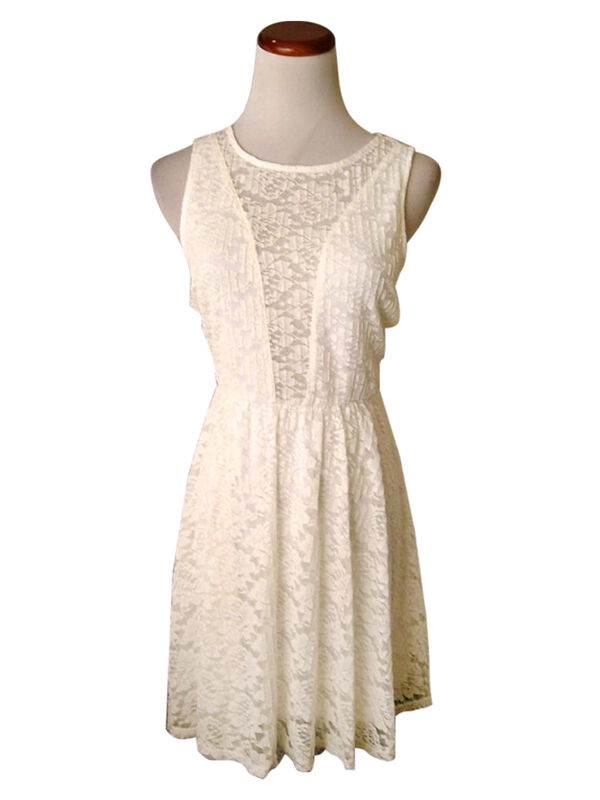 1960s mod dresses were made out of materials that were as daring as their style. It was not uncommon to find mod dresses and clothing made out of PVC plastic, but more traditional fabrics such as lace were equally popular.
Lace mod dresses have subtle variations. However, their short, boxy, minimalist style is easily recognizable, especially to vintage clothing enthusiasts. Although the term mod, which is short for modern, is often used to describe a few different styles of vintage dresses, a true mod dress features a boxy cut and a hem slightly above the knee. Many variations on the style appeared in the fashion scene in following years. Fashion model Twiggy was photographed wearing mod dresses in the 1960s, and it was her influence that helped make this style an enduring classic.
---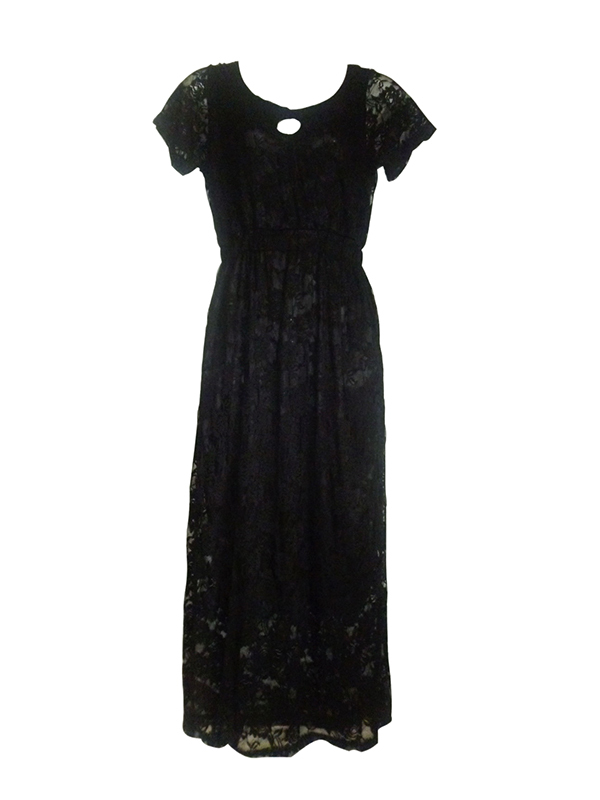 Maxi dresses are made out of a wide variety of fabrics. They are marked by their long and flowing skirts, with hemlines that reach the ankles or even brush the tops of the feet. The bodice of a lace maxi dress can consist of short or long sleeves, spaghetti straps, a halter, or even a strapless upper. Lace was used to varying degrees when creating vintage maxi dresses. Some had lace edging and details, while other dresses were made entirely of lace with a lightweight cotton underlay. Intimate apparel was also designed in this style, consisting only of lace. This type of dress made its way onto the fashion scene in the 1960s with notable fashion figures of the time frequently seen and photographed wearing maxi dresses.
---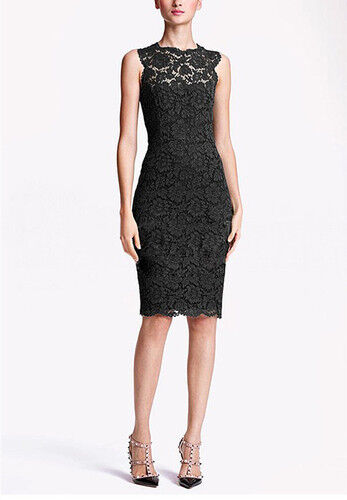 The pencil dress, also frequently referred to as the wiggle dress, is made with a very tailored fit that is intended to accentuate a curvy hourglass figure. During the 1960s, the wiggle dress was associated with young, carefree, and daring women who would wear these dresses to social events to show off their figures and dance to popular music of the day. Adapted from the original pencil skirt design by Christian Dior, the pencil dress is distinguished by a narrowly cinched waist with a bottom hem that is even narrower.
Lace pencil dresses are typically considered more formal, especially when the design features a complete lace overlay. Formal lace pencil dresses often have embellishments such as beads or sequins and many women choose to wear them as wedding dresses. Original pencil dresses had hemlines that fell slightly above the knee. The sophisticated and timeless style of the pencil dress has been modeled by prominent figures such as Diana, Princess of Wales, who frequently wore pencil dresses and suits.
---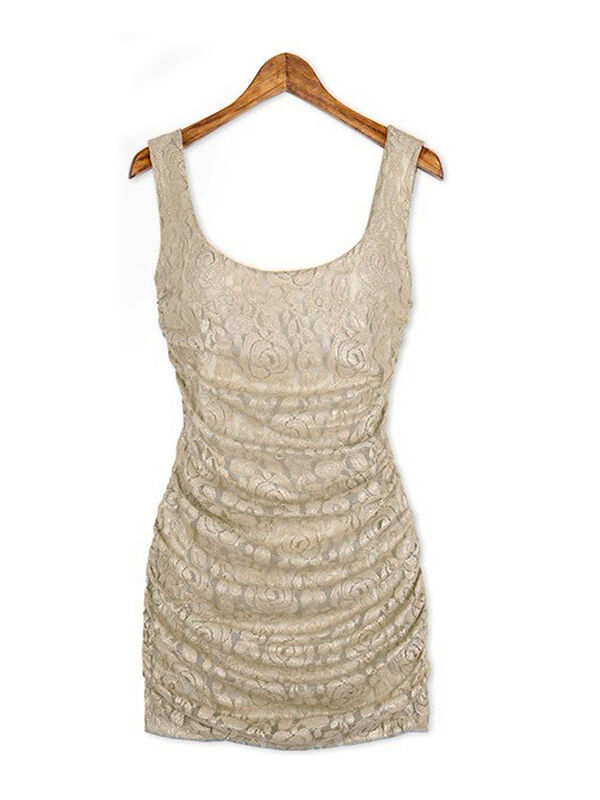 Vintage lace cocktail dresses range in length from above the knee to long, flowing skirts that fall at the ankles. Longer cocktail dresses are considered more appropriate for very formal occasions, whereas the shorter styles are slightly less formal. Lace cocktail dresses from the 1960s were commonly made with generous lace embellishments such as sequins.
The little black dress is estimated as the original form of the cocktail dress, and it has seen numerous fashion innovations since it was first introduced. Audrey Hepburn wore a black cocktail dress, designed by Hubert de Givenchy, during her role in the Hollywood classic "Breakfast at Tiffany's" and heavily influenced the fashion industry at the time. The lace cocktail dress can come in many lengths and cuts, but all such vintage pieces proclaim the bold and innovative spirit of the fashion world in the 1960s.
---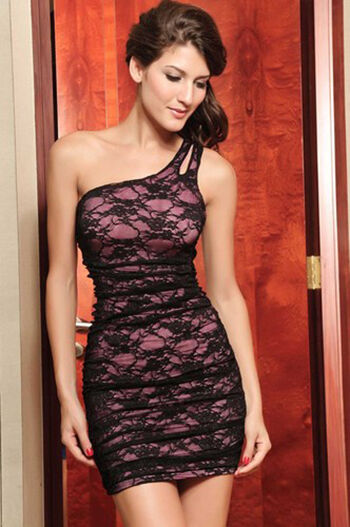 Hemlines that fell several inches above the knee marked the daring innovation of the mini skirt, which was introduced by Mary Quant in the 1960s. In a similar style, the mini dress is noted for its short length, usually reaching to the mid to upper thigh. Although the hemline is the key attribute, mini dresses can come in a variety of configurations. Such a dress can be simply cut with a straight skirt or fully cut with a short and ruffled appearance.
Lace mini dresses usually consist of additional material which is embellished with lace borders or overlay. However, many shoppers seek out lace mini dresses that are intended as intimate apparel or as costumes for a special occasion. French designer André Courrèges is also credited with the introduction of the mini skirt onto the 1960s fashion scene.
---
Comparing the Top 5 Lace Dresses of the 1960s
Finding the right dress for the right occasion is a dilemma faced by generations of women. The table below helps to classify the top styles of vintage lace dresses so individuals can choose the perfect outfit.
Dress Style

Distinguishing Features

Occasion

Lace Mod Dress

Minimalist, boxy design

Hemline slightly above the knee

Business casual to formal

Lace Maxi Dress

Long, flowing skirt

Hemline reaches ankles or below

Usually gathered or cinched at waist

Casual to formal

Lace Pencil Dress

Tailored, hourglass fit

Opening at hemline more narrow than hips

Business casual to formal

Lace Cocktail Dress

Embellishments such as lace, sequins, and beads

Formal

Lace Mini Dress

Hemline falls at mid-thigh

Casual
Lace often adds an element of old-fashioned femininity to a given dress style. Choosing a lace cocktail dress for a party may help soften one's appearance, and airing out a lace maxi dress for a picnic allows a woman to feel like a lady as she enjoys a cool day.
Shopping for 1960s Vintage Dresses on eBay
Any vintage clothing enthusiast knows that it is not always easy to find a specific style or piece of clothing. By choosing to visit eBay, shoppers are likely to find a large selection of authentic lace dresses from the 1960s, including formal and informal styles. Shoppers should remember to check with the seller before making a final purchase to ensure authenticity as well as to ask any questions about sizing or condition of the piece.
Searching, Sellers, and Feedback
To begin searching for vintage lace dresses on eBay, simply enter a search term such as lace maxi dress into the search bar, which is located on every page. Additionally, you can browse listings by category, or you may click on subcategory headings to refine your search results.
When shopping for vintage clothing on eBay, seller feedback is an important tool. Seller feedback is a reliable reflection of past experiences that previous buyers have had with a specific seller.
Conclusion
Vintage lace dresses from the 1960s vary widely in style and range from casual to formal. Fashion icons such as Twiggy and Audrey Hepburn contributed to the introduction and success of dress styles during this era, and many styles have returned to popularity since. Regardless of what style of lace dress a shopper seeks, it is helpful to understand the different styles of dresses from the 1960s, including mod, mini, maxi, pencil, and cocktail, in order to achieve a hassle-free shopping experience.
Especially when shopping for vintage clothing, buyers should not hesitate to inquire with a seller, whether online or at a brick and mortar store, about the authenticity of a specific dress. Buyers may also want to consider asking questions that cover additional topics, such as the history of the specific item, the location where the item was stored, and even laundering instructions or recommendations. For reliable sellers and a wide selection of vintage clothing, shop on
eBay
.