LCD display technology is based on light modulating properties of liquid crystals. LCD TVs are backlit by either CCFLs or LEDs. LCD televisions using LEDs are called
LED TVS
. The advantages of LED televisions over LCD or CCFL backlit systems include lower power consumption, mercury-free, and thinner TV sets.
LED TVs may have a full array with several rows across the back the display panel or just edge lighting along the edge. Though plasma TVs have the best picture quality, the top five LED televisions are as good or even better in terms of form, longevity, and reducing motion blur. Shoppers aware of LED and LCD technology, the features and technical specifications that set these televisions apart from others can make an informed choice.
| | |
| --- | --- |
| 1 | Sony W802A Series LED Internet TV |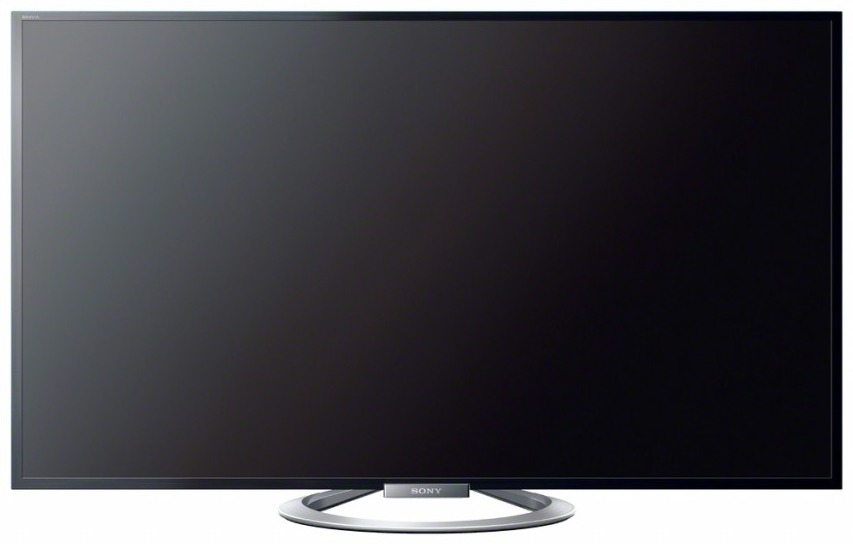 Two models, the KDL-47W802A and KDL-55W802A, are available in this series by Sony. The former has a 47-inch display and the latter, a 55-inch one. The flat-screen TV sits on an elegant circular metallic base, has a slim black bezel, and a quartz-cut edge design framing it in a translucent color that glows in the dark.
With motion-blur at a minimum, fast-paced motion as in sports and action films appear realistic due to Sony's Motionflow XR 480 technology. The "SEN" button on the remote control connects the viewer to the Internet for viewing movies, music, TV shows, social media, video games, online videos, and much more all in full HD at 1080p. Additionally, TV apps, such as Netflix, Facebook, Pandora, and YouTube, give users instant access to those websites. Astonishing clarity and detail is possible because of Sony's X-Reality Pro picture engine that refines images to perfection.
Some of the features are 3D format support, LightSensor technology, two channel full range twin speakers, headphone and speaker link, and 3D S-Force surround sound.
---
| | |
| --- | --- |
| 2 | LG 60LA6200 Class Cinema LED Smart TV |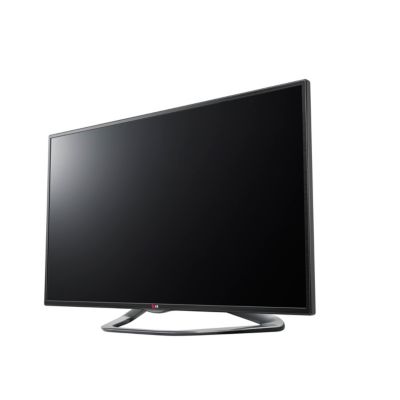 This LG TV model is a 60-inch Class Cinema LED Smart TV with Internet browsing, movie selection, customizable apps, and a host of other features, all made easily accessible with LG's point-and-choose motion-controlled Magic Remote. The LG 60LA6200 TV offers a 3D cinema-like experience, allowing for high picture clarity and depth even from wider viewing angles.
Another useful feature is LG's 2D to 3D conversion option that transforms 2D content to immersive 3D and Triple XD Engine for sharper details. TruMotion 120Hz cuts out motion blur so that fast moving images do not leave any trail. This back-lit LED TV with a 1920 x 1080p native resolution weighs 57 lbs. with the stand. Equipped with one-way speaker system comprising two speakers, this LG TV plays mono, stereo, dual, and has virtual surround sound. Audio and video inputs and outputs include three USB ports, webcam, built-in Wi-Fi and Ethernet ports enhance Web functionality on this Smart TV.
---
| | |
| --- | --- |
| 3 | Samsung F8000 Series 8 Smart HD LED TV |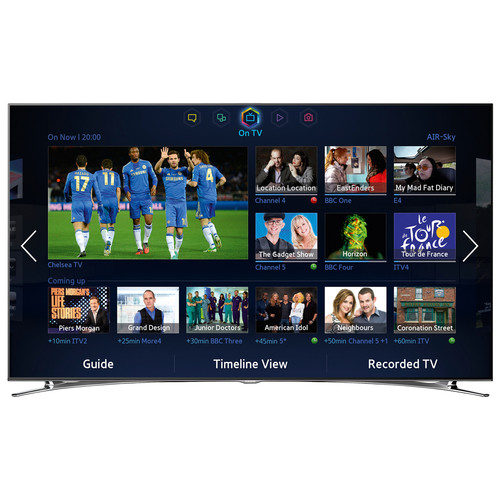 Available in five size options of 75, 65, 60, 55, and 46 inches, the Samsung F8000 Series 8 LED Smart TV models are ultra-slim with a bezel width of 0.3 inches. They are mounted on a chrome silver arc stand. The native resolution of 1920 x 1080p results in an enriched 3D experience, and Dolby Digital Plus and Dolby Pulse provides advanced surround sound effects enhanced by the full range, dual woofers with 10W output each.
The speedy Quad core processor allows easy multitasking, while the Smart Touch remote control facilitates the use of voice and gestures for easy interaction with the TV. S-Recommendation, a smart feature, responds to oral requests for new program searches. Ultra Clear Panel absorbs ambient light, cutting off reflective light so the images that come across are clear and vibrant. Combining Precision Black Local Dimming and Micro Dimming Ultimate, the TV displays images with true life-like colors and contrast. Connectivity features include Wi-Fi, Wi-Fi Direct, Bluetooth, USB HID protocol support, HDMI, Ethernet, USB 2.0, and an audio out jack.
---
| | |
| --- | --- |
| 4 | Panasonic Smart Viera Class E60 Series HD LED TV |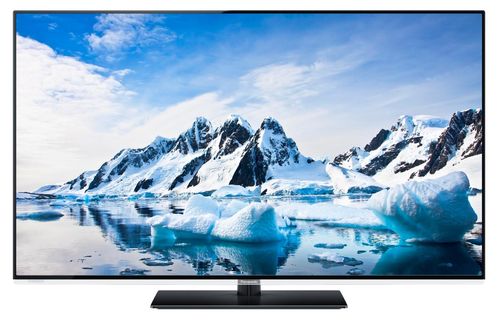 The Panasonic Smart Viera Class E60 series has LED televisions with display sizes available in 42, 50, 58, and 65 inches. The television set opens to the intuitive My Home Screen that can be personalized to display favorite content, pictures, videos, social networking sites, video games, and more. Whether surfing the Internet or watching TV or movies, the home screen accommodates several apps to make it easy to switch between them. Swipe and Share 2.0 facilitates easy transfer of files and pictures from a tablet or smartphone to the big screen.
Cable, satellite, or fiber optic box options are available for watching TV. Moreover, content from Blu-ray, DVD, gaming consoles, and other devices can be viewed on the big TV screen, making it an entertainment hub in the home. Voice guidance walks the user through the best audio and video settings and other useful functions. Viera Connect in combination with various apps brings in cloud-based Internet content, such as Video-on-Demand, movies, and educational content. Packed with user-friendly features, such as home networking, USB connectivity, and wireless LAN, the Smart Viera LED TV deserves a place in the living room. Panasonic's 120Hz, 240 Backlight Blinking Technology eliminates image blur creating clear, sharp, and vibrant images.
---
| | |
| --- | --- |
| 5 | Sharp 8 Series Aquos LED TV |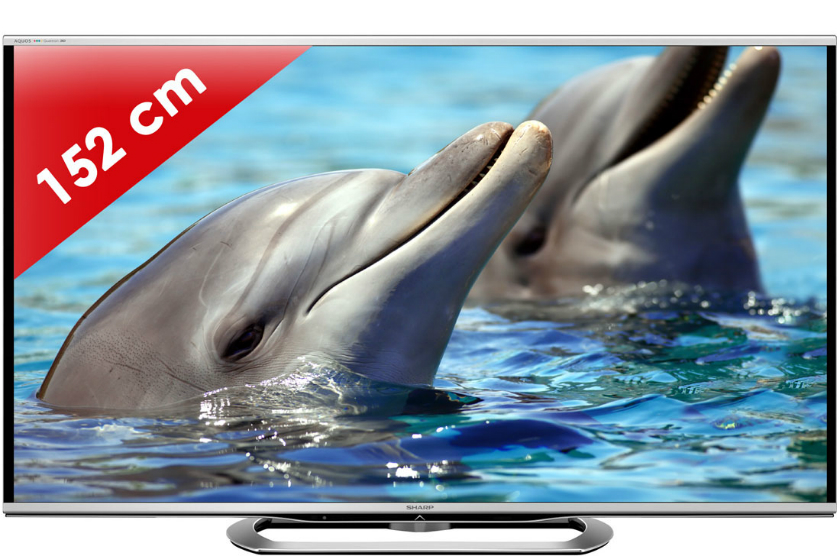 There are three models in the Sharp 8 Series Aquos LED TVs: the 60-inch LC-60LE857U, the 70-inch LC-70LE857U, and the 80-inch LC-80LE857U. The two-tone, aluminum bezel and round edged, fixed silver stand enhance its slim profile and sleek facade.
The ultra-premium smart LED TV models comes equipped with Super Bright technology, Quattron color technology, and AquoMotion 960, which all combine to create bright, detailed, and sharp images even during quick-paced scenes. Additionally, the Aquos UV2A display allows more light for bright images while inhibiting light for darker ones. The Full HD Active 3D brings out almost life-like action accompanied by the pulsating sounds the built-in 2.1 channel speakers, including subwoofers, produce.
Models have Bluetooth and Ethernet connectivity for music, pictures, movies on demand, apps, Skype, social networking, video games, web browsing, and file transfer. DLNA certification allows all entertainment devices connected to the home network to share content and music.
---
Full Array and Edge Lighting in LED TVs
In LED TVs the LCD panels use full array or edge-lit LEDs in order to illuminate the LCD screen. The LED backlight configuration makes a difference in picture quality when compared in LCD TVs using them. Four LED backlight configurations are currently used as described in the chart below.
| Configuration | Description |
| --- | --- |
| Full Array using LED Lights | Rows of LED lights cover the back of the LCD panel |
| Full Array using Local dimming | Allows dimming of individual localized LED zones; creates contrast in the color of images |
| Edge-Lit using LED Lights | Edge-lit configurations make screens thinner; LEDs placed along the edge of the LCD panel |
| Edge-Lit with Local dimming | Thinner screens due to edge-lighting; local dimming in the rest of the LCD panel creates deeper black levels for good contrast |
Most television manufacturers develop their own methods for dimming backlights. This allows manufacturers to create better contrasts and ensure development of clear, distinct images.
The option for buying a rear-projection TV is to search for used or unused old stock items. These can be found on multiple shopping sites online, including
eBay
.
How to Buy LED TVs on eBay
Several top brands of LED TV models are available on
eBay
, and shoppers looking for them can do so with eBay's powerful search engine. eBay has the search bar on all of its pages, and shoppers can type in the relevant keywords to start a search. In this case, the keywords would simply be
LED TVs
.
Moreover, using filters available on the page, such as brands, screen size, display technology, resolution, and so on, shoppers can further narrow down the listings to find specific products. After making a few choices, the shopper can compare the details of the products and select the best option. eBay offers numerous secure payment options and the shopper selects the most convenient one to complete the purchase.
Conclusion
LED TVs have advanced greatly, and with manufacturers incorporating several new features, such as Internet connectivity, Wi-Fi, Bluetooth, and HD, full range speakers, the TV can function as a central entertainment hub. Additionally, the full array LED light arrangement allows the TV screen to be thin, and when LEDs are arranged as edge lights, the screen can be ultra-thin.
Furthermore, several other gadgets, such as smartphones and media players, can be hooked to the TV in order to transfer music, movies, and pictures. Some LED televisions are even equipped with Ethernet connectivity, allowing them to connect to the web and become capable of many other functions. Top LED TVs have successfully incorporated the maximum number of extra features, great designs, top quality performance, and optimum picture clarity. Buyers can easily find one to fit their needs, wants, and budget on eBay.