CD players are a key component for any home audio system. Denon has long been a leader in high-quality audio and video equipment, including CD players, with a reputation for innovation and superior quality. With cutting-edge technology and an organized approach to design, Denon intensifies the entertainment experience with their CD players and other stereo components. Denon CD players offer quality sound and solid performance that make them a great choice for a home audio system. With many different options available for Denon CD players, picking the right one is a challenge. The top five Denon CD players for a home audio system are the DCM-390 5-Disc CD changer, the D-M39S CD/FM micro desktop stereo system, the DCM-290, the CDR-W1500 2-Disc CD recorder, and the DCD-1650 CD player.
What to Look for in a CD Player
Even in a world dominated by MP3 players and internet streaming, many people still listen to CDs. Compact disc technology has come a long way since its introduction over 30 years ago. Developments in digital mastering and CD playback technologies continually improve the sound and recording quality. CDs are also much more portable than older LPs or cassette tapes. The shopper should consider several things when choosing which Denon CD player is right for him or her.
| Feature | Key Points |
| --- | --- |
| | Sometimes included |
| Programmability | Most CD players allow user to program tracks |
| Random play | Randomly cycle through songs on a CD |
| Repeat play | Play one track or repeat all tracks |
| Intro scan | Play a few seconds of songs on the disc |
| Peak scan | Search for the loudest part of a track or disc when taping |
| Single/multidisc | Some players play just one disc, some play multiple discs |
| Remote control | Allows user to manage player from a distance |
| Headphone jack | Use player without disturbing others |
| Custom file | Organize and play music by groupings |
| Keyboard data entry | Plug in a computer keyboard to store information about discs |
| Play exchange | Change other discs without interrupting playback |
| Digital output | Use outboard digital-to-analog converter |
These features make for a better sounding, longer lasting CD player.
For the serious music-lover, a great quality CD player with essential features is a must.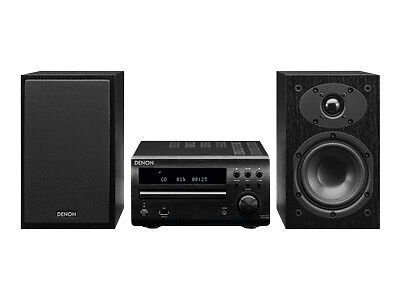 The Denon D-M39S is actually a CD desktop system with a front-loading single CD player. A popular electronics review site says it is perfect for high quality listening in any room. The D-M39S delivers good sound from CDs, FM radio stations, or an MP3 player. The CD player handles standard music CDs and home-burned MP3 and WMA discs and delivers rich, detailed sound. It includes analog and optical digital input to connect to other devices, and has a headphone jack and a remote control. Reviewers call it a nice system with good quality sound. Another says it is a small, all-in-one solution. The sound is full and complete and the controls are intuitive, says one reviewer.
---
| | |
| --- | --- |
| 2 | Denon DCM-390 5-Disc CD Changers |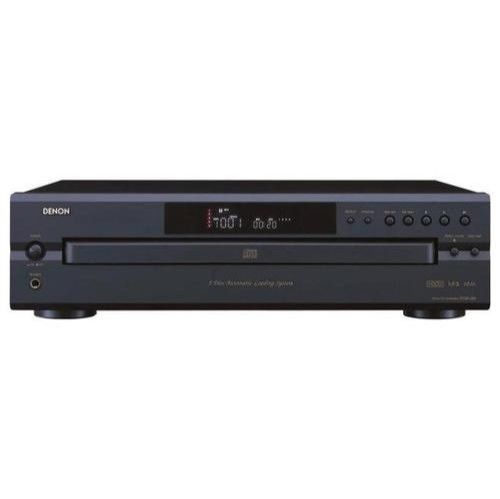 According to a popular electronics review site, the Denon DCM-390 is a full-featured, five-disc, carousel-style CD changer. This changer has twin 20-bit converters, so the sound from a standard CD has more depth on this device. The DCM-390 decodes the full 20-bit audio resolution signal from high definition compatible digital format CD's and plays MP3-encoded CDs. Playback support includes audio CD-R and CD-RW, and those with a large number of MP3/WMA files. A disc in MP3/WMA format allows up to 10 times more tracks than an ordinary audio CD.
This machine has both optical and coaxial digital outputs and a wireless remote. It features disc scan, three modes of random playback, and a disc skip button. The DCM-390 features a multilevel noise shaping digital to analog, or DAC, converter, which prevents skipping and offers a clean output. Reviews say this is a good choice for a high-end CD changer with sound quality and the convenience of listening to five CDs.
---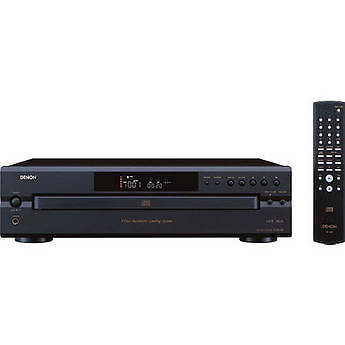 A respected electronics site says the Denon DCM-290 offers sound performance with the convenience of listening up to five CDs continuously. Reviewers say it is a quality-built system with good sound quality. This unit plays CDs, audio CD-Rs and CD-RWs, and MP3 and WMA CDs. Optical digital and coaxial outputs allow for a noise-free connection to a receiver and an advanced multilevel noise-shaping DAC. The DCM-290 has random play and a 20-track program to create a custom song sequence, depending on the listener's preference and mood. The disc carousel spins in either direction, moving from disc to disc without long periods of silence. This CD player has a remote control and a headphone jack.
---
| | |
| --- | --- |
| 4 | Denon CDR-W1500 2-Disc CD Recorder |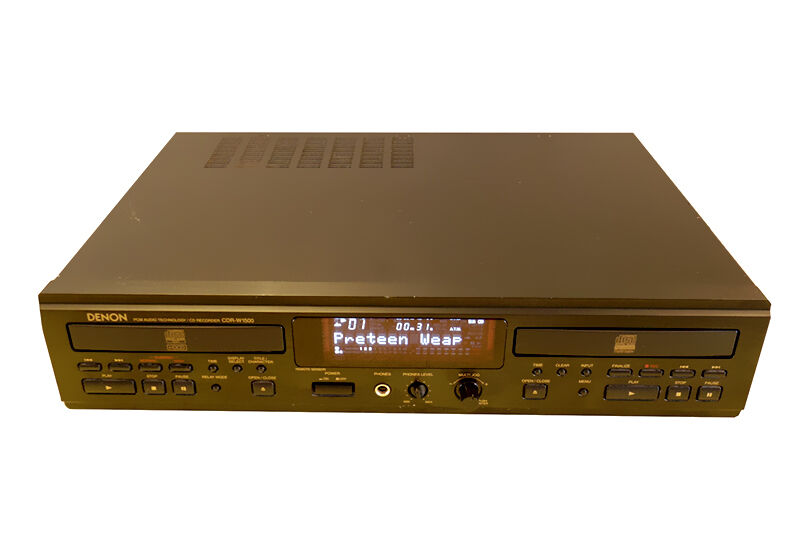 The Denon CDR-W1500 is a CD player and recorder with separate CD and CD-R/CD-RW drives in a single unit for a variety of recording and playback options. This device allows recording from CDs and from externally connected analog sources. The "Scan Rec" dubbing function lets the user scan for a specific track before recording it. Playback features include dual play and other recording and playback combinations that maximize the advantage of separate drives. The CDR-W1500 has program, random, repeat all, and repeat one playback modes. Reviewers say sound quality is excellent for both CDs and recorded versions. This unit has both coaxial and optical digital outputs for noise-free connections and has a headphone jack and a remote control.
---
| | |
| --- | --- |
| 5 | Denon DCD-1650 CD Player |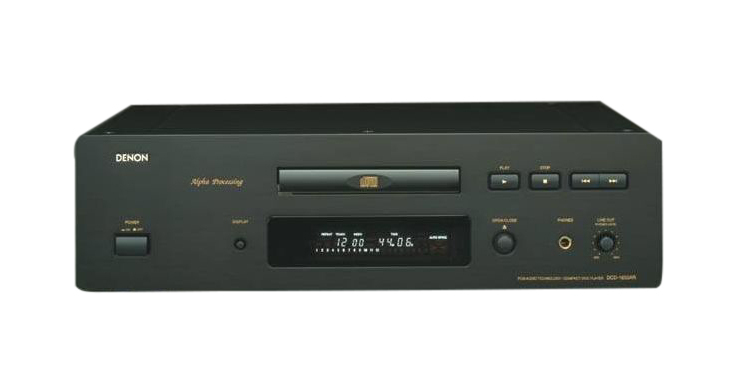 The Denon DCD-1650 CD player gets great reviews on a popular ratings site for sound quality and ease of installation. Clear and distinct sound makes it a highly rated CD player, according to several reviewers. The DCD-1650 features the Alpha processor, an innovative technology developed by Denon that produces waveforms as smooth as those from analog sources. It includes both coaxial and optical digital outputs for clear connections, and has a remote control. Playback is random or programmable, and has a peak search function that allows the user to locate the highest recording level. Other versatile functions include an auto space function to create 4-second pauses, a fader that allows music to fade in or fade out at any point, and an advanced super linear converter that eliminates zero-cross distortion.
---
How to Buy a Denon CD Player
You can find
Denon
CD player
s in most electronic or audio stores, or online.
eBay
has a variety of both new and used
Denon CD players
.
How to Buy a Denon CD Player on eBay
Shopping for a Denon CD player on eBay takes only a simple search. If you are not familiar with eBay, start by reading the "
Guide to Getting Started on eBay
" for tips and information. For tips on searching with keywords, like "Denon" or "CD player," visit the
search help page
. Once you are familiar with using eBay effectively, finding a Denon CD player is not hard. A keyword search for "Denon CD players" results in a listing of all those available. To narrow the search, you can search for specific features, like a 5-disc changer, or even by a specific model number if you know exactly what you want. Review the listing carefully once you have made a decision.
Conclusion
For a dedicated and serious music lover, a CD player is still a necessity for a home audio system. A
Denon CD player
is a great choice. They deliver quality products to create an essential entertainment component that contributes to a well-rounded home entertainment experience. A Denon CD player adds to a home audio system with good sound and many optional features, like single or multiple disc and remote control, making it essential for a full and convenient system. Some Denon CD players even have an AM/FM radio built into the player. With so many choices, a buyer should research the available options before deciding which is best. Finding the right Denon CD player on eBay from the comfort of your home takes only a simple search.