Used for convenience and security,
CompuStar
remote starters offer buyers a remote way to easily start and secure a vehicle.
Remote starters
are perfect for warming up cars in cold weather, easily unlocking car doors with no keys, and using as a backup security system. Remote starters offer a multitude of features for buyers, including manual transmission modes, GPS compatibility, extended range, as well as an alarm and shock sensor on some models. For buyers who wish to enjoy the ease of using a CompuStar remote starter or starter and security combination, there are multiple options available. Buyers can learn about the features of each remote starter and compare prices before choosing the right one to purchase.
| | |
| --- | --- |
| 1 | CompuStar PRO 2-WAY 901 |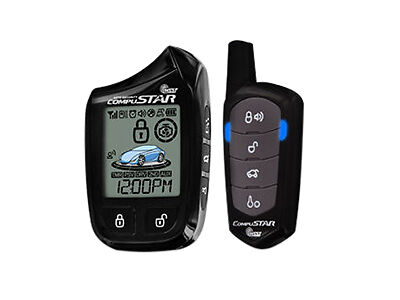 A remote starter that combines security with convenience, the CompuStar PRO 2-WAY 901 model offers consumers a 1-mile range. The user-friendly remote offers confirmation when buyers key in a command and the vehicle receives it, and the 901 even sets the temperature in the vehicle to make it comfortable in any weather situation. Consumers with manual transmission or diesel transmission cars can modify the remote for compatibility, and the 901 model offers users multiple security benefits including remote door locking, a siren alarm, and a shock sensor that instantly alerts the owner in the event of a security breach.
---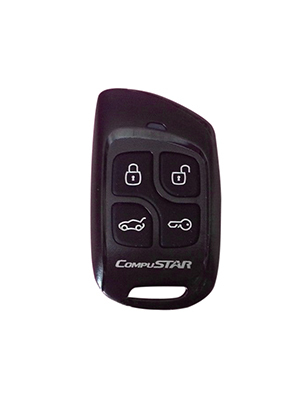 With a range of up to 3000 feet, the CompuStar PRO 1-WAY G7 remote starter offers buyers a basic remote starter that works with two vehicles. Easy to use, the G7 model remotely starts a vehicle, sets the temperature, and keeps the car idling to reduce car problems. The simple starter works with manual or diesel automobiles, and unlocks and locks the car or opens the trunk from a distance by using a keyless entry feature. Buyers that install a compatible CompuStar car alarm can activate an alarm using the remote's lock switch.
---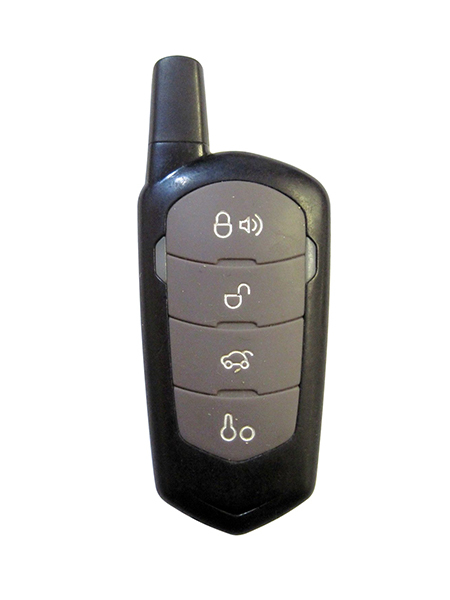 A one-way remote start system with a 1-mile activation range, the CompuStar PRO 1-WAY G4 adjusts a car's temperature, starts the vehicle, or unlocks the car with the press of a button. The G4 model engages the security alarm using the keyless entry lock command button, and consumers can activate a siren for security if needed. The G4 uses shock sensor technology to alert users when there is a security issue with the vehicle, and the remote can lock the vehicle to ensure that it is not drivable for others. A convenient Valet Mode makes it simple to deactivate all features for car attendants to drive it without issue, and buyers can even turn on music remotely with this fun and handy device.
---
| | |
| --- | --- |
| 4 | CompuStar PRO 2-WAY 902 |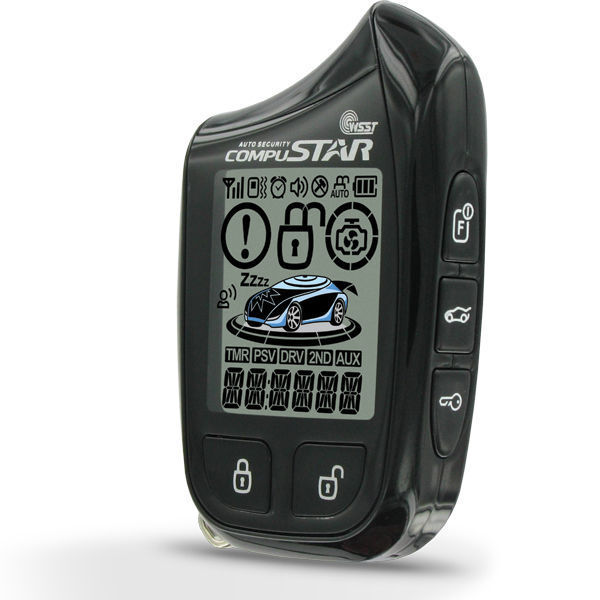 The CompuStar PRO 2-Way 902 remote starter offers premium start and security features in a compact, sleek remote. The 902 model includes a 3000-foot remote range, and gives consumers interference-free remote connections in any area. The 902 remotely starts a manual, diesel, or automatic vehicle, adjusts the car's thermostat, and sends buyers a confirmation when the vehicle enables commands successfully. The 902 starter locks in security mode with the press of a button, and alerts users when there is any type of security issue. The 902 functions with more than one vehicle using the same controller for added convenience.
---
Easy-to-use and efficient, the CompuStar PRO 1B remote starter offers consumers a combination starter and security device in one remote. The 1B model works within a 2000-foot range, and offers features like keyless entry, temperature adjustment, and LED notifications if there is a security violation. A security feature called Drive Lock ensures that the car is safe from unapproved drivers, and Valet Mode switches all settings off for car repairmen or valets to access the vehicle with no issues. The affordable 1B offers useful features in a simple design, and works with manual and diesel transmission vehicles.
---
How To Buy
If you live in a climate where it gets cold, slipping into a warm car makes your life a little easier and more comfortable. Check
eBay
for a
CompuStar remote starter
to turn your car on before you even head out the door on a chilly morning, or engage your locks with handy keyless entry if your arms are loaded with groceries. Remote starters may seem like a luxury item, but they are affordable and easy to use. A small remote packed with features is worth the price when you want to make sure your vehicle is safe in a busy parking lot, or you need to make a quick exit and enjoy the convenience of having your car ready to drive.