Tablets provide a compromise between a smartphone's convenience and a laptop's power. These portable electronic devices are ideal for use in the classroom, business meetings, and during travel. They can be used for entertainment, business, education, communication, and other tasks. For some people, tablets replace other, more specialized, devices, like handheld gaming systems or eBook readers. For others, tablets are simply an additional gadget.
Regardless of the purpose of a tablet, it's important to protect it from the elements. Tablets can be jostled and scratched during travel and storage, and these unsightly scratches can weaken the device and facilitate its breaking. A protective tablet case will extend the device's life and protect it from wear and tear. A case also allows the tablet user to express his or her individual personality. Because cases are available in so many colors, patterns, materials, and styles, there are practically unlimited options for self-expression when choosing one.
Tablet Cases and Chargers
The tablet cases offered below come bundled with chargers and power adapters, which makes them an excellent value. Although most new tablets are sold with power cords, having an extra charger available is a wise choice in case the first one gets lost. Extra chargers can also come in handy while traveling as one can always be kept in the travel bag to prevent leaving it behind at home. Finally, some of the accessory bundles listed below come with additional power adapters and other accessories that are not included with a new tablet.
| | |
| --- | --- |
| 1 | Charger and SMK Grey TPU Cover Case with Protector for Motorola DROID XYBOARD 10.1" |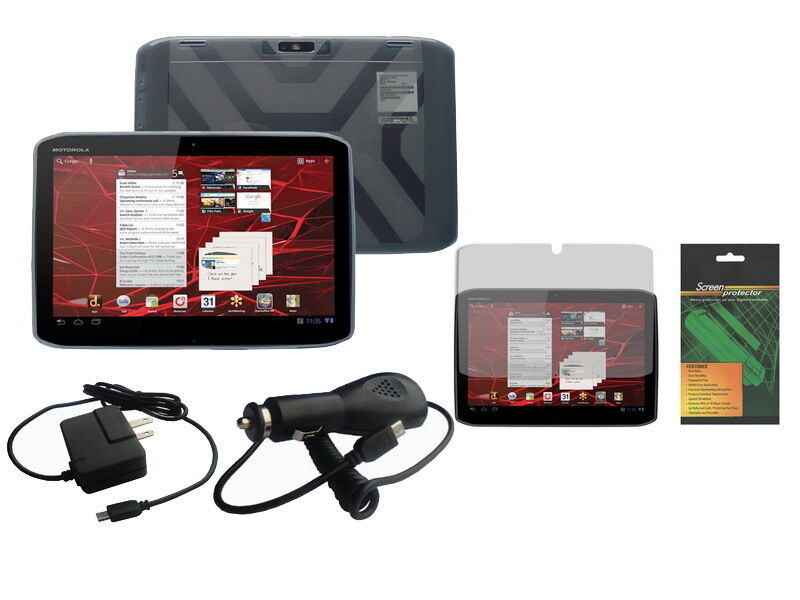 This tablet accessory bundle fits the 10.1" Motorola DROID XYBOARD. The bundle includes a smoke-colored TPU cover and glare-resistant screen cover. TPU is a type of rubberized plastic that is flexible yet durable. It protects the tablet from scratches and cracks, and it provides an easy-to-grip surface for long sessions of reading or use. There are cut-outs in the case to provide uninhibited access to the tablet's headphone and charging ports. The bundle also comes with an auto charger and car charger adapter, enabling a smooth transition from home use to travel.
Features
| | |
| --- | --- |
| Rubberized plastic case | Provides protection and an easy grip |
| Auto charger | Compatible with a cigarette lighter |
---
| | |
| --- | --- |
| 2 | Four Item Bundle for Asus Transformer Prime TF201 |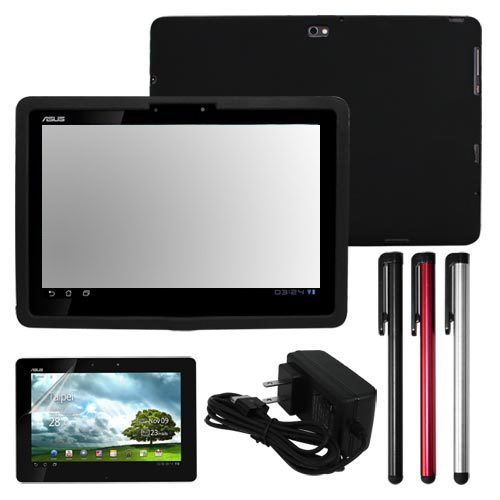 This four item accessory bundle for the Asus Transformer Prime TF201 provides several valuable accessories. The protective case is made of durable synthetic leather, which provides protection from dust and scratches. The case also folds closed to protect the screen when not in use, and the easy magnetic clasp ensures that the case does not slip open while traveling. The case can also be folded open to provide a reading stand for extended tablet use. In addition to the tablet case, this bundle also offers a touch-screen stylus, a vehicle power charger, and an LCD screen protector.
Features
| | |
| --- | --- |
| Synthetic leather case | Protects the tablet and doubles as a reading stand |
| Touch screen stylus | Protects the screen from smudges and fingerprints |
| Vehicle power charger | Compatible with a cigarette lighter |
| LCD screen protector | Prevents scratches and smudges to the screen |
---
| | |
| --- | --- |
| 3 | Cover Case and Charger Bundle for Samsung Galaxy Tab 7.7 LTE |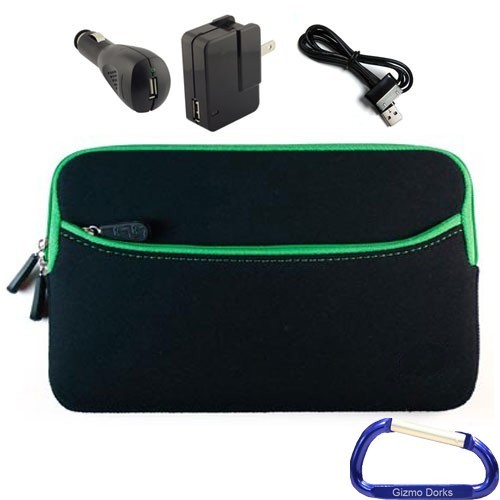 This four item accessory bundle for the Samsung Galaxy 7.7 LTE provides valuable accessories for usability and protection. The bundle includes a hard-sided nylon carrying case, charging cable, and two adapters. The nylon case is designed to protect the tablet while carrying accessories like stylus pens. The case zips closed for a snug fit and includes interior pockets for document and accessory storage. The bundle also provides a USB cable that can be used for computer charging and data syncing. This cable fits both of the power charger adaptive heads, allowing it to double as a car charger or wall charger. This lightweight universal power cord can be carried and stored easily for use.
Features
| | |
| --- | --- |
| Hard-sided nylon carrying case | Provides protection and aesthetic value |
| USB cable | For data syncing and charging from the computer |
| Car charger adapter | Fits a USB cable and enables charging from a cigarette lighter |
| AC power adapter | Fits a USB cable and enables charging from a wall outlet |
---
| | |
| --- | --- |
| 4 | 6-in-1 Leather Cover Case For Amazon Kindle Touch 3G |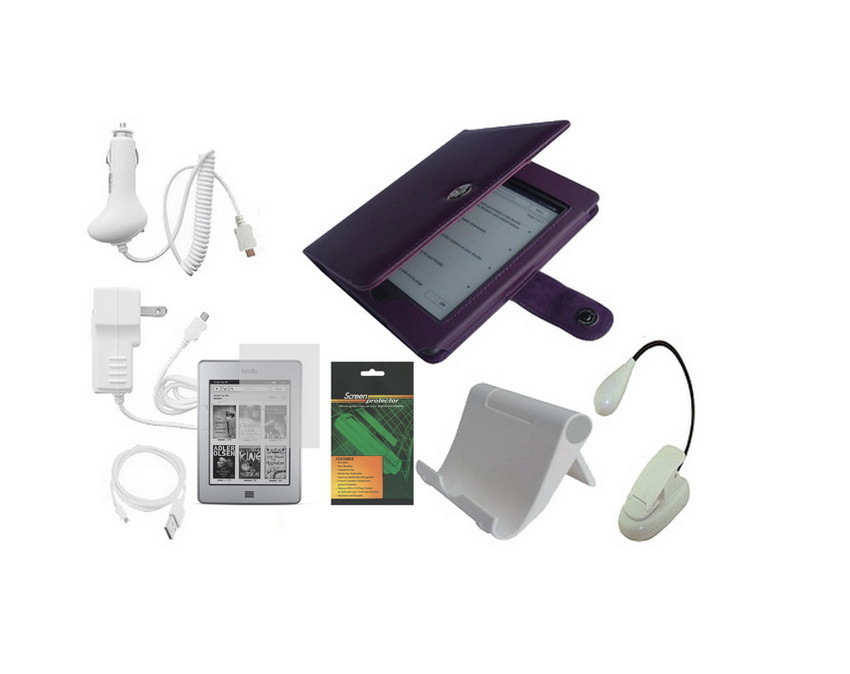 The 6-in-1 accessory bundle for the Kindle Touch provides an array of fun and functional accessories for the tablet. The faux leather carrying case is available in a range of fun colors including pink, blue, green, red, black, and purple. The case fits snugly around the tablet for safe storage, and its cover folds open and closed like a book page to facilitate easy reading. The inside of the case is fitted with pockets for document storage, and slits are cut into the case to allow access to all buttons and ports. In addition to the protective case, this bundle also offers a car charging cable, USB data cable, wall charger, earbuds, and a secreen protector.
Features
| | |
| --- | --- |
| Faux leather case | Opens and closes like a book cover, providing protection and aesthetic value |
| Car charging cable | Compatible with a cigarette lighter |
| USB cable | For charging and data syncing |
| AC power cable | For charging from a wall socket |
| Earbuds | For private media listening |
| Screen protector | Shields the screen from damage |
---
| | |
| --- | --- |
| 5 | Sony Reader PRS-T2 Cover Case Bundle |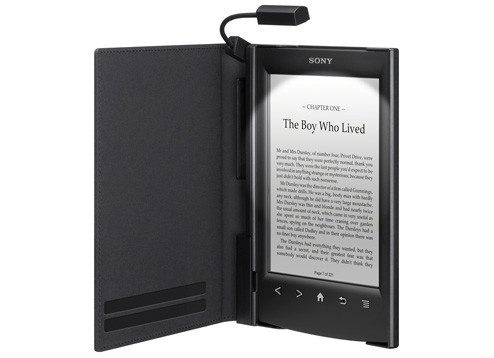 This accessory bundle provides six accessories that will fit the Sony Reader PRS-T2 tablet. The protective carrying case is made from padded neoprene to prevent bumps, scrapes, dust, and scratches while traveling or storing the device. The neoprene is available in several trim colors, and it zips closed for a snug fit. The bundle also includes a protective screen guard to protect the screen against smudges and scratches. Power cords are included for wall charging, car charging, and USB charging or data syncing. Finally, a clip-on reading light enables eBook readers to enjoy their device anywhere and at any time.
Features
| | |
| --- | --- |
| Neoprene cover | Offers protection and and accessory storage |
| Clip-on reading light | For easy reading in dim light |
| Screen guard | Protects the screen from scratches and wear |
| USB cable | For data syncing and computer charging |
| Car power adapter | For charging from a vehicle's cigarette lighter |
| AC power cord | For charging from a wall outlet |
---
Finding Case and Charging Bundles on eBay
There are methods of finding tablet accessory bundles on eBay. The first is to search for them using keywords. At the top of each eBay page is a search bar that can be used to find items. Input search terms such as "
tablet accessories
" or "
tablet case and charger bundle
" and browse the results for an appropriate match.
The results can be narrowed down by category and other filters, or more specific searches can be made to include the tablet's model number or specific items desired in the bundle. If no matching results are found, eBay will suggest similar lots that may fit the shopper's needs.
Another way of finding items for sale on eBay is to use the categories feature. Beginning on the eBay home page, mouse over Electronics on the left-hand menu. From there, mouse over to the Computers,
Tablets & Networking
option and click it. On that page, choose the
iPad/Tablet/eBook Accessories
option. This will display all available tablet accessories. Clicking the
Accessory Bundles
sub-category will narrow the search to display only those offerering item bundles.
These search results can be filtered by included items, tablet compatibility, auction type, and price. Additionally, shoppers can search by keyword within the results to find the right match. If the desired items are not found, the search can be broadened to include further results.
Conclusion
Tablet accessory bundles make great gifts for tablet owners, and they're also valuable additions to any new tablet purchase. Cases protect the tablet and extend its life while adding extra convenience and aesthetic value to the device. Charging cables help to improve the tablet's functionality and make it easy to use the device anywhere the user wishes.
By using eBay to find the best deals on tablet accessory bundles, shoppers can ensure that they get the items they desire at a good price. Buying item bundles is cheaper than purchasing each accessory individually, and eBay makes it easy to search for the specific item a shopper desires.