Splitting audio and video into multiple paths enables a variety of routing options. The audio and video signals can also be split for the purpose of monitoring through headphones, for example. However, the wrong kind of splitter may produce confusing results, and, in some cases, it could even damage the equipment.
Traits of Audio and Video Splitters
AV splitters are defined by their ability to take one input signal and change it into a form that can be routed out to external sources. There are several ways to accomplish this, and the most popular methods are detailed in the chart below. Monitor signal splitters must remain compatible with the monitor's screen resolution in order to maximize the effect. Identifying the standard video and audio ports is also essential for routing signals correctly.
| | |
| --- | --- |
| Connecting Multiple Display Monitors | Splitters convert one input signal into multiple output paths, which can then be routed to various different display monitors or relevant devices. |
| Standard AV Connectors | An industry standard for audio and video cables involves color-coding these cables for rapid identification. Yellow indicates video, and the red and white colors are reserved for audio left and right outputs. Both the plugs and the ports follow this color identification scheme. |
| Box Splitters | Box splitters route an AV signal into a box where it is split into multiple output ports. |
| Cable Splitters | Cable splitters serve the same purpose as box splitters, but the signal is converted within the length of the cable. The output ports are attached to the ends of the output cable or cables. |
Top-Performing Audio and Video Splitters
Performance and compatibility are essential for all audio and video devices. Determining the correct type of splitter to use is very important. For example, with the correct splitter, one AV signal can be displayed on multiple screens. Therefore, the following top-performing splitters are examined in detail below.
| | |
| --- | --- |
| 1 | Box Splitter for Audio and Video |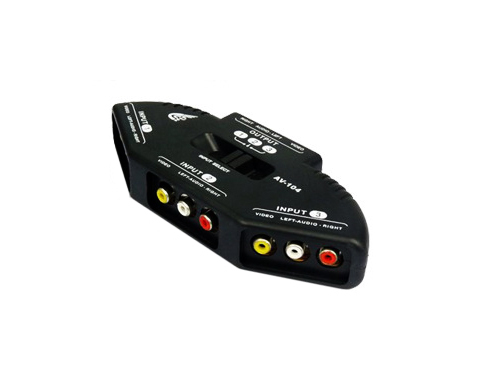 Facilitate a variety of routing options by using this convenient box splitter with multiple input and output ports. This box uses the standard connection configuration for audio and video, so the ports are clearly marked in yellow, red, and white. This box supports a total of six inputs and three outputs, making the total channel input-to-output ratio is two to one. Two of the inputs accept video, and four of them support audio for the left and right channels. The output ports have one video and one pair of left-right audio channels. The standardization of this AV box splitter makes it ideal for most consumer purposes, and it provides a variety of routing solutions to common AV problems. This device supports frequencies for video signals ranging from 50 hertz to 5.5 megahertz. The device also supports audio frequencies of 10 hertz to 20 kilohertz. It is small and compact, and it works for most of the common AV tasks in both the home and the office.
Product Features
Standardized port labeling
Portable size
Six input and output ports
---
| | |
| --- | --- |
| 2 | High-Resolution AV Converter and Splitter |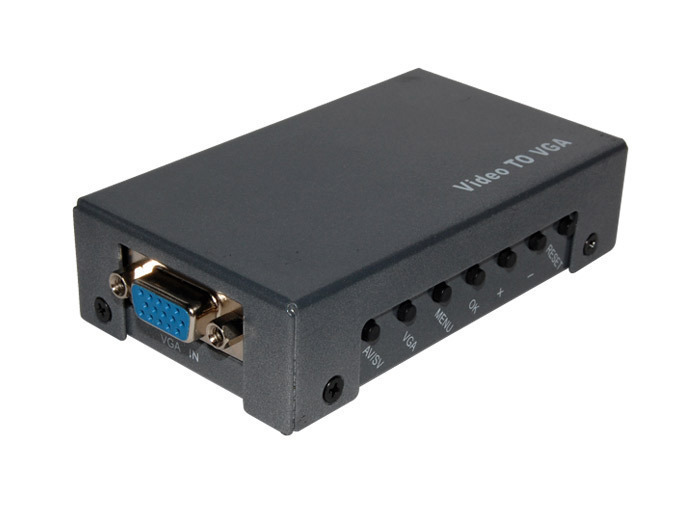 The limitation of any AV converter can be defined by the output monitor. For example, many people new to video and audio conversion wonder why their consumer-grade monitor is unable to display their HDMI content. In fact, many consumer-grade monitors have only S-Video, HD-15, or composite-video input ports. The converter's performance is restricted to the protocols that are made available via the monitor's input ports. The high-resolution AV converter translates the video and audio signals into a format legible to this type of monitor. It also provides adjustable controls for the brightness, contrast, hue, and saturation levels. This unit draws power from a USB port, and there are no additional drivers needed to run the device. The converter box is light and small, and it is designed to make converting VGA signals as easy as possible. All of the major video standards are supported, including PAL, NTSC, SECAM, and derivative formats. The package of supplies includes every cable needed to successfully operate the converter.
Product Features
Full suite of conversion cables
VGA to video converter box
Powered by USB
---
| | |
| --- | --- |
| 3 | Accell Ultra AV HDMI Four-Monitor Splitter |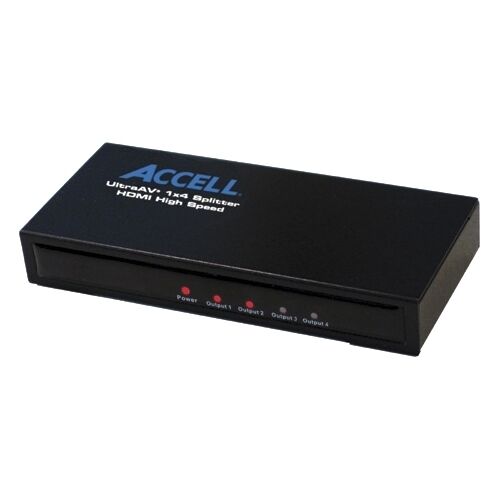 This device is capable of splitting the audio and video signals and route them into four separate monitors. Each monitor can have a resolution capacity of up to 1080p. One AV signal input is all that is required to split the signal to the four HDMI outputs. The total weight of the box is just over two pounds. A power adapter is included, and it supports up to a 36-bit color space. It is also compatible with Dolby, TureHD, and DTSHD. It is capable of high speeds, and it can perform up to 6.75 gigabytes per second. There is a signal repeater built into the device to enable interface with an HDMI cable. This box has a splitter designed for maximizing the signal quality for video and audio by eliminating the problem of signal loss through the internal design and an UltraAV HDMI 1.3 audio and video splitter. The ends of this splitter are plated with 24k gold, which has been proven to resist corrosion and create an extremely stable connection.
Product Features
Accell brand splitter
120 Hz refresh rate
Surround sound
---
| | |
| --- | --- |
| 4 | RCA Female to Male Splitter |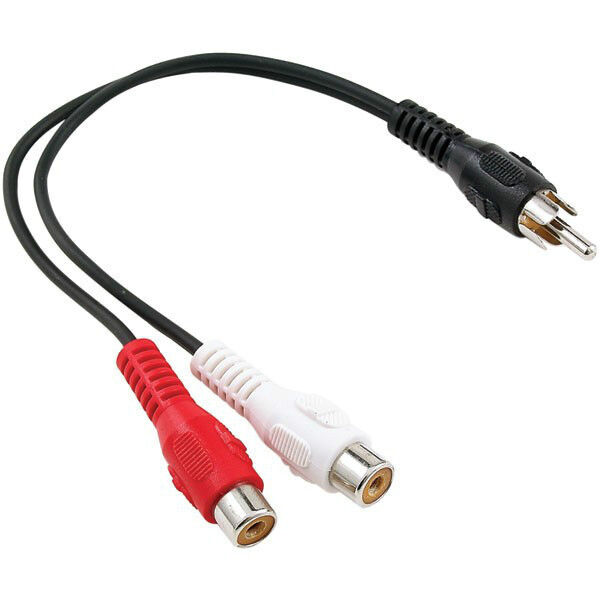 There are many circumstances when signal splitting may become necessary at the same time as the signal's output gender is converted from female to male. The eight-inch RCA plug is an industry standard for routing audio and video signals. The cable is 27 centimeters long, and the nickel plating enhances its conductive properties. This splitter takes one RCA source signal, and it splits it into a stereo output configuration with two male output connectors. The output cables are red and white for standard identification purposes. This type of splitter is sometimes called a Y-plug, and this name is derived from its appearance. Specifically, the yellow female input cable splits into two smaller output cables, and this makes it visually similar to the letter Y.
Product Features
RCA female jack input
Two male RCA outputs
27-centimeter cable
---
| | |
| --- | --- |
| 5 | 3.5-Millimeter AV Signal Splitter |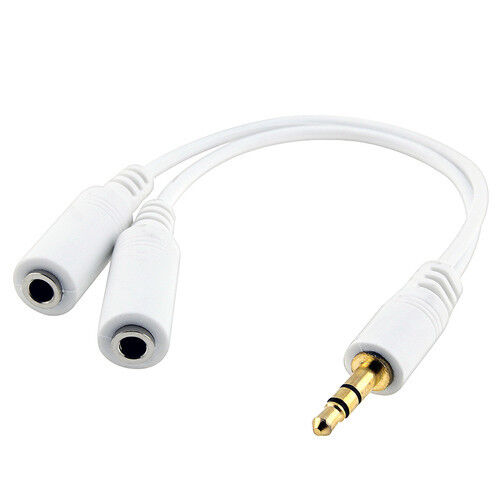 This small device makes it possible to convert the signal from a standard 3.5-inch jack into three separate channels. The male jack plug conforms to the standard size for all RCA cables, and the three output ports are all female. The dimension of these RCA ports and plugs are defined as one-eighth of an inch. Splitting the video signal into the three color channels can provide an enhanced level of control over the video signal. This control is derived from the red, green, and blue video channels that comprise all digital images. The separation of the channels allows them to be manipulated individually. Since all secondary colors are derived from these three channels, the control over the image can be significant. The male RCA plug has 24k gold plating, which is known for its ability to resist corrosion while also improving the conductivity of the metal. This AV splitter is 17 centimeters long.
Product Features
Type Y splitter cable
3.5-millimeter male plug
Three female RCA outputs
---
Finding AV Splitters on eBay
There are several methods available for finding the perfect
AV signal splitter
on eBay. From the homepage, type the name of the AV splitter into the search field at the top of the screen. Press the Search button, and carefully review the results. If an additional search seems necessary, try using one of eBay's helpful built-in filters. Start with the All Categories option, which is located to the left of the Search button. Click on the arrow, and it will display a list of categorical filters. The Consumer Electronics filter and the Computer, Tablets & Networks filter are listed here and are both good choices. Select one of them and repeat the search process. If an additional search still seems necessary, look for the Advanced link to the right of the Search button. Enter as much information as possible onto this page. This will restrict the results according to the provided information. Repeat the search process using these techniques until the correct item appears in the search results.
Conclusion
Splitting AV signals and routing the divergent signals into different devices is a standard operation even for consumer users of AV equipment. There are a large variety of splitters on eBay, and the search filters make it easy to locate the right unit with a minimal amount of effort. However, it is always important to use relevant keywords when searching for any item on eBay. It is also helpful to return to the eBay site periodically to review additional items that may not have appeared during previous searches. The item inventory is constantly growing, so future searches are likely to reveal even more matching products.