Nearly every electronic purchase comes with a remote control to enhance the experience and add convenience when using. Buyers who continue to purchase and add upgraded electronics to an existing current collection quickly acquire a large number of remote controls, programed for each electronic device. To abandon the clutter and confusion of multiple remote controls, buyers can purchase a
universal remote contro
l, which is programmable to consolidate all of the electronics with the use of one remote control.
When shopping for a universal remote control, it is best to thoroughly review and learn about how the top universal remote controls vary in function, appearance, and efficiency. Universal remote controls are widely available at many electronic supply stores and online providers. Online stores such as
eBay
offer a vast selection of universal remote controls for every budget.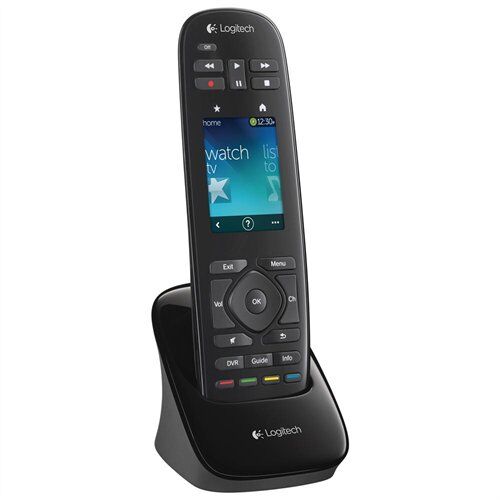 Compatible with over 5,000 brands and exceedingly easy to use, the Logitech Harmony Touch is an innovative universal remote control with a bright and stylish display screen, rechargeable dock, and a programmable capacity of 15 remote controls. Impressively modern, the display is additionally equipped with touch screen capabilities, allowing the buyer to navigate the menu and preference options effortlessly. A powerful remote with a sleek and comfortable design, the Logitech Harmony Touch is a mixture of an efficient layout and simple concept.
---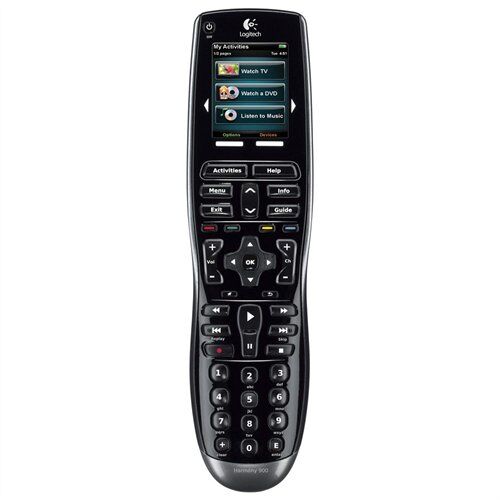 Equipped with a rechargeable docking station, a radio frequency option, and high resolution touch screen, the Logitech Harmony 900 is a pricey yet fully outfitted universal remote control. The Logitech Harmony 900 is ideal for shoppers who desire a universal remote that remains compatible as new electronic products are developed and potentially purchased in the future. Additionally, the Logitech Harmony 900 is easy to use and highly responsive, providing quick and simple adjustments if required.
---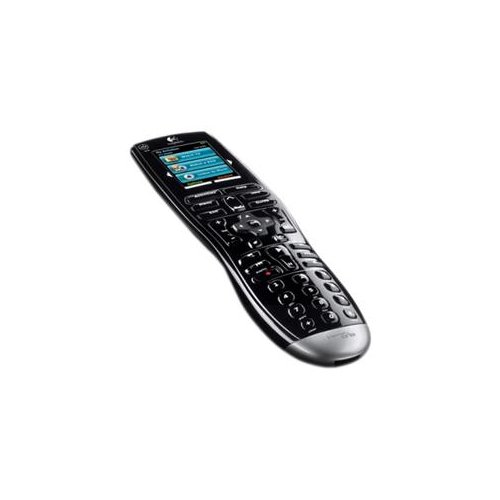 The Logitech Harmony One fits in as another example of quality Logitech universal remote controls. Capable of being programed virtually, a step-by-step guide provides buyers an assisted programing experience. Comfortable, attractive, and completely customizable, the Logitech Harmony One additionally stands out with an impressive button layout and convenient backlighting feature.
---
| | |
| --- | --- |
| 4 | Philips Prestigo Universal |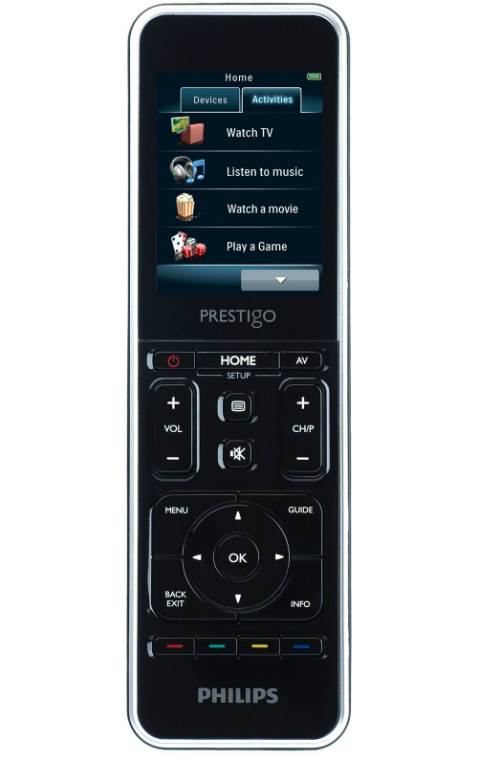 The Philips Prestigo Universal is a quality and modestly priced universal remote control. Equipped with desired features, such as a bright display screen, cohesive button layout, his and her customizable menus, and a programming wizard, the Philips Prestigo Universal can quickly program up to 15 electronic traditional remote controls from an internal database.
---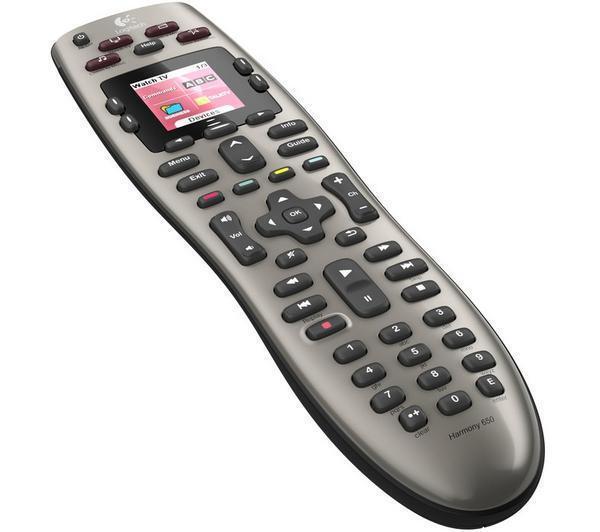 A significantly practical universal remote control option for buyers on a budget, the Logitech Harmony 650 packs on numerous, popular features with an economical, sleek, and lightweight design. Equipped with a black and white display screen rather than color and sold in a variety of controller color combinations, the Logitech Harmony 600 also provides buyers with a slightly smaller and more streamlined button selection.
---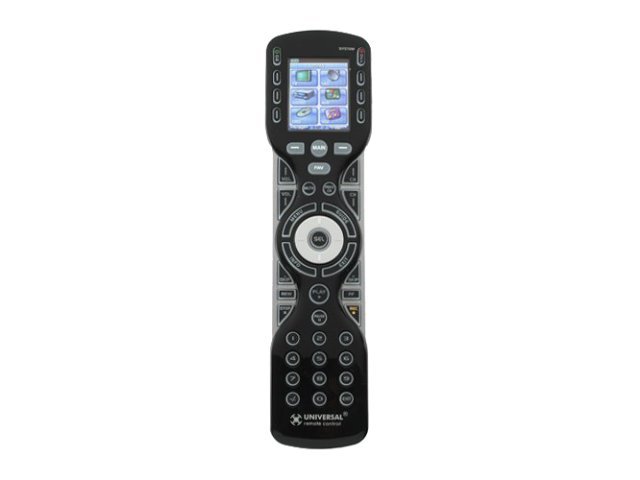 Capable of programming and storing command codes for up to 18 devices, the URC Digital R50 provides buyers with a built-in color display screen, a squared off remote control shape, and large shaped buttons. Easy to see in the dark, the backlight feature is easily felt on the side and brightly illuminates the universal remote control for accurate selection. No need to connect virtually, the URC Digital R50 is equipped with a simple programming wizard.
---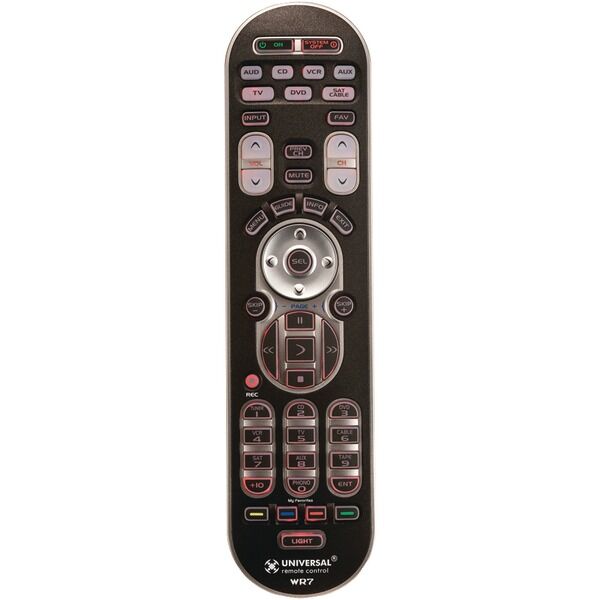 For simple electronic device programming, the compact and efficient URC WR7 Universal is a quality, economical, and straightforward universal remote control design. The URC WR7 Universal is packed with popular and unique features, such as couch mode, which turns off the universal remote control if squeezed in a couch cushion and a button is continuously pressed for more than 30 seconds. Additionally, the URC WR7 Universal is capable of incorporating up to seven traditional remote controls.
---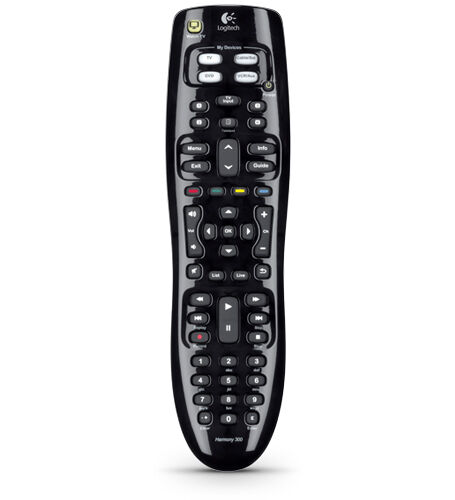 Quality Logitech craftsmanship is paired with a basic and direct construction within the highly reasonable Logitech Harmony 300i universal remote control. While lacking the a control screen and full remote control backlight features, the Logitech Harmony 300i remains a powerful and inexpensive universal remote control example with capabilities to program up to four devices and personalize individual buttons.
---
| | |
| --- | --- |
| 9 | RCA Four Device Universal |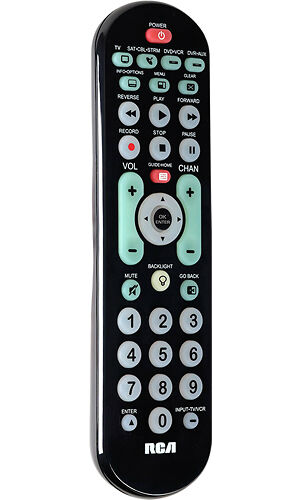 With large numbers adjacent to distinguishable and easy to find buttons, the RCA Four Device Universal is as easy to view as it is to navigate. Equipped to program four electronic devices while providing primary remote control functions, the RCA Four Device Universal is a bargain value for a convenient universal remote control.
---
| | |
| --- | --- |
| 10 | RCA Three Device Universal |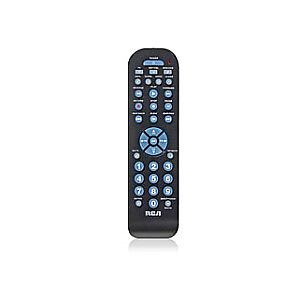 The RCA Three Device Universal is a simple, space-saving, practical universal remote control option for buyers who only need up to three programed electronic devices. Comfortable and stylish, the RCA Three Device Universal fits neatly in the palm of a hand and is a thrifty choice for any budget savvy shopper.
---
Types of Universal Remote Controls
A universal remote control is capable of consolidating the remote controls of other electronic devices by providing consumers with two remote control options. Understanding the differences between the two remote types is the first step to begin to properly program a new universal remote control. Below is a table briefly describing the different universal remote controls available.
Remote Type

Description

Learning

Automatically receives the old remote control command codes by facing the infrared areas of the old and new universal remote controls together

Ideal for buyers who have a large number of remotes to program

Incapable of being properly programmed if the old remote is lost or missing

Does not require command codes to be manually entered

Pre-Programmed

Equipped with a pamphlet which list a large number of electronic device manufactures and matching command codes

Requires a two to four digit command code to program

Perfect for buyers who have lost or misplaced a remote, as long as the buyer has the corresponding electronic device command code
Prior to purchase, be sure to review the all of the compatibility features and battery requirements for operation. Nearly all universal remote controls require standard alkaline batteries, while others with display features, often require rechargeable batteries. However, in most cases a trial battery is included to quickly program and ensure the product works correctly.
Where to Find Universal Remote Controls
To find universal remote controls locally, visit a major chain electronic distributor, an electronic accessories supply store, a household item retailer, or an online provider. Informed buyers should consider testing a universal remote prior to purchase. To do so, politely ask the store attendant or sales associate for a brief demonstration.
How to Buy Universal Remote Controls on eBay
To search for an purchase
universal remote control
s, consider the electronic selection available directly on
eBay
. Begin the search by typing "universal remote control" into the search bar or by category to view a broad selection of the numerous types of electronics offered. To narrow the search by category, look for sellers that offer free shipping, are geographically close, or those that indicate if the product is new or used.
Browsing while shopping is easy with the use of
eBay Stores
. The stores are uniquely set up by sellers to sell and provide a large selection of products to potential buyers. Quickly enter the search item within the search bar to reveal the specific products currently available. Convenient and practical, shopping on eBay is a great way to find products directly from the comfort of home.
Conclusion
The
universal remote control
of today is a practical, efficient, and time-saving device essential for any modern and technological savvy consumer. After quickly programming the command codes of the electronic devices desired into a universal remote control, it is ready to use. A universal remote control is designed to simplify remote control usage by smartly merging several remote controls into one, unified handheld control. With so many types of universal remote controls available, taking the time to learn about the various styles and features is the first step to buying satisfaction. Consumers should attend to the overall universal remote control layout, shape, and ease of use. Universal remote controls are readily available at any electronic supply store location, or easily found online by electronic accessory retailers. To purchase a universal remote control online, select a store such as
eBay
, which is designed to provide buyers a convenient shopping experience with a prompt delivery.