Feeling comfortable in a pair of pajamas contributes to the way a person sleeps and if they feel refreshed in the morning. Many men opt for a simple pair of boxer shorts for bedtime clothing without considering the other options, such as
pajama sets
for their nighttime attire. Pajama sets come in a wide variety of styles, colors, and fabrics. Silk and cotton pajama sets are the most common fabric choices. Pajama sets for men are a good gift for Father's Day, Christmas, or a birthday. Choosing the right set of pajamas is not hard since there are many options available on the market. Consumers that research and review the styles and brands of pajamas find they are better prepared to make a purchase after looking at all the options.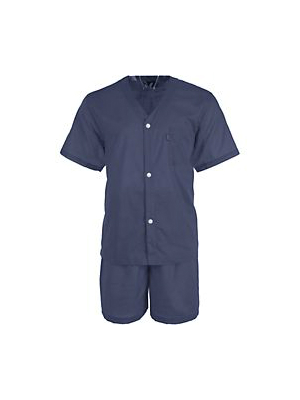 IZOD is a men's clothing company that began in 1938 in New York City. As the brand evolved, pajama sleepwear sets and separates became a part of the clothing line. IZOD pajama sets come in both regular and "big and tall" sizes. Fabric choices range from cotton, cotton blend, and fleece and include solid colors, plaids, and patterns. Styles in the IZOD brand include long-sleeved shirts, pants, short-sleeved button pajama shirts, and boxer shorts.
---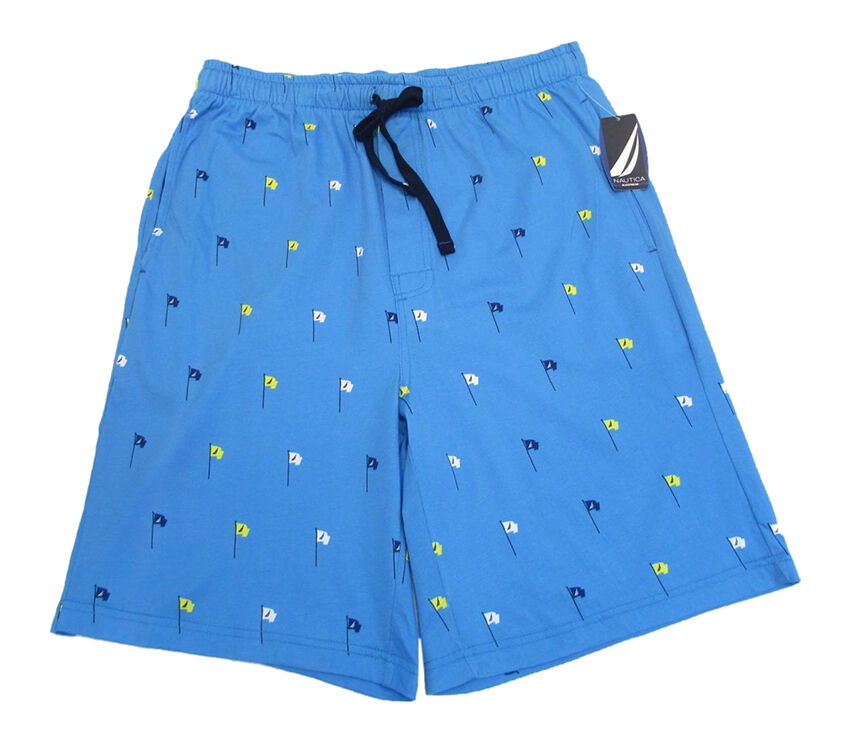 The Nautica brand began in 1983 and offers consumers men's sleepwear and outerwear, as well as women's and children's clothing. Men's Nautica sleepwear ranges from long-sleeved pajama shirts and pants, to pajama shorts and short-sleeved shirts. Nautica sleepwear comes in a variety of colors and patterns. Plaid and checkered sleepwear in navy blue is one of Nautica's signature looks.
---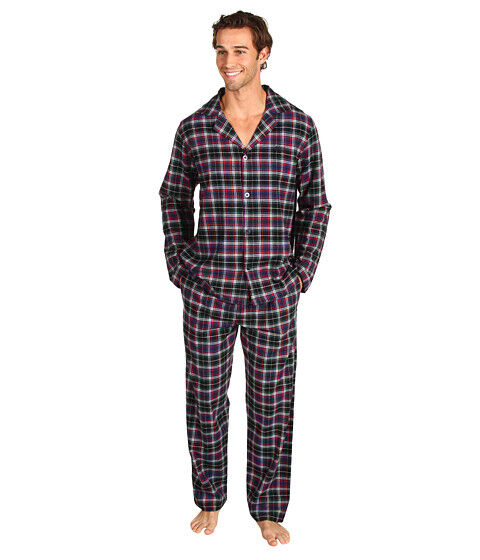 Dockers sleepwear comes in a variety of navy, black, and neutral tones. The Dockers brand is a subsidiary of Levi Strauss & Co., and began in 1986. Dockers pajama sets are available in cotton and fleece fabrics and come in long- and short-sleeved options.
---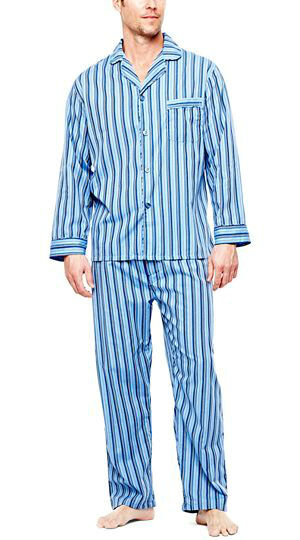 The Hanes brand offers pajama sets and loungewear in cotton and soft cotton blends for a comfortable fit. Since 1903, the Hanes brand has manufactured clothing, underwear, and pajama sets for men and women. Many of the pajama sets in the Hanes line are lightweight and available in solids, plaids, and checkered patterns.
---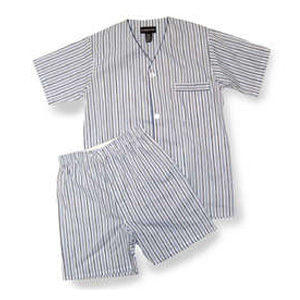 Botany 500 pajama sets come in reds, blues, and a mixture of patterns and plaids. Nylon and cotton-blended fabric are the main choices for this brand. Botany pajama sets come in long-sleeved, long-legged, short-sleeved and boxer short styles.
---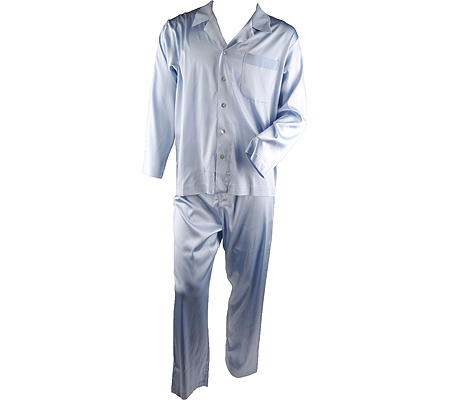 Intimo pajama sets are a luxury brand of pajamas for men. This brand of sleepwear comes in fabrics such as silk and cotton gauze. Styles include both short- and long-sleeved shirts, pants, and boxer shorts.
---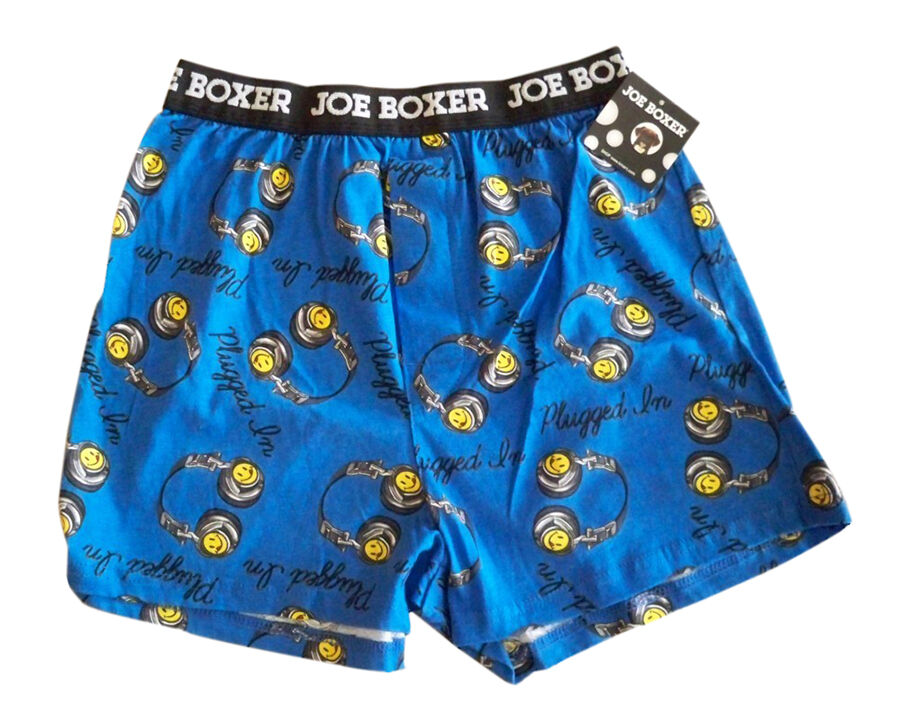 Joe Boxer sleepwear and pajama sets are a brand of novelty clothing. Many of the styles offered in the Joe Boxer line include whimsical characters, such as a giant happy face. Other printed versions of Joe Boxer pajamas include camo, cars, plaids, and checkered patterns. This brand is available in cotton and cotton blends.
---
Calvin Klein sleepwear and pajama sets are a high-end brand of clothing. This brand includes cotton and cotton-blended fabrics in blue, green, tan, and black colors. Calvin Klein pajama sets are comfortable and durable. The Calvin Klein brand began in 1968 in New York City.
---
| | |
| --- | --- |
| 9 | Roundtree & York Sleepwear |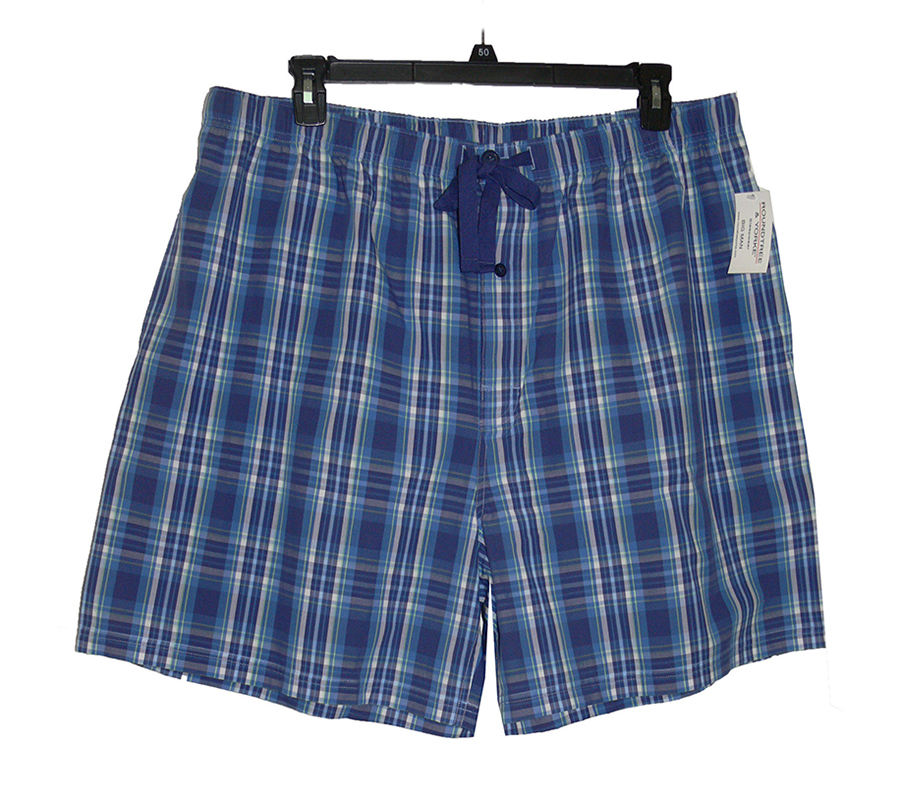 Roundtree & York sleepwear and pajama sets come in cotton and silk fabrics, and with long- or short-sleeved styles. Pajama sets created by Roundtree & York include a wide range of colors, such as black, blue, red, and white solids. Plaid and checked pajama sets are available in the Roundtree & York pajama line as well.
---
| | |
| --- | --- |
| 10 | Tommy Hilfiger Pajama Sets |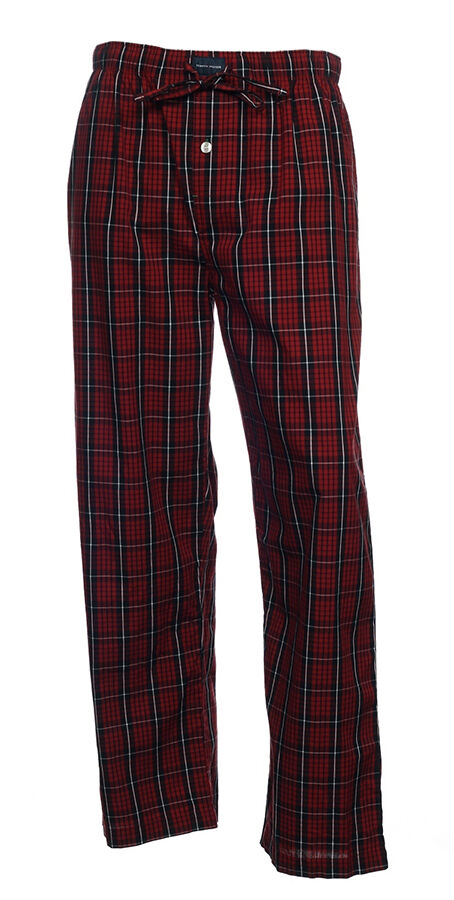 The Tommy Hilfiger brand of pajama sets includes plaids and solid color apparel. Style options include boxer and short-sleeved sets, long-sleeved and long pant sets, and regular cotton boxers. Tommy Hilfiger is a high-end brand of clothing that also makes dress and casual apparel. The brand began in 1982.
---
Finding the Right Size Pajama Sets
Men's pajama sets come in average and "big and tall" sizes. These sizes are similar to sizes attributed to other types of apparel.
| | Small | Medium | Large | X-Large | XX-Large |
| --- | --- | --- | --- | --- | --- |
| Chest | 35 to 37 inches | 38 to 40 inches | 41 to 43 inches | 45 to 47 inches | 49 to 51 inches |
| Waist | 28 to 30 inches | 31 to 33 inches | 34 to 36 inches | 38 to 40 inches | 42 to 44 inches |
| Hips | 35 to 37 inches | 38 to 40 inches | 41 to 43 inches | 44 to 46 inches | 47 to 49 inches |
| Thigh | 21 inches | 22 inches | 23 inches | 24 inches | 25 inches |
| Neck | 14 1/2 inches | 15 1/2 inches | 16 1/2 inches | 17 1/2 inches | 18 1/2 inches |
| Sleeve | 33 inches | 34 inches | 35 inches | 36 inches | 37 inches |
| Inseam | 31 1/2 inches | 32 inches | 32 1/2 inches | 33 inches | 33 1/2 inches |
Finding the right fit for pajamas is important. Pajamas should not be too tight or too loose. For reference, button-down pajama shirts fit much like a regular dress shirt, except the sleeves are looser.
Taking Care of Pajama Sets
Care of a
pajama set
depends on the type of fabric the set comes in. Pajama sets made of cotton, cotton blends, and nylon allow the consumer to wash these fabrics in a regular laundry load with laundry detergent. Pajama sets made of silk require extra care and washing on a delicate cycle. Placing silk in the dryer is not recommended, as it causes the pajama set to shrink. Air drying any pajama set provides the least likelihood of fabric shrinkage.
How to Buy Pajama Sets on eBay
Buying
pajama sets for men
on
eBay
is convenient and easy. To search for a pajama set, type in "pajama sets for men" in any search bar. If you know the specific brand of pajama set you are looking for, type the brand name in the search bar. You are able to narrow your choices by color, size, fabric, style, or condition. Once you have found a pajama set that meets your needs, review the description from the seller and look to see if the seller offers free shipping. If you are unsure as to the condition of the apparel, do not be afraid to contact the seller to ask questions. The condition of used pajama sets is important. Used pajama sets should include the top and bottom portions of the apparel set.
Conclusion
Purchasing a men's pajama set makes a great gift for any man who deserves comfortable sleepwear. Pajama sets are also good for any man who likes to lounge in the morning prior to getting dressed. Pairing a pajama set with a coordinating robe completes the casual look of this type of sleepwear. Finding the perfect pajama set starts with knowing the proper size. Once the consumer knows the size, they can start shopping for different styles and fabrics. Keep in mind that the fabric needs proper care to ensure that it lasts many years to come. The best deals for men's robes are often available on eBay, allowing buyers to purchase different brands of pajama sets that men can wear to bed each night. A pair of pajamas that fits size-wise is the best choice for any purchase.