When it comes to everyday purses, versatility is key. An everyday purse should transition effortlessly from the office to post-work drinks with friends, and still be an easy choice for date night at the movies. These all-purpose purses inhabit the fine line between dressy and casual. With so many purses on the market, though, finding just the right purse to carry every day can be a daunting task.
The savvy shopper approaches this challenge with a focus on features. She asks herself which purses have the right look while at the same time providing storage for all the items that a woman needs day to day. Thorough research helps to uncover these well-balanced handbags. By uncovering the different options available and developing a sense of which brands offer which advantage, a shopper can find just the right purse for every day.
What to Look For in an Everyday Purse
According to Oprah magazine, the everyday bag should be stylish in design, while also offering enough pockets to keep belongings organized. Few things are more frustrating than digging through a cluttered handbag, trying desperately to find a ringing phone. For this reason, a go-to everyday handbag includes enough pockets that keys, wallet, cell phone, and a planner each rest in a spot where the owner can easily reach for them.
In addition, the everyday purses should be appropriate for a wide variety of social and professional situations. The glitter clutch, while exciting for a fancy night out, would seem out of place at the playground. By contrast, the über-casual slouchy canvas may be perfect for a weekend at the beach, yet not quite the thing for a job interview on Monday morning. For the everyday bag, the watchword is balance.
Top 10 Everyday Purses
Fortunately, designers and manufacturers of purses understand this need for balance. Brands from Coach to Tommy Hilfiger create purses that meet the demands of the on-the-go woman.
| | |
| --- | --- |
| 1 | The Coach Sabrina Handbag |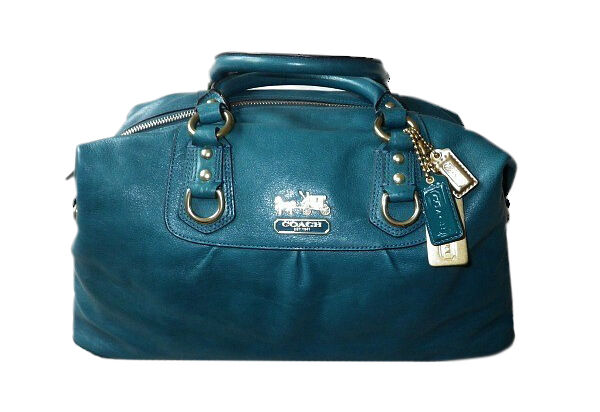 The Coach Sabrina handbag provides all the features a woman might need in an everyday purse. Available in a multitude of colors, this versatile bag fits in anywhere its owner might want to go on a daily basis. According to a popular online news and product review source, it is formal enough for a classy restaurant, yet wouldn't draw attention in the back of a grocery cart. The Coach Sabrina features a large interior that includes two smaller pouches ideal for objects that need to be in easy reach. In addition, a zippered pouch in the back keeps smaller items accessible. The exterior of the bag offers the attention to style that women have come to expect from Coach, with brass findings and the coach insignia. As an added benefit, the bag includes handles as well as a shoulder strap, which wraps under the bag when not in use.
---
| | |
| --- | --- |
| 2 | The Stone & Co. Irene Leather Bucket Bag |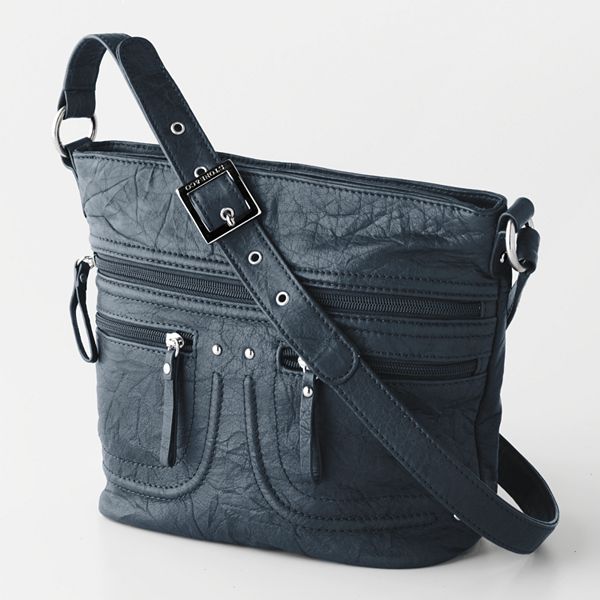 This very user-friendly bag has plenty of pockets, making it an excellent choice for women who have a lot to carry. Sized at 9 inches by 9 inches, with a 4-inch depth, it fits all the daily essentials. The multitude of compartments means that everything has a place, from the tiny lipstick tube to the paperback or e-reader. These compartments integrate attractively with the bag's aesthetic.Highlighted by a women's interest website as a leading everyday purse, the Stone & Co. Irene bucket bag features an attractive leather construction with convenient zipper pulls on the outside handles.Its shoulder strap adjust to fit its owner's reach, and the zipper closure on the main compartment keeps belongings safe.
---
| | |
| --- | --- |
| 3 | The Tommy Hilfiger Zip Top Tote |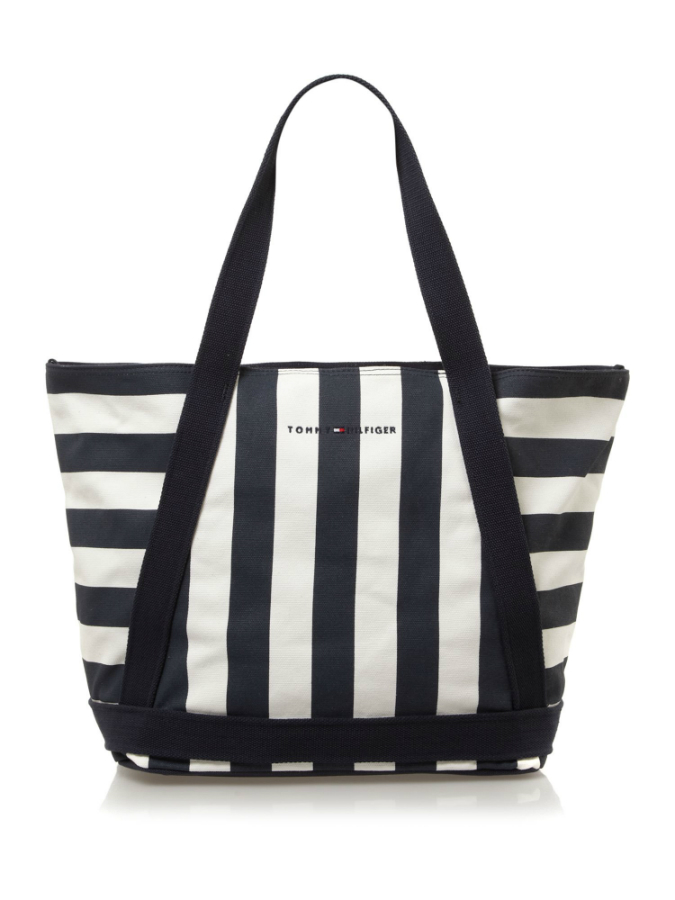 Streamlined in design, the Tommy Hilfiger Zip Top Tote coordinates nicely with almost any outfit. Understated enough for the office yet stylish enough for a weekend shopping trip, this sleek bag includes both exterior and interior pockets to hold personal items. Zippers on the main compartment as well as the front pockets add an extra element of safety, thus making it the ideal bag to carry on a crowded subway or busy street. In addition, the secure closures of this bag make it an excellent companion for driving around town, as items stay securely in the purse evenwhen jostled.Convenient in size and construction as well, this 9-inch by 9-inch handbag features a removable strap. Also, its two handles are sturdily constructed and feature a leather-like finish.
---
| | |
| --- | --- |
| 4 | The Nine West Vegas Sign Four Poster Shopper |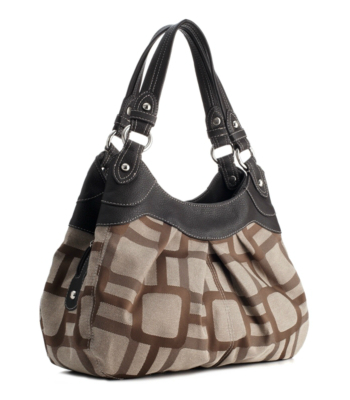 This hobo-style bag nicely combines storage space with a sleek design. Sized at 14.5 inches long by 10 inches tall by 5 inches deep, it is ideal for women who carry larger items, such as water bottles or notebooks. Its interior pockets and roomy exterior pockets keep smaller items separate,and the convenient zip closure on top keeps it all secure. The exterior of the Vegas Sign Four Poster Shopper from Nine West features dual handles with a10-inch drop between handle apex and the bag itself, allowing for both over-the-shoulder and in-hand carrying. The geometric design and silver-toned hardware add a touch of class to the bag's practicality, making it an excellent go-to choice for every day.
---
| | |
| --- | --- |
| 5 | The Steve Madden BTaylor Tote |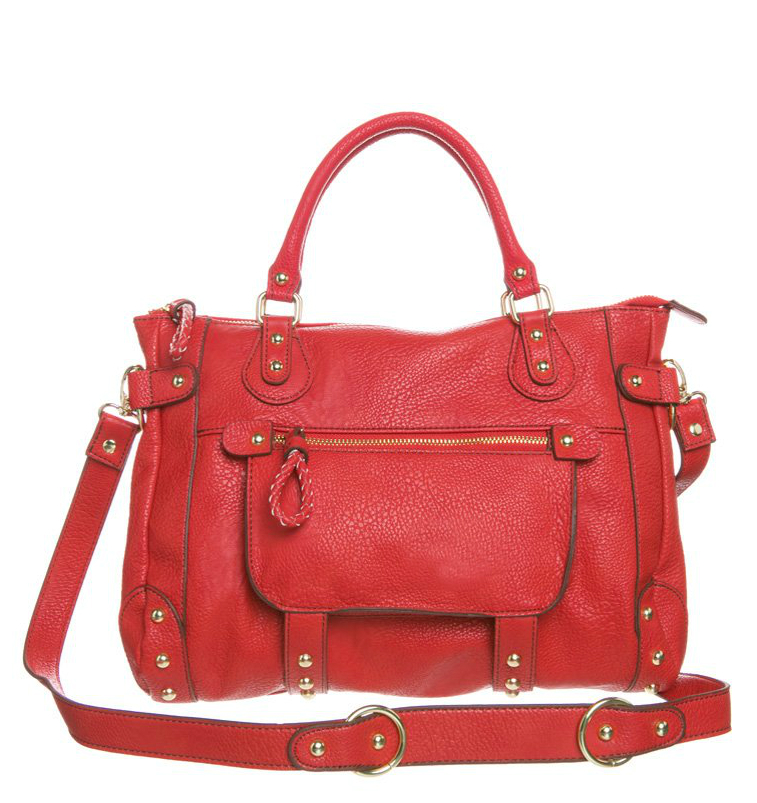 Notable for its eye-catching design, the BTaylor Tote from Steve Madden features gold-toned hardware and a textured design that gives the bag a unique personality. Its front zip pocket extends outward from the bag's main surface, which adds even more visual interest while enhancing usability. The inside also features three pockets, including a zip pocket for items that need to be close at hand. A great choice for daily use, this bag adds style and flair to nearly any outfit. It brings a touch of fun to the workplace environment, while offering features such as three inside pockets and a zippered lining that make it a practical option as well
---
| | |
| --- | --- |
| 6 | The Calvin Klein Modena Leather Tote |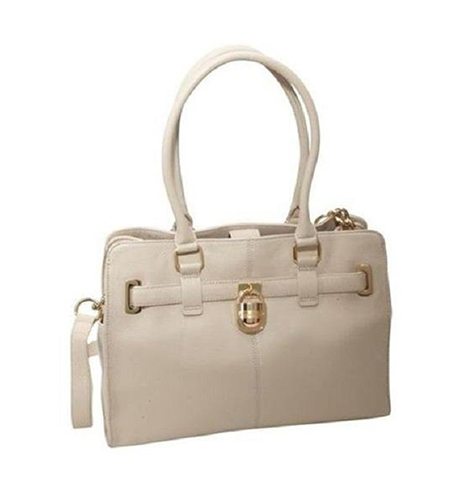 Chic and stylish, this higher-end bag is an ideal everyday choice for the fashion-conscious woman. Its streamlined design belies the presence of many useful pockets, including two slip pockets on the exterior. Inside, a zippered center compartment lies between two open compartments, which make the bag extremely easy to organize. The interior also features two open pockets and a zippered pocket for items that need to be within easy reach.Calvin Klein's Modena leather tote enhances a woman's professional image as easily as it adds class to her casual look. A removable shoulder strap adds to its versatility, while 9-inch drop handles allow a woman to wear it securely under her arm as well. Because it combines designer fashion with real practicality, it makes a fitting addition to the list of top everyday purses.
---
| | |
| --- | --- |
| 7 | The Longchamp Le Pliage Hobo Bag |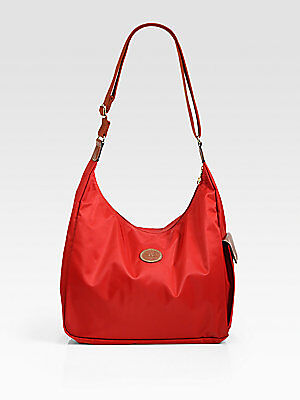 Featured in Lucky magazine, this widely popular choice combines designer style with everyday appeal. A small side pocket, secured with an attractive button, lets a woman easily access her cellphone or planner on the go. The zippered main compartment opens to reveal a two side pockets, one large and one open. These provide great resting places for cell phones, wallets, and other necessities.One women's interest website notes that Longchamp's Le Pliage tote has become the must-have accessory for girls and young women. The article author cites its sturdy construction and sleek style as possible reasons for this trend, both features also included in the hobo style. By combining these fashionable elements with the practicality of extra pockets, the hobo bag carries the Le Pliage trend into adulthood.
---
| | |
| --- | --- |
| 8 | The Ralph Lauren Newbury Pocket Shopper |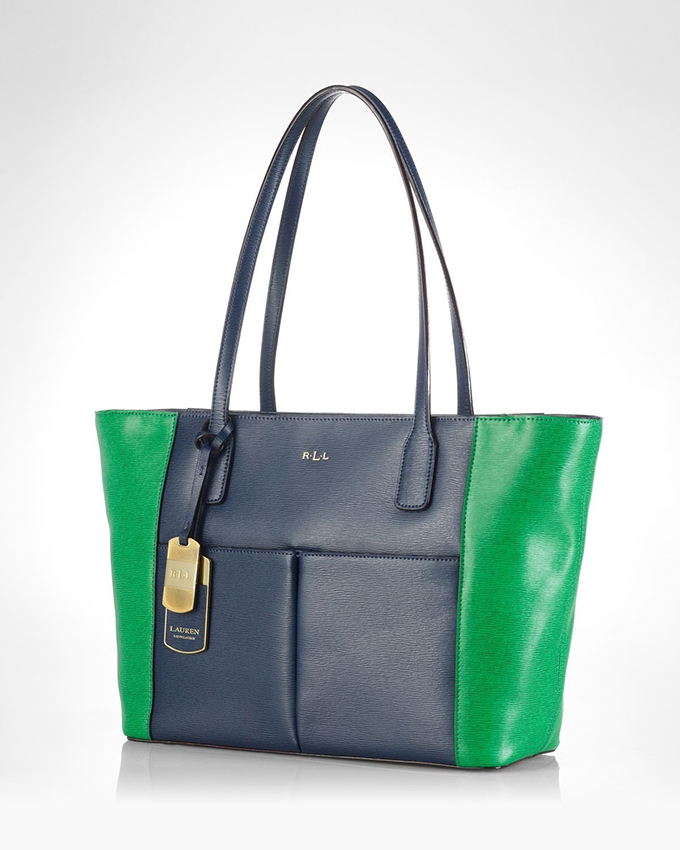 Designed for the fashion-conscious woman with a lot to carry, the Newbury Pocket Shopper by Ralph Lauren includes a total of six pockets in the bag's 15-inch by 9-inch design. Two exterior pockets provide easy-to-reach slots for tissues, pens, and other everyday necessities. Meanwhile, the interior includes a snap and a zip pocket as well as two open pockets, so that each item has itsplace. Combined with the handbag's streamlined rectangular design and hanging logo tags, it serves as a welcome addition to a woman's everyday wardrobe
---
| | |
| --- | --- |
| 9 | The Alexander McQueen Whipstitched Shopper |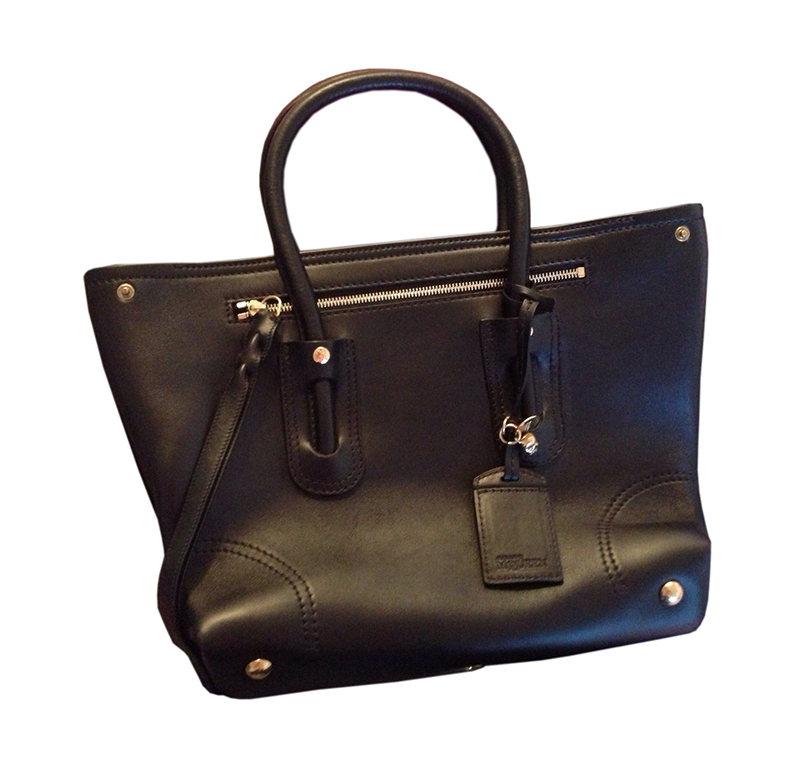 Photographed on the arm of celebrity Jessica Alba, the Whipstitched Shopper from Alexander McQueen is a large, more open style that a popular fashion website notes as ideal for busy moms. Avid readers and frequent shoppers also benefit from this bag's roomy, spacious interior. On the outside, a zippered pocket provides easy access to necessities, and attractive stitching adds to the bag's visual appeal. Both stylish and convenient, this bag earns its place as a must-have for everyday use.
---
| | |
| --- | --- |
| 10 | The Tory Burch Robinson Small Double Zip |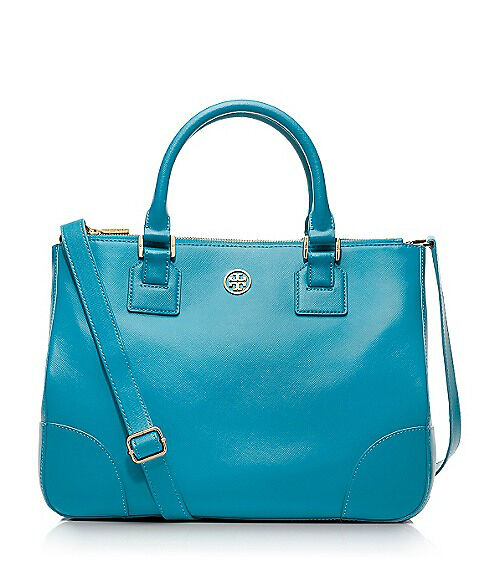 Consistently well-reviewed by real consumers, the Robinson small double zip style from Tory Burch earns praise for its versatility and practical size, as well as for its classic design. Sleek and feminine, it combines attractive leather detailing with an organized design. The interior features two zippered compartments as well as three smaller pockets. The bag itself snaps closed and offers a removable strap, for those who wish an over-the-shoulder or crossbody purse. The handles feature a 5-inch drop, thus evoking the style of the traditional handbag.
---
How to Buy an Everyday Handbag on eBay
Handbags are available for sale across the Internet and in countless brick-and-mortar stores, but nowhere is the shopping process more convenient and accessible than on eBay. Simply visit any page of the site and enter "
handbag
" or "
everyday handbag
" in the search field, and countless styles and brands appear as options. For a more refined set of results, enter a particular brand, such as "
Coach handbags
." For the savvy shopper who has a particular product in mind, enter that product name and find all available examples of the product.When you spot a handbag that looks like your own ideal everyday choice, click on the bag's picture or name. You can then examine the seller's description as well as payment, shipping, and return policies. Also be sure to check out the seller's feedback ratings.
Conclusion
With so many bags on the market, it can be difficult to identify the one bag that fits with a woman's own aesthetic and lifestyle. By researching the leading everyday bags, a shopper can efficiently find the most promising and stylish options. eBay is a great place to pursue this research. Remember that no single bag is ideal for every woman, so check the descriptions of each bag to be sure that they have enough pockets, for example, as well as enough interior room and the right carrying handle.The most important element, however, is style. An everyday handbag is an important addition to a woman's wardrobe. When choosing such an essential, the shopper should feel excited about carrying the bag to work, the store, and all of her many daily destinations.