Buyers looking to eliminate the bulk of a wallet and streamline their image can find a wide selection of
money clips
to choose from. These items safely secure cash and credit cards while providing easy access when needed. They are commonly designed as
men's fashion accessories
and can be either elegant or simple to match the tastes of the user. Dozens of money clips are available, and though this gives buyers plenty of options, it can make it difficult to choose the best ones. Classic curved metal clips and leather units are available with varying sizes and degrees of durability.
A handful of clips are especially noteworthy for their efficiency, attractiveness, and cost. The following 10 money clips are listed by men's magazines and in product ratings as the best ones available. Learn about each one to begin shopping for the ideal money clip.
| | |
| --- | --- |
| 1 | Aerospace Titanium Money Clip by Superior Titanium |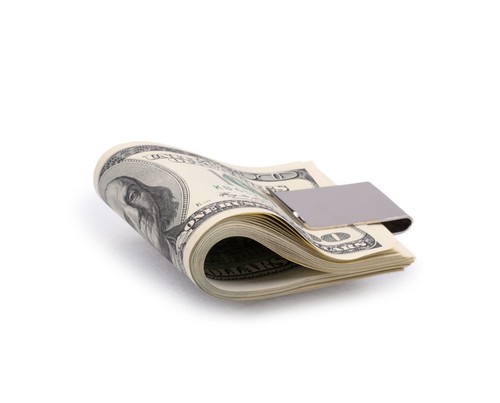 Designed to be straightforward, the Aerospace Titanium money clip puts its emphasis on strength and durability. The lightweight unit is stronger than steel but offers a large amount of flexibility. It is also resistant to corrosion, especially from water. It can hold 30 bills, or four cards and 15 bills, at once. In addition to its natural titanium finish, the Aerospace clip can be purchased in other colors, including green, blue, and gold. This item is ideal for users who need a no-frills, reliable clip that can be used every day.
---
| | |
| --- | --- |
| 2 | Koolstof by Carbon Fiber Designs |
Most money clips are made from metal, though Carbon Fiber Designs has created an original design from carbon fiber. Ultra lightweight and more flexible than metal clips, the Koolstof still provides the same level of clamping found on other top money clips. The Koolstof is also larger than the standard 2-inch by 1-inch design, measuring 3 inches by 1.5 inches. It also has a larger holding capacity, as it can accommodate 50 bills at once. The enhanced flexibility and lightweight design of this clip make it a must-have for users looking to carry a large number of bills.
---
| | |
| --- | --- |
| 3 | Old Leather Magnetic Money Clip by Bosca |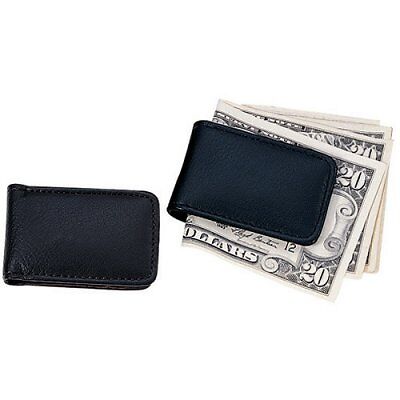 This money clip from Bosca is one of the most attractive leather clips on the market. It features two elegant dark straps that connect with heavy-duty magnets to ensure bills do not slip out. The magnets also allow the Bosca clip to last longer than most metal products, making it ideal for buyers looking for a stylish and reliable product. The Bosca clip is also one of the best values available. It is priced competitively with metal clips that are liable to wear out years before Bosca's magnets.
---
| | |
| --- | --- |
| 4 | MC1016 Silver Stainless Steel Slim Money Clip by Y&G |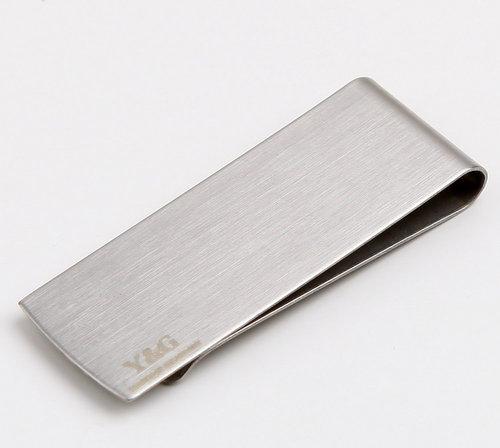 Y&G is a popular manufacturer of wallets and money clips, and its silver stainless steel slim money clip is a great example of its products. The clip features a classic design, but it is meant to be thinner than other metal clips on the market. Although this means it cannot hold the same number of bills and cards as other items on this list, it makes it an ideal choice for those looking to travel light. Its stainless steel design ensures this clip is durable and looks great over time, as well.
---
| | |
| --- | --- |
| 5 | Gold Rectangle Money Clip by J. Press |
One of the more elegant clips on the market comes from J. Press.. The gold-plated rectangular clip offers an attractive alternative to some of the more straightforward designs available and serves as an excellent complement to the company's clothing line. As might be expected, this gold-plated clip is one of the more expensive options available, but it should not be overlooked by those looking to make an impression.
---
| | |
| --- | --- |
| 6 | Titanium Smart Money Clip by Storus |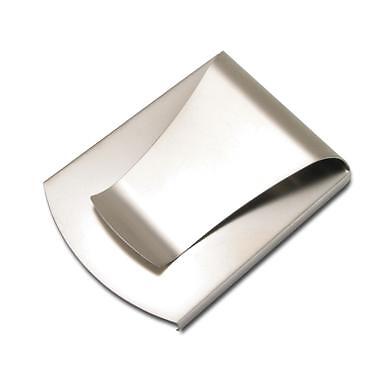 One of the most efficient money clips available is the Titanium Smart Money Clip by Storus.. This clip is larger than other clips at 2.8 inches by 2.5 inches, and it features a double-sided design that allows users to store up to 10 cards at once. In addition to the standard titanium design, Storus sells the same clip with other finishes. These include gun metal, gold, black matte, stainless steel, and graphite.
---
| | |
| --- | --- |
| 7 | Lego Money Clips by Miss Courageous |
Buyers looking for something a bit whimsical can choose the Lego money clips by Miss Courageous. These have a sturdy nickel design with the addition of a slim Lego block on top. The Lego block is an authentic item and can be used to build Lego structures when not in use. These clips are a colorful and fun way to store cash or cards, and they are available in a wide selection of colors.
---
| | |
| --- | --- |
| 8 | Bleecker Legacy Leather Money Clip |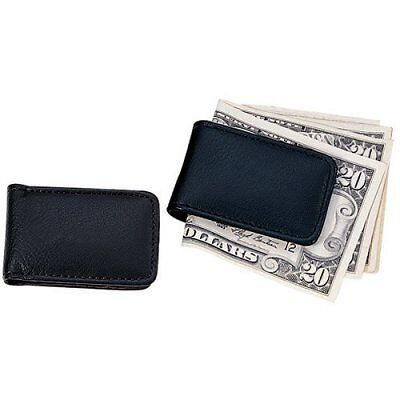 The handsome glove-tanned leather design of the Bleecker Legacy leather money clip sets it apart from other popular clips on the market. Like most leather clips, it uses magnets to safely secure bills, and owners can expect many years of quality use from the clip. The unit measures 2.75 inches by 1.5 inches and carries a larger number of bills than most metal clips.
---
| | |
| --- | --- |
| 9 | Matte Finish Titanium Money Clip by Elite Jewels |
The lightweight titanium clip from Elite Jewels features a matte finish and a clean, minimal design. It is exceptionally durable and can hold one bill or 20 bills equally well. It also holds its shape effectively over time and does not become stretched out like some metal clips. This is a reliable and durable product that can be used every day.
---
| | |
| --- | --- |
| 10 | Reaction Men's Money Clip by Kenneth Cole |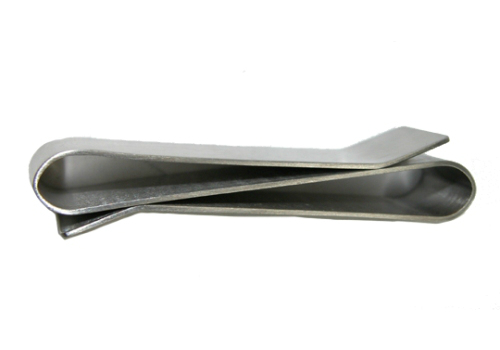 Uniquely designed with two clips, one for bills and the other for credit cards, the Kenneth Cole Reaction clip offers buyers a classic, no-frills design. However, it is smaller than other top clips, so it is best for buyers looking to hold only a few bills or cards at any given time.
---
Other Considerations
Choosing the best money clip is not always about appearances or durability. In some cases, there are specific reasons to choose a metal or leather clip over another kind. Two additional things to keep in mind while shopping include personalizing a clip to give as a gift and the possibility of scrambling data on credit cards.
Purchase a Personalized Money Clip
Money clips make excellent gifts. They are purchased as wedding gifts for groomsmen or by significant others for birthdays and other occasions. Engraving a clip with initials or a name is an excellent way to personalize the gift, and most metallic money clips can be engraved with an image or text. Engravings can be performed by specialized shops in most cities, and some manufacturers offer the option to engrave the clips they sell.
Avoid Using Magnetized Money Clips with Cards
A large number of money clips on the market are designed with magnets to hold the two ends together. Although these items may perform their intended function well enough, they are also capable of ruining credit cards, driver's licenses, and any other cards that have a magnetized strip on the back. These strips are disrupted by the presence of other magnets, and over time, exposure to a magnetized money clip can cause them to become unreadable. Magnetized clips should therefore be avoided unless they are used for bills only.
How to Buy Money Clips on eBay
A large number of
money clips
can be purchased from the sellers on eBay. Begin a search for the desired item by typing keywords into the field on the homepage. For example, enter "
Bleecker Legacy leather money clip
" into the field to see all items tagged with those terms. If no relevant results appear on the first attempt, try using a different combination of words. This can also be an effective way to refine search results.
Review item listings by clicking on the name or image of a clip in the search results. Read the full description provided by the seller and compare it with available photographs to be clear on the specific item being sold. It is also useful to examine seller profiles to ensure a rewarding buying experience. Look for sellers with a high positive
feedback
rating and many completed transactions for the best results.
Conclusion
Money clips can provide organization and easy access for cash and credit cards. Because they are designed to be small, clips can also improve comfort and eliminate the unnecessary bulk of a wallet. Money clips are considered to be a
fashion accessory
and are consequently designed to be attractive. There are two primary types of money clips available, including metal and leather. Metal clips are bent to place pressure on the bills and cards, while leather items use magnets. Buyers should be aware that magnetized clips have the potential to destroy credit cards over time, so these should only be used for cash. Some products stand out from the pack for their excellent design, price, and features. Users should consider each of these top 10 clips to find one that matches their needs.