TV antennas may seem like relics to many, in an era where cable or satellite rule the world of television. Nevertheless, numerous viewers prefer to use an antenna in order to enjoy a better picture or to reduce their monthly cable or satellite bill. Even though using a
HDTV antenna
is no guarantee of a crystal-clear picture, they provide good reception in most locations across the country.
Buyers looking to purchase a HDTV antenna have plenty of options from which to choose. For this reason, choosing the right one may seem like a daunting process. There are several things to think about prior to making a decision, so having a look at as many models as possible is always a wise thing to do. The following is a list of the top 10 HDTV antennas available on the market.
| | |
| --- | --- |
| 1 | Antennas Direct ClearStream Micron-R |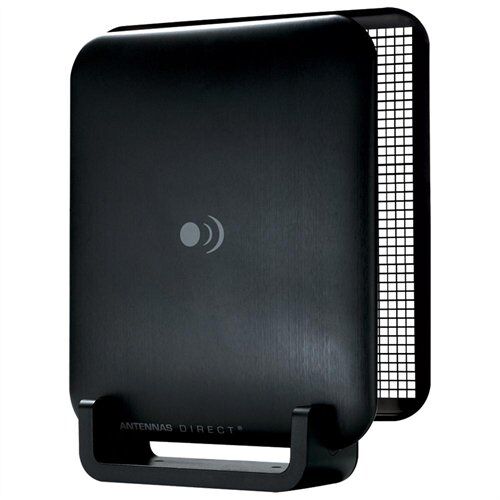 This is one of the most powerful indoor antennas available on the market. It comes in several colors, including bold red, crisp white, brushed satin black, and matte black. The ClearStream Micron-R designed by Antennas Direct is specifically for those who live within 25 miles of the TV transmitters. This antenna uses the ClearStream Tapered Loop technology and has a sleek design that fits well in any kind of decor. It features a beam width of 70 degrees and it does not need rotation to deliver signal from widely spaced broadcast towers.
---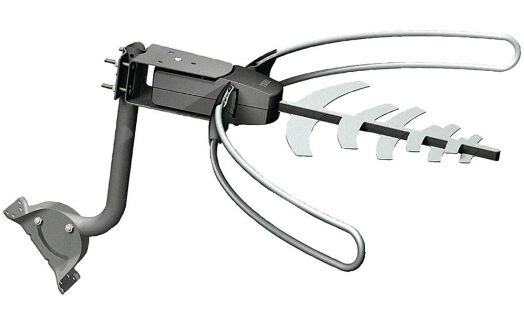 The TERK HDTVa Amplified Directional Indoor HDTV Antenna features a high gain amplifier that increases the reception range and it comes ready for HDTV reception. It features a dual-drive amplifier whose function is to ensure clear reception regardless of the distance to the HDTV station. Users can orient the antennas vertically or horizontally for optimum reception. This antenna is very easy to install and it has a contemporary design.
---
| | |
| --- | --- |
| 3 | Winegard SS-3000 Amplified Indoor UHF/VHF Antenna |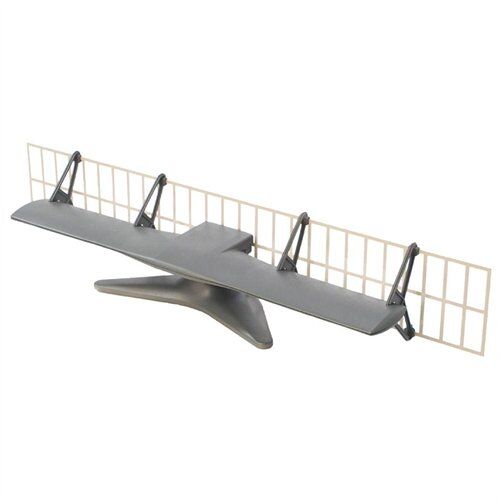 The Winegard SS-3000 is a compact antenna designed for indoor signal reception. It is a good choice for metropolitan areas where the signal is often blocked. It features the SS-3000's inches Scatter Plane inches technology that efficiently prevents the signal from blockages.
---

This antenna features 369-degree rotation for the best HDTV reception. It is a good option for those who live in rural areas, because it is able to receive weak HDTV signals. This is applicable for areas where no significant multipath conditions exist. The Lava HD-2605 also features a built-in super low noise amplifier and dual TV outputs.
---
| | |
| --- | --- |
| 5 | ClearStream Micron XG Indoor HDTV Antenna with Amplifier |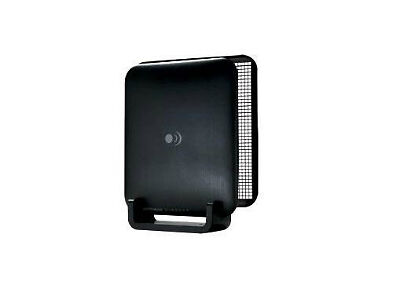 This antenna has a square shape and it features a plastic unit that goes well with any home decor. It has a generous 70-degree wide range of the UHF channels and it can be either tabletop or wall-mounted. It is a good choice for those living in urban areas with broadcast towers, but it offers decent results in rural areas as well. A special characteristic of the ClearStream Micron XG is its compact design, which makes it one of the smallest HDTV antennas available on the market.
---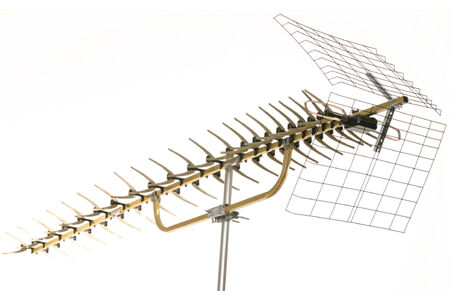 The 91XG antenna produced by Antennas Direct is a good choice for those who do not live near HDTV broadcasting stations. It actually works great in a range of 50 to 70 miles. It does not pick up VHF signals, which is a downside, but it is still one of the best buys for people living 50 miles or more from broadcast stations.
---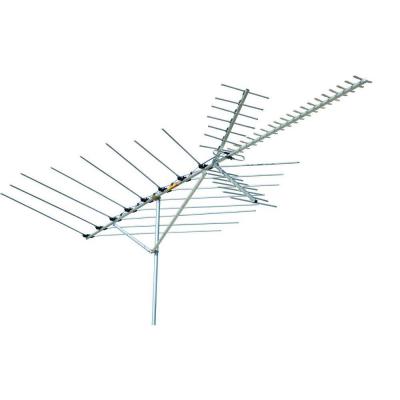 This antenna is a good choice for those who want to receive both HDTV programming and digital TV. It can pick up VHF, UHF, and FM bands and has a generous reception range of 100 miles. The downside of using the CM-3020 HDTV antenna is the fact that it needs a preamplifier in areas with weak reception.
---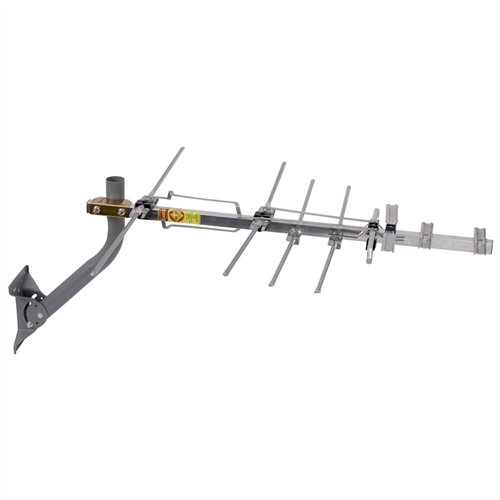 This is an outdoor antenna that works well for picking up signals for a range of up to 40 miles. It receives local VHF, UHF, and HDTV signals and delivers clear signal. It is easy to install and it comes with a mounting pipe and foot, as well as with a hardware bag. The main advantage of using the RCA ANT751 HDTV antenna is the fact that it has an ultra-small design that allows users to install it in places where other antennas do not fit.
---
| | |
| --- | --- |
| 9 | DB8 Multidirectional HDTV Antenna |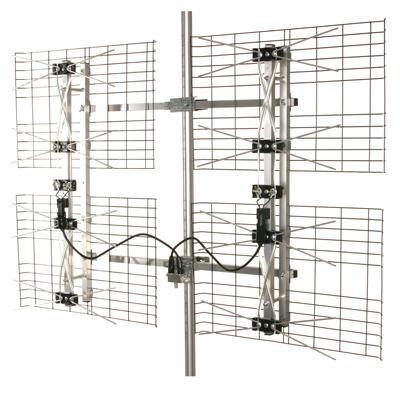 The DB8 Multidirectional HDTV Antenna has a range of 70 miles and targets core UHF DTV frequencies. It is ideal for suburban or rural installations as it is able to pick up signal in troubled areas. The antenna features a weatherproof construction and flexible aiming characteristics.
---
| | |
| --- | --- |
| 10 | SLX Gold digiTop Amplified High Performance Indoor Aerial for TV |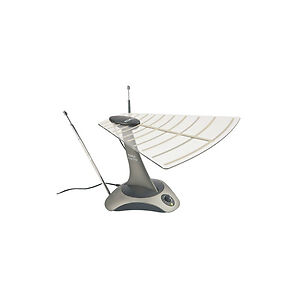 The main characteristics of this indoor antenna include a built-in amplifier with adaptable gain and fully adjustable elements. It is suitable for UHF, Freeview, DAB Radio, FM Radio, and wideband. The SLX Gold digiTop antenna comes complete with 12V DC power supply and ensures perfect analogue and digital reception.
---
Comparing Technical Specifications
In order to be able to decide which antenna works best for them, buyers should consider the best solutions for their specific areas. Technical specifications are important and users should compare them for the models they are considering before making a decision. The chart below illustrates the range, beam width, and front to back ratio for the 10 top HDTV antennas.
| HDTV Antenna | Range | Beamwidth | Front to Back Ratio |
| --- | --- | --- | --- |
| | 35 miles with reflector | 470 to 700 MHz: 70 degrees | Typical 15 dB |
| | 45 miles from broadcast station | 470 to 700 MHz: 45 degrees | 12 dB |
| | 70 miles | 470-806 Mhz: 36 degrees | 7.5 dB |
| | 125 miles | 470 to 700 MHz: 360 degrees | 23 dB |
| ClearStream Micron XG Indoor HDTV Antenna with Amplifier | 35 miles with reflector | 470 to 700 MHz: 70 degrees | 15 dB |
| | 70 miles | 470 to 700 MHz: 70 degrees | 28 dBi High gain across entire UHF band |
| Channel Master CM-3020 | 100 miles | 470 to 700 MHz: 30 degrees | 15 dB |
| | 40 miles | 470 to 700 MHz: 30 degrees: 70 degrees | 10 dB |
| | 70 miles | 470 to 700 MHz: 35 degrees | 15.8 dBi |
| SLX Gold digiTop Amplified High Performance Indoor Aerial for TV | 40 miles | 470 - 862MHz | 16 dB |
When shopping for a HDTV antenna, buyers should consider both the number of broadcasting stations in their area and the place in their home where they intend to install the antenna. Some antennas are intended for the indoors, whereas others work better in the outdoors. Other factors consumers should take into account include the terrain between the tower and the antenna, the height of the tower and its transmitter power, and the presence of large buildings that may block transmission.
How to Buy a HDTV Antenna on eBay
Buying a
HDTV antenna
requires some research and you may need to learn a few things about the way they work and how you can improve the quality of the signal. A good HDTV antenna is essential for obtaining crystal-clear picture and sound and this is why you should compare a few models before spending your money on a specific one. A good place to do so is
eBay
, as the website offers a large range of HDTV antennas for all needs and budgets.
Start your search for a HDTV antenna on eBay by typing the keyword "HDTV antenna" into the search bar. You can then browse through the selection and find a suitable one. Alternatively, if you already know the exact model you are looking for, you can search for it directly to save some time. For example, if you type in "
Lava HD-2605
" into the search box you are going to obtain results that are more specific to the type of HDTV antenna that you are looking for. Doing a keyword search that is more specific also filters out other models from the search results that you are not interested in purchasing and thus makes it easier to view available products to purchase.
Conclusion
HD technology is essential for enjoying movies and TV shows at best quality, and one of the components of an HD system is an HDTV antenna. Using a HDTV antenna means that one does not need to be a cable or satellite TV subscribe in order to watch TV shows shown in HD by various broadcast networks. All one needs is a HD-ready television and a high-quality HD antenna.
Choosing the best HDTV antenna for a specific area may be somewhat difficult, but with the large number of models available on the market, there is something for everyone. One can choose to buy a HDTV antenna in a specialized local store or browse through a wide selection on eBay in order to find what they need without too much hassle.