Coaxial, or more commonly referred to as "coax," cables have long been a common item found in many homes. They are used to connect TVs to cable or satellite television, as well as to high-speed Internet, since the wide adoption of broadband. Nevertheless, it seems that few people know much about these cables, aside from their general use, and tend to overlook quality. It's no wonder this is commonly overlooked; on the surface, many of the cables differ very little, if at all, from others. However, beneath the soft plastic and other insulating materials lies the core wiring. This core wiring may vary between different brands as to what metal comprises that core wiring; silver-plated copper wiring often being the best, whereas many cheaper brands use just solid copper wire.
| | |
| --- | --- |
| 1 | Dynex RG6 Coaxial A/V Cable |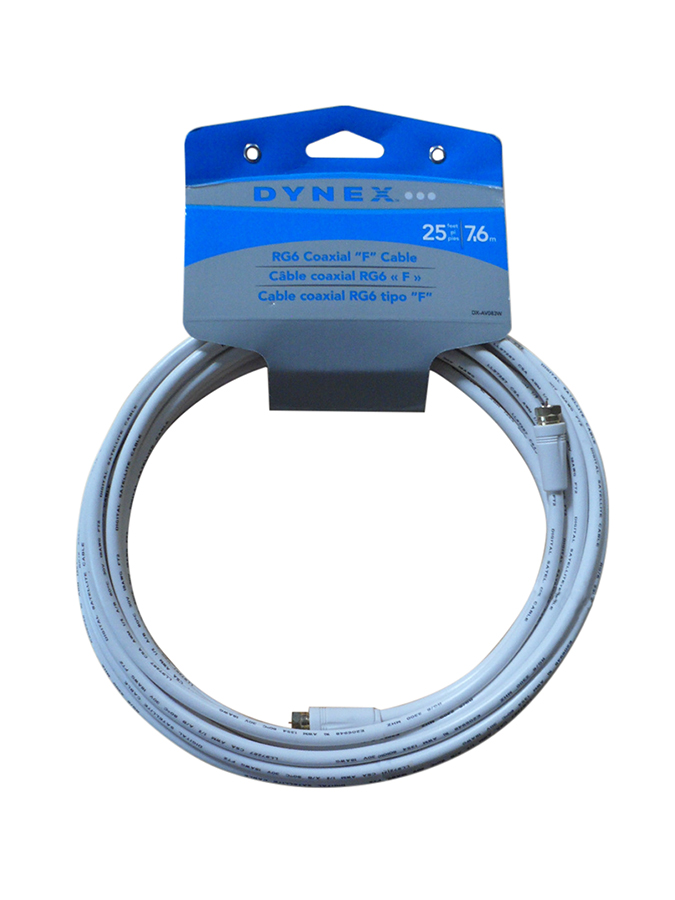 When those on a tight budget must suffice with the bare minimum, one of the better choices is from Dynex. Despite the brand name, it comes without the brand-name price, but with the quality expected from a top electronics company. The product is dual-shielded, allowing for as little interference as possible, and has gold-plated connectors, allowing for maximum signal transfer speeds.
---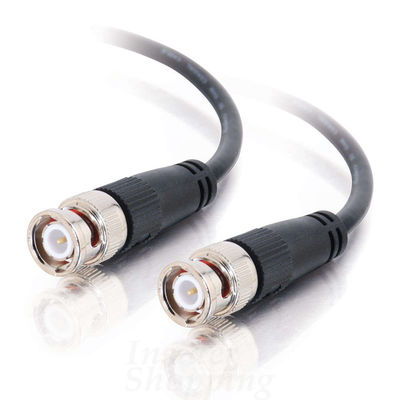 The company, Cables To Go, offers a wide range of highly flexible and top-quality coax cables. What is more is that it offers cable in a large variety of lengths, from 1.5 feet to 1,000 feet, taking into account many different needs for many different customers. Also, the copper used in the making of the cables is deoxidized, at a mere .001 percent or lower, allowing for greater signal quality. This also results in a reduced rate in which the signal diminishes due to the aging of the wire, which is common in many cheaper cables. In addition, TopTenReviews states "while it doesn't have much name recognition among the general population, those non-professionals who know the company exists know that it provides a superior customer service experience and sells a great product."
---
| | |
| --- | --- |
| 3 | Mediabridge Coaxial Digital Audio Video Cable Triple Shielded |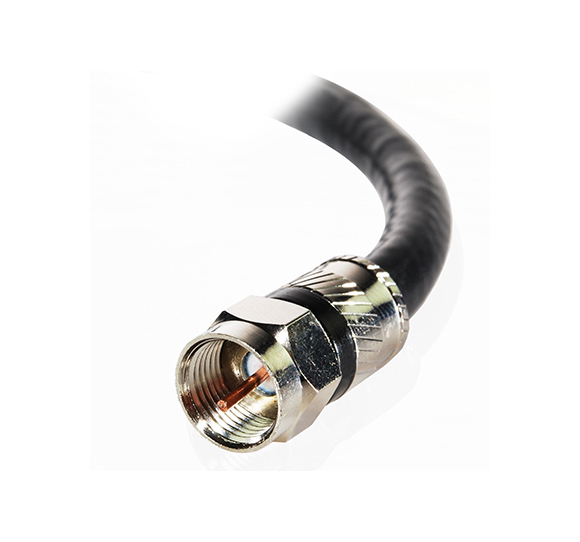 The Mediabridge triple shielded coaxial cable is a high-quality, durable coax cable. It is an RG-6 cable, which is thicker, more durable, and able to carry higher frequency signals, such as HDTV signals, than the RG-59 (the common type of coax cable people find in their homes). The triple shield surrounding the cable ensures minimal interference, helping to maintain the optimal quality desired by HDTV users, as well as for those looking to get the most out of their high-speed Internet.
---
| | |
| --- | --- |
| 4 | Belkin Pure AV - RF Coaxial Cable |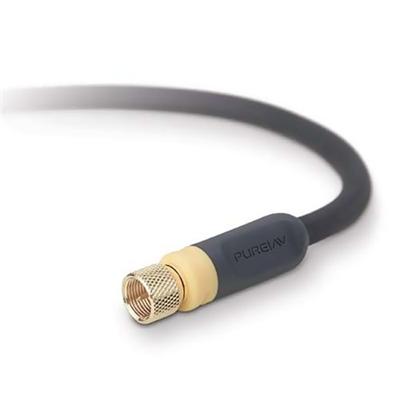 Made by Belkin, a popular electronics company that specializes in computer networking devices, the Belkin Pure AV - RF Coaxial Cable is a top-quality cable that uses high-grade materials to ensure the best audio and video quality possible. It is double shielded, and like many other high-quality coax cables, comes equipped with gold-plated connectors for maximum transfer rate and corrosion resistance.
---
| | |
| --- | --- |
| 5 | Monoprice Coaxial Cables |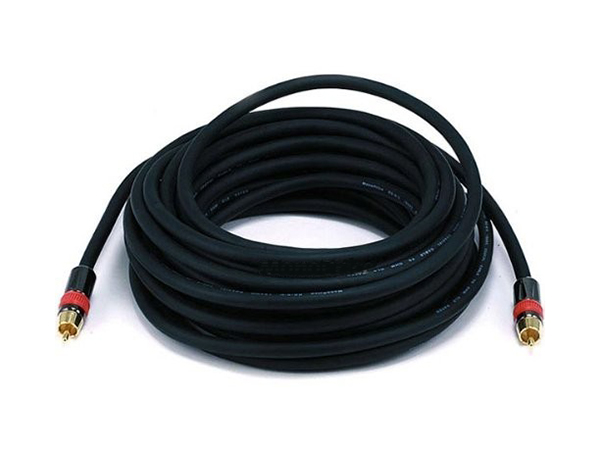 The coax cables created by Monoprice are another example of high-quality cables. Like other quality cable companies, Monoprice uses only oxygen-free copper in the creation of their cables, to ensure the highest quality and slowest aging rate. Also, the cables use the highest shielding available to coax cables, the quad shield. This means that there are four layers of shielding around the cable, resulting in an absolute minimum of signal interference or distortion. Additionally, the company offers one of the broadest ranges of cable lengths, ranging from 1.5 feet to 1,000 feet, plus tools such as cable cutters and crimps, for creating custom lengths of wiring.
---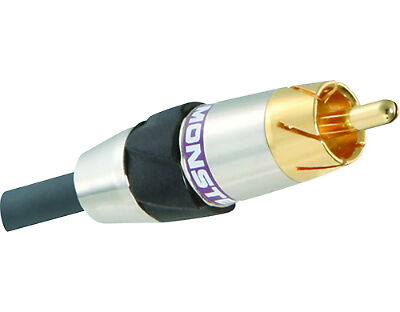 The coax cable company, Monster, is known for its high-quality cables, and tends to lean towards the pricier end of the spectrum. However, it seems that the cable delivered is of good quality, and shows by the customer satisfaction levels found on Monster cable products. The cables come with high-density shielding, gold-plated connectors, and the core features solid copper for maximal picture and bandwidth transfer rates.
---
| | |
| --- | --- |
| 7 | GE 73311 RG6 Video Coaxial Cable |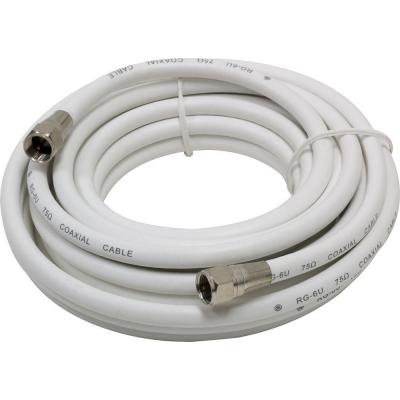 For those looking for a cheaper coax cable without sacrificing too much quality, GE offers RG-6 cables for a relatively low price, meaning those on a budget can still acquire high-quality cables, but without breaking the bank. Of course the quality won't be as good as some of the more expensive cables, but is still better than many cheaper cables on the market.
---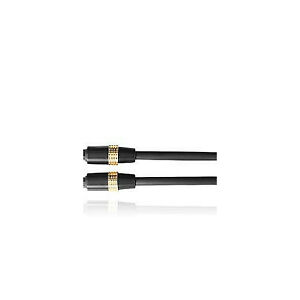 AUVIO brand coaxial cables are another example of fine coax cables, proving to deliver quality signals. They are double shielded, providing little interference with signal quality, as well as gold-plated connectors. The downside to these cables, however, is that they can be much pricier than other high-quality coax cables, so it is wise to pay attention to length and price when shopping for AUVIO coax cables.
---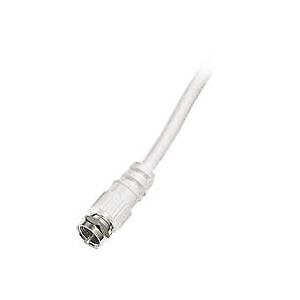 The coax cables offered by Steren are another choice for high-quality cables. They are all made with oxygen-free copper, allowing for maximum signal transmission with less loss of signal quality. The company offers a wide range of cables, both pre-made and bulk spools. Additionally, they offer different quality cables, ranging from the standard RG-59, quad-shielded cables, and professional grade cables. Whatever the job may be, big or small, Steren offers the appropriate options to get it done. The biggest downfall behind the cables, however, is that it the cables are lacking the gold-plated connectors typically found in higher-grade coax cables. This doesn't affect quality that much, but it may be a turnoff for potential buyers. A solution to this is to cut the wires and custom mount gold-plated connectors to the cable.
---
| | |
| --- | --- |
| 10 | GE 23278 Ultra Thin Coaxial Video Cable |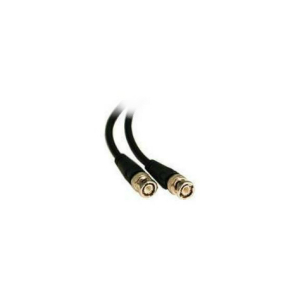 Traditionally, many coaxial cables are quite thick to ensure minimal signal interference and overall protection of the core wiring. However, GE offers an ultra-thin cable for home consumers with both quality and home design in mind. This cable is only 3mm thick, half the diameter of a standard coax cable, meaning it is easily placed along baseboards or underneath carpeting. There are, however, trade-offs to this slimmer design. Because there is less protection around the wire, signal quality may be more easily affected by electromagnetic interference. Also, the cable sports nickel-plated connectors, rather than the standard gold-plated connectors that cables of better quality have.
---
Buying Coaxial Cables on eBay
Buying coax cables on eBay is actually fairly easy; simply type the keywords "
coaxial cable
" into the search bar. If you know what brand or type of cable you are looking for, further specifying this in the search can be helpful. If not, then searching by quality, quantity, and price can help consumers make a strong purchasing decision. If the cable is used to connect HDTV or high-speed Internet, then a RG-6 cable with oxygen-free copper and gold-plated connectors would be the best choice, as RG-6 cables are made more specifically for higher bandwidths of signals. Quantity and pricing obviously vary amongst consumers and their needs. However, cheap prices shouldn't dominate the decision-making process unless sacrificing quality is acceptable, so it is wise to pay close attention to the cable type in the name or description.
Conclusion
The use of coaxial cables has been around for many decades, and despite the fact that there haven't been many recent technological advances for these cables, coax cables are still widely used. And because of this, and the growing technology that provides higher amounts of data transfer such as increasingly fast high-speed Internet and the wide adoption of HDTV, coaxial cable quality is more important than ever. Old, shoddy cables can provide distorted signals or slower data transfer rates, whereas higher-quality cables are made to combat these common issues. When buying coax cables for in-home or even in businesses, quality should not be sacrificed for lower prices; a sacrifice in cable quality means a sacrifice in signal quality. With the advancement of technology, the standards and pricing for high-quality cables allow for home and business consumers alike to own a quality cable for a reasonable price.