Metallurgical testing of twelve items offered for sale on EBay as Tibetan Silver indicates that these articles frequently contain no silver whatsoever. In addition, test results from the initial tests in 2007 found that high levels of lead and other dangerous metals such as arsenic can be present.
Because of their beauty, it's no surprise that jewelry items sold as "Tibetan Silver" have appeared for sale in increasing numbers in trade publications and on the Internet. The description appears especially popular online, but the products offered under this designation run the gamut of what appear to be authentic silver work done in a vintage Tibetan style, to poorly made contemporary castings of dubious origin. As the buyer you are at risk of being misled into paying for items that may be grossly misrepresented either in terms of materials used or geographic authenticity. If you think that the item being sold as Tibetan Silver actually contains any appreciable amount of silver read the following information.
Protecting Your Health
Genuine Tibetan silver is often made from Sterling silver, which consists of 92.5 percent silver. Any metal can make up the remaining 7.5 percent non-silver portion, though copper is the most common one. Unlike Sterling silver, which is used in jewelry because of its combination of beauty and durability, a great deal of what is marketed as "Tibetan Silver" comes no where close to matching the quality of Sterling. The actual silver content of "Tibetan Silver" can be as low as 1 or 2 percent and/or the core material may actually be tin, zinc, copper or nickel alloys, which allows the item to be sold for much less than those containing significant amounts of silver.
In fact, as part of a larger investigation into items offered for sale on eBay that infringed on copyrighted designs, TierraCast, Inc., a California-based manufacturer of original design lead-free pewter beads, findings and components, retained Metallurgical Laboratories, Inc. of Concord, California to test seven items purchased from six different eBay and Etsy sellers in April of 2007. (It should be noted that all seven of these items were clearly cast components, singled out for examination and testing primarily because of copyright infringement issues. Though a wide range of other jewelry and ornamental items are also advertised as Tibetan silver, no attempt was made to determine the actual metal content of those items.) All of the test items bore indications of overseas manufacture; only two were shipped directly from China, the others where shipped from the United Kingdom, Australia and the United States.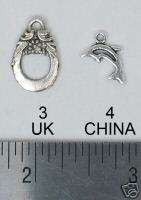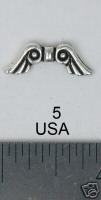 No silver was found in any of the tested items being marketed as Tibetan silver. Instead, in six samples, nickel, copper and zinc were the dominant metals identified by XRF (X-ray fluorescence) analysis on the areas of exposed core material of these pieces. The seventh item, shipped from Hong Kong, contained 1.3 % arsenic, a powerful poison and carcinogen and, an alarmingly high 54% lead content. Copies of certified test results are available upon request from TierraCast, Inc.
Additional tests were conducted in April 2009 using five different items purchased at random from three different eBay sellers offering Tibetan Silver. Metallurgical Labs also tested these items using XRF analysis and found the following results for the most common metals, expressed in percent. Note that only sample #5 contained anything over 1% silver.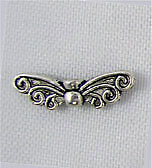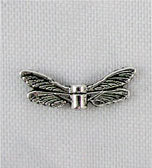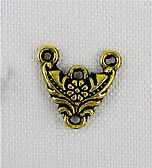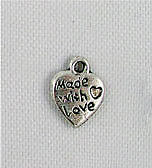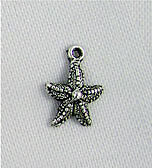 Sample # 1 2 3 4 5
Copper 25.6 31.98 61.21 36.30 45.08
Nickel 7.02 5.29 <.1 <.1 41.42
Zinc 66.35 61.49 38.01 62.94 7.67
Silver .35 .24 .0004 .14 1.23
The remaining metal content in these samples was composed of traces of chromium, aluminum, tin, gold and lead. Unlike the tests from 2007, these samples showed no significant lead content; all were below the 600 ppm limit recently imposed by the federal government for "children's metal jewelry".
(Items 1, 2, 3 and 4 in the April 2009 tests are counterfeit copies of copyright protected TierraCast designs.)
The lack of significant lead in these samples is encouraging as adults exposed to lead can suffer increased blood pressure, fertility problems, nerve disorders, muscle and joint pain, irritability, and memory loss. Children are even more susceptible to the effects of lead exposure and even very low levels of exposure can result in learning disabilities, attention deficit disorder and behavioral problems, stunted growth, hearing impairment and kidney damage. Higher levels of exposure can cause permanent mental trauma, a vegetative or comatose state and even death. Children under the age of six are particularly vulnerable to the harmful effects of lead because their brains and central nervous system are still being formed. A recent tragedy in Minnesota highlights this point.
Following the death of a four-year-old there in March of 2006, lead content in "white metal" and "pewter" has been the target of recent recalls of millions of small cast items by the U.S. Consumer Products Safety Commission (CPSC). The child died as the result of lead poisoning from swallowing a small metal "charm" that was distributed as part of a purchase giveaway by Reebok. Produced by a contractor in China, the bracelets were later determined to be 99 percent lead. Findings like these have caused the State of California to set standards that are now in effect for levels of lead in children's and adult jewelry, body piercing jewelry and metal and non-metallic jewelry components, including pewter. Although all pewter contains trace amounts of lead, the term "lead free pewter" is used to describe pewter that meets the stringent U.S. Food and Drug Administration (FDA) standard.
Pewter is defined by the Federal Trade Commission (FTC) and the American pewter Guild as a "metal alloy product of which the composition shall not be less than 90% Grade A tin, with the remainder composed of metals appropriate for use in pewter." Tin, antimony and copper are refined from basic ore deposits that may contain other metals, including lead. Despite chemical processing to remove the lead, trace amounts (in the parts per million -ppm) remain. TierraCast uses Britannia, a tin alloy that can, depending on teh specific shipment, exceed both the FDA standards for pewter in contact with food and CPSIA standards for children's jewelry, as well as the recent stringent California law. Each metal receipt of this casting alloy is routinely tested for lead content and since January 2009 have tested just at or markedly below the 300 ppm. In preparation for the further reduction of lead limits in line with CPSIA, all TierraCast metal receipts since Dec2009 have been below 100 ppm lead.