This is in followup to my April 2009 Knife World Article on Thistle Top Knives which gives a full history of why, how and where the Thistle Top knife came from. This is a quick guide to some basic facts about the Thistle Top Knife.
The Thistle Top Knife appeared around 1890. It was originally thought by many Knife Experts to have been made by 5 or 6 makers, with the original maker being J. Russell & Co. making a contract knife for the outfitter Abercrombie & Fitch and known as the A & F Special about mid 1890. When I originally started my collection and research I thought from what others told me 5 or 6 makers with various models was a doable collection. I have identified nearly 30 makers to date with various versions. My conclusions in that article is that the Thistle Top originated in England perhaps slightly before 1890. J. Russell & Co. making the A & F Special knife for Abercrombie & Fitch in the mid 1890's made the Thistle Top hugely popular in the United States.
Why the Thistle Top is a "Milestone Knife" in Knife history is due to the social and economic influences at the time. The "Big Bad Long Bladed Bowie knife" was becoming smaller as the turn of that century approached, turning slowly into what many called a "Hunting Bowie". With the invention of the cartridge bullet which made guns more reliable to operate quickly and less prone to misfire the need for great big fighting knives shrunk to a more workable short bladed hunting knife when one was out in the field subsistence hunting.
Also as the Industrial Revolution started to gear up the middle class grew. The middle class started sport hunting versus subsistence hunting. Sport hunting, once the purview of the few, the royal or the ultra rich, became very popular and retailers started marketing merchandise toward this growing middle class group of sport hunters. The Thistle Top offered a sleek elegant knife that was a cut above from the bone handled short Bowie more commonly used by cowboys or subsistence hunters. Bernard Levine noted in his Guide to Knives and their Values that the "Thistle Top hunter must stand as one of the first mass produced sheath knives designed specifically for hunting as a sport."
The Thistle Tops popularity became a fad, with great quantities being sold to these new sport hunters. Makers jumped on the bandwagon and soon many knife manufacturers had their model out. Handles that I once thought there were only ebony wood, with some celluloid handled models introduced probably in the late 1920's was not the case. I found some of the early models were made of pressed horn like a Wade & Butcher Thistle Top I have, or a one of a kind "ebonized" rubber handle model (J. Rodgers & Son), documents show some special order ivory handles are out there, as well as other hard woods that are not ebony such as rosewood found on a Jonathan Crookes Thistle Top. Please note that I found out the later model thistles were celluloid the hard way, We had argued what synthetic substance the handles were made of but when I drove my display case over to the Oregon Knife Collectors show two handles burst from either altitude change or temperature changes, which led us all to the conclusion, "Yep they are Celluloid!". I refer you to the article by Dennis Ellingsen: Celluloid a Firm Maybe in a OKCA Knewsletter dated Feb 2000 at the OKCA web site for more information.
Thistle Tops sold like hotcakes and were the knife to have from the 1890's to 1920. The only rain on the parade were when the Marbles style of hunting knives was introduced in 1901 which soon gave the Thistle Top stiff competition, and the much copied Marbles style of hunting knife in popularity later out striped Thistle Top knives which led to the demise of the Thistle Top style by the end of the 1930's.
The older knives such as the pressed horn handle models are English made and their tang marks suggest they were most likely produced before the 1890 American law requiring imports be marked with the country of origin. Thistle Tops are more than likely a English manifestation probably getting its style roots from the Scottish Sigan Dubh Knife. When collecting be sure to note that some are pinned, some are not, some have no guard,other half guards (brass and nickle silver) and a few full guards. Blades come in sleek thin clipped point, spear points, even wide squat skinning blades.
Below is the chart (as big as eBay allows in photos) I had made up in 2009 with the knife brands I had identified. I have located other thistle tops now noted below the chart such as the Wade and Butcher model, Rice and Miller of Bangor Maine, Richardson Adie & Co, Edinburgh, and more. There are style differences and such rarities should be noted. I have a J. Russell with a 8 inch blade with a full guard (see photo below compared to 4 & 6 inch). There are spear point English models with guards people claim were fighting knives made for the World Wars. There is a Clement Thistle Top Knuckle Knife that was definitely made for World War One per Mike Silvey. These variations are what a collection makes.
For more information and a more easily read chart I suggest you try to locate my April 2009 article from Knife World. I am listing all makers I have found to date and have started working on a list below the original Knife World chart. Once more my original Knife World article has a lot more information if you can find it.
Happy hunting
B K Brooks

Chart made for Knife World article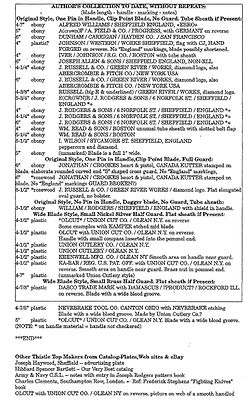 Manufacturers (work in Progress)
ALFRED WILLIAMS SHEFFIELD ENGLAND +EBRO+
DUNHAM/CARRIGAN/HAYDEN CO SAN FRANCISCO
JOHNSON/WESTERN/WORKS SHEFFIELD Flag with CJ HAND FORGED
IVER/JOHNSON/S.G, CO./BOSTON
J. RUSSELL &CO. / GREEN RIVER/ WORKS/ diamond logo ABERCROMBIE & FITCH on blade
J. RUSSELL &CO. / GREEN RIVER/ WORKS/ diamond logo
RUSSELL &CO. "big R and underlined / GREEN RIVER/ WORKS/ diamond logo
E. (crown) R / J. RODGERS & SONS/ 6 NORFOLK ST. / SHEFFIELD ENGLAND * +
WM.READ & SON / BOSTON
I Wilson / SYCAMORE ST/ SHEFFIELD ENGLAND
JONATHAN CROOKES/ pistol with heart shaped smoke from barrel (ebony & rosewood handles found) blade etch CANADA KUTTER
WILLIAM RODGERS/SHEFFIELD/ENGLAND
*OLCUT*/UNION CUT CO. / OLEAN N.Y.
UNION CUT CO. / OLEAN N.Y.
KEENWEL MFG CO /. OLEAN N.Y.
KA-BAR / REG U.S. PAT OFF. reverse side UNION CUT CO. OLEAN
DASCO TRADE MARK DAMASCUS ROCKFOR ILL
NEVERBRAKE TOOL CO. / CANTON OHIO
CHARLES CLEMENT/ SOUTH HAMPTON ROW/ LONDON knuckleduster style must have pressed horn handle to not be a copy experts claim,usually unmarked
RICHARDSON/EDIE/EDINBURGH
WADE & BUTCHER/ SHEFFIELD ENGLAND
HUMPHREYS/ - RADIANT - / SHEFFIELD/ ENGLAND
TAYLORS/ eye mark/ WITNESS/ SHEFFIELD ENGLAND
JOSEPH HAYWOOD/ SHEFFIELD
HIBBARD SPENCER & BARTLETT -OUR VERY BEST
ARMY & NAVY C.S.L.
JAMES DIXION & SON SHEFFIELD
JAMES TURNER SHEFFIELD MAJESTIC on blade
A. FIELD &CO PROGRESS GERMANY
G. WOSTENHOLM & SON WASHINGTON WORKS IXL
W.H. FAGAN & SON SHEFFIELD ENGLAND
HERDER Philadelphia
Wilkenson Sword W-384
Interesting Thistle Top Knives
Canada Sea Scouts etched blade with modified sheath and fid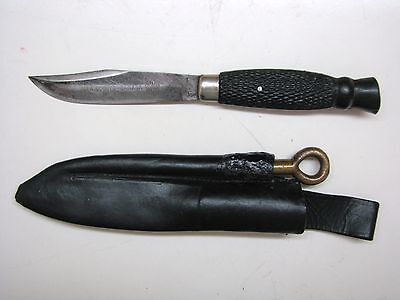 Richardson Adie & Co, Edinburgh (One of the First???) Note chip into pressed horn handle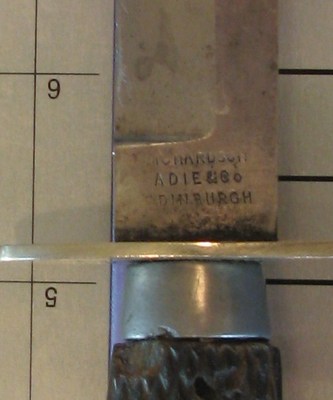 Note Ad with Thistle Top in Sheath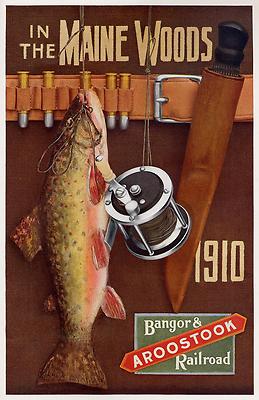 J. Russell models with big 8 inch blade top with rare full guard, then 6 and 4 inch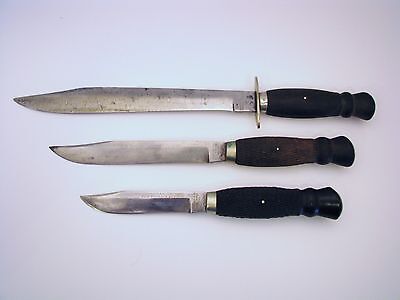 Ad for Ebonized Rubber Handle Thistle Top (see fine print on top knife)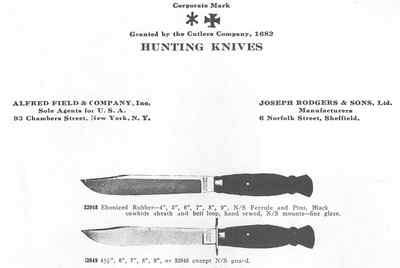 Canada Kutter etch by Johnathen Crooks note full guard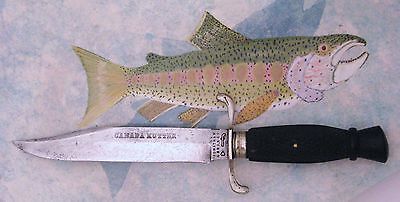 Plastic or Bakelite handled knives note brass and nickle silver half guards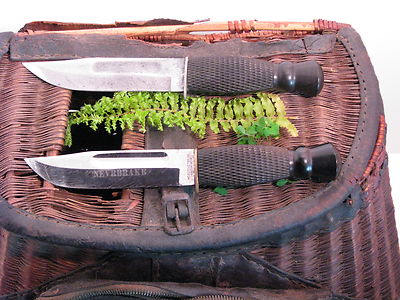 Woodcut of Thistle Top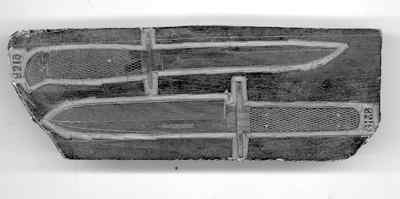 Abercrombie and Fitch (made by J. Russell Green River Works)
Will have Abercrombie and Fitch etched on blade.